Art & Ads On the Side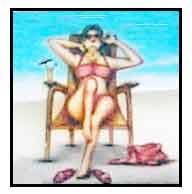 A billboard on wheels.
A motley of ads and art on this jeepney side.
AMERICAN HOT SHOT.
FREE SPIRIT.
FUJI FILM.
RIMULA.
BORACAY on the roof.
Horses. A saluting soldier. And of course, the sun bather. Usually the art gives a clue to the owner's personality. . . But this one's all over. . . . . . . Well, maybe not.