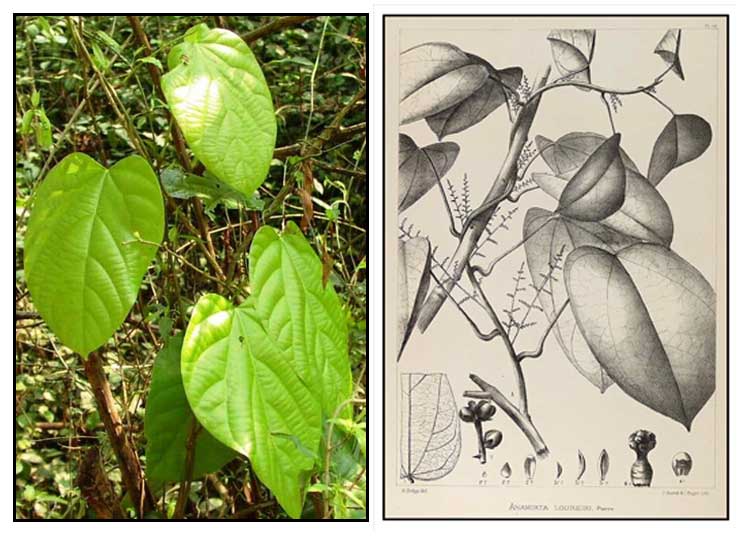 Botany
Suma is a woody, perennial, climbing plant with a very long stem growing from the ground level to the canopy of trees. Old stems are about 5 centimeters thick, with a gray bark and yellow wood. Leaves are leathery, smooth, broadly ovate, 16 centimeters wide and 16 centimeters long, the tip abruptly pointed, the base obtusely round or subtruncate, with 5 veins radiating from the base, with one or two lateral nerves arising from the midvein above the middle. Inflorescence is axillary, pendulous and spicately panicled, usually clustered along the stems. Flowers are fragrant, yellowish, crowded and stalkless. Exterior perianth segments are 3, and small; interior ones are 6, oblong, much longer, and spreading. Fruit is nearly spherical, about 2 centimeters in diameter, green or yellowish green.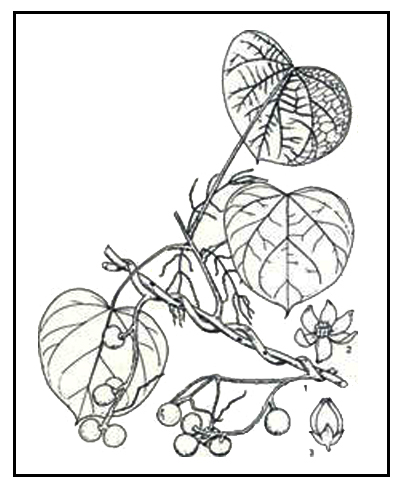 Distribution
- Scattered in thickets and forests at low and medium altitudes from the Batan Islands to Palawan and Mindanao.
- Widely distributed from China, Indo-China, Malaysia, Borneo, the Moluccas to New Guinea.
Constituents
- Stems yield a yellow dye, berberine, the active principle in barberry.
- Study showed the stems contain approximately 4.8 percent pure alkaloid.
- The plant yields several alkaloids: berberine, the principal alkaloid, with jatrorhizine, columbamine and shobakunine.
- A single plant has been reported to yield one kilo of berberine.
- Roots yielded a furanoditerpenoid, fibaruretin B.
- Study yielded 11 secondary metabolites including 2-dehydroarcangelisinol, 6-
hydroxyarcangelisin, fibleucin, fibraurin, 6-
hydroxyfibleucin, 6-hydroxyfibraurin,
berberine, columbamine, jatrorrhizine,
palmatine, and tinophyllol. (see study below) (23)
- Phytochemical screening yielded alkaloid, flavonoid, saponin, and terpenoid compounds, with the absence of tannin. (see study below) (24)

Properties
Considered antimalarial, germicidal, tonic, stomachic, febrifuge, emmenagogue, abortive, antiperiodic, diaphoretic (much of these due to the berberine).

Parts used
Bark, roots, and stems.

Uses
Folkloric
• Decoction of wood used for cleansing wounds; used as a cure for itches and tropical ulcers.
• Decoction or infusion of plant used as stomachic and febrifuge.
• Decoction of roots and stem used as febrifuge, tonic and emmenagogue. Also used as abortive.
• In Zambales used as expectorant in bronchial affections.
• In Malaya, decoction taken internally for jaundice, indigestion and as vermifuge.
• Smoke used as inhalant for mucous membrane affections of the nose and mouth.
• In Indo-China used as antidiabetic drug.
• In East Asian traditional medicine, used as bitter tonic and for jaundice, infectious diarrheal disease and skin abscess.
• Used for treatment of malaria and dysentery and as a tonic.
• Sap from cut stems drunk as treatment for fever and sprue. (16)
Others
- Dye: Stems used for its yellow dye (berberine), a single plant yielding as much as one kilo of berberine.
- Germicide: Popular in the Philippines as a germicide.

Studies
• Antioxidant / Cytotoxic: Antioxidant and cytotoxic activities of A. flava, C. blumeanum and F. tinctoria: A study showed alkaloids extracts showed of A. flava showed antioxidant activity and pronounced cytotoxic activity against human cancer cell line MCF-7 (breast adenocarcinoma). Berberine, palmatine and jatrorrhizine were isolated from A. flava. (1)
• Antimalarial / Cytotoxic: Antimalarial and cytotoxic activities of ethnopharmacologically selected medicinal plants from South Vietnam: A study showed Arcangelisia flava as one of 49 plants showing antiplasmodial activity. (2)
• Phytochemical / New Furanoditerpenes: Study yielded four new furanoditerpenes plus fibraurin, fibleucin, and 6-hydroxyfibraurin. (3)
• Antibabesial Activity: Study isolated palmatine, berberine, jatrorrhizine, dihydroberberine and 20-hydroxyecdysone. Four compounds caused significant inhibition of Babesia gibsoni, an intraerythrocytic parasite that causes hemolytic anemia in wild and domesticated dogs. The mechanism was possibly through prevention of parasite invasion of erythrocytes and inhibition of growth. (4)
• Genotoxicity: In a study of 138 medicinal plant preparations used in the Philippines were studied for genotoxicity. 12, including A. flava exhibited detectable genotoxicity.
• Furanoditerpenoids / Fibaruretin: Furanoditerpenoids are secondary metabolites found in Menispermaceae plants, found to possess anti-inflammatory and antimalarial activities. Study of the roots of A. flava isolated a furanoditerpenoids compound, fibaruretin. (6)
• Protoberberine Alkaloids / Anti-Babesial:Stems yielded palmatine, berberine, jatrorrhizine, dihydroberberine and 20-hydroxyecdysone. Compounds 1-4 showed growth inhibiting effects on Babesia gibsoni in culture. (B. gibsoni is an emerging pathogen in dogs.) (7)
• Berberine: A. flava yields the plant alkaloid berberine. Review lists its physiological effects: anti-diarrheal, anti-malarial, anti-tumor, stimulates cardiac contractility and anti-arrhythmic, anti-inflammatory and antihepatotoxic.
• Anti-Babesial: Study evaluated the inhibitory effects of 45 selected plant extracts from Central Kalimantan, Indonesia in invitro and its acute toxicity to mice. Arcangelisia flava showed to have appreciable antibabesial activity without toxicity to mice. (9)
• Hepatoprotective: In vivo studies of secondary metabolites of abutra (akar kuning) saponin extracts without alkaloids showed hepatoprotective activity in paracetamol induced liver damage in Sprague Dawley rats. (10)
• Anti-Malarial / Anti-Telomerase: Berberine, extracted from Arcangelisia flava dose-dependently inhibited telomerase activity in erythrocytic cycle of Plasmodium flaciparum suggested P. flacifarum telomerase may be a potential target for future malarial chemotherapy. (12)
• Antihypertensive / Anti-Cancer: A study of twenty-two medicinal plants showed the pepsin hydrosylates of Arcangelisia flava bark to have antihypertensive (ACE inhibitory) and anticancer (≥50 % inhibition of human cancer cell lines) activities. (13)
• Natural Food Additive / Antimicrobial / Acidity-Stabilizing Effects: Study investigated the antimicrobial and acidity-stabilizing effects of yellow root extract. A water extract showed antimicrobial activity against Salmonella typhi, Staphylococcus aureus, and Trichophyton rubrum. The extract showed ability to stabilize the acidity of fresh palm sap due to fermentation mechanism. Toxicity testing using Brine shrimp lethality assay showed A. flava to be a natural product without toxicity. Results suggest A. flava can be used as a safe natural food additive, especially in the production of palm sugar. (15)
• Safety Study on Hepatotoxicity: Study sought to determine if A. flava is hepatotoxic to rats. A freeze-dried preparation was administered intraperitoneally to rats. Only an isolated case of SGPT elevation was noted; the majority were within normal range. (17)
• Pharmacologic Effects / Berberine: Study was done to determine whether the pharmacologic effects of A. flava extracts are attributable to the berberine content, the principal alkaloid content of the plant. The study did not settle the issue, but concluded the following: (1) IV doses of the extract to a dog caused hypotension, bradycardia, and increased myocardial contraction. (2) In isolated turtle heart, the extract caused a decreased in heart rate. (3) IV to dogs, the extract caused an initial stimulation of respiratory rate followed by depression without changes in tidal air. (4) Increase in ileal amplitude and tone. (5) Intraarterially, produced paralysis of the gastrocnemius-soleus contractions of the dog. (18)
• EGFR Inhibition / Potential Benefit in HER2-Positive Breast Cancer / Berberine: Cancer cell over-proliferation can be caused by abnormalities of EGFRs, a group of receptors that play a role in initiation of cell proliferation. EGFRs inhibition could inhibit cancer cell proliferation process. Study evaluated the potent secondary metabolites of akar kuning as EGFRs inhibitors. Over-expression activity of EGFR-2 often occurs in breast cancer. Study predicted that berberine has EGFR inhibitory activity, especially EGFR-2 and has potential for HER2-positive breast cancer therapy. (19)
• Selective Cytotoxicity Against Breast and Colon Cancer Cell Lines / Leaves: Study of an ethanolic extract of A. flava leaves is cytotoxic and selective against breast and colon cancer. Results suggest it has potential to be developed as a cancer co-chemotherapeutic agent especially for breast and colon cancer. (20)
• Antidepressant: Study evaluated the antidepressant activity of A. flava on immobility time of white male mice strain Balb-c by forced swim test method. Amitryptiline was used as positive control. Results showed best antidepressant effect at 312 mg/kbw, with minimum immobility time. (21)
• Potential for α-Glucosidase Inhibition / Antidiabetic / Bark: Study evaluated the bark extract of yellow root plant for α-glucosidase enzyme. Results showed very weak inhibitory activity towards α-glucosidase enzyme. The supposed antidiabetic mechanism of yellow rootstem is via inhibition of α-glucosidase enzyme and stimulation of pancreatic ß-cells, thereby increasing insulin production or secretion. (22)
• Neuraminidase Inhibition / Fibleucin: Study evaluated the relationship between secondary metabolites of akar kuning and neuraminidase (NA) with molecular docking study and to determine the most potent NA inhibitor from metabolites from akar kuning. Study isolated a total of 11 secondary metabolites, including fibleucin. In silico molecular molecular docking and pharmacophore optimization indicated fibleucin could be considered as NA inhibitor, with a potential as anti-influenza particularly to H5N1 with oseltamivir resistance, (see constituents above) (23)
• Antibacterial Against Aeromonas hydrophila: Study evaluated the antibacterial activity of A. flava against Aeromonas hydrophila. The chloroform solvent exhibited the widest preventive zone (17.25 mm) on A. hydrophila. (24)

Availability
Wild-crafted.
Capsules, supplements, tea bags in the cybermarkets.