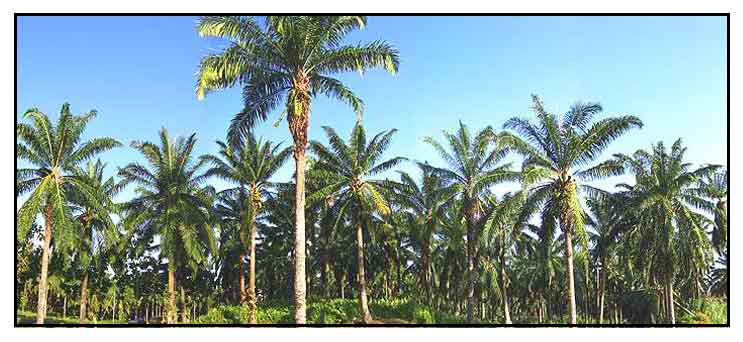 Botany
Oil palm tree has an erect trunk reaching a height of 4 to 10 meters. Leaves are numerous, 3 to 4.5 meters long. Petioles are broad, armed on the sides with spinescent, reduced leaves. Leaflets are numerous, linear-lanceolate, nearly 1 meter long, 2 to 4 centimeters wide. Male inflorescence is dense, having numerous, cylindric spikes which are 7 to 12 centimeters long and about 1 centimeter in diameter; the rachises excurrent as a stout awn. Female inflorescence is dense, branched, 20 to 30 centimeters long, the flowers densely disposed. Fruit is borne in large dense masses.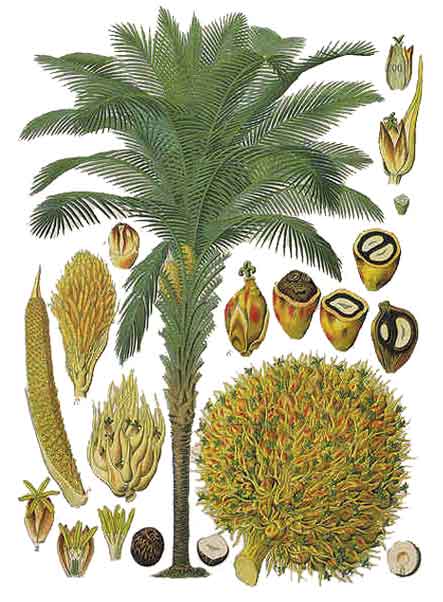 Distribution
- Introduced sometime in the middle of 19th century.
- Ornamental cultivation in Manila and larger towns.
- Seeds of improved strain introduced by Dr. Eduardo Quisumbing in 1938 from Kuala Lumpur.
- Grown extensively in West Africa, its original home, and in Malaya, Sumatra, Java, India, and the United States.
Constituents
- Palm yields two kinds of oil: the palm oil and palm-kernel oil.
- Palm oil consists principally of palmitin and olein, used primarily in the manufacture of soaps and candles.
- The palm kernel oil consists chiefly of glyceride of lauric acid, together with palmitic, oleic and myristic acids, some caprylic acid, capric acid and phytosterin, and used for making vegetable butter.
- Phytochemical screening of a leaf extract yielded tannins, alkaloids, steroids, saponins, terpenoids and flavonoids.
- Analysis of lipid and sterol composition of the pollen yielded triglycerides, esterified and free sterols and trace amounts of hydrocarbons from the neutral lipid fraction. Major fatty acids were linoleic, palmitic, linolenic acids with small to trace amounts of oleic, stearic, arachidic, myristic, lauric, palmitoleic and margaric acids.
Properties
- Considered vulnerary, laxative, diuretic.
- Antioxidant, antimicrobial, anticancer, hepatoprotective, wound healing.

Parts used
Oil, fruits, roots, sap.

Uses
Edibility
- Edible palm heart and fruit.
- Sap from inflorescence used to make wine and sugar.
Folkloric
- Not known medicinally in the Philippines.
- In Guinea, oil is applied to wounds as a vulnerary.
- Used as a liniment for rheumatism.
- The Bubis of the Island of Fernando Po make a poultice made from oil which is applied to wounds.
- In Equatorial West African, roots used as diuretic and fresh sap as laxative.
- In South Eastern Nigeria, used for treatment of various diseases and skin infections.
Others
- Oil: Palm oil chiefly used in the manufacture of soaps and candles. The palm-kernel oil is used for making vegetable butter.
- Wine: In Aftrica, wine made from the trees.
Palm oil
• Oil palm is considered the highest yielding oil-bearing crop.
• Oil is extracted from the fruit pulp (palm oil) and the kernel (palm kernel oil). For every 100 kg of fruit bunches, 22 kg of palm oil and 1.6 kg of palm kernel oil can be extracted.
• It has a high oil yield (7,259 liters per hectare per year), high levels of natural antioxidant, and comparatively cheaper pricing.
• It has more saturated fats than canola, corn linseed, soybean, safflower and sunflower oils and can withstand deep-fry heat, with a resistance to oxidation.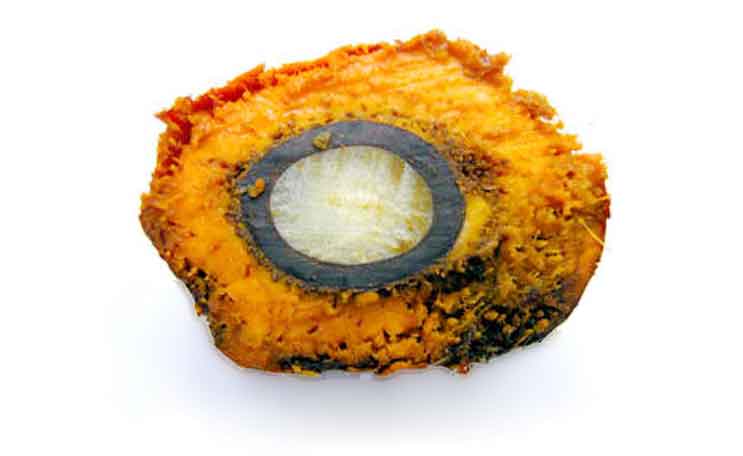 Studies
• Wound Healing / Antimicrobial: Phytochemical screening yielded tannins, alkaloids, steroids, saponins, terpenoids and flavonoids. The extract showed significant activity against C albican. Results show a potent wound healing capacity as evidenced by better wound closures, improved tissue regeneration and histopath evidence, with a significant reduction of microbial count.
• Antimicrobial: Traditionally extracted palm oil and palm kernel oil, tested individually on five microorganisms - S aureus, E coli, P aeruginosa, C albicans and A niger - showed inhibition. When the extracts were mixed, only E coli was minimally inhibited.
• Lipid Oxidation: Supplementaion of palm oil as an antioxidant to a certain extent reduced lipid oxidation in healthy rats; but worsened or not significantly inhibited in diabetic rats.
• Hepatoprotective: Study evaluated the hepatoprotective activity of E. guineensis against paracetamol- induced liver injury in mice through serum analysis. Mice treated with leaf extract showed significant decline in ALT, AST, and bilirubin levels. The hepatoprotection was attributed to an antioxidant activity.
• Wound Healing / Leaf Extract Ointment: Study of E. guineensis leaf extract showed potent wound healing capacity as evidenced by better wound closure, improved tissue regeneration, together with histopath improvement.
• Antihypertensive and Cardiovascular Effects / Catechin-Rich: Study evaluated the catechin-rich oil palm leaf extract (OPLE) for antioxidant, antihypertensive, and cardiovascular effects in normal and NO-deficient hypertensive rats. Results showed significant attenuation of blood pressure increases, increased serum NO, reduced lipid peroxidation, and antioxidant effects.
• Cytotoxicity / Anti-Cancer: Study evaluated the cytotoxic effects of a methanol extract on MCF-7 and Vero cell. Results showed significant cytotoxic effects on MCF-7, suggesting a potential use of the extract in preparing recipes for cancer-related ailments.
• Antioxidant / Renoprotection in Diabetes: Results of study of oil palm leaf extract (OPLE) showed improvement in renal dysfunction and pathology in diabetes. Renoprotection was via catechin-rich OPLE modulation of oxidative stress caused by hyperglycemic-induced generation of free radicals in the diabetic kidney and prevention of renal dysfunction and structural injury.
• Acute Toxicity Study / Brine-Shrimp Lethality: Acute oral toxicity and brine shrimp lethality of a methanolic extract was tested. Results showed E. guineensis is nontoxic and safe for commercial utilization.
Availability
Commercially, as oil products.
Pellets, tinctures, dilutions in the cybermarkets.