Botany
Alagau-gubat is a shrub or small tree reaching a height of 10 meters, slightly hairy to nearly smooth. Leaves are elliptic-ovate to oblong-ovate, 6 to 10 centimeters long, 3 to 6 centimeters wide, pointed at the tip and pointed or rounded at the base. Flowers are small, greenish or greenish white, numerous, borne on terminal inflorescences (cymes), and up to 5 centimeters long and 6 centimeters wide. Calyx is green, equally 4-toothed and 1 to 1.5 centimeters long. Corolla is 4 millimeters long and hairy inside. Stamens are white and exserted. Fruit is rounded, fleshy, dark purple, 4 to 5 millimeters long.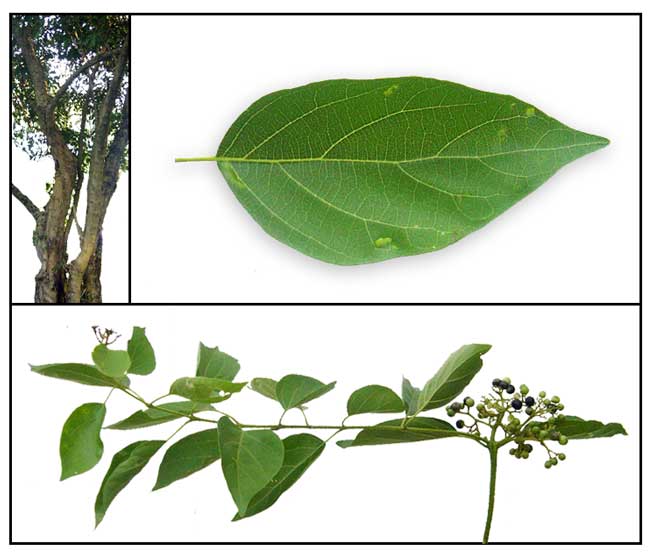 Distribution
- Found In secondary forests at low altitudes in Cagayan, Ilocos Sur, Isabela, La Union, Pangasinan, Zambales, Nueva Ecija, Tarlac, Bulacan, Bataan, Rizal, Batangas, Laguna, Quezon, and Camarines Provinces in Luzon.
- Indigenous to East Africa, India, Bangladesh, Japan, Chine, Taiwan, Papua New Guinea, Australia, Polynesia and Melanesia.

Properties
- Leaves have a rank odor when crushed.
- Used as cardiotonic, adaptogenic, antibiotic, anticoagulant, stomachic, carminative, hepatoprotective, galactagogue, laxative.
- Premnine and ganiarine have sympathomimetic actions.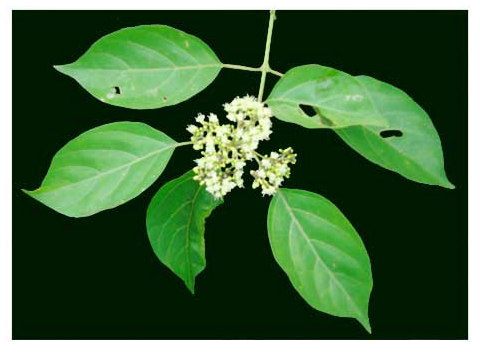 Constituents
- Stem bark contains three alkaloids: premnine, ganiarine, ganikarine.
- Phytochemical screening yielded flavonoids, steroids, alkaloids, glycosides and phenolic compounds.

Parts used
Leaves, bark.

Uses
Edibility
- Leaves considered edible.
Folkloric
- Leaves sometimes used as a "ñgañga" component, substitute for Piper betle with seeds of Areca catechu.
- Leaves used for variety of stomach ailments.
- Root bark used for fevers, liver complaints, rheumatism, neuralgia.
- In Myanmar, roots and stem bark used as laxative, carminative and stomachic. Decoction of whole plant used for fevers, rheumatism and neuralgia. source
- In Ayurveda, roots are incorporated in many formulations.
- Leaves eaten to increase breast milk production.
Others
- Nga-nga: Leaves are reportedly used as substitute for Piper betle for chewing with seeds of Areca catechu.
- Wood: Used for making simple instruments: handles, oars, etc.
- Bark: Used for rope or cordage.
Studies
• Antibacterial: The alcoholic extract of the root bark showed good antibacterial activity against gram-positive organisms in a preliminary screening. (1)
• Immunomodulatory Activity: The roots of both plants of C. phlomidis and Premna integrifolia are incorporated in many valued Ayurvedic formulations. In a study evaluating the roots for immunomodulatory potential, both roots showed immunoprophylactic effect with C phlomidis showing higher response to specific immune activity. In no specific immune activity, both roots showed equal response. (2)
• The effect of Premna integrifolia Linn. (Verbenaceae) on blood glucose in streptozotocin induced type 1 and type 2 diabetic rats. (3)
• Hypoglycemic activity: In a study of 30 hypoglycemic plants from indigenous folk medicines, Premna integrifolia was one of 24 samples (14th) that showed significant blood glucose lowering activity. (4)
• Premnazole / Anti-Inflammatory Activity: Premnazole, an isoxazole alkaloid from Premna integrifolia and Gmelina arborea exhibited significant anti-inflammatory activity in rats, comparable to that of phenylbutazone.
• Cardiac Stimulant Activity: PS contains alkaloids and iridoid glycoside. Study suggests that the ethanol extract produced a cardiotonic effect and the aqueous extract produced a ß-adrenergic effect. (6)
• Cardioprotective: Study confirmed the cardioprotective effect of an ethanol extract of Premna serratifolia on isoproterenol-induced myocardial infarction in rats. The effect was attributed to phytoconstituents, viz., iridoid glycosides, alkaloids, flavonoids, and phenolic compounds. (11)
• Hepatoprotective / Cytotoxic Activity: Study showed the alcoholic extract with significant hepatoprotective activity evidenced by decrease of serum enzymes, bilirubin and lipid peroxidation, comparable to drug silymarin. It also exhibited significant in-vitro cytotoxic activity. Results showed the alcoholic extract not only as an effective hepatoprotective agent, but with also significant antitumor activity.
(8)
• Antiparasitic Activity: In a study of 18 medicinal plants in New Caledonia evaluated in vitro against several parasites, Scaevola balansae and Premna serratifolia were the most active against Leishmania donovani. (9)
• Anti-Arthritic: Study of ethanol extract of wood of Premna serratifolia exhibited significant anti-arthritic activity against adjuvant-induced arthritis. The activity was attributed to the presence of phytoconstituents such as iridoid glycosides, alkaloids, phenolic compounds and flavonoids. (10)
• Antioxidant: Study showed effective free radical scavenging activity, reducing power, and nitric oxide scavenging activity. The antioxidant properties were concentration dependent, with the ethanol extract showing the highest activity. Preliminary screening yielded flavonoids, steroids, alkaloids, glycosides and phenolic compounds. (12)
• Anti-Obesity: Study evaluated the anti-obesity activity of a chloroform extract of P. integrifolia in Swiss albino mice fed with cafeteria diet. Results showed dose-dependent anti-obesity activity. (14)
• Anti-Inflammatory / Antioxidant: Study evaluated a methanolic extract for anti-inflammatory and antioxidant activities. Results significantly demonstrated anti-inflammatory activity of P. integrifolia roots in various models through antihistaminic, antikinin, COX-inhibitory and antioxidant action. (15)

Availability
Wild-crafted.