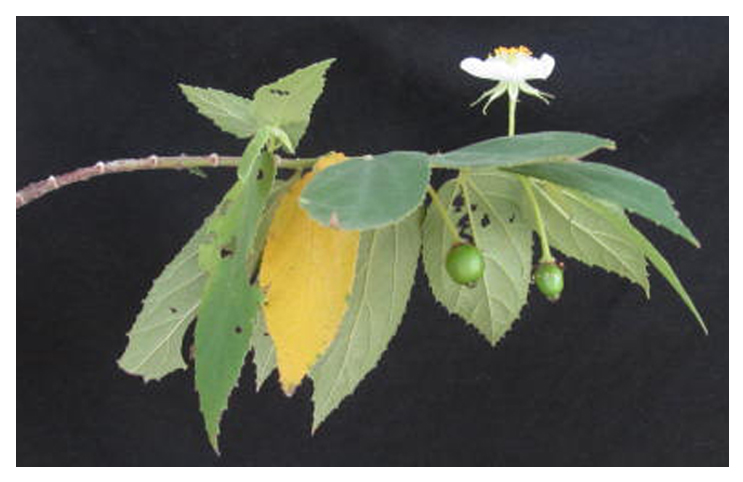 Botany:
Aratiles is a fast growing tree, 5 to 10 meters high, with spreading branches. Leaves are hairy, sticky, alternate, distichous, oblong-ovate to broadly oblong-lanceolate, 8 to 13 centimeters long, with toothed margins, pointed apex and inequilateral base, one side rounded and the other acute. Flowers are about 2 centimeters in diameter, white, extra-axillary, solitary or in pairs. Sepals are 5, green, reflexed, lanceolate, about 1 centimeter long. Petals are white, obovate, 1 centimeter long, deciduous and spreading. Fruit is a berry, rounded, about 1.5 centimeter in diameter, red on ripening, smooth, fleshy, sweet and many seeded.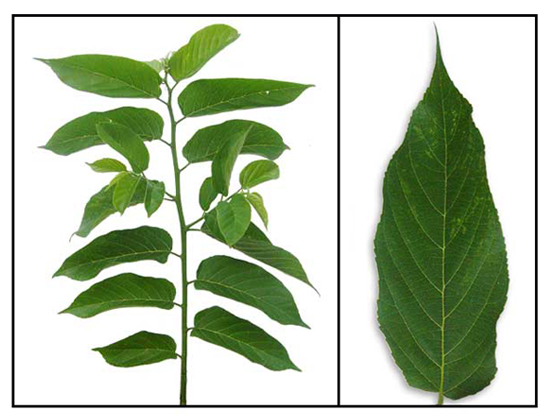 Distribution
- Naturalized, widely distributed, growing in and about towns.
- Introduced from tropical America.
- Also reported in Thailand and Java.
Constituents
- Phytochemical analysis of various leaf extracts yieded saponin, tannins, and flavonoid.
- Dichlormethane extract of fruit yielded squalene (1), triglyceride (2), a mixture of linoleic acid (31) palmitic acid (3b) and α-linolenic acid (3c), and a mixture of ß-sitosterol (4a) and stigmasterol (4b). (17)
- Fruit extract yielded phenols, flavonoids, anthocyanins tannins, saponins, etc. A methanolic fruit extract yielded 1.49 g/100g gallic acid of phenolic content, 3 mg/g CE of flavonoid, and 300 µg CGE/100g fresh mass fruit of anthocyanin. (18)

Properties
- Antispasmodic and emollient.
- Studies have shown antioxidant, anti-inflammatory, anti-pyretic, analgesicm cardioprotective, antibacterial, and antifungal properties.
Parts utilized
Bark, leaves and flowers.

Uses
Edibility
- The ripe fruit is very popular among Filipino children.
Folkloric
- Flowers are antispasmodic. Decoction of flowers for abdominal cramps.
- Decoction used as emollient.
- Flowers used as antiseptic and to treat spasms.
- Leaves used as antiseptics or antipruritic; also, to treat abdominal cram
- Also used to relieve colds and headaches.
- In the Antiles, used as antispasmodic.
- In Martinique, bark decoction is mucilaginous and used as emollient.
Others
- Bark used for making rope.
- Wood is compact, fine-grained, moderately strong and light in weight and durable, used for carpentry work.
- Fast growing tree that makes for a favorable shade tree.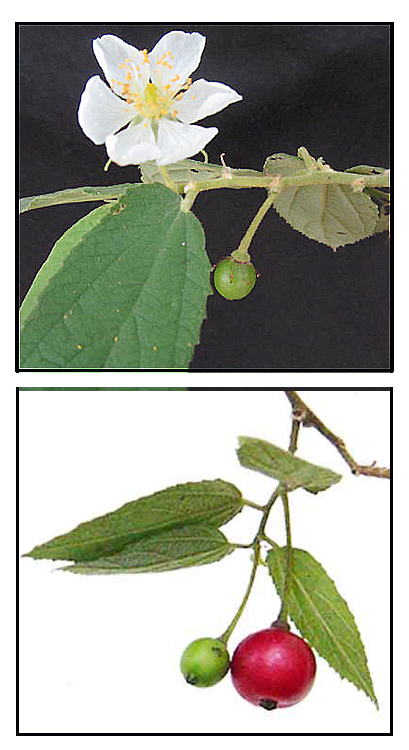 Studies
• Antibacterial Activity: The study concluded that M. calabura possesses a potential antibacterial property that is comparable to the standard antibiotics used. The study also suggests the presence of a more potent polar antibacterial compound. (1)
• Antistaphylococcal Activity Study isolated fractions from the methanol extract of MC with anti-staphylococcal activity.
• Flavanone Constituents: The study isolated a flavanone as well as 24 known compounds, which were mainly flavanones and flavones.
• Antinociceptive / Anti-inflammatory / Antipyretic: The study concludes that M. calabura leaves possessed antinociceptive, anti-inflammatory and antipyretic activities, justifying the Peruvian folkloric medicinal use. (3)
• Cytotoxic Flavonoids / Anticancer: Study isolated 12 new flavonoids were isolated (7 flavans, 3 flavones, two biflavans). Most of the isolates demonstrated cytotoxic activity and some exhibited selective activities when evaluated with a number of human cancer cell lines. (4)
• Cytotoxic / Leaves and Stems : Study of leaves and stems of Muntingia calabura yielded cytotoxic flavonoids: chrysin, 2',4'-dihydroxychalcone and galangin 3, 7-dimethyl ether. The compounds were active against one or more panels of human and murine cell lines. (5)
• Cardioprotective: Pretreatment with M calabura leaf extract efficiently protected the myocardium against isoproterenol-induced myocardial infarction. It brought about a significant decrease in cardiac marker enzyme activities probably due reduction in extent of myocardial damage and restriction of leakage of enzymes from the myocardium. (6)
• Antinociceptive / Opioid Receptor Connect: Aqueous extract of Muntingia calibura showed significant antinociceptive activity against chemically and thermally induced noxious stimuli. The bioactive compounds responsible for the activity work partly through the opioid receptor system. (7)
• Antioxidant: Study showed high levels of antioxidant activity in the fruit extracts. There was a correlation between antioxidant activity and phenolic flavonoid contents. (8) Various fruit extracts were evaluated for in vitro antioxidant activity against DPPH radical quenching assay and reducing power. Higher antioxidant potential was seen in DPPH scavenging assay, with a positive correlation between phenoics and flavonoid contents and antioxidant properties of the extracts. (see constituents above) (18)
• Anticancer / Antiproliferative / Antoxidant: Study showed M. calabura leaves possess potential antiproliferative and antioxidant activities that could be attributed to high content of phenolic compounds.
(10)
• Hypotensive Effect: Study evaluated the cardiovascular effect of a methanol extract from the leaf of MC. A fractionated water-soluble extract elicited both a transient and delayed hypotensive effect via production of NO (nitric oxide). Activation of NO/sGC/cGMP signaling pathway may mediate the MC-induced hypotension. (11)
• Antinociceptive / Leaves / Mechanisms: Study on a methanol extract of leaves showed antinociceptive activity involving activation of peripheral and central mechanisms, and partly, via modulation of opioid receptors and NO/cGMP pathway. (12)
• Analgesic / Antipyretic / Leaves: Study of chloroform extract of M. calabura leaves showed remarkable antinociceptive and antipyretic, but less effective anti-inflammatory activities in various animal models. (16)
• Antimicrobial / Leaves: Study evaluated the in vitro antimicrobial activity of Muntingia calabrura leaf extracts against a selected panel of microorganisms. A methanol extract produced inhibition zones against S. aureus, P. aeruginosa, E. coli, K. pneumonia and C. neoformans. Results suggest potent antibacrterial activity and the presence of more potent polar antibacterial compound. (17)
• Effect onn Isoproterenol-Induced Myocardial Infarction: Study evaluated the effects of an aqueous extract of MC on isoproterenol-induced myocardial infarction. in Wistar albino rats. Pretreatment with the aqueous extract had a significant effect on the activities of marker enzymes (CK, LDH, and transaminases. (18)
• Antihyperglycemic / Antioxidant / Leaves: Study evaluated Muntingia calabura leaves extracts for in vitro antioxidant and antidiabetic property in Streptozotocin-Nicotinamide induced type II diabetic rat model. In four complementary antioxidant assays, the ethanolic extract of leaves showed high phenolic and flavonoid content. Treatment of STZ-N induced type II diabetic rats with the extracts cuased a significant reduction in fasting glucose level in a dose dependent manner. All the extracts showed dose-dependent antioxidant and anti-hyperglycemic activity with potential to protect against free radical medicated damages. (19)
• New Cytotoxic Flavonoids / Anti-Cancer / Roots: Study of cytotoxic Et2O-soluble extract of Muntingia calabura roots isolated 12 new flavonoids, viz. seven flavans 207, three flavones 8,10, and 12,and two biflavans 9 and 11. Most of the isolates demonstrated cytotoxic activity against P-388 cells. Some of the flavonoids exhibited somewhat selectivie activities against a number of human cancer cell lines. (20)
• Gastroprotective Cytotoxic Flavonoids / Anti-Cancer / Roots: Study evaluated a methanol extract of M. calabura leaves for the mechanism of gastroprotective effect in a pylorus ligated induced gastric ulceration model in rats. The MEMC exerted gastroprotective effect via several mechanisms including anti-secretory, antioxidant, and anti-inflammatory activities. The activities could be attributed to the presence of tannins, saponins, and flavonoids (e.g., rutin, quercitrin, fissetin and dihydroquercetin). (21)

Availability
Wild-crafted.