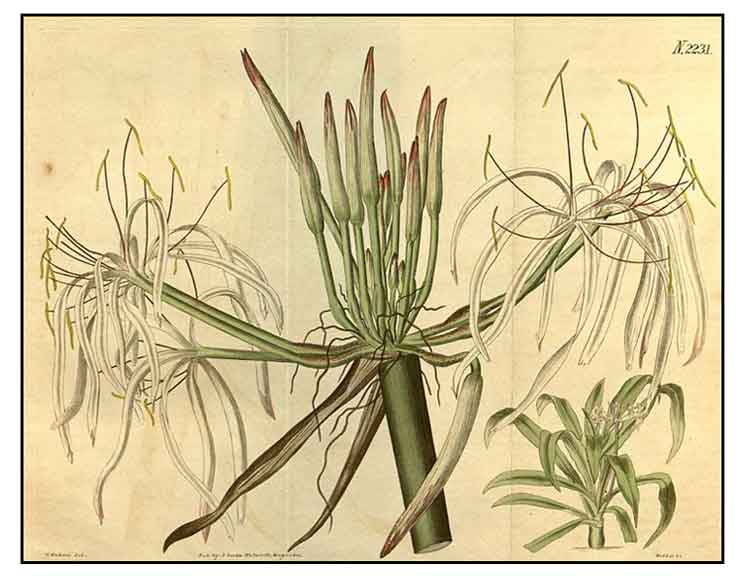 Botany
Bakong is an evergreen herb with large coated bulbs, 5 to 10 centimeters in diameters. Leaves are crowded at the apex, lanceolate, 90 to 150 centimeters long, 12 to 15 centimeters wide. Scape, arising from the axils of old leaves, is erect, stout, and solid, about 1 meter high or less. Spathe subtending the flowers is about 15 centimeters long. Flowers are fragrant, 20 to 40, each subtended by a thin, narrow bracteole. Perianth tube is greenish, about 1 centimeter long, the lobes spreading, white, linear, recurved or revolute, about 8 centimeters long and 8 centimeters wide. Filaments are very slender, free and purplish above. Fruits are subglobose, about 5 centimeters in diameter.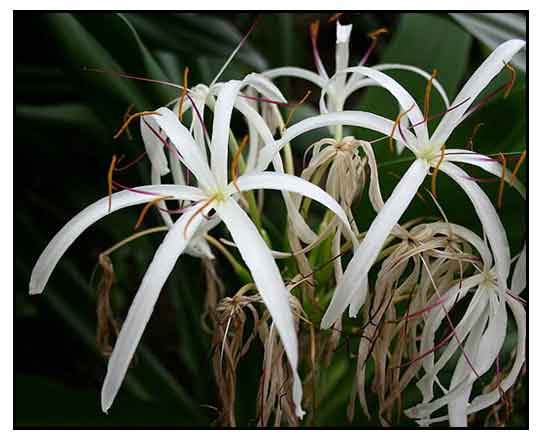 Distribution
- Throughout the Philippines along sandy seashores; sometimes planted inland.
- Occasional ornamental cultivation for its showy flowers.
- Widely distributed in China, India, South Korean, Myanmar, Japan and Sri Lanka.
Constituents
- Contains an emetic component, an alkaloid, lycorine (1 to 1.8 percent) allied to emetine.
- Bulb has yielded alkaloids lycorine and crinamine.
- The bulbs have been reported to contain baconine.
- Considered astringent due to the presence of considerable amounts of tannin.
- An ethanol extract study revealed a new phenolic compound from the bulbs of Crinum asiaticum L. var sinicum.
- Phytochemical screening yielded alkaloids, coumarins, glycosides, triterpenes and flavonoids.
Properties
- Astringent, analgesic, emollient, emetic.
- Studies have shown antioxidant, antinociceptive, sedative, antibacterial properties.
Parts utilized
Leaves and bulbs.

Uses
Folkloric
- Bulbs prepared as an ointment and leaves used as an emollient.
- In India, the leaves and roots are emetic and diaphoretic, used as a substitute for ipecacuanha.
- Warmed succulent leaves smeared with castor oil or bruised leaves mixed with oil are used for whitlow and other inflammations at the ends of toes and fingers.
- Also used as fomentations on inflamed joints and sprains.
- Juice of leaves, with a little salt, used for earaches and other ear complaints.
- Poultice made from heated, pounded fresh bulb used for osteodynia and rheumatism.
- Juice of fresh bulb is emetic. Also, instilled in the ear to treat otitis.
- Poultice of heated, pounded fresh leaves used for contusion, sprains, fractures, luxations.
- In Java, roots regarded as good emetic.
- Roots used for fevers lumbago, headaches and swellings.
- In Malaysia, used as rheumatic remedy and for local pain relief.
- In Australia, aborigines use warm infusions of C asiaticum bulb to disinfect wounds.
- In the Congo, used for leprosy.
- In Bangladesh, the tribes of Chittagong Hilly areas use the plant for pain, carbuncles, hemorrhoids, earaches, arthritis, leprosy, cold and cough disorders, vomiting, worm infestations. colic, flatulence and fever. Warmed leaves smeared with castor oil applied to end of toes and fingers for repelling inflammations and swelling.
- Bruised leaves used as insect repellent.
- Juice of fresh bulb used as emetic for children.
- Decoction of dried leaves use as hemorrhoidal wash.

Studies
• Anti-Inflammatory: The plant extract of Crinum asiaticum showed anti-inflammatory effects on carrageenan-induced hind paw edema in mice. A chloroform fraction of the methanol extract (CFME) on studied on its effect on BK- and histamine-induced contractions in slated rat uterus and guinea-pig ileum preparations. Results showed dose-dependent reduction (p<0.05; n=6) of contractile response induced by BK. Study suggests the CFME may contain compound/s with anti-histaminic properties. (1)
• Prostatic Hypertrophy: Model proved the leaf extract of Crinum asiaticum to be effective against hypertrophy of prostate in rats. (3)
• Mast Cell Effect: Lycoriside, an acylglucosyloxy-alkaloid from Crinum asiaticum on albino rats was studied for the mechanism of a dual response it elicited in view of a concentration-dependent anti- or prelease-effect on mast cell mediators. (4)
• Crinumin / Chymotrypsin-Like Activity: Study purified crinumin, a glycosylated serine protease with chymotrypsin-like activity from the latex of C asiaticum. Its varied activities make it applicable for the pharmaceutical and food industries. (5)
• Central Inhibitory Activity / Sedative: Study of aqueous extract of Crinum giganteum in mice showed it contained biologically active principles with sedative activity. (6)
• Anti-Inflammatory / Anti-Lymphocytic / Analgesic: Study of extract of C giganteum showed significant dose-dependent inhibition of pain and a significant effect on leucocyte count. Phytochemical analysis showed the presence of tannins. Results showed CG bulb contains biologically active principles with potentials for treatment of inflammatory processes. (7)
• Palmilycorine and Lycoriside / Alkaloids: Study isolated two new types of alkaloidal conjugates: palmilycorine and lycoriside from the fruits of Crinum asiaticum. The were also detected fro the fleshy scale leaves and roots. (8)
• Antibacterial / Phytochemicals: The aqueous and ethanol extracts of leaves of Crinum asiaticum were evaluated for their antibacterial activity. The ethanolic extract showed more inhibitory activity than the aqueous extract. Phytochemical analysis yielded n-Hexadecanoic acid (22.44%), 9, 12, 15-octadecatrienoic acid (15.42%), 9, 12-octadecadienoic acid (14.78%), 9, 10–Anthracenedione 2-amino (7.65%) and phytol (7.43%) as major present components. Results showed it to be a natural source of new antibacterial compounds. (9)
• Antinociceptive / Phytochemicals: Study yielded alkaloids, coumarins, glycosides, triterpenes, and flavonoids. Results in a carrageenan-induced paw edema model showed antinociceptive activity using indomethacin as control. (11)
• Norgalanthamine / Hair Growth: Study in rats treated with an ethanol extract showed an increase expression of proliferating cell nuclear antigen (PCNA) in the bulb region. Study yielded norgalanthamine, a principal of C. asiaticum, that exhibited a potential to promote hair growth via the proliferation of dermal papilla. (12)
• Antinociceptive / Anti-Inflammatory / Bulbs: Study of a methanol extract of Crinum asiaticum bulb for antinociceptive activity on pain induced by acetic acid and formalin in Swiss albino mice showed potent analgesic and anti-inflammatory effect. (16)
• Wound Healing / Leaves: Study evaluated the wound healing activity of leaves by incorporating an extract in simple ointment base of 2% and 4% formulations. Wound healing was studied in excision, incision and burn wound models. The 4% alcoholic extract showed significant (p<0.001) wound contracting ability and period of epithelization, with significant tensile strength in both formulations. (17)
• Analgesic / Anti-Inflammatory / Leaves: Study of an ethanolic leaf extract showed analgesic effects in acetic acid induced writhing model (p<0.001) and formalin induced licking model (p<0.01) in swiss albino mice and anti-inflammatory effect (p<0.01) in carrageenan-induced paw edema model of albino rat. No mortality was observed in acute toxicity study. (18)
• Antioxidant / Attenuation of Hyperglycemia-Mediated Oxidative Stress / Hepatocyte Protective: Study evaluated the antioxidant activity of ethanolic extract of Crinum asiaticum leaves in alloxan induced diabetic rats. There was a significant decrease in blood sugar level, decrease in TC, LDL, VLDL, triglycerides and an increase in HDL. Results showed the hepatocyte protective nature of CA by attenuating markers of hyperglycemia-mediated oxidative stress. (19)
• Anticandidal / Leaves: Study evaluated various organic and aqueous extracts of C. asiaticum leaves for anticandidal activity against five human pathogenic Candida spp. A dichlormethane solvent showed the best activity against all tested Candida spp. with zone of inhibition between 12.3 mm and 20.6 mm, with Candida albicans showing greatest sensitivity at 20.6mm. (20)
Availability
Cultivated.