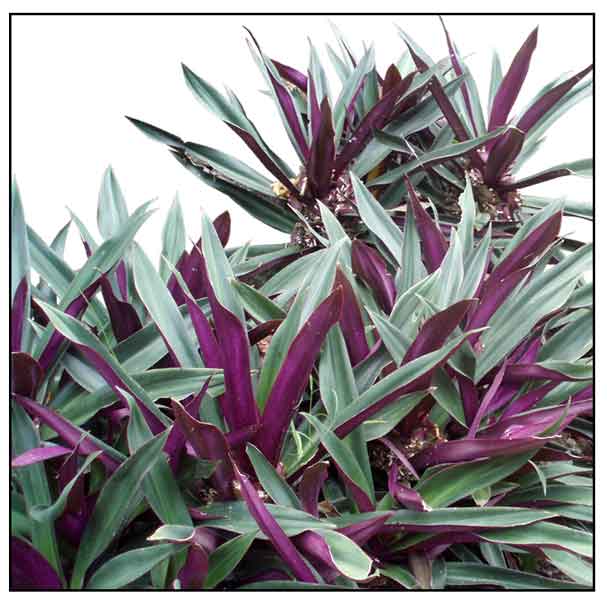 Etymology
- Tradescantia is named after John Tradescant senior, gardener to Charles I. He collected the first tradescantia from Virginia in the USA. Spathacea refers to the spatula-like leaves. Its common names are Moses-in-the-cradle, Oyster Plant and Boat Lily.
- Moses in a Cradle: The small white three-petaled flowers (Moses) arise from within the boat-shaped purple bracts (the cradle) nestled between the leaf axils.
Botany
Bangka-bangkaan is a stout perennial herbaceous, somewhat fleshy plant, 0.5 meters in height or less, the stem thick and unbranched. Leaves are lanceolate, acuminate, 40 to 60 centimeters long, 4 to 6 centimeters wide, fleshy, the upper surface dark green, the lower purple.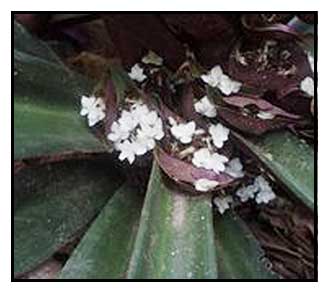 Flowers are numerous in each inflorescence, fascicled, white, about 1 centimeter in diameter. Inflorescence, axillary, short, peduncled, the flowers surrounded by 2 large, imbricate, laterally compressed, distichous, 3 to 4 centimeters long purplish bracts.
Distribution
- Ornamental cultivation.
- Scarcely established.
Constituents
• Phytochemical studies yielded alkaloids, flavonoids, steroids, saponins, cardiac glycosides, terpenoids, tannin and phenolic compounds and oil.

Properties
• Decongestant, expectorant, blood refrigerant, antidysenteric.
• Reported anti-inflammatory, anticancer, insecticidal, antimicrobial, antifertility properties.
Parts utilized
Flowers, leaves.
Collect the whole year round. Sun-dry.

Uses
Folkloric
· Used for cough, colds, hemoptysis, whooping cough, nose bleed.
· Bacillary dysentery, blood in the stool.
· Used for lymphatic tuberculosis.
· Dosage: use 30 to 60 gms fresh material, 15 to 84 gms dried material or 20 to 30 pieces dried material in decoction.
· In Singapore, sold in markets as both ornamental and medicinal: Boiled in water, it is believed to have cooling properties.
· In Thai medicine, used for fever, cough and bronchitis.
· In Cuba, frictions and cataplasms used to treat wounds. In the Caribbean, poultice of leaves used for asthma. (11)
Caution !
The plant sap is considered poisonous. Contact may cause stinging and itching of the skin and eyes. Ingestion may cause irritation of the lips, mouth, throat and abdominal pain.
Studies
• Anti-tumor / Chemoprevention: Aqueous crude extract of Rhoeo discolor decreases the formation of liver preneoplastic foci in rats – In Mexico, Rhoeo discolor has been used to treat cancer. A study was done to validate its antitumoral property. It showed a reduction of preneoplastic lesions and justifies continuing further studies for its chemoprevention potential. (1)
• Antigenotoxic, antimutagenic and ROS scavenging activities: (1) Extensively used in traditionally medicine in Mexico for the treatment of superficial mycoses, a study was done to evaluate its antimutagenic and antigenotoxic activities. The extract was neither mutagenic nor genotoxic. It showed dome radical scavenging, less than a-tocopherol and more than ascorbic acid. (2)
• Antimutagenic Mechanism: Study of antimutagenic mechanisms showed the extract might be used to avoid DNA damage by alkylation, corrected alkylguanine transferase protein encoded with ogt gene. (5)
• ·Antimicrobial / Phytochemical Constituents : Phytochemical studies yielded alkaloids, flavonoids, steroids, saponins, cardiac glycosides, terpenoids, tannin and phenolic compounds and oil. Study showed good inhibitory activity with dose-dependent increase in effect. K pneumonia was found to be most susceptible. (4)

Availability
Wild-crafted.