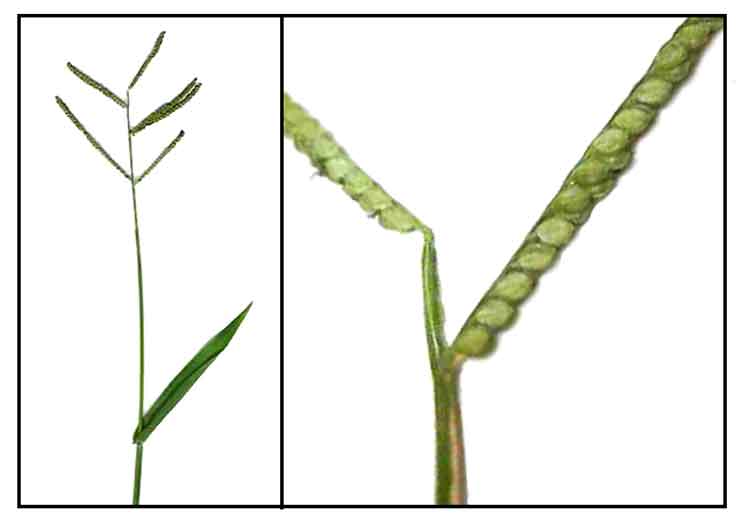 Botany
Bias-biasan is a perennial, tufted, erect, rather slender, nearly glabrous, somewhat wiry plant, 40 to 80 centimeters high. Leaves are flat, 6 to 15 centimeters long and 5 to 8 centimeters wide. Spikes numbers 3 or 4, usually spreading, 4 to 8 centimeters long. Spikelets are pale, 2-seriate, and about 2 millimeters long.
Distribution
- Mostly in open grasslands at low and medium altitudes, ascending to 1,500 meters throughout the Philippines.
- Pantropic.
Constituents
- Study showed gluteln to be the major storage protein. Lysine is the most limiting amino acid followed by methionine and cystine.

Parts used
Stem juice, rhizomes, roots.

Uses
Edibility
- A staple food in some parts of Africa and North India.
Folkloric
- Juice expressed from the stem used for corneal opacities.
- Decoction of roots and rhizomes used as alterative in childbirth.
- In India, in cases of poisoning, eating of the grains of the grass is prescribed.
Studies
• Antidiabetic: Study of aqueous and ethanol extracts in rats with alloxan-induced diabetes showed a dose-dependent fall in fasting blood glucose. Treatment also showed a significant increase in liver glycogen and a significant decrease in glycated haemoglobin levels.
• Chronic Toxicity Study: Study of dried ethanol extract of the husk of the grain of Paspalum scrobiculatum produced (1) tranquilization and tremors in various animal species (2) potentiated the effect of hexobarbitone in mice (3) produced hypothermia in mice and rats (4) enhanced leptazol toxicity in rats (5) hypotension and diminished carotid occlusion reflex in anesthetized dogs.
• Tranquilizing Effect: A dried ethanol extract of husk of Paspalum scrobiculatum grain was given to forty psychotic patients in a double blind control, cross over method. The extract was found to have a tranquilizing effect on patients.
• Wound Healing: Study in animals showed a paste from P. scrobiculatum hastened wound healing. Significant increases in protein and collagen occurred at the wound area where the poultice was applied, with more rapid wound closure.
Toxicity
• Paspalum scrobiculatum is a millet that thrives in the poorest soil. The husk and leaves acquire a poisonous quality attributed to heavy rainfalls. Grain detoxification is achieved by a year of storage or by keeping it overnight in buffalo dung. After detoxification, it is dehusked, boiled and consumed after discarding the supernatant water.
• Accidental ingestion of the toxic grain causes CNS effects within a few hours: sleepiness, tremors and dizziness. Vomiting and abdominal colic may occur.
• In cattle, tremors, convulsions, coma and death may occur. (Britt. J. Pharmacol. (1962), 18, 7-18.)

Availability
Wild-crafted.