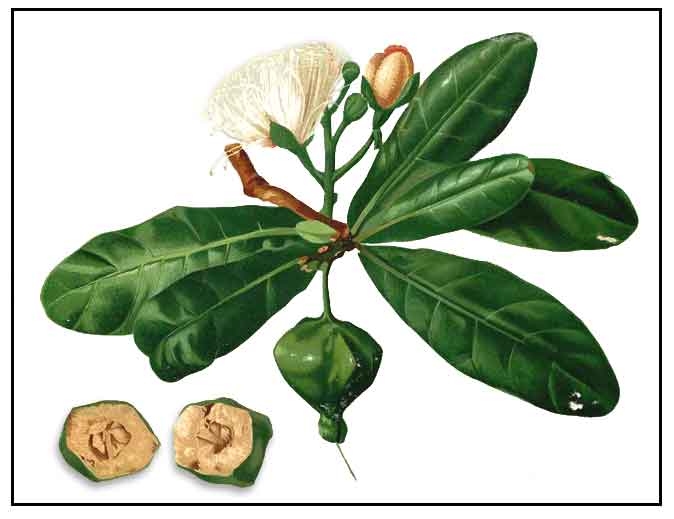 Botany
Botong is a tree growing to a height of 8 to 15 meters. Leaves are large, obovate or obovate-oblong, 20 to 40 centimeters long, entire, thick, shining, stalkless, blunt-tipped, and pointed at the base. Flowers are very large and white, borne in short, erect, few-flavored racemes. Calyx-tube is about 1 centimeter long; the lobes, 2 or 3, are oblong-ovate, concave, green and about 2.5 centimeter long. Petals are deciduous, four, thin, first white and then brownish, oblong, 7 to 8 centimeters long, and 3 to 4 centimeters wide. Stamens are very numerous, slender and united at the base, 10 to 12 centimeters long, white below, and shading to purple above. Anthers are small and yellow. Fruit is obovoid, 8 to 14 centimeters long and 8 to 12 centimeters thick, containing one large seed.
Distribution
- A common strand plant along the seashore throughout the Philippines.
- Cultivated as a shade tree along boulevards and avenues by the sea.
- Also found within tropical Asia to Polynesia.
Constituents
- Seeds contain 2.9 percent of fixed oil, consisting of olein, palmitin, and stearin; gallic acid, 0.54 percent; a glucoside, barringtonin, 3.271 per cent.
- Preliminary work on saponins from B. asiatica showed the seeds contain a mixture of saponins (A1-barrinin).
- Study isolated a triterpene ester saponin from the seed of B. asiatica.

Parts used
Leaves, seeds.

Uses
Edibility
- Pods reportedly eaten in Indo-China.
Folkloric
- In the Philippines, leaves are heated and applied as topicals for stomachache.
- Fresh leaves used as topicals for rheumatism.
- Seeds employed as vermifuge.
- Scraped content of the fruit used for cysts, goiter, abscesses, tumors. Scrapings are applied as a poultice or held inside a cloth.
Others
- Fish poison: In Indo-China, fruit used as fish poison.
- Oil: In the Moluccas, oil is extracted from the seeds and used as illuminant.

Studies
• Antitumor / Phytochemicals: Study evaluated the biological activity of the seeds of B asiatica using the brine shrimp hatchability and lethality assay. Results showed high biological activity in both assays and suggests the possibility that botong seeds contain compounds that can be used to treat cancers and tumors. Phytochemicals yielded terpenoids and saponins. (2)
• Antifungal: Crude methanolic extract of leaves, fruits, seed stems and root barks of B. asiatica showed a good level of broad spectrum antifungal activity. The methanolic extract of B. asiatica flower also activity against M. cais and T. rubrum. (3)
• Saponins / Antifeedant Towards Epilachna sp. Larvae: Methanol extract of seeds yielded two major saponins. Study discussed the antifeedant properties towards Epilachna larvae are discussed. (6)
• Anti-Epileptic Activity: Study evaluated a methanolic extract of B. asiatica for acute toxicity testing and antiepileptic activity. in albino Wistar rats. The extract showed antiepileptic activity in both MES (Maximal Electroshock) and PTZ (Pentylenetetrazole) induced seizure models. Possible mechanism may be mediation through chloride channel of GABA or benzodiazepine receptor complex. (7)
• New Triterpene / Antimicrobial Activity: Study of freeze-dried bark of B. asiatica yielded a new triterpene: 3ß,11α)-11-hydroxyolean-12-en-3-yl palmitate, together with mixtures of other compounds. The compounds showed slight activity against C. albicans. Some compounds showed slight activity against S. aureus and P. aeruginosa. (8)
Availability
Wild-crafted.