Botany
Buhok ni Ester is an epiphytic bromeliad with silvery gray, threadlike and hanging festoons, growing 2 meters or longer, sometimes as longer than 20 meters, hanging on tree limbs, cliffs, and wires. Leaves are scattered, narrow-linear, up to 7 centimeters long. Flowers are small, solitary in the leaf axils.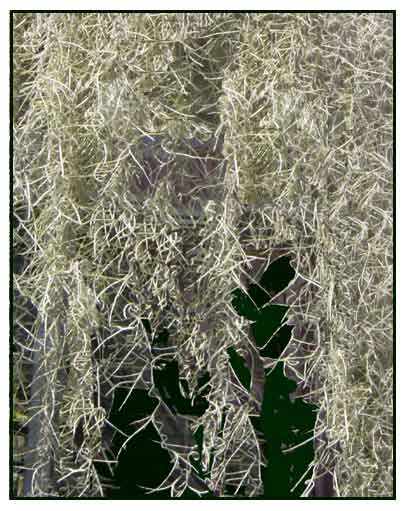 More botanical info
From: A Study of Tillandsia Usneoides by Frederick H. Billings / Botanical Gazette, Vol. 38, No. 2, Aug., 1904: Tillandsia usneoides is the mosyt widely distributed representative of the tropical and subtropical family Bromeliaceae. If provides a conspicuous and characteristic landscape feature. Its growth on ornamental trees is regarded with concern because of the common impression that it lives parastically. Exam reveals it is in no way connected to the tree but merely wraps its dead, wiry stems around the twigs in order to support itself. . . An indirect causeof the popular belief in its parasitism is its preference for sunny exposures. Many a cultivated tree in perfectly healthy condition possesses too dense foliage to serve as host for Tillandsia, but if the supply of leaves is reduced, the ligfht conditions make the presence of the epiphyte possible, which might suggest to the owner that the moss is cause rather than the result of reduced foliage. . .
Distribution
- Ornamental cultivation, preferring warm climates with high humidity.
Constituents
• Studies have yielded cyclopropane-containing triterpenes and a flavone glycoside.
• Phytochemical testing yielded cycloarterenol, 4,5-dihydroxy-3',7-demthoxyflavanone and a mixture of steroids stigmasterol, ß-sitosterol and campesterol.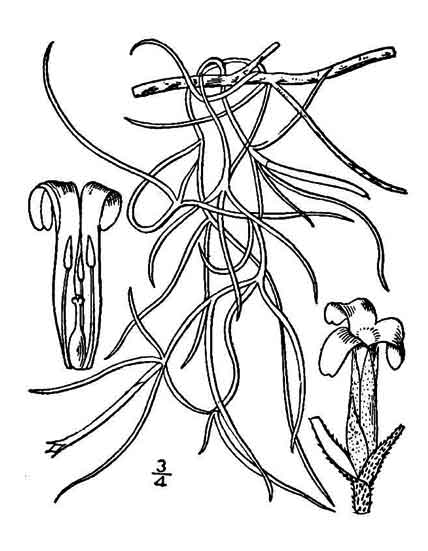 Properties
• Air purifying, analgesic.
Parts used
Roots and stems.

Uses
Folkloric
• No reported folkloric medicinal use in the Philippines.
• In south Louisiana, has been reportedly used for the treatment of diabetes mellitus.
• In Bahia, Brazil, decoction of the whole plant, "Sambambaia," is used for sexual weakness.
Others
• Bioindicator: Studies have shown it is a particularly reliable indicator of metal pollutants in the air.
• Fiber: Yields a tough, elastic fiber from the non-living vascular tissues of the stem.
• Gardening: Also used as mulch, handicraft, and decorative handicraft.

Studies
• Anti-Diabetic: (1) Study on the aqueous extract of T. usneoides for hypoglycemic activity. (2) Extracts of Tillandsia usneoides have been found to reduce blood sugars in lab animals, an effect attributed to the compound HMG (3-hydroxy-3-methylglutaric acid). (3) Study yielded four bioactive compounds, including HMG. HMG elicited significant hypoglycemic responses in fasting normal mice. Further evaluation of HMG and other potential HMGCoA lyase, for diabetes treatment is suggested.
• Biomonitor / Air Pollution: Neutron activation analysis applied to the determination of elements in the epiphytic bromeliad T. usneoides exposed in different polluted sites showed an accumulation of elements and indicated a promising potential of the species to serve as a biomonitor of air pollution.
• Analgesic: Aqueous ethanol extracts of 17 medicinal plants in Brazil were studied for analgesic properties in mice by the writhin and tail flick method. Significants effects were noted in five plants, including Tillandsia usneoides.
• Antiedematogenic / Toxicity: Study showed an antiedematogenice effect and potent antioxidant activity. No toxicity was reported.
• Pharmacologica Activities : Old studies have showed a weak antibacterial effect and estrogenic activities.
• Air Pollution Biological Monitor: Study results showed T. usneoides incorporates anthropogenic elements reachin max levels after 6 to 10 weeks. Results from biomonitors agree with those from aerosol filters, and suggests T. usneoides can be employed a first approximation for insights on atmospheric pollution levels prior to a detailed study using filters.
Availability
Wildcrafted.