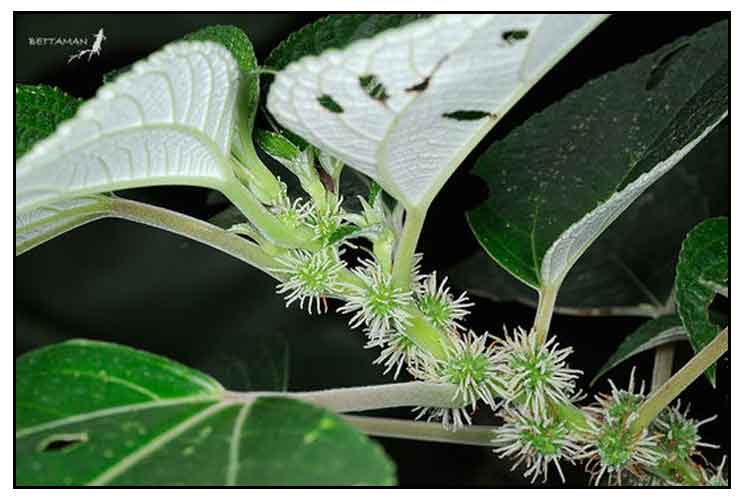 Botany
Dalunot is a dioecious shrub or small tree attaining a height of 3 to 5 meters. Leaves are ovate, 7 to 8 centimeters long, 3 to 10 centimeters wide, with the tip tapering to a point and the base rounded or somewhat heart-shaped, the margins toothed, the upper surface green, slightly hairy and a little rough, the lower surface pale and rather densely covered with soft hairs. Male flowers are borne in dense, axillary fascicles, with greenish-white and exerted styles. Female flowers are small and greenish, in dense, axillary, hemispheric heads, 5 to 6 millimeters in diameter, with long-exerted styles. Fruit is white, very soft and fleshy, depressed, nearly spherical, about 1 centimeter in diameter, and consists of many small achenes immersed in the fleshy perianths.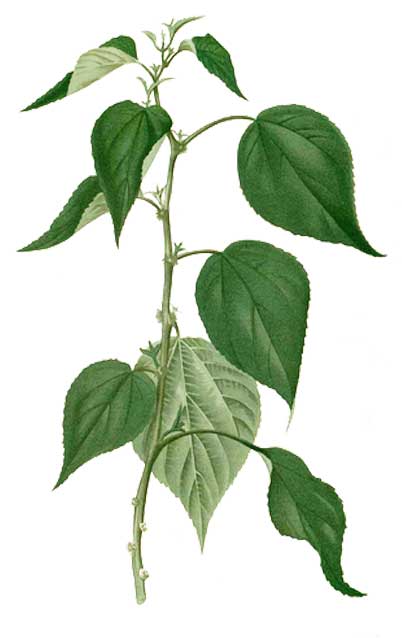 Distribution
- Very common and wide distributed species.
- In thickets and secondary forests at low and medium altitudes.
- In Baguette, it ascends to an altitude of 2,000 meters.
- Also occurs in Borneo, the Rickeys, and Taiwan.
Constituents
- Phytochemical screening of leaves yielded an thrones, flavonoids, glycosidic flavonoids, phenolic compounds, steroids, tannins, triter penes, anthraquinones and Cameroons. (1)
- Hexane extract of leaves yielded triter penes such as glut in one, Fridley, glutinous, and a mixture of sterols (campesterol, stigmasterol, and sitosterol). (1)
- Dichlormethane extracts yielded ursolic acid (1), oleanolic acid (2), friedelin (3), ß-sitosterol (4), and stigmasterol (5) from the twigs. Leaves yielded 4,5, squalene (6), chlorophyll a (7), and polyphenol (8). (4)

Parts used
Bark, leaves.

Uses
Edibility
- Fruits reportedly edible.
Folkloric
- In the Philippines bark scraping used externally as a cataplasm for boils.
- Leaves used for treating herpes simplex and skin diseases. (1)
- Mansaka people of Mindanao apply scraped and pounded bark or pulp on wounds to enhance healing. (7)

Studies
• Radical Scavenging Activity / Cytotoxicity: In a study of four Philippine medicinal plants, P arborescens gave the second lowest LC50 and EC50 values for BSLA and DPPH radical scavenging activity. Extracts of the plant also showed to be active against HeLa cells. Extract also showed 100% mortality in the Brine Shrimp lethality assay. (1)
• Cytotoxic Alkene and Terpene / Leaves: Study isolated a long-chain alkene (1-hexacosene) and a terpene from a methanol extract of air dried leaves. The isolated compounds showed moderate cytotoxicity against brine shrimp Artemia salina. (5)
• Antimicrobial: Study evaluated the antimicrobial potential of methanolic crude extract of leaves of Pipturus arborescens. An isolated triterpene was found active against Pseudomonas aeruginosa at 50 µg/ml. (6)
Availability
Wild-crafted.