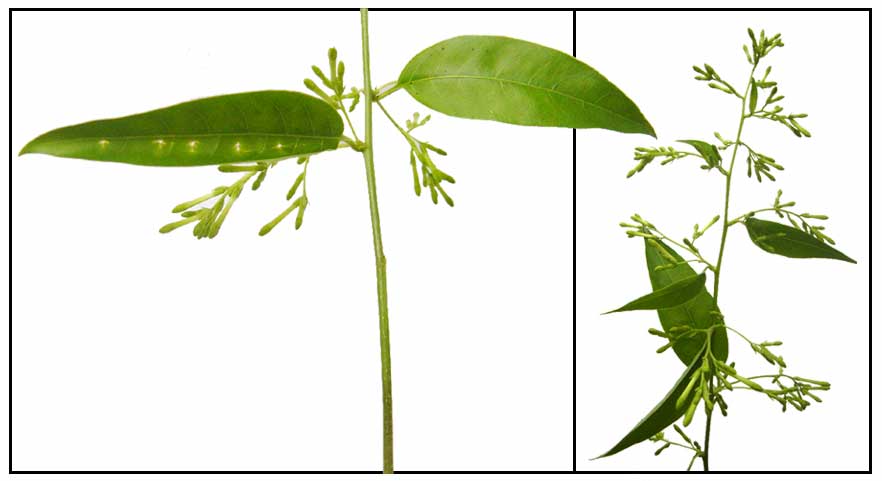 Snippets
- Cestrum nocturnum is a species of plant in the potato family Solanaceae. Despite the common name use of 'jasmine', the species is not a true jasmine and not of the genus Jasminum.
- Etymology: Species name "nocturnum" refers to the opening of the heavy scented flowers at night. Cestrum is probably from the Greek word "kestron" referring to similarity to a plant with that name, or"kestrum" for the plant anthers that resemble an engraving tool. (24)
- Ecosystem impact: Negative impact on native ecosystems due to invasive traits. It reproduces profusely through seeds, forming dense impenetrable thickets that crowd out native flora.(24)
Botany
Dama de noche is an erect and climbing ornamental smooth shrub, about 2 to 3 meters in height, with long often-drooping branches. Leaves are oblong-ovate to oblong-lanceolate, 8 to 10 centimeters long, pointed at the tips. Flowers are numerous, slender, yellowish-green, about 2 to 2.3 centimeters long, borne in lax, axillary and terminal inflorescences, 7 to 10 centimeters long.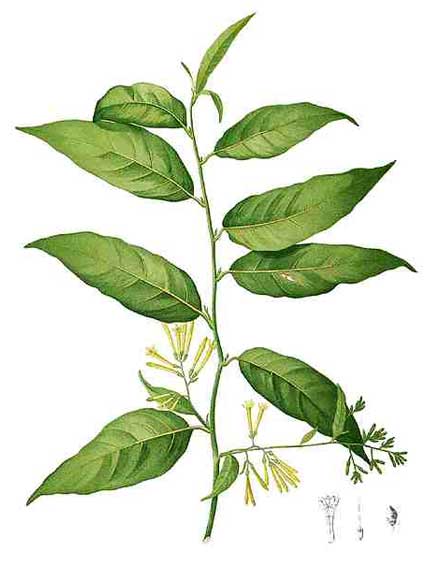 Distribution
- Widely cultivated in the Philippines for its sweet-scented flowers that bloom at night.
- Introduced from Tropical America.
- Cultivated in China, Iraq, Mexico, USA and India. (24)
Constituents
- Phytochemical screening of methanol extract of stems yielded flavonoids, saponins, tannins, triterpenes, and carbohydrates. (See study below) (15)
- Phytochemical screening of aerial parts showed saponins, triterpenes, sterols, flavonoids, tannins, and coumarins. (See study below) (18)
- Phytochemical analysis of various extracts yielded carbohydrates, proteins, flavonoids, tannins, cardiac glycosides, saponins, and alkaloids. (see study below) (20)
- Study for volatile oils yielded 16 constituents. Major constituents were ß-phellandrene (12.1%), α-phellandrene (9.2%), (E)-ß-ocimene (9.1%), linalool (3.1%). (24)
- HPLC study yielded major alkaloids: nicotine and nornicotine. (25)
- Study of aqueous, ethanol, and methanol leaf extracts yielded alkaloids, glycosides, saponins, flavonoids, terpenoids and steroids. Tannins were only found in the ethanol extract. (25)
- GC-MS analysis of methanolic extract of dried leaves yielded five components, viz., ethyl citrate, phytol, 4-isobutylmorphine, n-hexadecanoic acid, and α-amyrin. (30)
- Phytochemical screening of methanol extract of leaves yielded anthraquinones, triterpenes, saponins, and tannins, with an absence of alkaloids. (see study below) (34)
- Phytochemical screening of ethanolic and aqueous extracts of leaves yielded alkaloids, flavonoids, glycosides, tannins, and saponins. (see study below) (35)
- Study of fresh leaves extracted a new monodesmosidic spirostanol glycoside. Name proposed for the saponin is nocturnoside B. (37)
Properties
- Studies have suggested antibacterial, antioxidant, mosquitocidal, piscicidal, antitumor, anti-diabetic properties.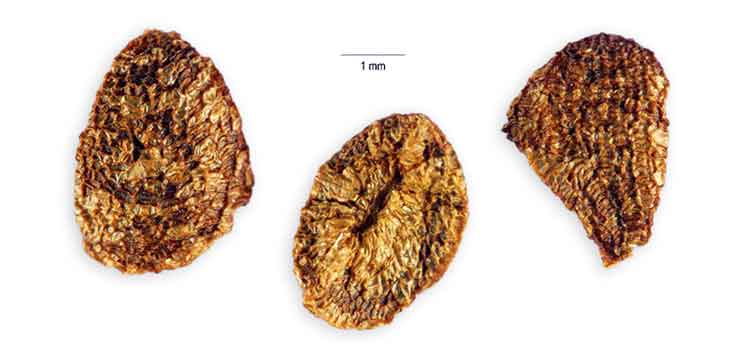 Toxicity concerns
- Toxic to livestock with poisoning symptoms of tachycardia, fever, oliguria, and slowing of respiratory rate; in extreme cases, convulsions and coma.
- Cuttings reported to be produce poisoning when eaten by animals.
- Experiments have shown the plant does not always poison stock and that toxicity is more likely with dry plants.
- Reports of respiratory sensitivities or asthma, with irritation of the nose and throat, headache, and nausea after exposure to the flower's powerful scent. (24)
- Ingestion of plant parts, especially the fruit, reported to cause fever, rapid pulse, salivation, gastritis, hallucination, paralysis. (24)


Parts used
Leaves, fruits.

Uses
Folkloric
- In Mexico, extract of the plant used as antispasmodic and treatment of epilepsy.
- In the Antiles, fruits used for treatment of epilepsy.
- In India, Malasar people use its juice for cataracts. (24)
- Yucatec Maya use flowers and leaves in hot bath treatments for night sweats. (24)
- Leaves used for treating swelling and burns.
- In Africa, oil used for treatment of malaria. (25)
Others
- Perfumery: Fragrant flowers used for perfumery.
- Rituals: Flowers used as offerings to Shiva and Ganesh in Kathmandu. Nepalese shamans use leaves and flowers for a ritual incense; fresh flowers are eaten and fried flowers smoked for spiritual healing energies. In the West Indies, plant used as stupefying charm medicine. (24)
- Oil: Used as mosquito repellent. (25)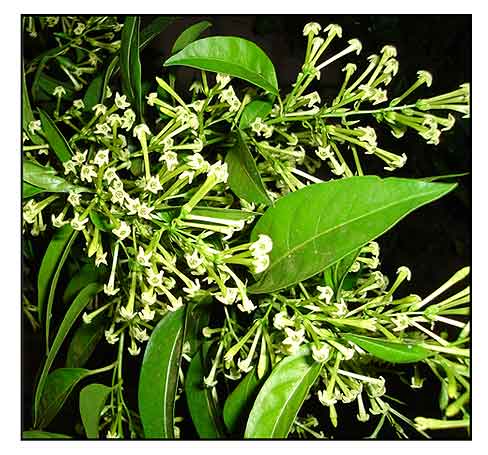 Studies
• Flavonol glycosides / Steroidal saponins / Cytotoxicity / Leaves: Study isolated two new flavonoid glycosides and seven steroidal saponins. The compounds exhibited cytotoxic activities against human oral squamous cell carcinoma and normal human gingival fibroblasts. (1)
• Atrial Contractility Effect: Effects of Cestrum nocturnum n-butyl alcohol extract on contractile characteristics of right atrium: The extract study showed a two-fold regulation on contraction of right atrium in isolated guinea pig. (2)
• Antiepileptic / Analgesic: Decoctions from the dried leaves of the plant were tested in different neuropharmacological models. Although not effective against pharmacologically induced convulsions, repeated administration reduced the amplitude of epileptic spikes in both primary and secondary foci. Results suggest CN possesses analgesic activity through a peripheral mechanism. (4)
• Antibacterial: The aqueous and methanol extracts of Cestrum nocturnum showed bactericidal activity against S aureus, B subtilis, E coli and P aeruginosa. (5)
• Antitumor: The n-butanol and polysaccharides extracts of Cestrum nocturnum are able to inhibit tumor growth and prolong the lifetime of tumor-bearing mice in a dose-dependent manner. (6)
• Phytochemicals / Steroidal Glycoside: Phytochemical testing yielded eight new steroidal glycosides: spirostanol saponin, furostanol saponin, a pseudo-furostanol saponin, two pregnane glycosides, two cholestane glycosides and a pregnane-carboxylic acid g-lactone glycoside and two known spinostanol glycosides. (7)
• Mosquito Larvicidal Activity / Aedes aegypti: Study on the extracts of Cestrum nocturnum and Plumbago zeylanica for larvicidal activity against larvae of Aedes aegypti. The qualitative analysis of crude extracts yielded bioactive phytochemicals with the predominance of saponins in C. nocturnum and plumbagin in P zeylanica. Experiments on the partially purified secondary metabolites showed potent mosquito larvicidal activity against forth instar larval form. It presents another public health potential of plant extracts for vector control. (8) Study of Cestrum nocturnum and Sapindus mukorosi showed promising larvicidal activity. Study yielded 2 potent fractions containing larvicidal principles among 12 fractions from both plants. (23)
• Larvicidal Activity / Aedes aegypti: Aedes aegypti is a vector parasite of Dengue. In a study, a methanol extract showed significant larvicidal activity, achieving 100% mortality in concentrations tested. (12)
•Fumigant / Repellent Effects: Study investigated the repellent, fumigation, and contact toxicity of extracts of C. nocturnum. Results showed C. nocturnum had better fumigation and repellent effects on drosophila, but the contact action was weak. (10)
• Antioxidant / Essential Oil: Study concludes that the essential oil and various organic extracts from the flower of C. nocturnum possess antioxidant activities with a potential as natural resource for use in food and other allied industries. (9)
• Anti-Inflammatory / Analgesic / Antipyretic: Study of methanol extract of leaves showed strong dose-dependent analgesic and anti-inflammatory activity compared to standard drug. It also showed mild anti-pyretic activity at higher tested dose. (11)
• Anti-Diabetic / Leaves: Study evaluated the antidiabetic activity of a hydroalcoholic extract of C. nocturnum leaves in Wistar rats. Results showed oral administration of the extract for 15 days showed a significant reduction in blood glucose levels in diabetic rats with improvement of biochemical parameters associated with diabetes. (14)
• Antioxidant / Stems: Study evaluated the antioxidant activity of extracts of C. nocturnum stems. The methanol extract showed the best free radical scavenging activity on a DPPH model. (15)
• Piscicide / Leaves: Study evaluated a methanolic extract of C. nocturnum leaves against predatory fish Channa punctatus. Results showed remarkable piscicidal activity which may be due to adverse effects on respiratory and energy production of the fish. The fish stupefying property presents a potential use in aquaculture. (16)
• Antimicrobial / Whole Plant: Study evaluated a crude methanol extract of whole plant against bacterial and fungal strains. Results showed marked activity against Pseudomonas aeruginosa, Staphylococcus aureus, Bacillus subtilis, Escherichia coli and Shigella flexneri. The extract also showed activity against Candida species and Microsporium canis. (17)
• Weak Anti-HIV activity / Aerial Parts: Study evaluated various extracts of aerial parts for Anti-HIV1 activity. All the extracts showed weak activity against ant9-HIV1 activity. Phytochemical screening showed saponins, triterpenes, sterols, flavonoids, tannins, and coumarins. (18)
• Antihyperglycemic / Antihyperlipidemic / Toxicity Study / Leaves: Study of hydroalcoholic extract and saponin fraction of C. nocturnum leaves in STZ induced diabetic rats showed antidiabetic, antihyperlipidemic, and hepatoprotective activity. Histological examination of pancreas from diabetic rats showed degenerative changes in ß-cells, Treatment significantly reversed the histo-architectural damage to the islet cells. Toxicity study showed the LD50 of the extract and fraction in rat was higher than 2000 mg/kg. (20)
• Hepatoprotective / Paracetamol Hepatotoxicity: Study of an aqueous extract of leaves showed hepatoprotective activity against paracetamol induced hepatotoxicity in albino mice. The activity was attributed to the presence of flavonoids and phenolic contents. (21)
• Antifungal: Study investigated the in vitro anticandidal activity of some medicinal plants against Candida species. Among the plants used, T. ammi and C. nocturnum were found to be more potent than the others.  (22)
• Wound Healing / Ointment Formulation / Leaves: Study evaluated the wound healing effect of an ointment formulation from ethanolic extract of C. nocturnum leaves using excision and incision wound model in Wistar albino rats. Parameters measured were percentage wound contraction, epithelization period, and histoarchitecture studies in the excision model, and breaking strength and hydroxyproline content in the incision model. Different concentrations (2% and 5% w/w) of EECN ointment exhibited significant concentration dependent wound healing activity in both models. (26)
• Antiproliferative and Apoptosis Induction / Inhibition of Topoisomerase II Activity / Flowers: A previous study showed an n-butanol part isolated from flowers inhibited proliferation of malignant cells. This study extracted fractions C4 and C5 from n-butanol part of CN flowers. The fractions exhibited significant cytotoxicity to cancer cell lines but showed low immune toxicity towards T and B lymphocytes in vitro. The fractions attenuated proliferation and induced apoptosis at G0/G1 and G2/M phases in Bel-7404 cells through inducing DNA damage and inhibiting topoisomerase II relaxation activity. Results suggest the C4 and C5 fractions may be sources of potential antitumor agents. (27)
• Anticoagulant: Study evaluated the anticoagulant properties of aqueous extract of C. nocturnum using aPTT (activated partial thromboplastin time), PT (prothrombin time), and TT (thrombin time). Results showed dose-dependent prolongation of APTT, TT, and PT. Results suggest the aqueous extract of CN possesses pharmacologically active anticoagulant principles. (28)
• Antioxidant / Essential Oil: Study evaluated the chemical composition and in vitro antioxidant activity of essential oil and various organic extracts of C. nocturnum. On DPPH radical scavenging assay, the methanolic extract exhibited the strongest activity with IC50 of 25.58 ± 0.9 µg/ml. In superoxide radical scavenging assay, the methanol fraction was superior to all fractions (IC50 24.60 ± 1.5 µg/ml). (29)
• Local Anesthetic Effect: Study evaluated the local anesthetic effect of C. nocturnum using conventional local anesthetic methods, viz., action potential of isolated sciatic nerve in toads (1), infiltration anesthesia in guinea pig (2), intravertebral anesthesia in rabbits (3), superficial anesthesia in rabbits (4). Results suggest local anesthetic effect as evidenced by 20% C. nocturnum can completely inhibit action potential of sciatic nerve in toads, but less than 1% procaine hydrochloride, effect of intravertebral anesthesia similar to procaine, and superficial anesthesia, but less than 1% procaine. (31)
• Silver Nanoparticles / Antioxidant / Antibacterial / Leaves: Study reported on the synthesis of silver nanoparticles using an aqueous leaf extract of C. nocturnum. The AgNPs showed more antioxidant activity compared to vitamin C. It also showed strong antibacterial activity (maximum Vibrio cholera and minimum E. faecalis). (32)
• α-Amylase Inhibitory Activity / Antidiabetic / Aerial Parts: Inhibition of a-amylase plays a vital role in management of postprandial hyperglycemia. Study evaluated the α-amylase inhibitory activity of hydroalcoholic extracts from aerial parts of Cestrum nocturnum. Results showed strong α-amylase inhibition with IC50 of 45.9 µg. Results suggest a potential for an anti-diabetic agent. (33)
• Antimicrobial /Typhoid Fever Causing Pathogenic Microbes / Leaves: Study evaluated the methanol extract of leaves of C. nocturnum for antimicrobial activity against various pathogenic strains of E. coli, V. cholerae, Shigella dysenteriae, Salmonella typhi, Salmonella parathyphi A and B. The ME showed considerable activity against S. typhi, S. paratyphi A, and S. paratyphi B. Results suggest the ME of leaves has maximum in vitro antimicrobial activity against causative agents of typhoid and parathyphoid fevers, and has potential for use alone or in synergism to combat drug resistance. (see constituents above) (34)
• Antianxiety / Antidepressant / Acute Toxicity Study / Leaves: Study evaluated the antianxiety and antidepressant activity of ethanolic and aqueous extracts of C. nocturnum leaves in rodents. Antianxiety activity was evaluated using elevated plus maze model and actophotometer and antidepressant activity by despair swim test and tail suspension test. The extracts exhibited antianxiety and antidepressant activity, with the ethanolic extract showing more significant activity than the aqueous extract. Acute toxicity study showed non toxic effects even at higher dose of 4000 mg/kbw. (35)
• Case Report / Corneal Melting and Perforation / Potentially Blinding Herbal Eye Remedy: Study reports on a case of a 36-year old Polynesian woman who had been diagnosed with Systemic Lupus Erythematosus (SLE), who elected to stop conventional systemic medications and sought alternative therapies. When the patient developed mild ocular symptoms, she was prescribed to apply crushed leaves of Cestrum nocturnum to both eyes daily. She subsequently developed sore eyes, severe pain, and rapid loss of vision, with bilateral severe corneal melting of more than 90% thickness. She underwent bilateral emergency penetrating keratoplasty. This is the first report of toxic effect of topical C. nocturnum on the anterior surface of the eyes. While the plant material pH is 7.3, it contains alkaloid substances. The author posits that the alkaloids may have caused saponification of the fatty acids in the cell membranes which resulted in massive cell death and hydrolysis of corneal matrix, collagen destruction, and release of inflammatory mediators. (36)
• Inhibitory Effect on Food-Borne Pathogens / Essential Oil: Study evaluated the efficacy of essential oil and organic extracts of C. nocturnum against food-borne pathogens. GC-MS analysis of the oil yielded 47 compounds representing 93.28% of the total oil identified. Various oil dilutions and organic extracts exhibited significant antibacterial activity against Staphylococcus aureus, Listeria monocytogenes, Bacillus subtilis, Pseudomonas aeruginosa, Salmonella typhimurium, and Escherichia coli. The oil showed strong detrimental effect on the viable count of tested bacteria. (38)
• Anticonvulsant Effect: Study evaluated the anticonvulsant effect of n-butanol fraction of hydroalcoholic extracts of C. nocturnum against seizures induced by PTZ and MES in mice. In the PTZ-model, there was significant delay in the onset of convulsions. In the MES model, there was significant decrease in duration of hind limb extension in mice. There was also significant increase of brain GABA level which suggests GABA-ergic transmission (Jawaid et al., 2011) (39)
• Antiulcer Activity / Leaves: Study evaluated the antiulcer activity of methanolic and n-hexane extracts of Cestrum nocturnum leaf against ethanol- and indomethacin-induced ulcer models in rats measuring ulcer index, antiulcer activity, gastric pH, gastric juice volume and acidity. Omeprazole was used as standard drug. Both extracts showed dose-dependent increase in % antiulcer activity in both ulcer models, which were supported by histopathology findings. Results suggest antisecretory effect of the extracts. (39)
• Anticancer / Antioxidant / Activity / Leaves and Stems: Study evaluated the methanolic extract of leaves and stems of Cestrum nocturnum and C. diurnum for antioxidant and anticancer activities. Both extracts exhibited very strong antioxidant activity in a dose dependent manner on DPPH assay. On anticancer evaluation against colon cancer cell line, HCT116 and acute myeloid leukemia (AML) cell lines, both extracts efficiently increased cell death in both cell lines. DNA fragmentation analysis further strengthened the anticancer potential of both plants. (41)
• Nephroprotective / Nephrocurative / Gentamicin Toxicity / Leaves: Study evaluated the nephroprotective and nephrocurative effects of methanolic extract of C. nocturnum leaves on gentamicin induced nephrotoxicity in rabbits. The extract showed significant protective and curative effects as evidenced by significant decrease in total oxidant status, BUN, creatinine, and uric acid levels, with significant increase in albumin and histopathological support. (42)
• Apigenin / Hepatocellular Carcinoma / Leaves: Hepatocellular carcinoma is the third-leading cause of cancer-related mortality. A flavonoid-rich methanolic fraction of ethyl acetate extract of leaves yielded different flavonoids. Among these apigenin was selected as principle active compound, and was shown to regulated cell proliferation and survival, primarily through different signaling pathways like estrogen, VEGF, PI3K/AKT1, TNF, FoXO and Ras signaling pathways. Integrating network pharmacology prediction with mRNA and human protein atlas validation could help in understanding the molecular mechanism of apigenin on HCC. (43)
• Analgesic: Study evaluated the analgesic effect of C. nocturnum on mice using measures of writhing times, time for pain response induced by hot plate, and analgesic rate induced by electrostimulation. Results showed dose-dependent analgesic effect. Naloxone, an opiate receptor antagonist, which can antagonize the analgesic effect of morphine could not antagonized the pain induced by hot plate, which indicates the extract exerts analgesic effect not through binding with opiate receptor. (44)
• Prolongation of Cold Storage of Meat / Flower Essential Oil: Study evaluated the antioxidant effects of volatile oil of flowers on cold storage of minced cattle meat. The volatile oil yielded 39 compounds, with oleic acid the dominant compound (24.49%). Oil on minced meat decreased thiobarbituric acid (TBA) and total violate nitrogen (TVN) under 4°C after 15 days. Results showed the volatile oil possess antioxidant activity and mixing the oil with minced cattle meat can increase storage period. (45)

Toxicity
• Toxicity to livestock (above).
• Plant has anticholinergic properties.
• Anticholinergic syndrome results from the inhibition of muscarinic cholinergic neurotransmission. Signs and symptoms are: flushing, dry skin, altered mental state, fever, tachycardia, urinary retention, hypertension, tremulousness, confusion, hallucinations. In severe cases, coma, respiratory failure and cardiovascular collapse.
• Case report of corneal toxicity and perforation. (see above: 36)

Availability
Wild-crafted.