Botany
Dayap is a small tree or shrub, 2 to 4 meters high, smooth throughout, branching with slender, solitary, sharp spines 1 centimeter or less. Leaves are oblong-ovate to elliptic-ovate, 4 to 6 centimeters long. Petioles are 1 to 1.5 centimeters long, and narrowly winged. Racemes are short and axillary, bearing few flowers which are white and fragrant. Petals are 4, oblong, 10 to 12 millimeters long. The fruit is almost spherical, 3 to 5 centimeters in diameter, yellow, thin-skinned, 10-celled or more.
Distribution
- Planted throughout the Philippines in settled areas.
- Native of the Indo-Malayan region.
- Now pantropic.
Constituents
- Lime juice in the West Indies contains 7.0 to 7.55 citric acid with small amounts of malic acid and tartaric acids, sugar up to 2.5%, pectin, and small amounts of salts.
- Pulp yields 4.24% sugar; 0.66% ash, and the juice yields citric acid, 7.67%; vitamin C.
- Methanol extract yielded alkaloids, flavonoids, tannins saponins, steroids, cardiac glycosides, and reducing sugars. (17)

Properties
- Juice is regarded as antiseptic, tonic, antiscorbutic, astringent, diuretic.
- Root bark is febrifuge.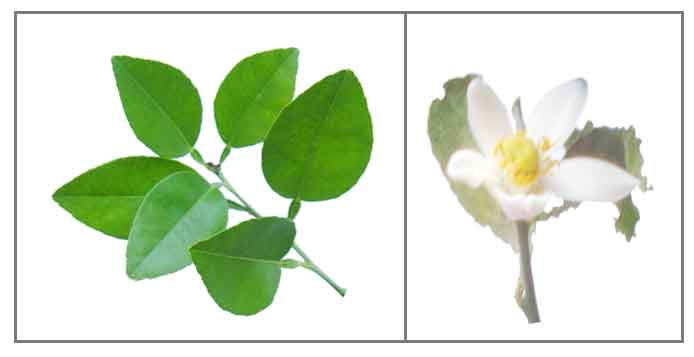 Parts utilized
Fruit, roots, bark, rind.

Uses
Edibility / Nutritional
- Makes a pleasant ade.
- Used as substitute for true lemon.
- Good source of vitamin C.
- In Malaya, the young dayap is preserved in syrup.
- Malays salt the fruit or preserve it in vinegar for use as pickle.
Folkloric
- Nausea and fainting: Squeeze rind near nostril for irritant inhalation.
- Decoction of roots used for dysentery; root-bark as febrifuge.
- Crushed leaves applied to forehead for headaches.
- Leaf decoction for eyewash and to bathe a feverish patient.
- Mouthwash and gargle for sore throat and thrush.
- Decoction of pounded leaves, with leaves of Areca catechu, drunk for stomachache.
- Externally, fresh juice is used to clean wounds; roasted, for chronic sores.
- Juice used for irritation and swelling of mosquito bites.
- Poultice of leaves applied to ulcer wounds.
- Lime oil extracted by steam distillation of the fruit rinds used for colds, sore throats, bronchitis, asthma.
- Used for arthritis, obesity, cellulite and as tonic and astringent.
- Malays sip the fruit juice as a remedy for coughs.
- In Senegal and Sierra Leone, juice, sometimes mitigated by being mixed with oil, used as vermifuge.
- Poultice of leaves for skin diseases or on the abdomen after childbirth.
- In Malaya, root decoction used for dysentery.
- In Yucatan, root decoction used for gonorrhea.
- In southwest Nigeria, roots, bark, stem, twigs, leaves and fruit used in treatment of malaria.
- In Pakistan, Northern Ethiopia, and Nigeria, plant and fruit used in the treatment of hypertension and other cardiac problems. (17)
Others
- As fumigant, steaming brew of leaves under the blanket.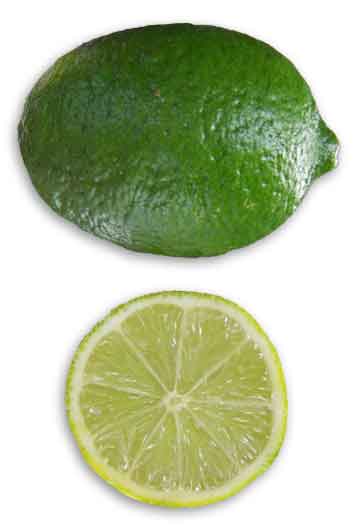 Studies
• Essential oils / Antifungal: Study on essential oils of three varieties of C. aurantifolia showed the plant to be very rich in monoterpenes, with limonene its major compound. The three extracts showed fungicidal inhibiting action to Phaeoramularia angolensis and presents an alternative to chemical fungicides used for Citrus fruit crops. (1)
• Antiproliferative / Anti-cancer: Study of in vitro effects of several concentrations of lime juice (CLJ) showed significant inhibition of proliferation of human breast carcinoma cell line and assumes that protein components of the CLJ extract may have anti-proliferative effects on tumor cell lines. (2)
• Antimicrobial: Study investigating the antibacterial effects of two plants extracts showed Citrus aurantifolia showing promising broad spectrum antibacterial effects on human pathogens. (3)
• Antimicrobial: Antimicrobial study of bitter leaf (V. amygdalina) extract and lime (Citrus aurantifolia) juice against five organisms concluded both are potential antimicrobial agents. (11)
• Antiaflatoxigenic: The essential oils of we medicinal plants were studied for its inhibition of the toxigenic fungus Aspergillus parasiticus. Citrus aurantifolia was found to inhibit both A. parasiticus and aflatoxin production. The study suggests some medicinal plants may be potential candidates for protection of food and feeds from toxigenic fungus growth and subsequent AF contamination. (4)
• Antiproliferative / Colon Cancer Prevention: Study of the lime volatile oil of CA yielded 22 compounds, D-limonene, D-dihydrocarvone among the major compounds. The oil showed 78% inhibition of human colon cancer cells, DNA fragmentation and apoptosis induction, results that suggested potential antiproliferative benefits in colon cancer prevention. (5)
• Nephrolithiasis: Consumption of Citrus aurantifolia Swingle in idiopathic calcium renal stone with hypocitraturia increased the urine volume, pH level and total citrate value, total potassium and decreased the calcium ration to urine citrate with consequent decrease of renal stone recurrence. (6)
• Fertility Effects: Lime juice causes irregularity of the estrous cycle, partially blocks ovulation, and may possibly compromise fertility. (7)
• Toxicity Studies: Acute and subchronic toxicity studies of water extract from roots of Citrus aurantifolia in rats showed no signs of toxicity and no significant histopathological changes in the internal organs. (8)
• Weight Reduction / Decreased Food Intake / Limonene: Study investigated the effects of lime (Citrus aurantifolia) essential oils in reducing body weight, alone or in combination with ketotifen, an antihistamine drug that causes weight gain. Lime essential oil treatment displayed a reduction of body weight and food consumption in mice. In combination with ketotifen, there was significant suppression of weight gain, as well as decreased body weight. Oil analysis yielded 22 main components, with limonene (28.27%) as the principal one. (10)
• Antioxidant: Study showed both juice and peel demonstrated antioxidant properties. In contrast to lime peel, excessive consumption of lime juice seems not to be beneficial and may be harmful because of an inadvertent U dose response. (12)
• Antimicrobial: Study evaluated the antimicrobial potency of fruit plant (juice of the fruit and burnt rind known as "epa-ijebu") and the oil from steam distillation of the fruit. Study showed the antimicrobial potency of lime fruit is enhanced by the type of solvent used (ex: Schnapps or palm wine), indicating that active ingredients for antimicrobial and antifungal effect are released in conjunction with a particular solvent. (14)
• Antioxidant / Cholinesterase Inhibitory Activity: Study evaluated the antioxidant capacity and acetylcholinesterase (AChE) and butyrylcholinesterase (BChE) inhibitory activity of peel essential oils from three Citrus species. Study yielded essential oils limonene, a-pinene, ß-pinene, y-terpinene, and linalyl acetate. C. aurantifolia oil showed the highest radical scavenging activity on ABTS assay and inhibited AChE more selectively. (15)
• Hypocholesterolemic: Study evaluated the effects of C. aurantifolia peel essential oil on serum cholesterol and triglycerides in Wistar rats. Results showed significant decrease in cholesterol and suggest a potential for cardiovascular risk reduction in humans. (16)
• Cardiovascular Effects / Fruits: Study evaluated the antihypertensive effect on three experimental hypertensive models in rats. Results showed the methanol extract of C. aurantifolia produces hypotensive and anti-hypertensive effect. (17)

Availability
Commercial cultivation.
Extracts, essential oils and supplements in the cybermarket.