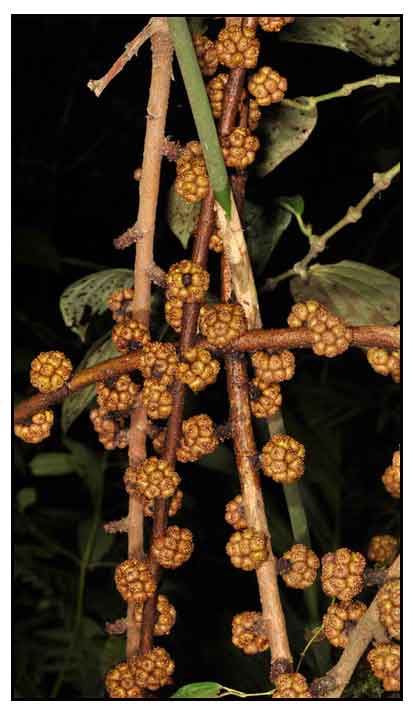 Botany
Hagimit is a widely spreading tree, with the stem more or less buttressed at the base, and grows to 15 meters or more in height. Branchlets are long, and setosely hairy. Leaves, arising mainly from the ends of the twigs, are papery, flat, covered with long reddish-brown hairs especially beneath, ovate, 10 to 20 centimeters long, with entire or minutely toothed margins, upon 3- to 5-centimeter long, very stout, and long-haired petioles. Midrib has a pair of glands at the base. Fruit is stalkless, small, and angularly obovoid, and occurs in small, nearly spherical heads or long, hanging branches which grow in large numbers from the trunk and larger branches.
Distribution
- In primary forests, chiefly along streams, at low and medium altitudes, ascending to 1,350 meters, throughout the Philippines.
- Also occurs in North Sulawesi, Indonesia.
Constituents
- Study of dichlormethane extract of leaves isolated 20hydroxyethyl benzoate (1), phytyl fatty acid (2), squalene (3), ß-sitostrol (4). (2)
- Phytochemical screening of leaves have yielded tannins, steroids, terpenoids, cardiac glycosides, and flavonoids.
- Study of fruits yielde steroids, flavonoids, saponins, tannins, and polyphenols. (7)

Properties
- Antirheumatic, astringent.
- Studies have suggest antibacterial and fruit-storage sustaining properties.

Parts used
Leaves, bark, sap.

Uses
Edibility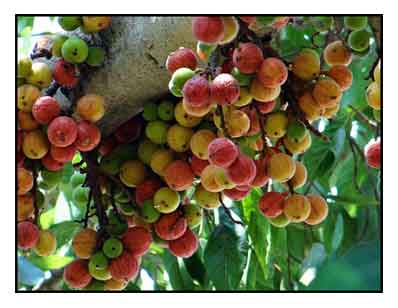 - Sap employed as beverage.
- Fruits are edible.
Folkloric
- Leaves used topically as antirheumatic.
- Reddish color of bark decoction suggest astringent properties.
- In Mindanao, the Higaonon tribe of Rogongon, Iligan City, use the roots, boiled in water, and drank three times daily, to enhance milk production in lactating mothers; also for relief of muscle pains or for fatigue or "bughat" in women. Leaves, roasted, pounded and mixed with oil, are applied directly to heal boils and bruises. (1)
- Ayta coomunities use the fruit for childbirth. (6)
Others
- Bark: Used for making rope.
Studies
• Antibacterial / Endophytic Bacteria from Leaf: Study sought to identfy the endophytic bacteria residing in the leaf of Ficus minahassae, and their antibacterial activity against lab bacterial strains, S. aureus and E. coli. A yellow-pigmental (YL1) and beige-pigmental (YL2) bacteria were isolated from the internal tissue of langusei. YL1 had 100% identity with Brachybacterium muris, while YL2 had 99% identity with Pseudacidovoras intermedius. Isolate YL2 was about to inhibit growth of S. aureus but not E coli. YL1 inhibited neither of the reference bacteria.(4)
• Effect of Hagimit Extract Coating on Radicaly /scavenging Activity of Red Tomato Fruit: Study evaluated the effect of storage time on free radical scavenging activity (FRSA) of mature red tomatoes with hagimit extract. Results showed free radical scavenging activity of untreated tomato fruit drastically reduced after six days of storage. Tomato fruits coated with polar hagimit extracts showed sustained free radical scavenging activity until 12 days of storage. Applicatio of hagimit extracts 4, 6 and 8 days after harvest showed similar preservation of FRSA. Optimum FRSAs of tomato fruits coated with aqueous, ethanolic, and acetic acid extracts were 340.54, 349.01, and 348.88 µmolTE/100g, respectively. (5)

Availability
Wild-crafted.