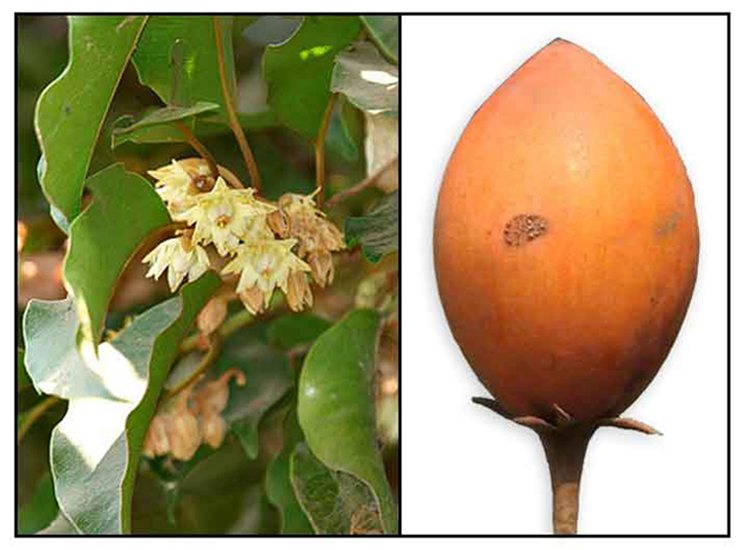 Botanical snippet
Mimusops elengi is considered a sacred plant among Hindus. It occupies an important place in religious texts. Flowers are celebrated in the Puranas and is one of the flowers in Hindu paradise. In classical Sanskrit literature, the flower is a symbol of love and beauty. (47)
Botany
Kabiki is a tree growing up to 15 meters high, with a dense, round, spreading, dark-green crown. Leaves are alternately crowded towards the end of smooth twigs, green, smooth, coriaceous, shining, elliptic, 5 to 15 centimeters long, 3 to 7.5 centimeters wide, and pointed at the tip, blunt or somewhat rounded at the base. Flowers are fragrant and white, solitary or in pairs, or fascicled in the axils of the leaves, about 1.5 centimeters in diameter. Sepals are 8, ovate-lanceolate, 7 to 8 millimeters long, arranged in two series. Corolla-lobes are lanceolate, about 24, arranged in two circles and two series – the outer series of about 16 lobes, the inner with about 8. Fruit is ovoid, 2 to 3 centimeters long, green, later turning orange-red, and fleshy. Flesh is yellowish, sweet, aromatic, edible, but rather astringent. Seed is hard and dark brown.
Distribution
- Cultivated as a shade tree and for its fragrant flowers.
- Introduced.
- Native of India.
- Planted in many tropical countries.
Constituents
- Plant yields tannin, saponin, quercitol, d-mannitol, quercetin, alkaloids, taraxerol, and inorganic salts.
- Seeds reported to contain a toxic principle and a saponin called mimusops-saponin, 2%.
- Bark and flowers contain saponin and some alkaloid.
- Bark has 7% tannin.
- Seed yields 16% oil. The acid in the oil shown to be stearic, palmitic and oleic, and a small quantity of a saturated acid, possibly behenic.
- Fruits and seeds contain quercitrol, ursolic acid, glucose, a triterpene alcohol, quercetin, dihydroquercetin and sitosterol glycoside.
- Bark has yielded taraxone, taraxerol, butilinic acid and spinasterol.
- Leaves have yielded hentriacontane, carotene and lupeol.
- Phytochemical analysis of various leaf extracts yielded alkaloids, flavonoids, terpenoids, steroids, tannins, saponins, phenols, carbohydrates, proteins and amino acids. Fixed oils and fat were present in chloroform and aqueous extracts, while tannins were present only in the petroleum ether extract. (55)
- Study of dried flowers for secondary metabolites yielded four compounds: oleanolic acid (1), 4-hydroxybenzaldehyde (2), stigmasterol-3-O-ß-D-glucopyranoside (3) and D-quercitol (4). (see study below) (49)
- A methanolic extract of leaves yielded tannins, flavonoid, carbohydrates, and alkaloids as major phytoconstituents. (see study below) (50)
- GC-MS analysis of methanolic leaf and flower extracts yielded a total of 41 components: 7 organic acids, 9 sugars and sugar alcohols, 5 amino acids, 6 fatty acids, 8 phenols, 2 flavonoids, 1 inorganic acid, porphine, phytol and phenylethylamine. (see study below) (53)
Properties
- Considered astringent, styptic, tonic, and febrifuge.
- Studies have suggested antibacterial, antifungal, anticariogenic, antioxidant, antihyperglycemic, antineoplastic, gastroprotective, analgesic, anthelmintic, anti-ulcer, anti-diabetic, anti-convulsant, anti-anxiety, cytotoxic, and diuretic properties.

Parts used
Root, bark, stems, flowers, leaves, fruit.

Uses
Edibility / Culinary
- Ripe fruit is edible.
- The Malays use the fruit for preserves and pickling.
Folkloric
- Decoction of bark used for fevers and diarrhea.
- Locally, used for blenorrhea, as gargle for sore throat, and as mouthwash to harden the gums.
- In the Moluccas, roots with vinegar, used as an application for facial pain or infused for thrush and sore throat.
- Decoction of bark, boiled with tamarind bark, used as a skin lotion for various complaints.
- Poultice of bark used on the abdomen for leucorrhea.
- Infusion of the inner bark used within the nostrils for discharge of phlegm and mucus.
- Bark, as infusion or decoction, used salivation associated with gum and teeth diseases; also used for discharges of the mucus membranes of the bladder and urethra. Also used for fevers and as a general tonic.
- Bark used to increase fertility in women.
- Bark and flowers used to make an astringent tonic which may be used for fevers and diarrhea.
- Boiled leaves applied the as cold compress for headaches.
- Juice of the leaves squeezed into the eyes for sore eyes.
- In the Dutch Indies, crushed leaves used for headache; and cigarettes containing shredded leaves are used for infections of the nose and mouth, as sprue and pyorrhea.
- Powdered dried flowers sniffed to relieve headaches.
- Young fruit used as a gargle for treating sprue.
- Ripe fruit is believed to hasten delivery.
- In Malaya, used as universal tonic.
- In India, pounded seeds mixed with oil used as suppositories for obstinate constipation.
- In Ayurveda, powder of dried flowers or juice of fresh flowers administered through nostrils for treat headaches and sinusitis. Bark decoction gargled to treat gingivitis and oral ulcers. Tender leaves or unripe fruit chewed to treat gingivitis and bleeding gums. Cold infusion or decoction of stem bark used to treat diarrhea and intestinal worms. Cold infusion of bark used for dysmenorrhea and leucorrhea. Bark decoction used to treat fever and general debility. Paste of bark and unripe fruit applied over insect bites. Decoction of flowers drunk as general tonic. (46)
- Tender stems used as tooth brushes, or the powder of bark skin used for cleansing the teeth. Bark chewed for oral health and to strengthen the teeth. (47)s
- Used as antidiuretic in polyuria. Also believed to curb premature ejaculation.
- Used for dysuria and elimination of urinary stones.
Others
- Perfume: In India, lotion of flowers used as a perfume. In Java, women tuck them hidden in their hair.
- Malay children string the flowers into a necklace.
- Siamese women infuse the flowers as a cosmetic after bathing.
- Tanning: In India, bark used for tanning purposes.
- Wood: Useful in the Philippines; a favorite for ships' wheel, marline-spikes, and for making fine tool handles.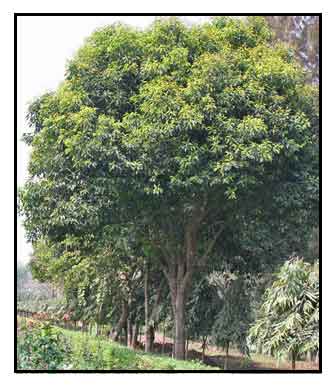 Studies
• Anti-Ulcer: Study investigating the effect of Mimusops elengi against experimental gastric ulcers showed anti-ulcer activity that can be attributed to decrease in gastric acid secretory activity along with strengthening of the mucosal defense mechanisms. (1)
• Antibacterial / Penta Hydroxyl Flavones / Seeds: Study isolated two antibacterial compounds from the seeds of M elengi – 2,3-dihydro-3.3'4'5,7-pentahydroxyflavone and 3'3',4;,5,7-pentahydroxyflavone – which showed strong inhibitory activity against gram-positive and gram-negative bacteria. (2)
• Antibacterial / Bark: Study of an ethanolic bark extract of M elengi showed significant activity against three Staph isolates including S aureus.
• Antibacterial / Bark: Study of extracts of bark, fruit, and seed for antibacterial activity showed the fruit and seed extracts to be inactive. Stem bark showed activity against 6 bacteria, with the ethyl acetate extract showing highest inhibition against B. subtilis. (9) A bark extract
• Diuretic: Study of M elengi extracts showed potent diuretic and electrolyte excretion activity, highest in the alcoholic extracts, none in the chloroform and petroleum ether extracts. (4)
• Antifungal: Study of the aqueous, methanol and ethanol extracts of M elengi exhibited highly significant antifungal activity against all tested fungi. Results suggest it may be exploited in the management of seed borne pathogenic fungi and prevent biodeterioration of grains and mytoxin elaboration during storage. (6)
• Free Radical Scavenging Activity: Study of the methanol extract of leaves of M elengi showed significant activities in all antioxidant assays in a dose-dependent manner, compared to reference standard ascorbic acid. (7)
• Anti-Diabetes / Bark: Study in alloxan induced diabetic rats produced significant alterations in the biochemical and enzymatic parameters studies and reveals the anti-hyperglycemic potential of the bark extract of M elengi. (8)
• Anti-Diabetes / Dexamethasone-Induced Diabetes: Study evaluated M. elengi extracts for antidiabetic activity against dexamethasone-induced diabetes in mice. Results showed the aqueous and n-Butanol fraction to have significant activity, with antioxidant activity along with ability to increase glycogenesis that could be beneficial in the management of insulin resistance diabetes and diabetic complications. (16)
• Anti-Inflammatory / Analgesic / Antipyretic: Study of 70% ethanol extract showed anti-inflammatory activity with significant inhibition of carrageenan-induced paw oedema, analgesic activity with decreased acetic acid-induced writhing, and antipyretic activity with decreased rectal temperature in Brewer's yeast-induced pyrexia. (10)
• Cytotoxic / Anticancer: Study tested the cytotoxic and anti-mitotic effect of standard anti-cancer drug cyclophosphamide and an ethanolic extract of M. elengi barks in A. cepa root tip meristem model. Results demonstrated the extract to exhibit cytotoxic properties like the standard anticancer drug cyclophosphamide. (11)
• Antioxidant: Study of a chloroform extract showed a total phenolic content significantly higher to standard reference standard gallic acid. Results showed M. elengi had significant potential to use as a natural antioxidant agent. (12)
• Memory and Anti-Anxiety Effects / Bark: Study evaluated the effects of a methanolic, aqueous, and n-butanol extract of bark on memory and anxiety-lite states. Methanolic extract at 200 mg/kg was found to have more significant activity as compared to aqueous and n-butanol extract. (13)
• Antihyperlipidemic / Synergism with Moringa oleifera: Study evaluated the effects of combined extracts of M. elengi and Moringa oleifera on high fat diet-induced atheroma in rats. Antioxidant studies showed the combined extracts group produced significant reduction of LPO and increase level of SOD and catalase without any fatty infiltration and intimal layer thickness. Mimusops showed better effect than the Moringa extract. The significant anti-atheroslcerotic activity may be due to flavonoids present in the leaves. (14)
• Anti-Urolithiatic / Antioxidant: Study showed significant lowering of stone forming constituents in the kidneys of calculogenic rats with the alcohol extract. It also decreased the MDA, increased GSH, SOD, and CAT. The results confirmed the alcohol extract possess antiurolithiatic activity. (15)
• Hypotensive Effect: Study showed a methanolic extract to cause hypotensive activity in anesthetized rats. The effect was dose-dependent, and independent of adrenergic, muscarinic, and histaminergic receptors. The results suggest M. elengi might possess calcium-blocking activity to explain its hypotensive effect. (17)
• Acute and Chronic Toxicity Testing: Study evaluated the safety profile of a methanol leaf extract of Mimusops elengi by acute and sub-chronic toxicity testing in Swiss albino mice. No mortality was observed in a study period of 28 consecutive days. Results showed the leaf to be safe with no demonstrable toxicity. (20)
• Anti-Diabetic / CNS and Antioxidant Activity: Study of a methanol extract in albino rats showed significant reduction in blood glucose levels, high DPPH free radical scavenging activity, and at 500 mg/k showed CNS activity. (21)
• Antioxidant / Leaves: Study of an aqueous leaf extract of Mimusops elengi yielded alkaloid, tannin, phenol, flavanoid, steroids and terpenoids. Antioxidant and radical scavenging activity increased with increasing concentration of extract. (22)
• Cognitive Enhancing Activity / Flowers: Extract of dried flowers yielded carbohydrates, steroids, cardiac glycosides, terpenoids, flavonoids and alkaloids. In plus-maze and passive avoidance task testing, the extract showed significant cognitive enhancing effects. The decrease in acetylcholinesterase activity was not as effective as standard. (23)
• Antimicrobial Against Salivary Flora: Study evaluated various concentrations of bark extract for antimicrobial activity against salivary micro flora. Results confirmed antimicrobial potential and that the acetone extract can be used in the treatment of infectious disease caused by salivary microflora. (24)
• Antityrosinase and Antioxidant Activities / Anti-Aging and Skin Whitening Potential: Study evaluated various parts (bark, fruit, flower, and leaves) of M. elengi for skin whitening and antioxidant potential. A methanolic extract showed the highest inhibition of DPPH radicals. The flowers showed superior skin whitening and antioxidant activities, with a potential as active ingredient in skin whitening and anti-aging formulations. (25)
• Antioxidant / Analgesic / Cytotoxic / Leaves: Study evaluated a crude methanolic extract of leaf for antioxidant, analgesic, and cytotoxic activities. Results showed significant free radical scavenging and NO scavenging effects. Writhing inhibition was comparable to standard drug diclofenac. Cytotoxicity testing was evaluated by brine shrimp lethality bioassay. (26)
• Anthelmintic / Roots: Study evaluated the anthelmintic activity of various extracts of M. elengi roots and D sepiaria leaves on Indian adult earthworms Pheretima posthuma. Results showed the aqueous extracts with better activity with paralysis and death times when compared to standard piperazine citrate. Study suggests the plants as potent anthelmintics. (27)
• Larvicidal Potential / Aedes aegypti and Culex quinquefasciatus: Study evaluated various bark extracts for larvicidal activity. Results showed the potential of M. elengi against IV instar larvae of Ae. aegypti and Cx. quinquefasciatus and the development of cost-effective and environmentally friendly new types of larvicide for mosquito control. (28)
• Antifertility / Seeds: Study evaluated the antifertility activity of aqueous powdered seeds of M. elengi in male albino rats. Results showed a significant decrease in sperm count, with biochemical and histopathological changes. (29)
• Antiulcer / Bark / Serotonin-Induced Ulcer: Study evaluated bark extracts of Mimosups elengi in serotonin-induced ulceration in albino rats. Alcoholic and petroleum ether extracts of bark showed significant antiulcer activity in ulcer index and percentage of healing. (30)
• Green Synthesis of Silver Nanoparticles: An aqueous leaf extract was tested for new effective green reducing as well as stabilizing agent for the synthesis of silver nanoparticles by novel green chemistry approach. The photosynthesized AgNPs were shown to have higher antimicrobial activity against different multidrug resistant bacterium isolated from clinical specimens. (31)
• Diuretic Activity: Ethyl acetate, ethanol and water extracts of Mimusops elengi all showed diuretic potential. The aqueous extract showed significant diuretic activity compared with the other extracts. (32)
• Antioxidant / Anti-Inflammatory: Study of alcoholic extract of Mimusops elengi leaves. showed good antioxidant and in vitro anti-inflammatory activities. Findings showed dose dependent free radical scavenging activity in peroxynitrite, superoxide, and hypochlorous acid models. Anti-inflammatory activity was done using inhibition of protein denaturation and HRBC membrane stabilization method. (33)
• Volatile Organic Matter / Bark: Study of volatile organic matter from the bark yielded alpha cadinol, tau muurolol, penta-decanoic acid, di-isobutyl phthalate, hexa-decanoic acid, eicosane, oleic acid, octadecadienoic acid, octadecanoic acid. (36)
• Antibacterial / Leaves: Study evaluated various solvent extracts of leaves of ME for antibacterial activity against six different bacterial strains, viz., E. coli, P. aeruginosa, P. vulgaris, S. pneumonia, S. aureus, and S. epidermis. All the tested extracts exhibited significant dose dependent antibacterial activity. (37)
• Synergism / M. elengi and Bauhinia variegata / S. typhi and V. cholera / Seeds: Study showed the combined activity of Bauhinia and Mimosups seed extracts was synergistic against test bacterial isolates, with potential for combating S. typhi and V. cholera drug resistance, and a potential for non-antibiotic drugs against these infections. (38)
• Immunostimulatory / Stem Bark: Study evaluated a methanolic extract of stem bark of M. elengi for immunostimulatory activity in mice. Oral administration showed dose dependent increase immunostimulatory response, with significant increase in phagocytic index, significant increase in circulatory humoral antibody titer and delayed hypersensitivity reaction. Results suggest potential for augmenting immune activity by cellular and humoral mediated mechanisms. (39)
• Anti-Diabetic / Antioxidant: Study of aqueous extract in alloxan induced diabetes in mice showed in vitro antioxidant, radical scavenging activity and in vivo antihyperglycemic activity. (40)
• Wound Healing / Antioxidant / Leaves: Study of a methanolic extract of leaves showed significant wound healing effect on excision wound model in mice. Its antioxidant action related to a crucial role in hepatoprotection in CCl4 induced increases of lipids. (41) Study evaluated an ointment formulation of a methanolic extract of leaves for wound healing activity in incision, excision, and dead space wound models in mice. Extract showed considerable wound healing properties with excision model (p<0.001), incision wound model (p<0.05), and dead space wound model (p<0.05). (48)
• Anti-Anxiety / Bark : Study evaluated methanolic, aqueous, and n-butanol extract of bark for anti-anxiety activity in Swiss albino mice using elevated plus maze test. All the test extracts showed anti-anxiety effects but the methanol extract showed the more significant anxiolytic activity comparable to diazepam. (42)
• Seed Oil Properties : Fatty acid composition of extracted lipids from seeds showed the dominant fatty acids as palmitic acid (53.55%) and oleic acid (28.52%). The major TAGs (triacylglycerol—main constituents of vegetable oil) were OLLn (29.23%), PLL (19.30%), OOL (17.24% and OOO (13.93%).      (43)
• Herbal Formulation in Periodontal Disease: Study evaluated the efficacy of a xanthan-based chlorhexidine gel (Chlosite) versus herbal extracts gel formulation from three medicinal plants, viz., Mimusops elengi bark (Bakul), Acacia arabica bark, and Punica granatum—as an adjunct to periodontal therapy in patients with chronic periodontitis. Results showed local application of the herbal gel is comparable to chlorhexidine in the treatment of chronic periodontitis as adjunct to mechanical periodontal therapy. (44)
• Secondary Metabolites / Elastase Inhibition / Melanin Promotion / Flowers: Study of air-dried flowers yielded four known compounds: oleanolic acid (1), 4-hydroxybenzaldehyde (2), stigmasterol-3-O-ß-D-glucopyranoside (3) and D-quercitol (4). The crude methanol extract showed potent melanine promotion activity and Compound 4 showed moderate activity. On elastase inhibition, compound 1 showed an IC50 of 16.0, compound 3 and 4 showed 5.6% and 6.2% at 40, respectively, with control IC50 of 13.1 (ursolic acid). (49)
• Analgesic / Antipyretic / Leaves: Study evaluated a methanolic extract of leaves of Mimusops elengi for antipyretic and analgesic activity using yeast induced pyrexia and tail immersion model in rats. Results showed significant dose dependent antipyretic effect and appreciable antipyretic effect at 200 mg/kbw dose. (50)
• Cholesterol Lowering Effect / Leaves: Study evaluated the anti-cholesterol activity of tanjung (M. elengi) leaf extract in an in vivo method using mic (Mus musculus) DDY-strain. The leaf extract showed significant dose dependent lowering of total cholesterol. (51)
• Gold Nanoparticles / Bark / Catalytic Activity: Study reports on the green synthesis of gold nanoparticles using bark extract as reducing and stabilizing agents. The synthesized gold nanoparticles have been used as an efficient catalyst for the reduction of 3-nitrophenol and 4-nitrophenol to 4-aminophenol. Aminophenols are important precursors of many industrially useful compounds. (52)
• Neuroprotective / Antidiabetic / Leaves and Flowers: Study evaluated the composition and inhibitory potential of methanol extracts of leaf and flower of Mimusops elengi against enzymes α-amylase, α-glucosidase, and acetylcholinesterase. The leaf extract showed stronger activity against α-glucosidase while the flower extract showed higher activity against α-amylase and acetylcholinesterase. (see constituents above) (53)
• Antiviral / Inhibitory Potential on Antigen Specific Immune Response / Leaves: Study evaluated the effect of variable doses of aqueous extract of leaves of Mesua ferrea and Mimusops elengi on human lysed whole blood to determine the antigen (IBS, infectious bursal disease; virus derived from chicken) specific immune response including CD14 monocyte surface marker. The AE of M. ferrea and M. elengi showed antiviral activity i.e. decline in antigen specific immune response against IBD. (54)
• Alternative Bio-Filler for Polypropylene-Based Bio-Composites / Seed Shell Powder: Study reports on the use of M. elengi seed shell powder as a new bio-filler in polypropylene applications such as dashboards, door panels, furniture, and rigid packaging. (56)
• Hypoglycemic / Flowers and Leaves: Study evaluated methanolic extracts of flowers and leaves for hypoglycemic and hypolipidemic effects in alloxan-induced diabetic rats. Both extracts showed significant decrease (p<0.001) in blood glucose level in glucose loaded animals. Authors suggest the activity may be due to increased sensitivity of insulin receptors or increase in protective/inhibitory effect against insulinase enzyme. (57)
• Anticariogenic / Hemolytic Activity / Seed Protein Extracts: Study evaluated the anticariogenic and hemolytic activity of crude plant seed protein extracts against tooth decaying bacteria. Anticariogenic assay demonstrated activity against Staphylococcus aureus and Streptococcus pyogenes. The crude extract showed hemolytic activity against human erythrocytes in a dose-dependent manner. The HC50 value was at a much higher range than MIC values against both organisms and suggests its potential application as an herbal product. (58)
• Antioxidant / Protective Against Lipid Peroxidation / Leaves: Study in diabetic rats showed Mimusops elengi leaf extract had good antioxidant property as evidenced by increased antioxidant status and decreased lipid peroxidation, reflective a protective effect against risk of diabetic complications. (59)
• Hepatoprotective / d-Galactosamine Induced Toxicity / Fruit: Study evaluated an ethanolic extract of Mimusops elengi fruit for hepatoprotective activity against D-galactosamine (d-GaIN) induced hepatotoxicity in Wistar rats. Results showed hepatoprotection in pretreated rats as evidenced by return of altered serum biochemical markers to near normal levels, along with histopathological confirmation. Silymarin was used as standard. (60)

Availability
- Wild-crafted.
- Teas, extracts, powders in the cybermarket.