Botany
Kadios is an erect, branched, hairy shrub, 1 to 2 meters high. Leaves are oblong-lanceolate to oblanceolate with three leaflets. Flowers are yellow, occurring in sparse peduncled racemes, about 1.5 centimeters long. Pod is hairy, 4 to 7 centimeters long, about 1 centimeter wide, containing 2 to 7 seeds.


Distribution
- In settled areas throughout the Philippines, cultivated, semicultivated, and in some places, spontaneous, occurring from sea level to 2,400 meters.
- Probably prehistoric introduction from tropical Asia of Malaya.
- Now pantropic.
Constituents
Seeds are rich in carbohydrates (58%) and proteins (19%).
Studies yielded 2'-2'methylcajanone, 2'-hydroxygenistein, isoflavones, cajanin, cahanones, among many others.
Properties
Roots are considered antihelminthic, expectorant, febrifuge, sedative, vulnerary.
Parts used
Leaves, roots.

Uses
Edibility / Nutrition
- Used mainly for its edible young pods and seeds.
- Vegetable food crop ( seeds and pods) in South-East Asia.
- Fair source of calcium and iron; good source of vitamin B.
Folkloric
- Decoction or infusion of leaves for coughs, diarrhea, abdominal pains.
- Tender leaves are chewed for aphthous stomatitis and spongy gums.
- Pulped or poulticed leaves used for sores.
- In Peru, leaves are used as an infusion for anemia, hepatitis, diabetes, urinary infections and yellow fever.
- In Argentina, leaves used for genital and skin problems; flowers used for bronchitis, cough and pneumonia.
- In China, as vermifuge, vulnerary; for tumors.
- In Panama, used for treatment of diabetes (See study below).
- In Indian folk medicine, used for a variety of liver disorders.
Others
As forage or hay.
Branches and stems for basket and fuel.


Studies
• RBC Sickling Inhibition / Sickle Cell Anemia : Clinical studies have reported seed extracts to inhibit red blood cell sickling and potential benefit for people with sickle cell anemia.
• Sickle Cell Anemia: n a single blind placebo controlled study, results showed CC extract may cause a reduction of painful sickle cell crises and ameliorate the adverse effects of sickle cell anemia on the liver.
• Sickle Cell Anemia / Phenylalanine: Paper reports that both extract of C. cajan and the amino acid phenylalanine of which it is rich, are good biochemical reducing agents and oxidative free radical scavengers, and can be employed in the treatment not only of sickle cell disease, but other conditions involving oxidative stress. (13)
• Antiplasmodial constituents of Cajanus cajan: Study isolated two stilbenes, longistylin A and C and betulinic acid from the roots and leaves of CC and showed moderately high in vitro activity against Plasmodium falcifarum strain. (2)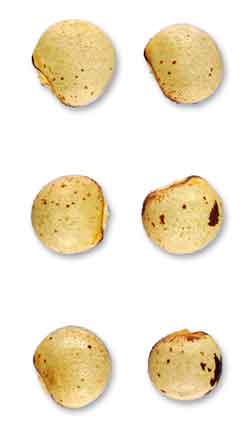 • Stilbenes / Neuroprotective / Alzheimer's Disease: Study of stilbenes containing extract-fraction from C cajan showed significant amelioration of cognitive deficits and neuron apoptosis. Findings suggest SECC has a potential in the development of therapeutic agent to manage cognitive impairment associated with Alzheimer's disease through increase choline acetyltransferase activity and anti-oxidative mechanism. (9)
• Hypocholesterolemic Effect: Study on the stilbenes containing extract-fraction of CC showed a hypocholesterolemic effect possibly through enhancement of hepatic LDL-receptor and cholesterol 7-alpha-hydroxylase expression levels and bile acid synthesis. (3)
• Hyperglycemic Effect: Evaluation of traditional medicine: effects of Cajanus cajan L. and of Cassia fistula L. on carbohydrate metabolism in mice: Contradicting its traditional use for diabetes, CC did not have a hypoglycemic effect on sugar, instead at higher doses, it produced a hyperglycemic effect. (4)
• Antimicrobial: Study shows the organic solvent extracts to inhibit E coli, S aureus and S typhi and the aqueous extract were inhibitory to E coli and S aureus. (5)
• Antimicrobial / Antifungal: Nigerian study on the antimicrobial effects of the ethanol and aqueous extracts of locally available plants, including C cajan, showed inhibition against S aureus, P aeruginosa, E coli and C albicans. The extracts of C cajan produced wider zones of inhibition against C albicans. (6)
• Hyperglycemic Effect / Leaves: Study of the aqueous extract of C cajan leaves showed a hyperglycemic effect, suggesting a usefulness in controlling hypoglycemia that may be due to excess of insulin or other hypoglycemic drugs. (7)
• Hepatoprotective / Alcohol-Induced Liver Damage: Study of the methanol-aqueous fraction of C cajan leaf extract showed it could prevent the chronically treated alcohol induced rat liver damage and presents a promise as a non-toxic herb for therapeutic use in alcohol-induced liver dysfunction. (8)
• Hepatoprotective / Carbon-Tetrachloride Hepatotoxicity: Study in mice with carbon tetrachloride-induced liver damage showed the methanol extracts of B orellana, C cajan, G pentaphylla and C equisetifolia showed significant decrease in levels of serum markers, indicating the protection of hepatic cells in a dose-dependent manner. (10)
• Antioxidant / Hypolipidemic: Study of methanolic extract of CC in alloxan-induced hyperglycemic rats showed a significant reduction in blood glucose, triglycerides, cholesterol, and creatinine concentrations. Antioxidant activity was confirmed with in vitro studies.
• Anticancer / Cajanol / In vitro Cytotoxicity: Cajanol, an isoflavanone from the roots of C. cajan was investigated for anticancer activity towards MCF-7 human breast cancer cells. Results showed inhibition of growth of MCF-7 cells in a time- and dose-dependent manner and induction of apoptosis via a ROS-mediated mitochondria-dependent pathway. (16)

Availability
Cultivated, semicultivated, or wildcrafted.