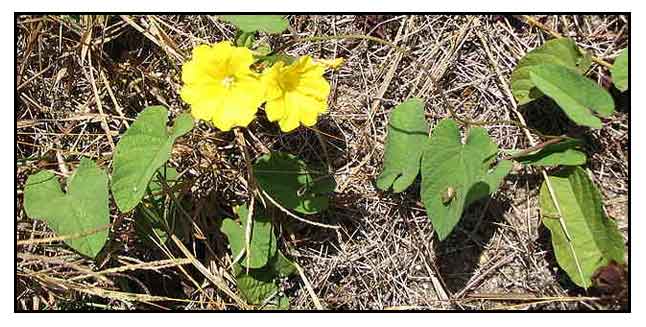 Botany
Kalamitmit is a twining, herbaceous, more or less hairy vine, with slender stems. Leaves are oblong to oblong-ovate, 8 to 12 centimeters long, pointed at the tip and heart-shaped at the base. Inflorescence bears many flowers, and is borne in the axils of the leaves. Sepals are about 6 millimeters long. Corolla is white or yellow, tubular and funnel-shaped, about 3 centimeters long; limb is about 2.5 centimeters in diameter. Capsule is ovoid, smooth, about 1 centimeter long. Seeds are covered with spreading, black or brown hairs.
Distribution
- Throughout the Philippines, in thickets at medium altitudes.
- Pantropic.
Constituents
- Phytochemical screening of ethanolic extract of leaves yielded leucoanthocyanidins, terpenes and/or steroids, and tannins. (see study below) (8)
Properties
- Plant considered deobstruent, diuretic and alterative.
- Studies have shown antibacterial, cytotoxic, antioxidant, anti-inflammatory properties.

Parts used
Root, leaves, seeds.

Uses
Edibility
- Young leaves may be mixed with other vegetables and eaten.
Folkloric
- Pounded leaves used as poultice for burns and scalds.
- In the Moluccas, poultice of leaves used for sores. Also leaves used as emollient for abscesses and ulcers.
- Decoction of plant used as deobstruent, diuretic and alterative; useful for rheumatism, headaches and neuralgia. Also used for dropping into the ears in cases of auricular ulcers and abscesses.
- In epilepsy, powder of leaves is sniffed up.
- Paste or powder of root, mixed with Java flour and water, applied to swellings.
- In Bengal, seeds are soaked in water to yield a mucilage and used as an aperient or as alterative for cutaneous diseases.
- In Thengal Kacharies of Assam, India, stems applied to cuts. (8)
Studies
• Phenolic Compounds / Allelochemical: Study investigated the potential allelochemicals of the invasive plant Merremia umbellata subsp. orientalis. Results yielded eight phenolic compounds, including a salicylic acid (SA)-derived new natural product, SA 2-O- β-D-(3',6'-dicaffeoyl)-glucopyranoside. Compound 2 showed remarkable inhibition of seed germination of Arabidopsis. (1)
• Cytotoxic / Antioxidant: Study compared the antioxidant potential and cytotoxic activity of Ipomoea pes-caprae and Merremia umbellata. Merremia umbellata showed less cytotoxic activity (less than 75%) compared to Ipomoea pes-caprae (more than 80%). Ipomoea pes caprae showed marginally better antioxidant properties compared to Merremia umbellata. (5)
• Anti-Inflammatory / Antioxidant / Leaves: Study evaluated the anti-inflammatory and antioxidant effect of total ethanolic extract of M. umbellata leaves. Results showed significant free radical scavenging activities by DPPH, ABTS, and H2O2 assays. There was decreased edema and activity of MPO enzyme in inflamed ears of mice with auricular edema induced by 12-O-tetradecanoylphorbol-13-acetate (TPA). (7)
• Antibacterial Activity / Leaves: Study evaluated the antibacterial activity of ethanolic extracts from calyces of P. angulata and leaves of Merremia umbellata and C. grandiflora against ATCC strains of Staphylococcus aureus, Klebsiella pneumonia and Pseudomonas aeruginosa. All the extracts showed activity against the bacterial strains used. (see constituents above) (8)

Availability
Wild-crafted.