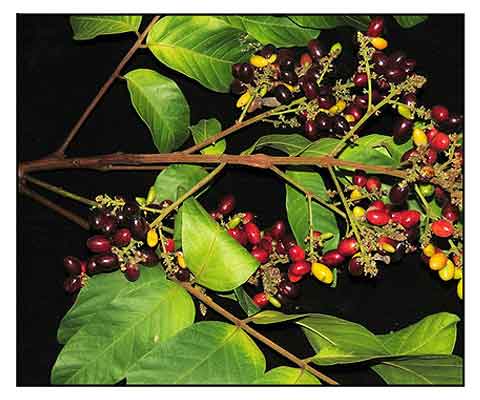 Botany
Kalayo is a shrub or small tree, with a compact, bushy crown. All parts are covered with hairs. Leaves are pinnate, 15 to 50 centimeters long, with 4 to 6 pairs of leaflets. Leaflets are narrowly elliptic, 7.5 to 18 centimeters long, 3 to 7 centimeters wide, and blunt on both ends. Flowers are very fragrant, white, about 5 millimeters wide, and arranged in small groups in upright panicles 12 to 30 centimeters long. Fruit is about 1 centimeter long and covered with fine hairs; in ripening it turns successfully yellow, orange, purple, and nearly black, and when ripe, with a thin, juicy, sweetish and slightly astringent pulp.
Distribution
- Common in forests at low and medium altitudes throughout the Philippines.
- Also occurs from northern India to Indo-China and Thailand, through Malaya to tropical Australia.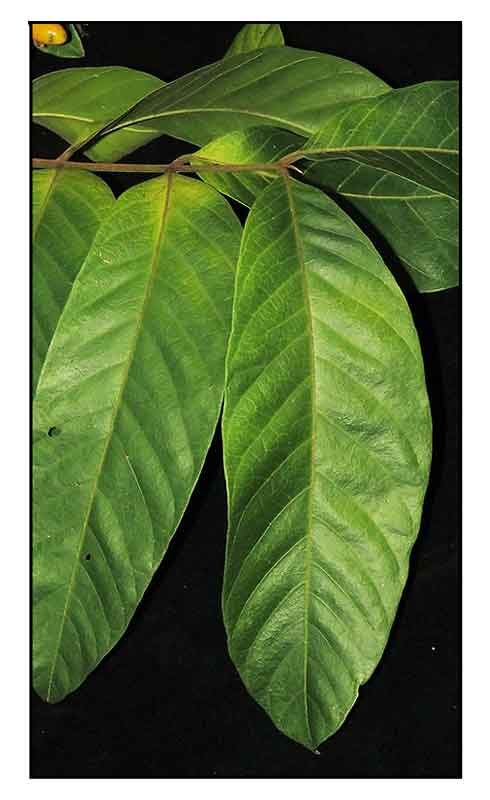 Constituents
- Study analyzed the essential oil from flowers and fruits. Major components of flower essential oil were nerolidol (34.8%), palmitic acid (13.2%), and farnesol (10.0%). Fruit essential oil yielded palmitic acid (66.1%), myristic acid (10.0%), and linolenic acid (5.5%). (See study below) (4)
- Methanolic fraction isolated a tetrasaccharide derivative of farnesol named rubiginoside along with known triterpenoid saponins. (5)


Properties
- Roots are astringent.
- Roots and leaves considered febrifugal.

Parts used
Roots, leaves and seeds.

Uses
Edibility
- Fruit is edible, but for some, not a pleasant edibility.
- In Java, shoots are used as vegetable.
Folkloric
- Astringent roots are used as decoction for fevers.
- Malays apply a poultice of leaves and roots to the head during a fever and to the body for skin problems.
- In the Dutch Indies, leaves are used for poulticing.
- In Indonesia, young stems eaten to induce sleeping.
- In Bangladesh, leaf juice taken for fever.
- In India, plant used for treatment of leprosy. (7)
- Decoction of seeds used for whooping cough.
Studies
• Anti-Inflammatory / Membrane Stabilization: Study evaluated a methanol extract of Erioglossum rubiginosum in experimentally induced inflammation in a human red blood cell (HRBC) membrane stabilization method. Results showed significantly inhibited hypotonic solution induced lysis of human RBC membrane. The membrane stabilizing action and inhibition of erythrocyte lysis may be the possible mechanism of anti-inflammatory action. (3)
• Essential Oil of Fruits and Flowers / Antioxidant / Anticancer / Antimicrobial: Study analyzed Erioglossum rubiginosum fruits and flowers for essential oil. (See constituents above). In a study for anticancer activity against three human cancer cell lines, only the flower essential oil showed anticancer activity against NCI-H187 (small cell lung cancer). Flower essential oil also showed antioxidant activity. Both flower and fruit essential oils showed strong antimicrobial activity against Tricophyton mentagrophytes and moderate activity against E. coli, S. aureus, Pseudomonas aeruginosa and Candida albicans. (4)
• CNS Depressant Effect / Fruit: Study of an aqueous extract of pericarp of fruits at intraperitoneal doses significant reduced spontaneous locomotor activity, increased thiopental-induced sleeping time and affinity toward dopaminergic receptors, inhibited apomorphine-induced climbing behavior in mice, and exhibited affinity toward D2 receptors, suggesting dopamine D2 antagonism. (8)

Availability
Wild-crafted.