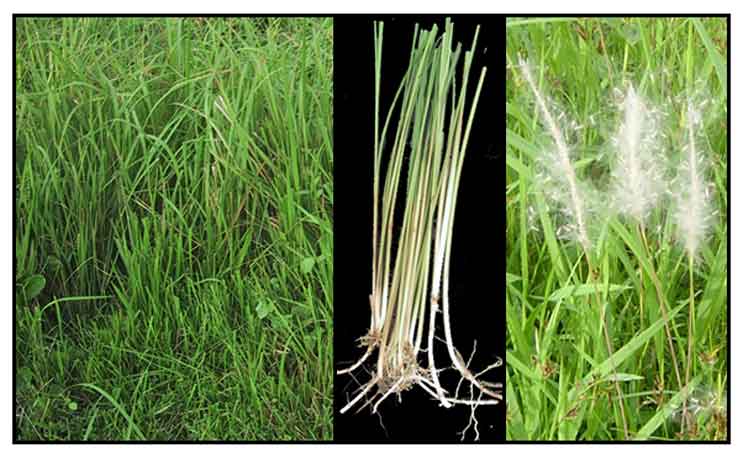 Gen info
Speargrass is one of the most dominant and noxious weeds in agricultural and non-agricultural fields. It is a prolific seed producer, when detached from stalks the seeds are carried by wind at long distances, and difficult to eradicate because of persistent rhizomes. It is ranked as the world's seventh worse weed. In Nigeria, it is reported to have the potential to invade 260 million hectares of land.
Botany
Kogon is an annual, erect, tufted grass, 30 to 80 centimeters high with a prominent underground stem. Rhizomes are much extended, equally noded and white. Stems are solid, rather slender; nodes glabrous or bearded. Leaves are flat, linear-lanceolate, 20 to 50 centimeters long, and 5 to 9 millimeters wide, stiff with scabrous margins. Flowers are in panicles, exserted, dense, subcylindric, white, 10 to 20 centimeters long, 5 to 15 centimeters in diameter, silvery-silky. Callus hairs copious, about twice as long as the glumes. Spikelets 1- to 2-flowered, 2 to 4 millimeters long, in pairs, its axis continuous. Stamens 1 or 2, anthers large.
Distribution
- Throughout the Philippines, in open, rather dry lands, often forming extensive cogon grasslands called cogonales, ascending to 2,300 meters in altitude.
- Propagated through the stoloniferous rhizome or the downy caryopsis (fruits) from a mature spike.
- Also found in tropical Asia and Africa to Australia and Polynesia.
Constituents
- Study isolated a new lignan glycoside, impecyloside, from the rhizome.
- Fractionation of methanolic extract of rhizomes of Imperata cylindrica yielded a new compound, 5-hydroxy-2-(2-phenylethyl)chromone (1), together with three known compounds, 5-hydroxy-2-[2-(2-hydroxyphenyl)ethyl]chromone (2), flidersiachromone (3), and 5-hydroxy-2-styrylchromone (4). (see study below) (2)
- Rhizomes have yielded arundoin, cylindrin, fernenol, cylindol, cylindrene, grminones and imperanene.
- Methanolic extract of aerial parts yielded tannins and saponins. (see study below) (18)
- Study on silicon concentration yielded 13,705 ± 9,607 mg/kg dry weight. Silicon was found as an important constituent of cell walls of the epidermis of the whole plant. (19)
- Aerial parts yielded four methoxylated flavonoids 1-4 , β-sitosterol-3-0-β-D-glucopyranosyl-6 '
-tetradecanoate 5 , 3-hydroxy-4-methoxy­benzaldehyde 6, together with daucosterol, β-sitosterol and α-amyrin 7-9. (see study below) (11)
- Chemical investigation isolated 13 compounds identified as: three phenylpropanoids, 1-(3,4,5-trimethoxyphenyl)-1,2,3-propanetriol (1), 1-O-p-coumaroylglycerol (2), 4-methoxy-5-methyl coumarin-7-O-β-D-glucopyranoside (3); four organic acids, 4-hydroxybenzene carboxylic acid (4), 3,4-dihydroxybenzoic acid (5), vanillic acid (6), 3, 4-dihydroxybutyric acid (7); one phenolic compound, salicin (8); and five triterpenes, namely, arundoin (9), cylindrin (10), fernenol (11), simiarenol (12), glutinone (13). (23)
Properties
- Sweet tasting.
- Considered antifebrile, anthelmintic, antibacterial, diuretic, febrifuge, restorative, styptic, tonic.
- Grass is known for Fe hyperaccumulation and biomineralization capacities. (19)
- Studies have suggest immunomodulatory, neuroprotective, anti-platelet aggregation, anticoagulant, vasodilative, antibacterial, anti-hypertensive, larvicidal properties.
Parts used
- Spikes and roots.
- Collect the underground portion, remove the roots, and clean.
- Cut into pieces. Fry with a strong fire until the covering turns yellow, sprinkle with clean water and sun-dry.
- The inflorescence may also be collected and sun-dried for use.
Uses
Edibility
· Young inflorescences and shoots are edible after cooking.
- Fibrous roots are pleasant to chew; contains starch and sugar. (25)
- Ash of plant used as salt substitute. (25)
Folkloric
· In many Tagalog provinces, decoction of fresh roots used for dysentery.
· In the Ayta communities in Dinalupihan, Bataan, leaf and root decoction drunk for coughs and colds, fever, hypertension, kidney stones and dizziness. Extract of pounded leaves applied to wounds. (34)
· Decoction of fruiting spikes used as vulnerary; used as sedative when taken internally.
· Decoction used as blood purifier and as diuretic.
· For hemoptysis, hematuria, and nose bleeding (epistaxis): a decoction of 30 to 60 gms of the herb.
· For urinary tract infections: drink a decoction of 80 to 120 gms of fresh rhizomes.
· Painful outgrowth at the tongue. Use 30 to 90 gms dried rhizome, or 60 to 120 gms of fresh rhizome in decoction.
· Has also been used for diabetes, wound healing, arthritis.
· Root used in the treatment of nose bleeds, hematuria, edema.
· Decoction of root as anthelmintic.
· Decoction of fruiting spikes used as vulnerary; taken internally, as sedative.
· Decoction used as blood purifier and diuretic.
· In Chinese medicine, used as a diuretic and anti-inflammatory. Also, runners used to make restorative, haemostatic and antifebrile medications.
· A constituent in many Chinese herbal formulations.
· In Vietnam, fresh roots used as diuretic; leaves used for kidney stones.
· In Uganda, fresh leaves are chewed or decoction drunk three times daily to treat intestinal worms. (30)
· As a traditional Chinese herb, reported to have functions of clearing heat and cooling blood. and a hemostatic effect. (31)
· Plant is an ingredient in Ayurvedic formulary. Used in traditional practices for treatment of bacterial infections, helminthes. Used as astringent in conditions like arthritis, diarrhea,cancers, gonorrhea, and for diuresis. (36)

Others
· Fiber/Paper: Fiber from leaves used for paper-making.
· Roof thatch: Stems used for making roof thatches in rural Quezon.
• Stuffing: Inflorescences used for stuffing pillows and cushions (25)

Studies
• No Glucose Lowering: Comparative anti-hyperglycemic potentials of medicinal plants: Roots of IC has had folkloric use as an antidiabetic agent. The study showed no significant lowering in blood glucose levels with Imperata cylindrica. (1)
• Neuroprotective / Rhizomes: Fractionation of methanolic extract of rhizomes of Imperata cylindrica yielded a new compound, 5-hydroxy-2-(2-phenylethyl)chromone (1), together with three known compounds, 5-hydroxy-2-[2-(2-hydroxyphenyl)ethyl]chromone (2), flidersiachromone (3), and 5-hydroxy-2-styrylchromone (4). Of these compounds compounds 1 and 2 showed significant neuroprotective activity against glutamate-induced neurotoxicity in primary cultures of rat cortical cells. (2)
• Immunomodulating activity: Isolation and partial characterization of immunostimulating polysaccharides from Imperata cylindrica. Crude extract and some of the purified polysaccharides enhance the proliferation of murine splenocytes. (3)
• Anti-Platelet Aggregation: Antiplatelet Aggregating Activity of Extracts of Indonesian Medicinal Plants: All eight Indonesian medicinal plants, including Imperata cylindrica, studied showed inhibitory effects on platelet aggregation. (4)
• No Diuretic Effect: (1) Study assessed the diuretic effect of four traditional Vietnamese herbal remedies – Zea mays, Imperata cylindrica, Plantago major and Orthosiphon stamineus. The study failed to show any effect on urine output and sodium excretion and indicates the need for critical reviews on the recommendations of empiric traditional use of plant materials. (2) In a study on treatment of dysuria and diuretic effects of five indigenous Thai medicinal plants, the rhizome of IC apparently inhibited the urination of rats.
• Vasodilative Effect: The study yielded two novel lignans, graminones A and B. Graminone B showed inhibitory activity on the contraction of the rabbit aorta. (5)
• Impecyloside: A new lignan, 6-acetyl-1-[4,4'-dihydroxy=3,3'-dimethoxy-B-D-fructofuranosyl]-a-D-glucopyranoside, named impecyloside, was isolated from the rhizomes of IC. (8)
• Acute and Subchronic Toxicity Studies / Roots: Study evaluated a water extract of roots for acute and subchronic toxicities. A single dose of 5,000 mg/kg administered to male and female rats did not produce signs of toxicity. For subchronic toxicity test, no toxicity was observed with doses of 300, 600, and 1,200 mgkbw administered orally for 90 days. (10)
• Hepatoprotective / Phytochemicals: Study of the methanolic extract of IC yielded four methoxylated flavonoids 1-4 and B-sitosterol-3-O-B-D-glucopyranosyl-6'-tetradecanoate, isolated for the first time from IC, together with four other compounds. Results showed a significant hepatoprotective activity on co-administration of ME of IC with CCl4. (11)
• Paper Product Feasibility Study: Study evaluated the feasibility of cogon grass as substitute for cardboard, food packaging, souvenir making uses. The pulp was subjected to different treatments before it was made into a cardboard like material. Treatment C, with 5% water and 7.5% starch showed to be the best treatment. (14)
• No Uric Acid Lowering Effect: Study evaluating the uric acid (C5H4N4)4) lowering potential of cogon grass showed no hypouricemic effect. (15)
• Antibacterial / Aerial Parts: Study evaluated the antibacterial effect of three extracts of aerial parts against Staphylococcus aureus and E. coli. Results showed the aqueous extract had very potent antibacterial activity compared with the other extracts. Imperata cylindrica showed antibacterial activity as well as effective inhibition of microbial growth. (17)
• Anthelmintic / Aerial Parts: Study evaluated the in vitro anthelmintic activity of methanolic extract of roots of Imperata cylindrica against Indian earthworms Pheretima posthuma. Results showed maximum anthelmintic activity comparable to standard drug albendazole. Extract phytoconstituents—tannins and saponins—might have contributed to the potent anthelmintic activity. (18)
• Vasodilative and Antihypertensive Effects / Leaves: Study evaluated the antihypertensive effect of an ethanolic extract of Imperata cylindrica leaves using cat and rabbit models. The extract exhibited a significant dose-dependent reduction in amplitude of smooth muscle contraction of rabbit jejunum. The heart pressure of cats was significant reduced, with no effect on heart rate. The ethanolic leaf extract exhibited vasodilative antihypertensive properties similar to the mechanism of adrenaline and suggests a potential use in the management of hypertension. (20)
• Anticoagulant: Study evaluated the hematological effect of Imperata cylindrica (cogon grass) as an anticoagulant. Results showed significant anticoagulant activity possibly through action on the extrinsic cascade of clotting probably by binding with the antithrombin. (21)
• Larvicidal / Culex sp. / Roots: Study evaluated the larvicidal effect of Imperata cylindrica root decoction against Culex sp. larvae. The root decoction exhibited a larvicidal effect against Culex sp. larvae third and fourth instars. However, Abate® gave better result. The weak effect may be due to small amounts of flavonoids in the cogongrass root. Another possibility is that the decoction method produces less than maximum amount of flavonoid. (22)
• Antioxidant / Phytochemical Analysis: Study evaluated the flavonoid and phenol content of Imperata cylindrica by hot water extraction using various solvents i.e., chloroform, methanol, and petroleum ether. Chloroform extract yielded highest flavonoid content (30.88 mg QE/g dw) followed by PE (22.05 mg QE/g dw) and ME (75 mg QE/g dw). Chloroform extract also showed highest total phenolic content (7.54 mg GAE/g dw), while PE and ME showed 5.03 mg and 3.63 mg/GAE/g dw, respectively. Results suggest cogon grass is a good source of antioxidants. (26)
• YY-312 (Herbal Extract Powder) / Body Fat Reduction in Overweight Adults / Clinical Trial: A 12-week, randomized, double-blind, placebo-controlled, parallel-group clinical trial evaluated YY-312, a herbal extract powder from Imperata cylindrica, Citrus unshiu, and Evodia officinalis, for safety and efficacy in body fat reduction in overweight adults. Results showed the YY-312 treatment exhibited significantly greater reduction in body fat vs placebo. All safety parameters were within normal limits with no serious adverse events. (27)
• Anti-Cancer / Human Squamous Carcinoma Cell Line / Leaves: A previous study reported that Imperata cylindrica extract inhibited cell proliferation and induced apoptosis in various cancer cell lines. This study evaluated the anticancer properties of a leaf extract of I. cylindrica using oral squamous cell carcinoma cell line SCC-9. Treatment significantly reduced the clonogenic potential and inhibited cell proliferation by arresting the cell cycle in the G2/M phase. DNA fragmentation showed the cell death was caused by apoptosis. Results suggest potential for the extract as a lead compound for formulation of anticancer agents for treatment of oral cancers. (28)
• Antimicrobial / Leaves and Rhizomes: Study evaluated the antimicrobial properties of marious extracts of leaves and rhizomes of Imperata cylindrica against five clinical isolates of four bacteria ands one fungus i.e., E. coli, B. subtilis, P. aeruginosa, S. aureus and C. albicans. Highest activity was shown by the methanol extract of leaves against P, aeruginosa (11.67 ± 8.14 mm) at 50 mg/ml. (29)
• Herbal Toothpaste in Reducing Gingivitis / Clinical Trial: A double-blind, randomized, placebo-controlled, parallel allocation clinical trial evaluated the efficacy and safety of toothpaste containing Rhizoma Chuanxiong (rhizome of Ligusticum chuanxiong) and Rhizoma Imperata (rhizome of Imperate cylindrica) extracts in reducing gingivitis. Results showed the toothpaste containing R. chuaniong and R. imperata extracts was well tolerated and significantly reduced gingivitis and bleeding. There was also improvement at molars, and the more serious the baseline, the better the efficacy was. (31)
• Tabanone / New Phytotoxic Constituent: Study of total essential oil extract of aerial parts of cogon grass for phytotoxic constituents by biactivity-guided fractionation yielded megastigmatrienone, 4-(2-butenylidene)-3,5,5-trimethyl-2-cyclohexen-1 one (tabanone), a mixture of four stereoisomers responsible for most of the activity. Tabanone inhibited the growth of frond area of lesser duckweed, root growth of garden onion, and fresh weight gain of garden lettuce with 50% inhibition values of 0.094, 3.6, and 6.5 mM, respectively. (32)
• Glyphosate and Imazapyr / Herbicides for Cogon Grass Control: Cogongrass is one of the most invasive perennial grasses worldwide and has progressively infested managed and natural habitats. Study evaluated the herbicides glyphosate and imazapyr over a 3-year period. Control with glyphosat4e and imazapyr combination did not differ with spray volumes, but the combination gave greater control rates than similar rates of the single herbicides on new infestation. (35)
Availability
Wild-crafted.