Botany
Kolitis is an erect, smooth, branched unarmed herb, 30 to 60 centimeters high. Leaves are alternate, ovate, long-petioled, 4 to 10 centimeters long, obtuse tip, usually notched, base truncate or decurrent. Flowers are very small, densely disposed, green, 1 millimeter long. Sepals are 5, or 1 to 3, ovate to linear, often aristate. Inflorescences are terminal, axillary, simple or panicled, interrupted spikes. Fruits are compressed, indehiscent or circumcised utricles. Seeds are black or brown, orbicular.
Note: This herb differs from Amaranthus spinosus (Uray) in the absence of spines on the stems.
Distribution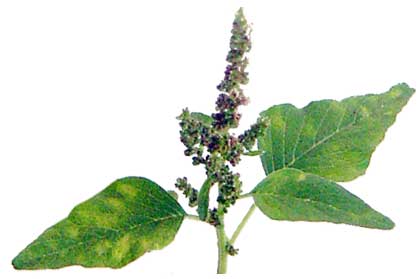 - A common roadside weed on lowlands at low and medium altitudes.
- Probably introduced.
- Probably originated from America.
- Found in all warm countries.
Constituents
- The powdered leaves yield tannin, some reducing sugar and resin, but no alkaloid.
- Studies yielded amino acids lysine, arginine, histidine, cystine, phenylalanine, tyrosine, and tryptophan.
- Study yielded spinosterol (24-ethyl-22-dehydrolathosterol) as major component along with 24-methyllathosterol 24- ethyllathosterol, 24-methyl-22- dehydrolathosterol, 24-ethyl cholesterol and 24-ethyl-22-dehydrocholesterol as minor components in sterol fraction.
- Yields flavonoids, rutin, and quercetin.
- Roots yield a steroidal component, amasterol ( 24-methylene-20-hydroxycholesta- 5,7-dien-3β-ol).
- Analysis of leafy vegetable per 100gm: moisture 81.8, protein 5.2, fiber 6.1, fat 0.3, vitamin C 178mg; minerals 2.8g (calcium 33.0 mg, phosphorus 52.0 mg, iron 18.7 mg.); amino acids (arginine, histidine, lysine, methionine, cystine, phenylalanine, leucine, isoleucine, threonine, tryptophan, tyrosine, valine; and seeds with 14-16% protein and 4.7 to 7% fat.
- A. viridis was found to be an excellent source of protein; also contained considerable amounts of two fatty acids essential to humans (linoleic and α-linolenic) and a number of minerals including iron, magnesium, calcium, and zinc. (4)
Properties
· Similar to Uray (A. spinosus).
· Febrifuge.
· Emollient (leaves).
· Considered emollient and vermifuge.
- Traditionally used as anti-inflammatory, diuretic, analgesic, antiulcer, antiemetic, laxative.
- Considered antiproliferative, antifungal, antiviral.
Parts utilized
· Roots.
· Harvest the root at any time of the year.
· Wash thoroughly, cut into pieces and sun-dry.
· The plant can be eaten as a vegetable.

Uses
Edibility / Nutritional
- Leaves and seeds are edible.
- Eaten as vegetable.
- The tops are rich in calcium and iron. The plant is a good source of vitamins B and C.
- Study found it to be an excellent source of protein.
Folkloric
- The therapeutic properties and dosage are very nearly identical to Amaranthus spinosus.
(Uray)
- Philippine Negritos apply bruised leaves directly to eczema, psoriasis and rashes.
- Poultice of leaves for inflammations, boils and abscesses.
- Use for acne and for skin cleansing.
- Infusion of plant has been used as a diuretic and galactagogue.
- Used for snake bites and scorpion stings.
- Decoction of plant used for dysentery and inflammation.
- In Ayurveda, used for treatment of diabetes.
- In India, stem used as antidote for snake bites. Leaves used for scorpion stings. Traditionally used for constipation, inflammation, eczema, bronchitis, anemia and leprosy.
- In Nepal, infusion of powdered seeds of flower used for stomach problems. Seeds also used in pregnant women to lessen labor pains.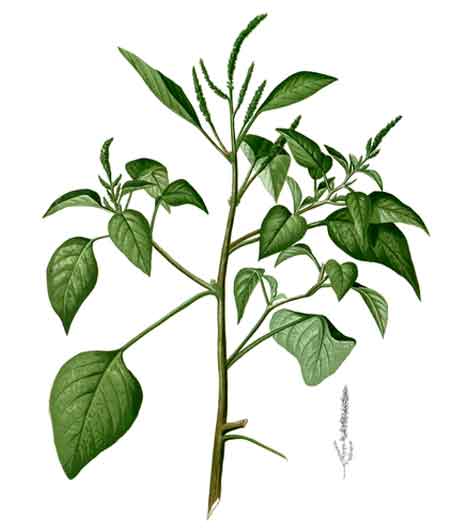 Studies
• Flavonoids / Rutin / Quercetin: Study yielded flavonoids quercetin and rutin. Flavonoids possess biochemical effects – inhibition of enzymes, hormone regulation, antimicrobial, antioxidant and anticancer activities, among other. Av presents itself as a good medicinal food. (3)
• Antiviral: Edible Nigerian vegetables were evaluated for virucidal potential. Extract from four leaves, including A viridis, used as edible vegetables, were test for antiviral activity. All the extracts showed dose-dependent antiviral activity. (2)
• Antiviral Protein / Amaranthin: A ribosome-inactivating antiviral protein, amaranthin, was isolated from AV.
• Antinociceptive / Antipyretic: Study of methanolic extract of the whole plant of Amaranthus viridis in mice reveals dose-dependent antinociceptive and antipyretic activities. (5)
• Pollen Grains / Allergenicity: Study concludes that airborne A. viridis pollen is the most prevalent pollen during August to November in the outdoor environment of Saudi Arabia, with a clear pattern of midday to early evening maxima. (6)
• Anthelmintic: Three plants belonging to the Amaranthacea family – A spinosus, A caudatus and A viridis, traditionally used as vermicides, were studied for anthelmintic activity using earthworms (Pheretima posthuma). Study concludes all three plants possess potent anthelmintic activity compared to Piperazine.
(7) Study of a methanolic extract of whole plant of A. viridis showed significant dose dependent anthelmintic activity against Pheretima posthuma. (17)
• Antihyperglycemic / Hypolipidemic / Leaves: Study evaluated the antihyperglycemic and hypolipidemic effects of a methanolic extract of leaves in STZ-induced diabetic rats. Results showed reduction of elevated blood glucose level and lipid profile, similar to the standard drug glibenclamide. (10)
• Anti-Inflammatory: Study of various extracts of leaves were evaluated for anti-inflammatory activity in carrageenan induced paw edema and cotton pellet granuloma in rats. Results showed potent anti-inflammatory activity with significant dose-dependent reduction of edema induced by carrageenan. (11)
• Antihyperglycemic / Hypolipidemic / Stems: Study investigated a stem aqueous extract for antidiabetic and antihyperlipidemic effects in STZ-induced diabetic rats. Results showed decrease in blood glucose and dose-dependent modulated lipid profile changes in rats. (12)
• Hepatoprotective / Antioxidant: Study evaluated a methanolic extract of whole plant in paracetamol -induced hepatotoxicity. Results showed liver protection activity against paracetamol-induced liver damage. The hepatoprotection was attributed to its antioxidant property. (13)
• Cardioprotective / Amelioration of Isoproterenol-Induced Cardiac Toxicity: Study evaluated the antioxidant role of A. viridis against isoproterenol-induced oxidative dame in plasma and erythrocytes of rats. Results showed increase in antioxidant enzymes, reduced concentration of lipid peroxidation products. (15)
• Airborne Allergenic Amaranthus viridis Pollen: Amaranthus pollen grains are known to be highly allergenic and a potential cause of respiratory allergic diseases. Study reveals A. viridis as a major component of outdoor airspora in Saudi Arabia constituting a major percentage of total pollen counts in various regions. (16)
• Preventive Role on C-Reactive Protein and Experimental MI: Study evaluated the preventive role of A. viridis on CRP, total protein, albumin, globulin, ceruloplasmin and glycoprotein in serum and heart of experimental induced myocardial infarction in male Wistar rats. Oral administration of A. viridis altered the metabolic derangements in ISO-induced MI in rats. (18)
• Antioxidant / Anti-Amylase / Anti-Arthritic / Cytotoxic Properties: Study evaluated aqueous extracts of three green leafy vegetables (GLV) i.e. Amaranthus viridis, A. gangeticus and Anethum sowa for antioxidant, anti-amylase, anti-arthritic and cytotoxic properties. Phytochemical analysis yielded steroid, flavonoid, and saponins. Results showed antioxidant activity by DPPH and NO scavenging methods. They exhibited appreciable α-amylase inhibitory activity, good arthritic activity when compared to Diclofenac sodium, and by brine shrimp lethality assay showed moderate cytotoxic activity compared to standard vincristine sulfate. (19)

Availability
Wild-crafted.