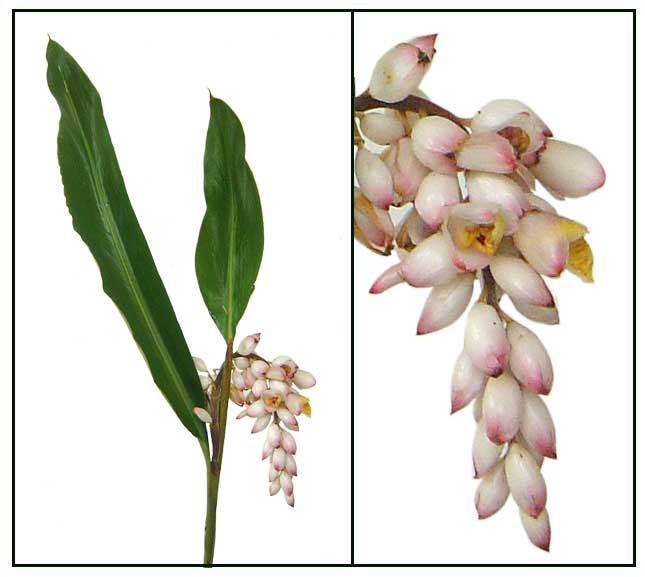 Botany
Langkauas na pula is a tall, leafy, perennial herb, growing to 2 to 3 meters tall. Stems are reed-like, 0.4 to 1 meters high. Leaves are lanceolate to linear-lanceolate, 60 to 70 centimeters long, 8 to 10 centimeters wide, smooth on both sides with hairy margins. Inflorescence is nodding and about 30 centimeters long. White calyx is subcampanulate, about 1.8 centimeters long. Corolla tube is white and about 3 centimeters long; the red lobes are broadly elliptic, and about 3 centimeters long. Lip is broad, ovate and about 4 centimeters long, yellow with red striations and dots. Capsule is somewhat spherical, about 2 centimeters in diameter, and reddish.
Distribution
- Cultivated for ornamental purposes in gardens.
- Not a native of the Philippines.
- Also occurs in China, Japan.
- Cultivated in other warm countries.
Constituents
- The main constituents of the volatile oil from the leaves are d-camphor (30%) and d-camphene (17%), with lineol and limonene in smaller amounts.
- Seeds contain 0.51% essential oils comprised of monoterpenoids, oxygenated monoterpenoids, sesquiterpenoids, oxygenated sesquiterpenoids, aldehydes, acid and esters.
Properties
- Alpinia zerumbet is aromatic in all its parts.
- Considered analgesic, antibacterial, antioxidant, anti-inflammatory, anti-platelet, antispasmodic, diuretic, hypotensive, muscle relaxant, uterine stimulant.
- Rhizome considered abortifacient.

Parts used and preparation
Stems, leaves.

Uses
Edibility / Nutrition
In Ambonia, leaves are used as wrappers in cooking rice.
In Malaysia, the pith of the young stem near the rhizome is commonly eaten.
Folkloric
• Decoction of leaves used as bath and wash in fevers.
• In Brazilian folk medicine, used as decoctions and infusions for intestinal and cardiovascular disease – as a diuretic, antihypertensive, antiulcerogenic.


Studies
• Antihypertensive / Cardiovascular Effects: Study showed the intravenous treatment with the essential oil of A zerumbet and its main constituent terpine-4-ol in the experimental hypertensive rat decreased blood pressure giving further support to a previous hypothesis of its hypotensive effect partially attributable to the actions terpenene-4-ol. (2)
• Antinociceptive: Study showed the essential oil of Alpinia zerumbet promoted a dose-dependent antinociceptive effect through a mechanism that probably involves the participation of opiate receptors. (3)
• Sciatic Nerve Effect: Study of the essential oil of AZ on rat sciatic nerve showed significantly reduced compound action potential. (4)
• HDL / Lipid Benefits: Study showed the high contents of rutin, quercetin and polyphenolics in ethanolic extract of AZ seeds exhibited moderate antilipoperoxidative and potent DPPH free radical scavenging activities. Both seed powder and seed oil are effective hypolipidemics with potent HDL-C elevating capabilities and offers a promising lipid-benefiting plant medicine.
• Flavonoids / Kava Pyrones: Study yielded flavonoids and kava pyrones. The flavonoids rutin, kaempferol-3-0-rutino-side, kaempferol-3-O-glucuronide, (+)-catechin (-)-epicatechin are substances known to contribute hypotensive, diuretic and anti-ulcer activity while the kava pyrones have been attributed antiulcer and antithrombotic benefits. These compounds may explain the use of the plant in the treatment of hypertension. (6)
• Antihypertensive / Vasodilator: Study showed chronic administration of AZ induced significant reduction of systolic, mean, and diastolic arterial pressure in rats with DOCA-salt hypertension. The vasodilator effect is probably dependent on the activation of NO-cGMP pathway. The results provide experimental support for its use as an antihypertensive medicinal plant. (9)
• DK / Effect on Skin Diseases-Related Enzymes / Antioxidant: Study isolated 5,6-dehydrokawain (DK), dihydro-5,6-dehydrokawain (DDK) and 8(17),12-labdadiene-15,16-dial (labdadiene) from the rhizomes. DK showed higher inhibitory activities on DPPH, ABTS, and PMS-NADH scavenging assays. DK can be used as a potent inhibitor against enzymes responsible for skin diseases. (13)
• Antidiabetic / Advanced Glycation End Products (AGEs)Inhibitors: Study evaluated the inhibitory activities on fructosamine adduct and a-dicarbonyl formulations by hexane extracts. Labdadiene, isolated for the first time from the rhizomes, showed to be a potent antiglycation agent that inhibits AGEs, with the potential to prevent glycation-associated complications in diabetes. (14)
• Veterinary Larvicidal / Gastrointestinal Nematodes: Study showed dose-dependent effect inhibitory activity on Haemonchus contortus larvae hatching and exsheathing. (15)
• Antiatherogenic / Anti-LDL Oxidation / Seeds: Study of acetone extracts from different plant parts were evaluated for its inhibitory activity on atherosclerosis in vitro. The seed extract showed the strongest activity against tyrosinase, pancreatic lipase, 15-lipoxygenase and LDL oxidation activities. Most of the extracts showed partial agonistic properties towards estrogenic activity. (16)
• Antipsychotic / Antioxidant: Study evaluated the antipsychotic, hypnotic, myorelaxant, and antioxidant effects of essential oil on ketamine-induced hyperlocomotion in mice. Results showed prevention of hyperlocomotion, hypnotic activity, and decreased antioxidative stress. Results suggest antipsychotic and antioxidant effects with a potential for the treatment of schizophrenia. (17)
• Longevity-Extending Effects: Study of a leaf extract on Caenorhabditis elegans lifespan under both normal and stress conditions showed increased in survival rate better than quercetin. The effect was attributed to in vitro free-radical scavenging effects and upregulation of stress-resistance proteins. Results suggest C. elegans has a potential as dietary supplements for aging and age-related diseases.(18)
• Endothelium-Dependent Vasorelaxant Effects: Study in rat-isoalted aorta preparations evaluated the vasorelaxant effects of essential oils and its main constituent, 1,8-cineole (CIN). Results conclude that EOAZ induces potent vasorelaxant effect that appears totally dependent on the integrity of a functional vascular endothelium. Data supports its used in the treatment of hypertension.(19)

Availability
Wild-crafted.