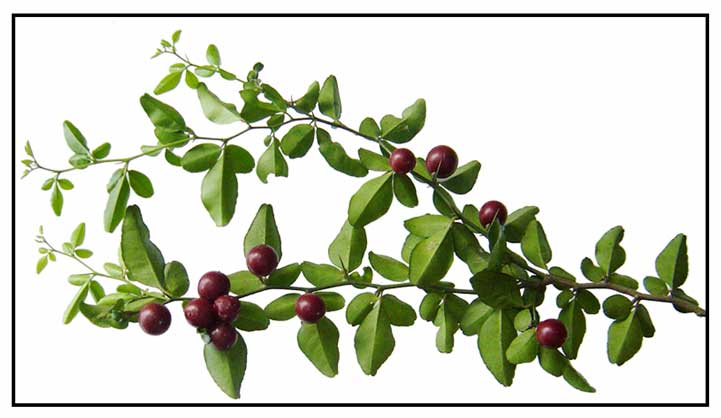 Botany
Limonsito is a smooth shrub growing to a height of 2 meters. Leaf has two sharp and slender spines at the base. Leaves have three leaflets, ovate to oblong-ovate, the terminal one 2 to 4 centimeters long; the lateral ones, smaller. Margin is crenate, the petioles very short. Flowers are very short-stalked, white, fragrant exuding a scent of orange blossoms, and about 1 centimeter long. Fruit is ovoid, fleshy and red, somewhat resinous, about 12 millimeters long.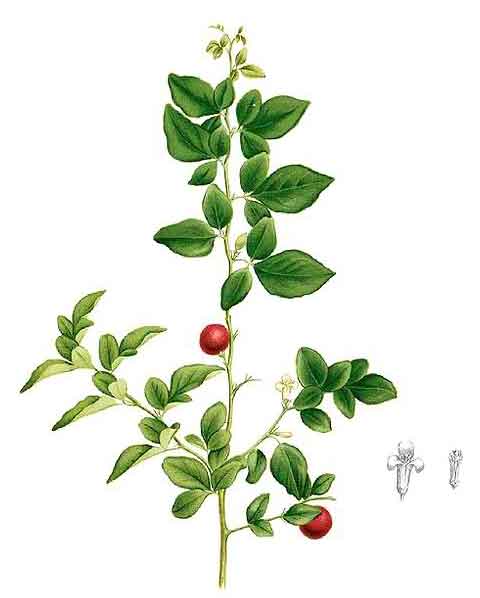 Distribution
- Throughout the Philippines in thickets and settled areas, in some places gregarious and abundant.
- Introduced; probably Chinese in origin.
- Pantropic in cultivation.
- Naturalized in many countries.
- Cultivated for its ornamental fragrant flower and edible red fruit. Attractive as a garden hedge.
Constituents
• Study yielded a new bicoumarin from the leaves and stems; the two coumarinic moieties are derivatives of mexoticin and meranzin hydrate.
• Oil yielded 81 compounds; the main constituent was germacrene B.
• Essential oil from aerial parts yielded main constituents, as follows: β-pinene (64.36%), (+)-sabinene (8.75%), hexadecanoic acid (6.03%), α-limonene (4.24%) and p-cymene (2.73%). (see study below) (8)
- GC-MS and GC-FID analysis of essential oils from leaves, stems, and fruits obtained by SDE were characterized by high amount of sabinene (leaf 31.1%, stem 21.1%, and fruit 23.9%) and ß-pinene (leaf 40.8%, stem 36.2%, fruit 32.4%). (11)
Properties
• Berries are lemon-scented.
• Fragrant white flowers have a scent of orange blossoms.
• Leaves exude a resinous scent when bruised.
• Considered antifungal and antibacterial.
• Fruit yields a glue; stems yield a gum. (9)
Parts utilized
Leaves and fruits.

Uses
Edibility / Nutrition
- Fruit is edible, eaten raw or cooked.
- Ripe fruit is pleasant and sweet tasting.
- Fruit can be pickled or made into jams.
Folkloric
- Leaves applied externally for colic, diarrhea, and skin afflictions.
- Fruits used for cough and sore throat.
- Preparation: Peel the fruits and soak overnight lime (apog) water. Rinse, and boil in 1 cup water with 1/2 cup sugar. Rinse and boil a second and third time as preferred, syrupy or candied, using as needed for cough or sore throat.
- In India and the islanders of the Indian Ocean, fresh crushed leaves applied to dandruff. Also, used for coughs. (5)
- In the Dutch Indies, natives apply the leaves to the body for various complaints: diarrhea colic, and skin diseases.
- In Guyana, fruit is cooked in water and sugar, used as remedy for coughs to loosen phlegm.
Others
- Baths: Leaves used in making aromatic bath salts.
- Cosmetic: Leaves used in cosmetics. Samoan kids use the fruit to paint the nails.
- Wood: Hard wood used for making stakes. Also, an excellent source of fuel and charcoal. (9)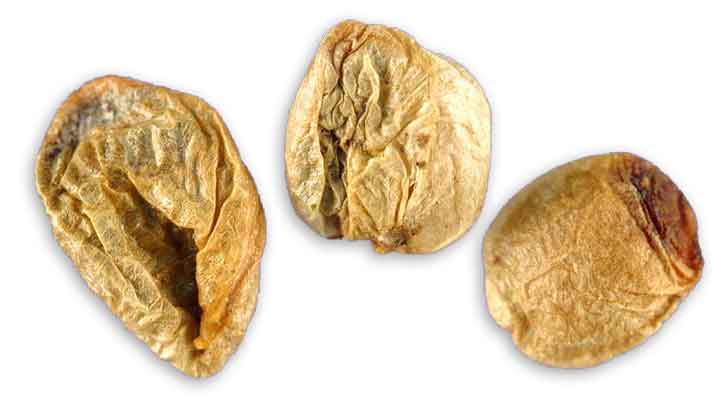 Studies
• Phenolics / Anti-HSV: Study on the inhibitory effects of phenolic compounds on herpes simplex virus and HIV included 13 coumarins from Triphasia trifolia. The data suggests the bis-hydroxyphenyl structure as a potential target for anti-HSV and HIV drugs development. (1)
• Bicoumarin: Study yielded a new bicoumarin from the leaves and stems of Triphasia trifolia. The two coumarinic moieties are derivatives of mexoticin and meranzin hydrate. (2)
• Antioxidant / Repellent / Essential Oil : Study of essential oil from aerial parts showed high antioxidant potential (94.53%) comparable to ascorbic acid (96.40%). The oils also showed high repellent activity on the insect Tribolium castaneum Herbst (99%±1). (see constituents above) (8)
• Antimicrobial / Leaves and Stems: Study evaluated various extracts of air dried leaves and stems of Triphasia trifolia for antimicrobial activity. Phytochemical screening yielded alkaloids, flavonoids, tannins, and triterpenoids. A crude methanolic extract of stems showed strongest antimicrobial activity against both gram positive (S. aureus, S. epidermis, B. subtilis, and M. luteus) and gram negative (E. coli) bacteria while crude dichlormethane and ethanolic extracts of stems showed strong inhibition of B. subtilis and M. luteus. (10)

Availability
Wild-crafted.