Botany
Mabolo is a medium-sized tree growing to a height of 20 meters. Leaves are leathery, oblong, up to 20 centimeters long, with a round base and acute tip. The blade is glossy green, smooth above and softly hairy below. Female flowers are axillary and solitary, larger than the male. Fruits are fleshy, globose, up to 8-10 centimeters in diameter, densely covered with short brown hairs. The pulp is edible. The fruit hairs have to be rubbed off before eating as it can cause peri-oral itching and irritation.

Distribution
In forests, at low and medium altitudes.
A shade tree, it is planted along roads and parks.
Constituents
• Ethyl acetate extract of air-dried leaves yielded (1) isoarborinol methyl ether, (2) a mixture of a-amyrin palmitate, a-amyrin palmitoleate, ß-amyrin palmitate and ß-amyrin palmitoleate and squalene.
• Yields triterpenes.
• Leaf extract yielded alkaloids, reducing sugar, gum, flavonoids, and tannins.
• Fruit is high in tannin
Properties
• Considered astringent, antidiarrheal, anti-inflammatory, antimicrobial.
Parts utilized
Roots and leaves.

Uses
Edibility / Nutrition
- Fruit is edible, the tannin content declining as it ripens.
- A good source of vitamins A, C, and minerals.
Folkloric
- Bark and leaves used for itchy skin ailments.
- Decoction of bark for coughs.
- Bark used for fevers, dysentery and diarrhea.
- In Southeast Asia, juice of unripe fruit used for wounds.
- Oil from seeds used for diarrhea and dysentery.
- Infusion of fruit used as gargle in aphthous stomatitis.
- In Bangladesh, juice of bark and leave used for snakebites.
- Bark and leaves used as eyewash.
- In the Guianas, used for colds, diarrhea, heart problems, hypertension, spider bites, stomach aches, diabetes, eczema. Source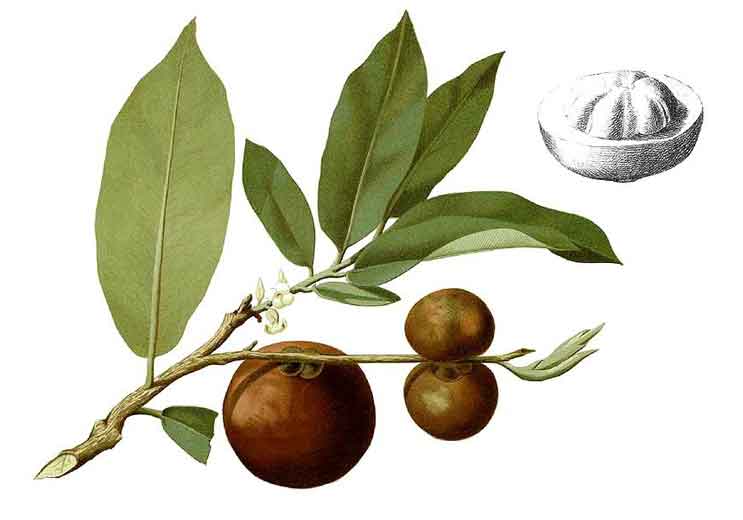 Studies
• Antioxidant: Antioxidant and heme oxygenase-1 (HO-1)-induced effects of selected Taiwanese plants: 12 selected indigenous Taiwanese plants, including Diospyros discolor, were studied for their antioxidant activity, superoxide radicals scavenging and reducing power activities. D discolor extracts, among others, showed to contain abundant phenolic constituents suggesting a potential source of natural antioxidants.
• Bioactive Triterpenes / Antibacterial / Analgesic / Anti-inflammatory: Ethyl acetate extract of air-dried leaves yielded (1) isoarborinol methyl ether, (2) a mixture of a-amyrin palmitate, a-amyrin palmitoleate, ß-amyrin palmitate and ß-amyrin palmitoleate and squalene. Compounds 1 and 2 showed antibacterial activity against E coli, P aeruginosa, C albicans, Staph aureus and T mentagrophytes. Sample 2 showed analgesic and anti-inflammatory activities.
• Chemical Composition / Volatile Components: Study yielded 96 compounds of which the fruit characterized by the existence of many esters – benzyl butyrate (33.9%), butyl butyrate (12.5% and (E)-cinnamyl butyrate (6.8%).
• Constituents / Antioxidant / Antimicrobial: Leaf extract yielded tannins and alkaloids. It showed statistically significant free radical scavenging activity. It showed antidiarrheal property with an increase in latent period of diarrheal induction. Extract also showed significant antimicrobial activity and significant lethality in brine shrimp assay.
• Antiasthma: Methanolic extract showed anti-inflammatory activity in an airway inflammation mouse model. Histological exam of lung tissue showed marked attenuation of allergen-induced eosinophilic inflammation and mucus-producing goblet cells in the airway.
• Biofuel Potential: Mabolo, a much neglected fruit in the Philippines, was studied as a possible inexpensive source of biofuel. An ethanolic extract proved to be as effective as alcohol fuel. On emission testing, it emitted the least amount of carbon monoxide and carbon dioxide, compared with commercial regular and unleaded gasoline.
• Antidiarrheal: Evaluation of antidiarrheal potential was done on ethanolic extracts of three Bangladesh medicinal plants. Results on ethanolic extracts of leaves of D. blancoi and bark of Acacia nilotica suggest antidiarrheal activities. Results were comparable to standard antidiarrheal drug loperamide.
• Antidiarrheal / Antioxidant: Study showed antidiarrheal activity in a castor-oil induced mice model, with significant reductions in faecal output. Extract also showed dose-dependent antioxidant activity in a DPPH-scavenging assay.
·
Availability
Cultivated and wild-crafted.