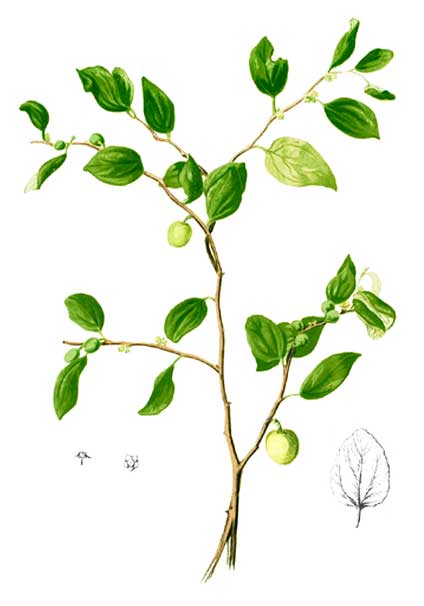 Botany
Mansanitas is a small tree 5 to 10 meters high. Branches are armed with short, sharp spines. Leaves are elliptic-ovate, 5 to 8 centimeters long, 3 to 5 centimeters wide, rounded at the base, green and smooth on the upper surface and densely covered with woolly, pale hairs beneath. Flowers are greenish white, about 7 millimeters in diameter, borne on axillary cymes 3 centimeters in diameter or less. Fruit is fleshy and mealy, smooth, orange or red, ovoid or somewhat rounded, 1.5 to 2 centimeters in diameter, with a bony and irregularly furrowed stone within.
Distribution
- Widely scattered in the Philippines as a semi-cultivated tree.
- Introduced from tropical Asia.
Constituents
- Bark contains much tannin and a crystalline principle, ziziphic acid.
- Tannin in the bark is called ziziphotannic acid.
- Fruit contains mucilage, fruit acids and sugar.
- Bark contains 4.1 % tannin; the root 2.6 to 9.3% tannin.
- Studies have yielded various chemical substances like Mauritine-A; Amphibine-H; Jubanine-A; Jubanine-B; Mucronine-D and Nummularine-B. Sativanine-E. Frangufoline, Ziziphine-A to Q, betulinic acid colubrinic acid, alphitolic acid, 3-O-cis-p-coumaroylalphitolic acid, 3-O-transp­coumaroylalphitolic acid, 3-O-cis-p-coumaroylmaslinic acid, 3-O-trans-pcoumaroylmaslinic acid, oleanolic acid, betulonic acid, oleanonic acid, zizyberenalic acid and betulinic acid, jujubosides A, B, A1 B1 and C and acetyljujuboside B and the protojujubosides A, B and B1, saponin, ziziphin, from the dried leaves of Z. jujube - 3-O-a-L-rhamnopyranosyl (1-2)-a­arabinopyranosyl-20-O- (2,3)-di-O-acetyl-a-L-rhamnopyranosyl jujubogenin.

Properties
- Bark is bitter.
- Root is considered purgative.
- Fruit of wild variety is acid and astringent; cultivated fruit is less acid.
- Fruit is considered anodyne, nourishing, mucilaginous, pectoral, styptic, digestive and blood purifying and tonic.
- Considered tonic, aphrodisiac, anxiolytic, hypnotic-sedative, anticancer, antifungal, anti-ulcer.

Parts used
Bark, leaves, fruit, roots.

Uses

Edibility / Culinary
Fruit is edible; used in a variety of recipes.
Folkloric
- In the Philippines, a decoction of the bark and leaves is an effective astringest in dysentery and diarrhea. Also, used in all kinds of bowel problems.
- Root, taken in excess, is a drastic purgative.
- In Angola, used to promote menstruation.
- Decoction used for fevers.
- Powdered root used for ulcers and wounds.
- Juice of root bark used as purgative; externally, for gout and rheumatism.
- Bark is emetic in larger doses. Sometimes, used for colic.
- Bark, powdered or in decoction, is astringent and used for diarrhea.
- Powdered bark used as dressing for old wounds and ulcers.
- In Cambodia, bark is used for dysentery and gingivitis.
- Some Benue tribes use the leaves as ingredient in a prescription for gonorrhea.
- Pounded leaves are applied as dressing to wounds. Leaves, in plaster form, used in strangury. Paste made from tender leaves and twigs applied to boils, abscesses and carbuncles to promote suppuration.
- Dried and ripe fruit used is mildly laxative; also, used as expectorant.
- In China, fruit used for coughs. Also, used for insomnia and anxiety.
Others
Cosmetics: Extracts used in a variety of skin care products, anti-wrinkles, moisturizers, and sunburn lotions.
Tanning: Used for tanning in India.
Fishing: Fruit used to stupefy fish.

Studies
• Anxiolytic / Sedative: Study showed the ethanolic extract of seed of ZJ possessed anxiolytic effect at lower dose and sedative effect a higher doses.
• Treatment for Chronic Constipation: Study showed jujuba extract to be an effective and safe treatment for chronic constipation.
• Anti-Diabetic / Hypolipidemic: Study evaluating the hypoglycemic and hypolipidemic effects of a hydro-alcoholic extract of ZJ leaves in rats showed significant reductions of glucose, cholesterol, triglyceride and elevation of HDL. LDL reduction was not as significant.
• Hepatoprotective / Antioxidant: Study investigating the hepatoprotective effect of methanolic extract of Zizyphus jujuba fruits in rat models of paracetamol- and thioacetamide-induced hepatic damage showed significant inhibition of biomarker elevation. Histopathological studies supported the biochemical findings. Study concludes a hepatoprotective activity probably due to its antioxidant effect.
• Antioxidant: Study showed the fruit extracts from Zizyphus jujuba had higher antioxidant activity than Hydrangea paniculata leaf extracts.
• Spatial Memory Improvement / Antioxidant : Study showed the co-treatment of Z. jujuba extract ameliorates ethanol-induced memory deficits, both in the acquisition process and retrieval process of spatial memory performance in rats. The improvement is attributed to the antioxidant properties of flavonoids present in the extract.
• Rat Testes Reproductive Benefits: Study in male Wistar rats evaluated the antioxidant effects of aqueous fruits extracts of Ziziphus jujuba on ethanol-induced oxidative stress. Results showed beneficial effects on ethanol-induced sperm toxicity, with enhancement of sperm motility and plasma membrane integrity.
• Essential Oil / Hair-Promoting Effects: Study evaluated the efficacy of essential oil from seeds of ZJ for hair growth. Applied to rats over shaved skin at different concentrations, results concluded ZJEO possesses hair growth promoting activity.
• Weight-Reducing / Hypolipidemic / Hypophagic: Study of hydroalcoholic extract of ZJ leaves showed the leaf extract to possess significant weight reducing, hypophagic and hypolipidemic properties in sucrose-induced obese rats.
• Treatment for Chronic Constipation: Study showed Z. jujuba extract is an effective and safe treatment for chronic constipation.

Availability
Wild-crafted.
Extracts and capsule in the cybermarket.