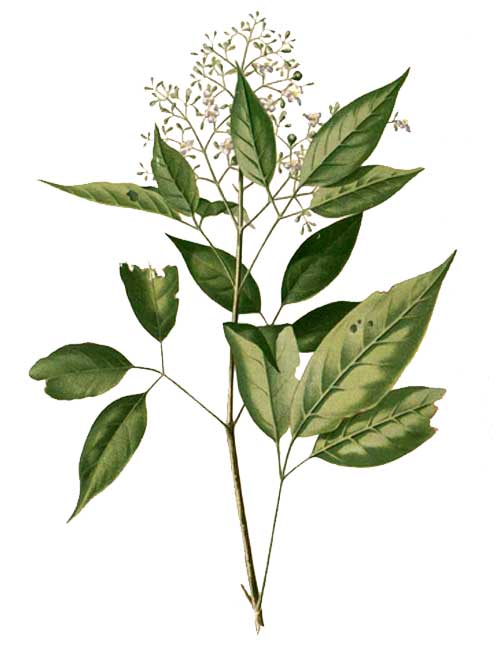 Botany
Molave is a tree that reaches a height of 8 to 15 meters, smooth or nearly so, with inflorescences that may be slightly hairy. Leaflets are three, stalked, ovate to lanceolate, 7 to 18 centimeters long, pointed at the tip, shining and quite smooth. Flowers are blue, numerous, 6 to 8 millimeters long, hairy outside the corolla, borne on terminal, paniculate and ample inflorescences, up to 20 centimeters in length. Fruit is rounded, 5 to 6 millimeters in diameter.
Distribution
- Common in secondary and open primary forests at low altitudes throughout the Philippines in most or all islands and provinces.
- Also occurs in Saleyer, Timor, Java, Celebes, and Amboina.
Constituents
- Phytochemical studies have yielded flavonoids, triterpenoids, lignans and iridoids.
- Bark, root, and fruit all contain hydrocyanic acid and saponin.
Properties
- Antimicrobial and antifungal properties have been reported.
- Considered carminative, anthelmintic, digestive.

Parts used
Bark.

Uses
Folkloric
- Decoction or infusion of wood considered a remedy for poisons, as it induces vomiting.
- Decoction of bark used for diarrhea.
- In Southeast Asia, used for stomatitis, anorexia, blindness, leprosy, worm infestation, rheumatic swellings.
- In Kerala State of India, bark and wood decoction of Terminalia catappa and V altissima used for bathing women after childbirth.
Others
- Wood: Known in the Philippines for its extremely hard wood. Used like teak for shipbuilding and construction in contact with the ground.
- Fish poison: Fruit and bark used as fish poison in the Philippines.

Studies
• Iridoid Glucosides / Antioxidant: Study yielded six new iridoid glucosides together with two known iridoids, agnuside and negundoside, from the ethyl acetate extractive of the leaves of V altissima. Compounds 2 - 4 showed potent antioxidant activity by free radical scavenging and DPPH radical scavenging methods.
• Larvicidal: Study of methanol extracts of four vitex species - V. negundo, V trifolia, V peduncularis and V altissima, showed varying levels of larvicial activity. The early fourth instar larvae of Culex quinquefasciatus was used for the larvicidal assay.
• Antibacterial: Study of leaf extract showed moderate activity against both Gram-negative and Gram-positive bacteria.
• Wound Healing: Study was done on the wound healing property of ethanol leaf extracts of V. trifolia and V latissima. On comparison with control group. both leaf extracts were found to possess significant wound healing potency.
• Anti-Inflammatory / Antioxidant / Phytochemicals: Study of ethyl acetate extracts of leaves of VA yielded a new tetrahydrofuranoid lignan, altissinone and a new acylated flavone C-glucoside. The extract exhibited significant anti-inflammatory activity in the rat paw edema model. The flavonoids and triterpene acids showed moderate antioxidant and 5-lipooxygenase inhibitory activities.
• Anti-Inflammatory: Study of different leaf extracts of V. altissima was done on male albino rats to evaluate acute and subacute anti-inflammatory activity. Results showed significant anti-inflammatory activity with aqueous and alcoholic extracts and supports the tribal use of the plant for ailments of short duration.
• Antimutagenic / Terpenes and Sterols: Study of ethyl acetate extract of leaves indicated the presence of phytol 1a, with lupeol 1b and ß-amyrin 1c as impurities, and sitosterol and stigmasterol. Micronucleus tests indicated reductions in the number of micronucleated polychromatic erythrocytes induced by Mitomycin C, indicating antimutagen activity.
• Antiulcer Healing: Study evaluated the extracts of three plants (bataw, molave, and alugbati) on albino mice with ethanol-induced ulcer. Results showed molave and alugbati with greater anti-ulcer activities than bataw. (News: Phil Star)
Tarin's study entitled, "Anti-ulcer Activities and Gastro Protective Effects of Bauhinia purpurea, Dolichos lablab, and Vitex parviflora," was one of the recipients of the 2010 Gruppo Medica Award for Outstanding Research given by the Department of Science and Technology during the opening ceremonies of the National Science and Technology Week at the Manila Hotel last Monday.
Availability
Wild-crafted.