Botany
Narra, the Philippine national tree, is a majestic reddish hard wood tree, growing to 33 meters nigh and 2 meters in diameter with an irregular fluted trunk. Leaves are compound, pinnate, 15 to 30 centimeters long, with 7 to 11 leaflets which ovate to oblong-ovate, and 5 to 10 centimeters long. Flowers are numerous, yellow, fragrant, and about 1.5 centimeters long, on branched, axillary panicles. Pods are disc-shaped, flat, with winged margins, hairy when young but smooth or nearly so when mature, more or less reticulate and undulate, and very shortly beaked, orbicular to obovate, including the wing 4 to 5.5 centimeters long, and the wing 1 to 1.5 centimeters wide.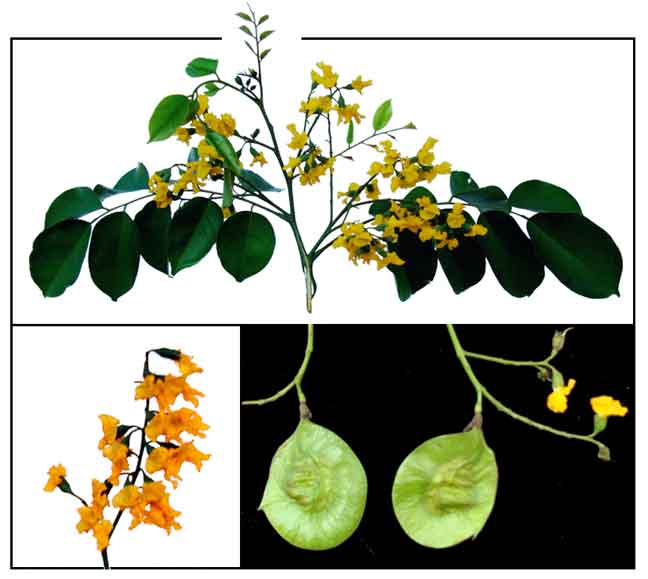 Distribution
- In primary, and in some regions, secondary forests at low and medium altitudes throughout the Philippines.
- Grown from seeds and cuttings.
- Found in calcareous soil. Grows well in bottom lands.
- Occurs in Guangdong, Taiwan, India, Indonesia, Malaysia, Myanmar, Papua New Guinea, Thailand and Vietnam.
- Listed as "vulnerable" in the IUCN Red List of Threatened Species (1998). (21)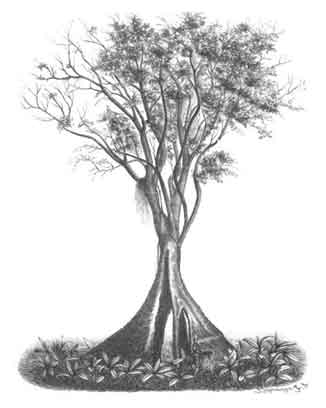 Constituents
- Yields "kino," containing kinotannic acid.
- Wood yields red coloring constituents: narrin, santalin and angolensin.
- Narrin is a dark red amorphous powder which yields phloroglucinol and resorcinol on fusion with alkali.
- Study yielded pterocarpin and pterostilben homopterocarpin, prunetin (prunusetin), formonoetin, isoliquiritigenin, p-hydroxyhydratopic acid, perofuran, pterocarpol, and b-eudesmol.
- Study of ethyl acetate extract of Pterocarpus indicus yielded a mixture of loliolide 1 (>85%) and paniculatadiol 2 (<15%). Air dried flowers yielded lupeol (3) and phytol esters (4). (see study below) (9)
- Study of ethanol extract of leaves isolated a stigmasterol (compound 1) and a new flavonol-glycoside, ptevon-3-D-glycoside (compound 2) from an ethyl acetate fraction. (see study below)  (17)
Properties
- Noted for its hardiness and rapid growth.
- Grows well in bottom lands, wind-firm and less susceptible to disease and pests.
- Nitrogen-fixing.
- Considered antibacterial, anti-bilious, emetic.
- Studies have shown anti-asthma, immune-enhancing, antibacterial, antifungal, anticancer, antitermite, antiulcer, nephroprotective properties.
Parts utilized:
Leaves, roots, bark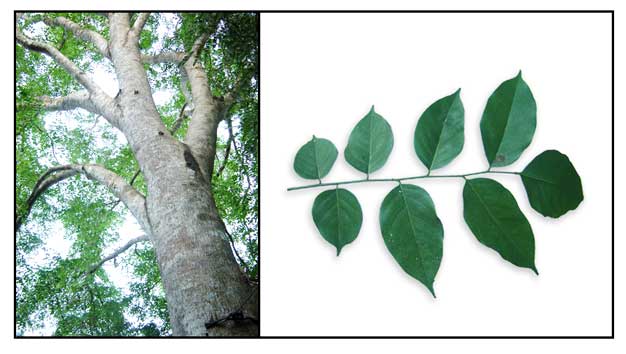 Uses
Edibility
- Young leaves and flowers are reportedly edible; the flowers, a source of honey.
Folkloric
- Infusion of the leaf used as shampoo.
- Used for bladder ailments, diarrhea, headache, stones, sores and dropsy.
- The young leaves applied to boils, prickly heat and ulcers.
- Decoction of shredded bark taken orally for diarrhea and dysentery.
- Decoction used as a gargle for sore throats; as an astringent; as a mouthwash for toothaches.
- Decoction of wood used for dropsy and to dissolve bladder stones.
- The resin "kino" has similar actions as tannin and catechu. It is taken for its astringent effect in chronic diarrhea, leucorrhea, blenorrhea and hemorrhages. Used as a solution for enemas for prolapse of the rectum and anal fissure.
- Red latex used in folk medicine for tumors, cancers and warts.
- Juice of root applied to syphilitic sores.
- In Papua New Guinea, used for tuberculosis, headaches, sores, and as purgative. In the Solomon Islands, used to treat dysentery, menorrhagia, and gonorrhea. In Vanuatu, used for treat cuts and wounds, stomachache and diarrhea in infants. In Indonesia, young leaves used for boils, ulcers, and prickly heat rashes. (10)
- In Java, decoction of the bark or kino used for thrush; kino used to arrest diarrhea.
- Malays used the resin for buccal sores. Plant used as folk remedy for bladder ailments, diarrhea, dropsy, headache, stones, thrust, and tumors of the abdomen.
- Root juice used to treat syphilis.
- In Vanuatu, leaf decoction drunk daily for amenorrhea. Poultice of heated leaves applied to the abdomen for the same purpose. Leaf decoction used to induce first menstruation after childbirth, at the same time, applying a poultice of heated leaves on the navel. (20)
- In Vanuatu, young stems of Pterocarpus indicus are chewed with young stems of C. equisetifolia to prevent conception. (20)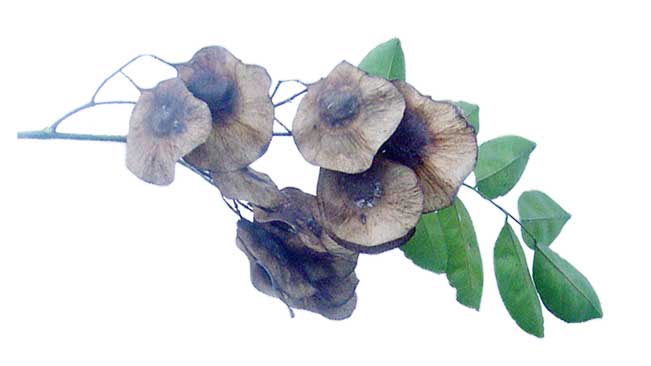 Others
- Timber: Old narra is a much sought-after wood for its durability and use in floorings, cabinetry, construction, furniture making, decorative carvings, and musical instruments. A preferred wood for boat-making because of resistance to seawater.
- Dye: A source of red dye, narrin.
- Gum: Wood is also a source of kino, a gum used as astringent and for tanning.
- Apiculture: Flowers are a source of honey.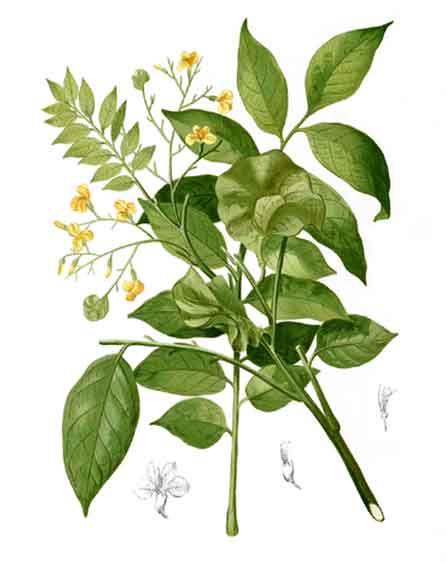 Studies
- Immune Enhancing / Anti-Asthma: The root, bark and wood of Pterocarpus indicus (Philippine Narra tree) is a component in a pharmaceutical formulation touted for immune enhancing properties and purported use for the prevention and treatment of asthma. (2)
• Polyphenolic Antiplasmin Constituent / Bark / Anti-Cancer: A polyphenolic substance with antiplasmin activity was isolated from the bark of P indicus. The substance showed carcinostatic effect on ascitic mice with Ehrlich carcinoma. (3)
• Antifungal Sesquiterpene: Study isolated an antifungal compound in the methanolic extract of amboyna wood. It was identified as a B-eudesmol, a sesquiterpene alcohol and showed dose-dependent antifungal activity against P pulmonarius. (5)
• Anticancer: 1970 study on leaves showed significant inhibition of growth of Ehrlich ascites carcinoma in mice.
• Anti-Termite: Study evaluated the use of wood extractives as preservative treatment for wood to inhibit subterranean termite activity. Results showed the n-hexane extract from P. indicus and ethyl ether extract from P. gutta showed more active inhibition effect on the activities of C. curnignatizus Holmgren. (6)
• Antimicrobial Terpenoids: Study yielded a mixture of loliolide (1) and paniculatadiol (2) from the ethyl acetate leaf extract of P. indicus. Air-dried flowers yield lupeol and phytol esters. 1 and 2 showed moderate activity against Candida albicans and low activity against P. aeruginosa, E coli, and Aspergillus niger. (9)
• Antiulcer: Study evaluated the gastroprotective effects of narra leaf decoction and sulcralfate in indomethacin-induced gastric ulcers in male albino rats. Result suggest narra may have anti-ulcer effects, and suggesting further studies at higher dosage and longer duration of exposure. (11)
• Antibacterial / Leaves, Root, Stem Bark: Various extracts of leaves, root, and stem barks of Pterocarpus indicus were studied for antibacterial activity. All fractions exhibited a wide spectrum of antibacterial activity, more pronounced in the butanol and methanol fractions. No activity was found against moulds. (12)
• Antiallergic Activity / Leaves, Root, Stem Bark: Study evaluated the antiallergic activity of P. indicus water extract using activated mast cells and an atopic dermatitis (AD)-like mouse model. Results showed decreased IgE/Ag-induced mast cell degranulation and phosphorylation of Syk and downstream signaling molecules. Results indicate the extract inhibits allergic response by reducing mast cell activation and suggests clinical potential as an anti-allergic agent for disorders such as atopic dermatitis. (14)
• Acute Oral Toxicity Testing: Study evaluated the acute oral toxicity and brine shrimp lethality of standardized ethanol extract of Pterocarpus indicus. Oral administration of EE at highest dose of 18,000 mg/kg showed no adverse effects or mortality, suggesting with an LD50 of >15,000 mg/kg that the extract is non toxic. On brine shrimp lethality testing, LC50 values of more than 1.0 mg/mL (23.6 mg/ml) confirmed the extract was not toxic. (15)
• Nephroprotective Against Gentamicin-Induced Nephrotoxicity / Leaves: Study evaluated the nephroprotective effect of water-boiled P. indicus leaves against gentamicin-induced nephrotoxicity in rats. Results showed potential to prevent nephrotoxicity which may be due to its antioxidant and free radical scavenging activity. (16)
• Flavone Glycosides / Antioxidant / Leaves: Study of an ethanol extract of leaves yielded a stigmasterol (1) and a new flavonol-glycoside, ptevon-3-D-glycoside (2) from an ethyl acetate fraction. By DPPH radical scavenging assay, antioxidant activity of compound 2 showed an IC50 of 18.53 mmol compared to quercetin 7.94 mmol and vitamin C 40.25 mmol. (17)
• Enhancement of the Immune System / Prevention of Infection / Invention: A pharmaceutical formulation for oral administration containing root, bark and wood of Philippine narra tree in a dried powder form for decoction use applied for a patent with claims that it can enhance the immune system and prevent infections, especially in immunosuppressed persons. (18)
• Hypoglycemic Effect of Extract Blend / Combination with Glibenclamide / Clinical Trial: Double-blind, positive-controlled, and crossover clinical trial investigated the glucose lowering effect of an herbal mixture blend of Pterocarpus indicus, Momordica charantia, Phaseolus vulgaris, and Andrographis paniculata in T2 diabetes mellitus patients. Results showed the extract could lower FPG and PPG although not as good a glibenclamide. However, the combination of glibenclamide and herbal mixture showed best results in lowering FPG. (19)


Availability
- Wild-crafted.
- Herbal teas, pills, and supplements.