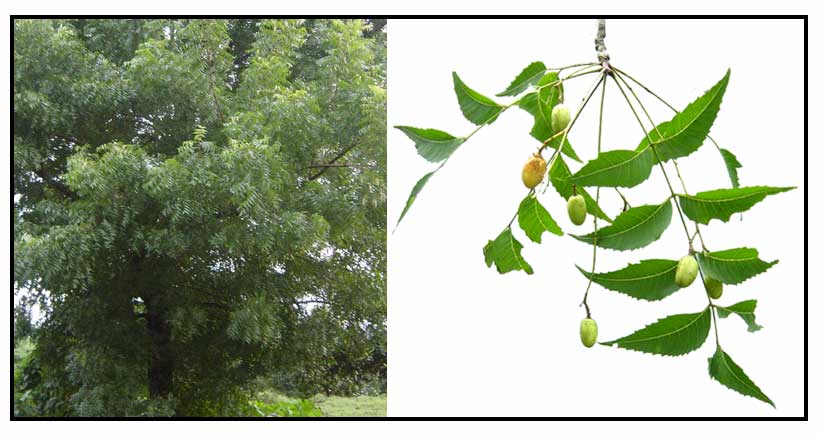 General info
A tree belonging to the mahogany family known as the "free tree" because of its ability to "free the soil." Popular in the Philippines, more for its insecticidal properties (pang-lamok) than for its medicinal applications. In India, it is considered the most useful traditional medicinal plant, and commercially beneficial as each part of the tree has some medicinal property.
Botany
Neem is a medium-sized tree growing to 15 meters high, with wide spreading branches forming an oval crown. Leaves are pinnately compound. The drooping leaflets are 1 centimeter long, paired, lanceolate, acuminate with serrated margins. The blade is shiny dark green on the upper surface and pale green on the underside. Flowers are numerous, small, white and fragrant.
Distribution
- Not widespread in the Philippines.
- A good shade tree.
- Propagated by seeds
- Spread by bats.
- Probably a native of Burma.
- Cultivated from India to Indonesia.
Constituents
• Seed yields a bitter fixed oil, nimbidin, known as "Oil of Margosa" or neem oil.
• Seeds yield a fix oil of glycerides and bitter compounds including nimbin, nimbinin and nimbidol.
• Bark and leaves contain tannin and oil.
• Seed, leaves, bark and root yield varying amounts of alkaloid (L>B>S>R), flavonoid (LBSR), saponin (LSBR), phenols (BRSL), Mg (SBLR), phytate (SLBR) and tannin (LBSR). (38)
• Various extracts of seeds yielded alkaloid, amino acid, carbohydrate, glycoside, inulin, mucilage, tannin, steroid, triterpenoid, flavonoid. (39)

Properties
• Considered antibacterial, hypoglycemic, antiulcer, antifertility, spermicidal, anti-malarial, antitumor, immunomodulatory, hepatoprotective, antioxidant, antifungal, anti-inflammatory, spermicidal, antifungal, insecticidal.

Parts used
Whole plant.
.
Uses
Edibility
- Leaves and flowers are edible.
Folkloric
- Poultice of leaves for swollen glands, bruises and sprains.
- Fresh leaf-tea used for malaria.
- Tree and root barks have been used for malaria, jaundice, and for intestinal parasitism.
- Edible pulp of the fruit used for hemorrhoids.
- Used for scabies and many other skin diseases.
- When soaked in water, used for bathing and as postcoital contraceptive.
- Spermicide made from plant sold in India.
Ayurvedic medicine
• Leaf- leprosy, intestinal parasites, eye problems, skin ulcers
• Bark - pain and fever.
• Flower - bile suppression, intestinal worms and phlegm.
• Fruit - piles, intestinal worms, urinary disorder, nose bleeding , phlegm, eye problem, diabetes, wounds and leprosy.
• Twig - cough, asthma, piles, intestinal worms, spermatorrhoea, urinary disorders, diabetes.
• Gum - ringworm, scabies, wounds and ulcers.
• Seed pulp and oil- leprosy and intestinal worms.
• Neem oil may be useful for gingivitis.
• Oil used intravaginally for spermicidal and contraceptive properties.
Others
- Toothbrush: Young tender branches are chewed for toothbrushing use.
- Toothpaste: Extracts used in the manufacture of toothpaste for its antibacterial property.
- Insecticide: Leaves and seeds are sources of powerful insecticide Azadirachtin. Leaf's oil is used as a local antiseptic and insecticide.
- Repellent: In the rural areas, burning of leaves and seeds used as mosquito repellent. Fresh seed oil has a strong garlic odor and used as ingredient for insect sprays.
- Timber: Wood used as mahogany substitute.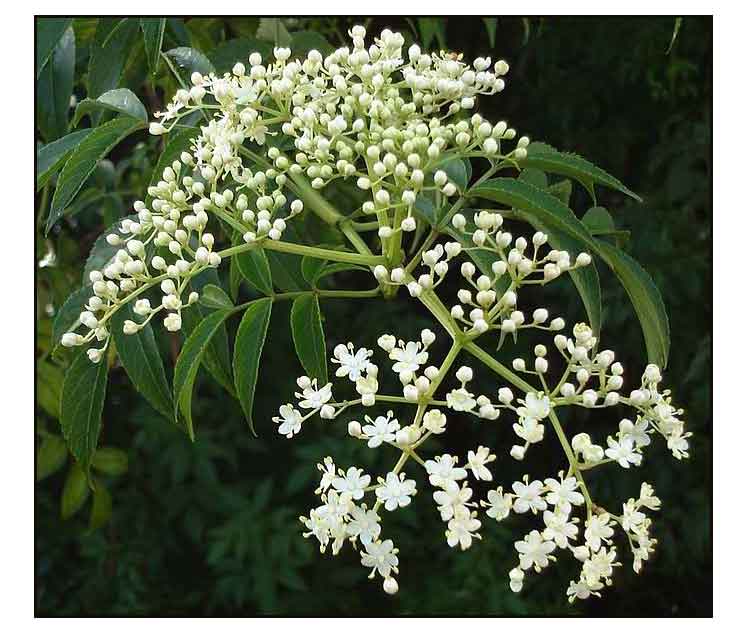 Studies
• Lipid Effects / Antiviral: Effect of Supplemental Garlic and Neem Leaves in Broiler Feeds on Blood Cholesterol, Triglycerides and Antibody Titer: Study showed neem had greater potential than garlic in reducing cholesterol, triglycerides and increasing the antibody titers against viruses.
• Antibacterial / Anticariogenic: Study showed Neem bark constituents have the ability to suppress growth of cariogenic bacteria (Streptococcus sobrinus).
• Anti-ulcer Effect: Neem leaf extract showed dose-dependent inhibition of gastric lesions induced by restraint-cold stress, indomethacin and ethanol. The antiulcer activity was probably achieved by blocking acid secretion through inhibition of H+K+ATPase and preventing oxidative damage and apoptosis.(5)
• Anti-ulcer Effect / Cimetidine Synergism: Study of A indica in albino rats showed significant inhibition of basal and histamine-induced gastric acid secretion. Cimetidine seemed to augment AI inhibition of gastric acid secretion.
• Anti-ulcer Effect / Control of Gastric Hypersecretion: Study of neem bark extract showed therapeutic potential in controlling gastric hypersecretion and gastroesophageal and gastroduodenal ulcers. (11)
• Anti-ulcer Effect / Regenerative Potential: Study showed neem extract to have a regenerative potential in ethanol-induced mucosal damage in the stomach and ileum and may be adopted in the management of gastrointestinal ulcer disorders.
• Anti-candidal: Anticandidal activity of Azadirachta indica: Study suggested hexane and alcoholic extracts to have anticandidal potential. (6)
• Antiplaque Activity: A study was done on the effectiveness of neem leaf extract against plaque formation. Results showed the dental gel containing neem extract significantly reduced the plaque index and bacterial count of S mutans and Lactobacillus species compared with commercial chlorhexidine gluconate mouthwash as control. (7)
• Antidermatophytic Activity: A study showed the neem seed extract has high antidermatophytic properties and supports the alternative use of neem oil in the treatment of various skin infections. (8)
• Biosorbent Activity: A study showed the effectiveness of the Neem leaf powder as a biosorbent for removing dyes like Congo Red from water. (9)
• Hypoglycemic / Antidiabetic Activity: In a study of 30 known or less known hypoglycemic medicinal plants in folk medicine, Azadirachta indica was one of 24 samples (18th or 24) that was observed to have significant blood glucose lowering activities. (10)
• Antidiabetic Activity: Study on the aqueous extracts of C roseus, Azadirachta indica and A sativum indicated significant antidiabetic activity, supporting its traditional use in Ayurveda for therapy of diabetes. (12)
• Hepatoprotective / Paracetamol Induced Toxicity: A study showed A indica leaf extract showed hepatoprotective effects against paracetamol-induced hepatic damage probably through its antioxidant activity. (13) Leaf extract inhibited paracetamol induced damage. Results show A. indica offer protection to hepatocytes against paracetamol-induced hepatotoxicity in wistar rats. (25)
• Anti-Fertility Activity / Rodent Control: A study showed Neem seed extract can be used as an anti-fertility agent on baits to control harmful agricultural rodents.
• Hypoglycemic: Study of leaf extract and seed oil showed a hypoglycemic effect in alloxan-induced diabetic rabbits. Pretreatment with A. indica leaf extract or seed oil partially prevented the blood glucose rise. (20)
• Chemopreventive: In a study evaluating the anticarcinogenic potential of A. indica against N-nitrosodiethylamine (NDEA)-induced hepatocarcinogenesis. Results showed A. indica may have anticancer potential against NDEA-induced hepatic cancer. There was significant reduction in tumor incidence, tumor multiplicity, and increase in survival. (21)
• Apoptosis Induction: Induction of apoptosis if one of the active strategies to arrest cancer cell proliferation. Study of an ethanolic leaf extract showed chemopreventive effects probably mediated by induction of apoptosis. (22)
• Larvicidal / Antimalarial: Study showed neem oil has good larvicidal properties for Anopheles gambiae and suppresses adult emergence. It presents as a readily available and inexpensive alternative to conventional larvicides. (23)
• Antifungal / Postharvest Fruit Disease: Study showed neem seed kernel extract on post harvest diseases showed significant reduction of four pathogens. (24)
• Natural Insecticide / Leaves / Azadirachtin: Azadirachtin, a liminoid from the Neem tree, has long been known for its strong antifeedant, insect growth regulatory and reproductive effects. Antifeedancy varies and mosquitoes are particularly sensitive. Study provides a detailed overview on azadirachtin. A prepared neem insecticide recorded mosquito bites after an hour, an efficiency of 100%. The efficiency decreased to 84.5% to 85% after one and a half to two hours.
• Hypolipidemic Effects: Study in streptozotocin-induced diabetic rats showed A. indica leaf extract significant reduced the total cholesterol, LDL, and VLDL cholesterol, and triglycerides. HDL-cholesterol remained unchanged. (26)
• Quinone Reductase Inhibitor / Nimbolide: Nimbolide, a limonoid, and chlorophylls isolated from a chloroform extract showed the strongest QR inducing capacity among 4 extracts of neem flowers. Results suggest nimbolide and chlorophylls may be chemopreventive potential. (27)
• Chemoprevention / Favorable Hematologic Parameters: Study in benzo(a)pyrene-induced murine forestomach tumorigenesis bioassay protocol showed favorable effects on hematological parameters with significant effect on overall well being, tumorigenesis and chemoprevention.
• Antifungal Against Plant Disease: Study evaluated the growth of plant pathogenic fungi under the influence of aqueous and ethanolic extracts of leaves and seeds of A. indica. Results showed the ethanolic seed extract to be the more effective in retarding the growth of pathologic fungi than the seed water and leaf ethanolic extracts. (28)
• Antimicrobial Against Dental Pathogens: Study evaluated the antimicrobial properties of various extracts of A. indica leaves against certain bacterial strains causing dental caries. All the leaf extracts exhibited significant dose-dependent inhibition, with the chloroform extract showing better activity. (29)
• Antimicrobial / Endodontic Irrigants: Study evaluated the antimicrobial effects of five irrigants formulated from different parts of the tree of A. indica compared with Na hypochlorite and chlorhexidine gluconate. Results showed two neem irrigants—the leaf extract and mixture of the seed-bark powder —displayed antimicrobial activity against against Candida albicans and Enterococcus faecalis. (30)
• Antibacterial / Leaves / Resistant Staphylococcus: Study evaluated the antibacterial properties of leaf extract of A. indica against Methicillin-sensitive and Methicillin-resistant Staphylococcus aureus. Results showed an ethanol extract of leaves exhibited in vitro antibacterial activity against both Staphylococcus aureus and MRSA with greater zones of inhibition at 100% concentration. (31)
• Chemopreventive / Potentiation of Cisplatin: Study evaluated the antiproliferative activity of ethanolic extract of leaves alone or in combination with cisplatin on human breast cancer (MCF-7) and cervical (HeLa) cancer cells. The leaf extract of neem exhibited chemopreventive ability alone or in combination with chemotherapy to reduce the cytotoxic effects on normal cells, while potentiating efficacy at lower dose. (32)
• Antibacterial / Bark and Leaves / Urinary Tract Bacterial Isolates: Study evaluated the antimicrobial activity of leaves and bark extracts of Azadirachta indica on human urinary tract bacteria isolates. Results showed antibacterial potential against gram positive and negative bacteria. (33)
• Inhibition of Folliculogenesis / Anti-Conceptional Agent: Study showed the administration of polar and non polar fractions of A. indica and M. azedarach seed extracts significantly reduced the number of normal follicles in female albino rats, consistent with its use in folk medicine as an anti-conceptional agent. Results suggest a potential for ceologically safe and biologically active botanical for rodent population control. (34)
• Hepatoprotective / Leaves / CCl4-Induced Toxicity: Study investigated the effect of A. indica leaves powder against CCl4-nduced liver damage. Results showed significant recovery of all markers to normal levels with histological regeneration of liver parenchyma. Silymarin was used as standard. (35)
• Proteolytic Activity of Neem Gum: Study established for the first time the presence of proteolytic activity in neem exudate gum. (36)
• Antioxidant and Apoptotic Effect in Cervical Cancer: Study evaluated the antioxidant property of A. indica in inducing apoptosis of cervical cancer cells. Results showed neem-treated monocytes from cervical cancer patients showed high activity of caspase 3, 8, and 9; a decrease in TNF-α, and increased apoptosis in cyto- and histomorphology of treated cervical cancer cells. (37)
• Melatonin and AI on Pancreatic Tissue of STZ-Induced Diabetic Rats: Study evaluated the histological effects of melatonin and AI leaves ethanolic extract on pancreatic tissue of STZ-induced diabetic wistar rats. Results showed the administration of AI ethanolic leaf extracts and melatonin separately or combined showed pancreatic-protective effects as evidenced by pancreatic tissue regeneration and significant increase in islet cell mass. (40)
• Anti-Malarial / Artemisinin: Study evaluated the potential roles of Neem tree extract in the prevention of malaria in Africa and Asia. It discusses the successful transformation of artemisinin from traditional Chinese medicine to mainstream anti-malaria therapy. (41)
• Hepatoprotective / DMBA-induced Injury: Study showed hepatoprotective potential of aqueous leaf extract of A. indica against DMBA (7,12-dimethylbenz[a] anthracene)-induced hepatotoxicity in male Balb/c mice. (42)
• Sterility and Abortive Effects: Study evaluated the abortive and infertility effects of A. indica. Results showed infertility and abortive effects which could be due to an effect on the immune system. A direct effect of the extract on the uterus by blocking the receptor for progesterone was also speculated. Results suggest a potential use for neem extract as infertility agent to control harmful agricultural rodents without the use of harmful pesticides. (43)


Toxicity Studies
• Acute Toxicity Study of Neem Oil: Study of neem oil by oral route in rats and rabbits showed dose-related pharmacotoxic symptoms along with biochemical and histopathological indices of toxicity, with the changes in the lungs and CNS as target organs of toxicity. (14)
• 90-Day Subchronic Toxicity Study of Neem Oil: Subchronic toxicity study on Neem oil evaluated the NOAEL (no-observed-adverse-effect-level) of exposure and target organs to establish safety criteria for human exposure. Mice were given doses of 0 (control), 177, 533, 1600 mgKgD for 90 days. At 90 days, histopath exam showed the 1600 dose of neem oil showed varying degrees of organ damage to the testicle, liver, and kidneys. The NOAEL of neem oil was 177 mg/kg/day for mice. (14)

Availability
Wildcrafted.
Available in cybermarkets as supplements, oil, cakes, extracts, and organic manure.