Botany
Okra is a coarse, erect, branched, more or less hairy, annual herb, 0.6 to 1.5 meters high. Leaves are long-petioled, orbicular or orbicular-ovate, about 25 centimeters long or less; with a heart-shaped base; the margins, 3- to 5-lobed. Petioles are equal to the blade in length or longer. Flowers are axillary and solitary; corolla, large and yellow, and inside, deep purple at the base. Fruit is elongated, 10 to 25 centimeters long, 1.5 to 3 centimeters in diameter, tapering to a blunt point and containing rows of rounded, kidney shaped seeds.
Distribution
- Cultivated for its edible fruit.
- Nowhere naturalized.
- Pantropic.

Constituents
- Fruit contains abundant pectin; mucilage; starch; some fat, 4%; water, 80.7%; and ash, 1.41%.
- Seeds yield: palmitic acid, 27.33%; stearic acid, 2.75%; arachidic acid, 0.05%; oleic acid, 43.74%; linolic acid, 26.62%; unsaponifiable matter, 0.37%.
- Roots yield gum, 16%; and the seeds yield vitamin C.
- Distillation of leaves with water yield an essential oil, which in time solidifies as a crystalline camphor allied to menthol and called 'Basil-camphor.'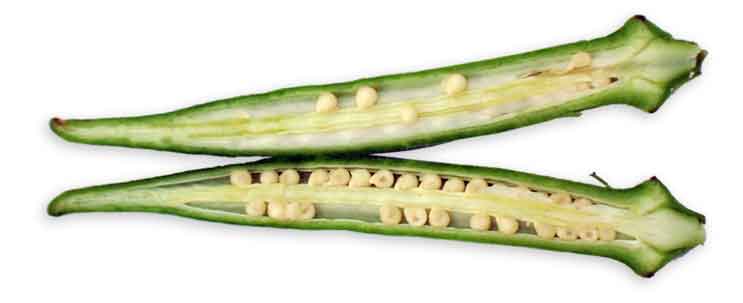 Properties
- Whole plant is aromatic, with an odor resembling cloves.
- Demulcent, emollient, sudorific, cooling, carminative, stimulant, cordial, antispasmodic.
- Very mucilaginous when cooked.
- Mucilage considered to have an aphrodisiac effect.
Parts utilized
· Roots, leaves, young pods, seeds.
Uses
Edibility / Nutrition
· Fruit is edible.
· Prepared in a variety of ways; an ingredient of soups and stews.
· Very mucilaginous when cooked.
· Fair source of iron, vitamin A and C; good source of calcium.
· Also contains thiamine and riboflavin.
· Seeds occasionally used a coffee substitute.
Folkloric
· Decoction of roots and leaves as a tea or for washing.
· Decoction of young fruit useful for catarrh, urinary problems.
· Syrup from mucilaginous fruit used for sore throat.
· Infusion of roots used for syphilis.
· Poultice of roots and leaves for wound healing.
· Young pods for fevers, difficult urination and diarrhea.
· Decoction of roots for headaches, varicose veins, arthritis, fevers.
· Decoctions of leaves for abdominal pain.
· Leaves also useful as emollient poultice.
· Mucilage prepared from roots and leaves used for gonorrhea.
· Fruit used as demulcent in gonorrhea and dysuria.
· Paste of seeds, mixed with milk, used for pruritic skin lesions.
· In Turkey, leaves used in preparation of medicine to reduce inflammation.
· In India, decoction of young fruit used for catarrh and urinary troubles. Also used for fevers, catarrhal attacks, genitourinary irritations such as dysuria, gonorrhea and leucorrhea, and in cases associated with scaling, pain, and difficulty passing urine.
· Bland mucilage used for dysentery, usually as soup.
· Tender pods eaten for spermatorrhea.
· Mucilage from from fruits and seeds of fresh, bruised capsules make an efficient, emollient poultice.
· Fruit decoction used as soothing demulcent remedy for throat irritations associated with coughing.
· Infusion of toasted seeds used for sudorific effect.
· Hindus consider the aromatic seeds as cooling, tonic, and carminative.
· In Annam, seeds considered antispasmodic.
· In the Antilles and Guiana, seeds considered stimulant, cordial, and antispasmodic.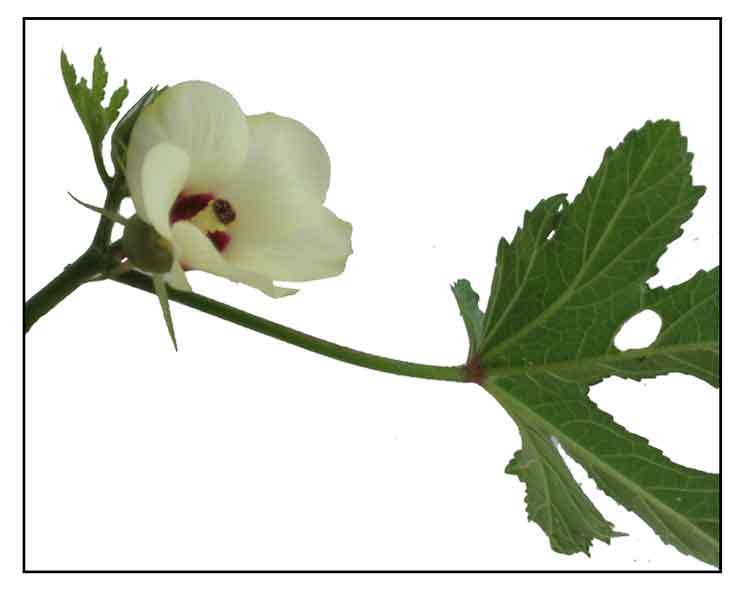 Studies
• Anti-ulcer: Anti-ulcerogenic activity of some plants used as folk remedy in Turkey: Five herbal remedies, including H esculentus, were studied for anti-ulcerogenic activity. All extracts exhibited significant gastroprotective effects. (1)
• Anti-H Pylori Adhesion: Glycosylated compounds from okra inhibit adhesion of Helicobacter pylori to human gastric mucosa: A polysaccharide isolated from the fresh juice showed strong inhibitory effects and an antiadhesive activity with blocking of the Helicobacter surface receptors. (2)
• Antioxidant / Hepatoprotective: (1) Antioxidant and hepatoprotective effect of the roots of Hibiscus esculentus Linn: The ethanol extract of HE roots showed excellent scavenging effect on free radicals and hepatoprotective effects. (2) In antioxidant assays of five vegetables, strong activity was seen with okra fruit. (3)
• Mucilage / Suspending Agent: Study showed that the mucilage of A esculentus may be used as a pharmaceutical adjuvant and as a suspending agent and other pharmaceutical applications, as a gelling, emulsifying or disintegrating agent. (4)
• Reversible Male Reproductive Effects: Study results showed the oral administration of methanol fruit extract of A esculentus produced a reversible reduction in male fertility in rats. There was significant reduction of gross sperm motility, count and life/dead ratio with an increase in abnormal sperm cell in the semen sample. (5)
• Review / Nutritional Healing Properties in Diabetes: In a literature review, the healing properties of AE were: (1) Alkaline reaction, soothes irritated membrane of the intestinal tract, lowering of blood sugar, facilitates healing of burns and any kind of skin rashes (2) Mucilaginous texture soak up the unhealthy cholesterol, toxin and mucous waste from the GI tract; acts as a laxative, facilitating ulcer healing and reduction of gastric reflux, antioxidant, anticancer and promoting cardiovascular health. (8)
• Hypoglycemic: In a research framework to study the hypoglycemic effects of a water extract of AE in streptozoticin-induced diabetic rats, the findings of expected results from the experiment may reveal underlying mechanism of diabetic pathophysiology, suggesting a new potential target for drug discovery. (9)
• Antidiabetic / Antihyperlipidemic / Toxicity Study: Study of peel and seed powder of Abelmoschus esculentus showed antidiabetic and antihyperlipidemic effects in streptozotocin-induced diabetic rats. Toxicity study showed no signs and mortality at dose level of 2000 mg kbw.(11)
• CNS Depressant / Analgesic: Study evaluated a root extract of A. esculentus for CNS depressant and analgesic activity. Significant decrease in locomotor activity was observed. There was significant and dose-dependent reduction of writhing reflex in the acetic acid-induced writhing test and linking response in the formalin induced inflammatory pain. Results suggest analgesic and CNS depressant activity. (12)
• Hepatoprotective / CCl4-Induced Injury: Study evaluated a root extract for hepatoprotective effect on CCl4-intoxicated HepG2 cell line and Wistar rats. Results showed a hepatoprotective effect attributed to its antioxidant capacity. (13)

Availability
Wild-crafted.
Perennial market produce.