Botany
Pakong-tulog is a curious fern with densely tufted stems, 4 to 15 centimeters long, branched nearly to the base. Leaves of the lower plane are crowded, ovate, with a distinct cusp, bright green, rigid, serrulate on both margins. Leaves of the upper plane are nearly as long, ovate lanceolate, cuspidate. Sporophylls are keeled.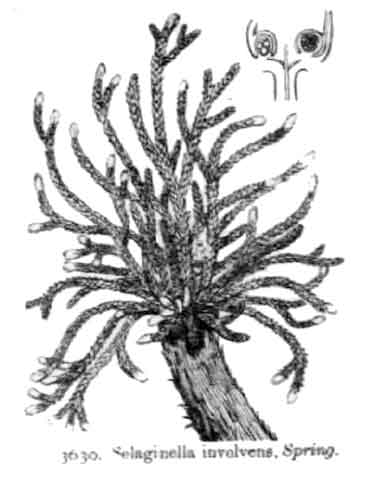 Distribution
• In the Philippines, reported in Cagayan, Ilocos Norte, Bontoc, Zambales, Pampanga, Rizal, Batangas, and Laguna, Quezon.
• Also occurs in China, Japan, and Celebes.
• The whole plant may be collected throughout the year. Wash thoroughly, cut off the roots and sun-dry. This may also be processed into charcoal form by heating it with small glow until it turns black, sprinkle with some clean water and redry under the sun. Rhizome or the trunk-like portion of the main axis used for propagation. Preferably transplant collected living plants.
Constituents
• Study yielded flavonoids as main compounds, including amentoflavone, hinokiflavone, sotetsuflavone and apogenin.
• Study isolated four compounds from the n-BuOH fraction of water extracts: tamariscinodise B, adenosine, guanosine and arbutin.
• Study isolated five compounds elucidated as: carnaubic acid, Selaginellin, 5,7,4',5'',7'',4'''-hexahydroxy-3',8''-Biflavone,β-D-fructofuranose-(2-1)-α-D-Glucopyr-anoside, α-D-mannopyranose-(1-1)-α-D-Mannopyranoside.
Properties
• When dry, the fronds, particularly the young one, contract or roll up like the claws of a bird or like a miniature Cypress tree. Yellowish-brown, when moistened they spread out again and become green.
• The plant never dies, hence the name Resurrection Fern, and considered life-prolonging.
• Considered astringent and hemostatic.
Uses
Nutrition
Edible: leaves; young shoots (cooked).
Folkloric
- Decoction use for the treatment of traumatic bleeding, hemoptysis, gastrointestinal bleeding, metrorrhagia, hematuria, persistent post-partum lochia, rectal prolapse and leucorrhea.
- Used to stop external bleed of any cause: powder or dress the wound with granulated drug materials.
- Selaginella plus Thuja: For hematochezia due to a boil in the anal region (patient cannot sit) or for an extra-menstrual bleeding uterus. Selaginella preparation plus Thuja leaf preparation: Grind into powder, add warm water. Drink the resulting infusion.
- In China, used for tracheitis and tumors; also, for amenorrhea and bowel hemorrhage. Also used for fever, detoxification and mobilization of blood circulation.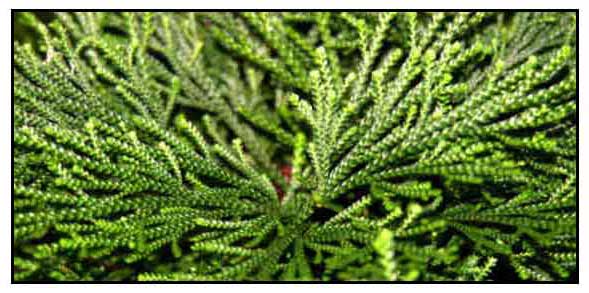 Studies
• Biflavonoids: Methanol extract significantly inhibited UV irradiation induced activity of MMP-1 in primary fibroblasts from human skin. Of the five biflavonoids isolated, sumaflavone and amentoflavone showed significant MMP-1 inhibitory activity.
• Anti-mutagenic / tumoricidal: Called Keon in Korea, S tamariscina is a traditional medicinal plant for therapy of advanced cancer patients in the Orient. It is thought to modify gene expression and cytokine production. It also lowers blood sugar and lipid peroxide levels. The biflavones isolated from related Selaginella species exert both tumoricidal effects against human tumor cell lines and anti-mutagenic activity. There is ongoing study for its chemopreventive effects in stomach cancers.
• Anti-fungal / Isocryptomerin / Amentoflavone: (1) Study isolated isocryptomerin, a biflavoinoid, which exerted antifungal activity in an energy-independent manner without hemolytic effects. The antifungal activity may be through a membrane-disruption mechanism. (2) Study isolated amentoflavone from the ethyl acetate extract of the whole plant. It exhibited potent antifungal activity against several pathogenic fungal strains presenting a great potential to be a lead compound for the development of antifungal agents.
• Antimetastatic: Study demonstrated that Selaginella tamariscina extract could be a candidate antimetastatic agent against lung cancer.
• Cell apoptosis: Cell apoptosis is important in cellular homeostasis and anticarcinogenesis. Study suggests oxidative stress may be involved in the cytotoxicity of ST and that ST-induced apoptosis of HL-60 cells is primarily mediated by the caspase activation pathway.
• Vasorelaxation: Study yielded an active biflavonoid, amentoflavone and results suggest it relaxes smooth muscle via endothelium-dependent nitric oxide-cGMP signaling, with possible involvement of K and Ca channels.
• Anti-gastric cancer: Study results suggest that Selaginella tamariscina could be a candidate chemopreventive agent against gastric cancer.
• Amentoflavone / Anti-Cancer: Amentafkavine and the extracts from S. tamariscina were screened against five cancer cells. Assays in vitro showed inhibition of the proliferation of HL-60 (human leukemia cells), MCF-7 (human breast cancer cells), HeLa (human cervical carcinoma cells), human hepatoma carcinoma cells, and PANC-1 (human pancreatic cancer cells).
• Candidiasis: S-Phase Accumulation of Candida albicans by Anticandidal Effect of Amentoflavone Isolated from Selaginella tamariscina: Study suggests amentoflavone has a potential for treatment of candidiasis.
• Chemical Constituents / Liganoside: Study isolated a new liganoside, tamariscinoside C, together with D-mannito, tyrosine and shikimic acid.
• Anti-Allergic: Study of the ethanol extract of ST showed it could inhibit mouse systemic anaphylactic shock and dose-dependently block passive cutaneous anaphylaxis and skin reactions caused by exogenous histamine and serotonin. Results suggest EST inhibits mast cell-dependent, immediate allergic reactions and suggests ST and one of its active flavonoids present a potential remedy for allergy-related diseases.
• Antibacterial / Isocryptomerin: Study of the novel antibacterial isocryptomerin isolated from S. tamariscina against Gram-positive and Gram-negative bacterial strains including MRSA showed the isocryptomerin had considerable synergistic activity in combination with cefotaxime.
• Hyoglycemic: Study in rats showed both EtOH and H2O extracts were able to ameliorate the fasting blood glucose and improved OGTT. Total cholesterol, LDL and fatty acids were also lowered. Compared with the water extract, the EtOH extract effects were more marked.
• Anti-Fatigue: Study in mice of a polysaccharide from S. tamariscina showed an anti-fatigue effect with prolonged swimming time of loaded mice, decrease in BUN and blood lactic acid after swimming.
• Selaginellins / Cytotoxic / Antioxidant: Study yielded a new selaginellin named selaginellin O, along with three other known selaginellins, 2-4. Selaginellins 1, 2, and 3 exhibited cytotoxic activity against cultured HeLa cells (human cervical carcinoma cells) as well as antioxidant activity.
• Bone Disease Benefits / Anti-Osteoclastogenesis and Anti-Osteoclastic Activities: Study evaluated the inhibitory effect of S. tamariscina on osteoclast differentiation. Results showed a water extract to have beneficial effects on bone disease by inhibiting osteoclastogenesis and osteoclastic activity.
• Hypolipidemic / Hepatoprotective / Amentoflavone: Amentoflavone isolated from S. tamariscina showed strong lipid lowering effect and favorable hepatoprotective effect in vivo.
Availability
Wild-crafted.