Botany
Pandakaki is an erect, branched and smooth shrub, 1 to 4 meters high. Leaves are elliptic-lanceolate to oblong-elliptic, 5 to 12 centimeters long, narrowed at both ends, shining and short-stalked. Inflorescences are axillary and terminal, peduncled, and have rather few flowers. Calyx is green, ovoid, and short. Corolla is white, tinged with green, slender-tubed, 1.7 centimeters long and slightly enlarged upward; limb is 2 to 2.5 centimeters in diameter, composed of five, spreading, falcate, lanceolate lobes. Follicles are red or yellowish-red, oblong, 2 to 4 centimeters long, and longitudinally ridged or keeled.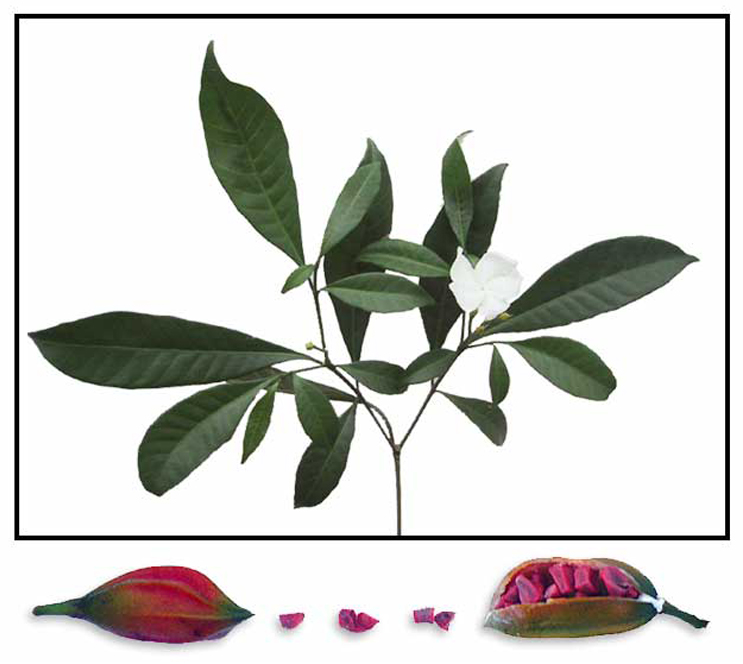 Distribution
- Common in thickets at low altitudes at low altitudes from the Babuyan Islands and Luzon to Mindanao, in most Islands and provinces.
- Also reported in Taiwan and Celebes.
Parts utilized
Leaves.

Uses
Folkloric
· In the Philippines, leaves used as cataplasm on the belly to induce menstruation.
· For eczema: Boil 3 cups of chopped leaves in one gallon of water for 10 minutes; add 2 gallons of hot water.
· Fresh leaves are fried in oil and applied to itchy skins lesions for symptomatic relief.
· Leaf juice applied for wound healing.
· Hot Foot Baths: A local immersion bath covering the feet, ankles and legs used for a variety of conditions: To relieve head, chest and pelvic congestion; to stop nosebleeds; to relieve spasms and pains of feet and legs; to induce sweating; to relieve menstrual cramps and headaches.
· Poulticed leaves applied on the abdomen to hasten childbirth.
· Erectile dysfunction: In Tiaong, reportedly used as "herbal viagra." Boil 15-25 leaves in 3 glasses of water for 10 minutes; drink the decoction. (Note: Like many of the herbal medicines touted as "herbal viagra," kampupot use is rural folkloric with no known scientific or pharmacologic basis for its claim.)
· Decoction of root and bark used for a variety of stomach and intestinal ailments.
· The white sap of the stem is applied to thorn injuries and to hasten the surfacing of the thorn fragment.
· In Thailand, roots used to treat fever, pain and dysentery.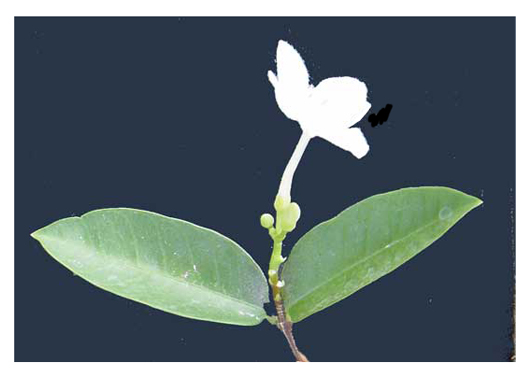 Studies
• Analgesic / Hypothermic: : Vulcanian was isolated from T pandacaqui which exhibited significant analgesic and hypothermic effects in mice.
• Antiprotozoal: : In a study of 18 plants traditionally used in South Pacific archipelago Vanuatu, 15 plants showed strong cytotoxic effects specific for only one cancer line. T. pandacaqui leaves displayed activity against Trypanosoma cruzi.
• Anti-Inflammatory / Antipyretic / Antinociceptive: Study showed TP to have significant antiinflammatory, antipyretic and antinociceptive activities attributable to alkaloidal components.
• Hypotensive / Bradycardic: (1) Effects of a crude alkaloidal fraction from the stem of Tp on blood pressure and heart rate were investigated in rat models. Results showed a hypotensive and bradycardic responses that might involve cholinergic, central mechanisms, biogenic amines, acetylcholine and histamine. (2) Intravenous injection of ethanol extracts of stem, leaf and flower exhibited a hypotensive activity not mediated through histaminic and muscarinic stimulation, a-adrenoceptor blockade or interference of sympathetic transmission.
• Neuropharmacological / CNS Depressant: Study of crude alkaloidal fraction from the stem of Tp suggested CNS depressant activity in rats and mice through reduction in spontaneous motility, potentiation of pentobarbital sleeping time and antinociception.
• Antinociceptive / Leaves: Screening of crude ethanol extract of leaves for antinociceptive activity produced significant writhing inhibition in acetic acid induced mice in various doses, with results comparable to diclofenac.
Caution
• Some reports of toxicity attributed to the milky sap.
• Fruit reported to be highly poisonous, with its many seeds with red fleshy covering.

Availability
Wild-crafted.