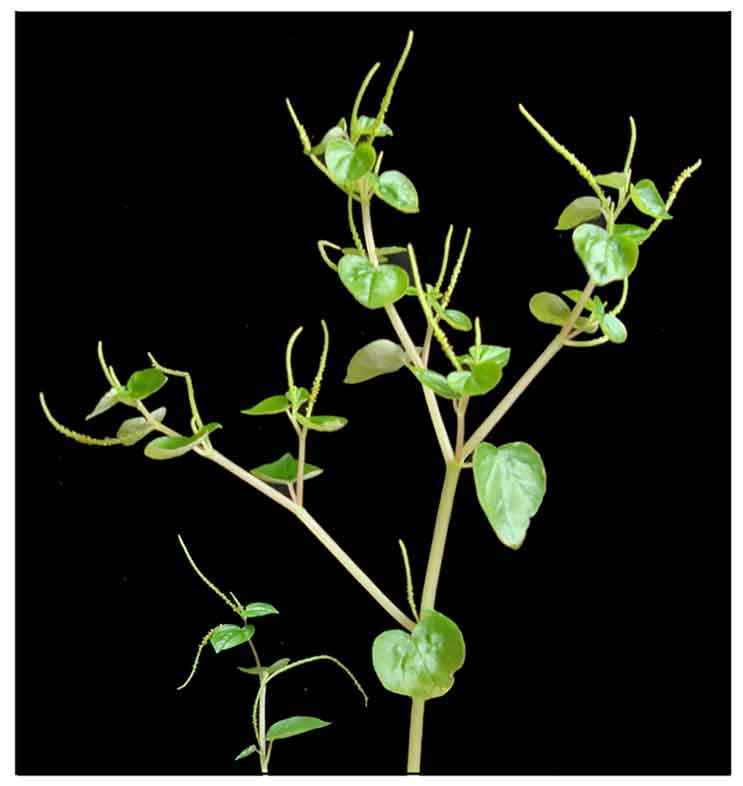 Botany
Pansit-pansitan is an erect, branched, annual herb, shallow rooted, reaching up to 40 centimeters high, with very succulent stems. Stems are round, often about 5 millimeters thick. Leaves are alternate, heart-shaped and turgid, as transparent and smooth as candle wax. Spikes are green, erect, very slender, 1 to 6 centimeters long. Tiny dot-like flowers scattered along solitary and leaf-opposed stalk (spike); naked; maturing gradually from the base to the tip; turning brown when ripe.
Distribution
- An annual herb, favoring shady, damp and loose soil.
- Often grows in groups in nooks in the garden and yard.
- Conspicuous in rocky parts of canals.
- Propagation by seeds: Numerous tiny seeds drop off when mature and grow easily in clumps and groups in damp areas.
- Pantropic species of American origin.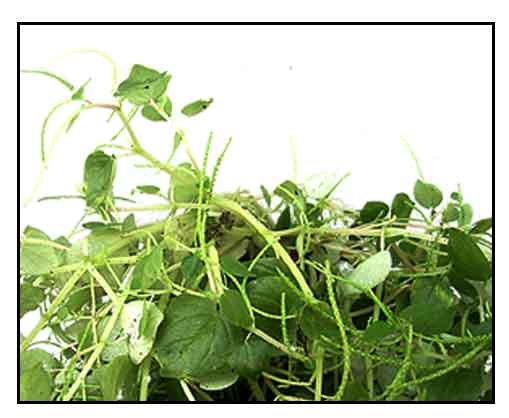 Constituents
• Preliminary phytochemical screening of methanol extracts of stems yielded carbohydrates, alkaloids, tannins, flavonoids, steroids, triterpenoids, with the absence of saponins and proteins.
• Study yielded 5 new bioactive compounds: two secolignans, two tetrahydrofuran lignans, and one highly methoxylated dihydronaphthalenone.
• Proximate analysis of leaves yielded a high ash content, a higher crude fiber content, and a still higher carbohydrate content. Mineral analysis showed low manganese, iron, zinc and copper, with high sodium content. Phytochemical screening yielded alkaloids, cardenolides, saponins and tannins, with an absence of anthraquinones. (10)
• An ether soluble fraction of the whole plant yielded 4,7-dimethoxy-5-(2-propenyl)-1, 3-benzodioxole or apiol, in a liquid state, 2,4,5,-trimethoxy styrene, mp 138°, and three phytosterols, campesterol, stigmasterol and β-sitosterol. (14)
• Study of essential oil showed the main components to be dillapiole (39.7%) and trans-caryophyllene (10.7%). (20)
• An ethanol extract of leaves yielded fifteen compounds: bicyclo[7.2.0]undec-4-ene, 4,11,11-trimethyl-8-methylene, 10,12-octadecadiynoic acid, 3,7,11,11-tetramethylbicyclo [8.1.0] undeca-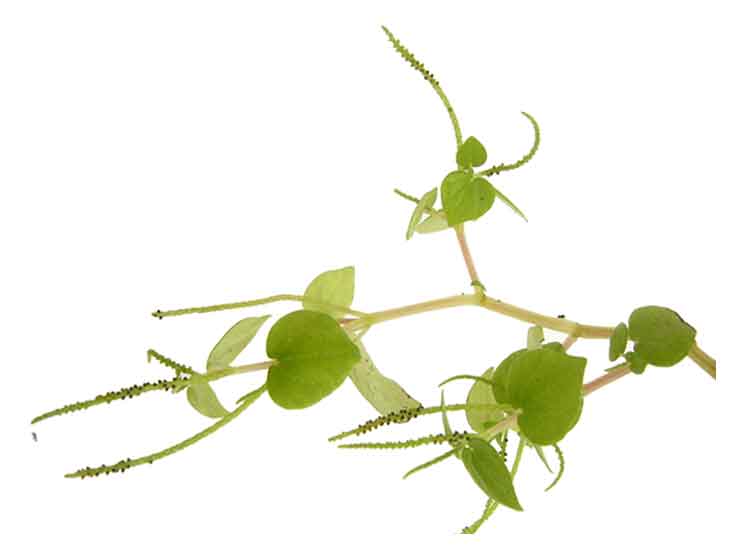 2,6-diene, 2,6-bis (1,1-dimethylethyl)-4-methyl phenol, 1,2-dimethoxy-4-(2-methoxyethenyl) benzene, 1,3-benzodioxole, 4,7-dimethoxy-5-(2-propenyl), oxalic acid, cyclohexylmethyl tridecyl ester, ethyl alpha-d-glucopyranoside, hexadecanoic acid methyl ester, hexadecanoic acid ethyl ester, 10-octadecenoic acid methyl ester, 3,7,11,15-tetramethyl-2-hexadecen-1-ol, (Z)6,(Z)9-pentadecadien-1-ol, 9,12,15-octadecatrienoic acid ethyl ester and N,N-dimethyldodecanamide. (see study below) (25)
• Proximate analysis showed P. pellucida to be rich in crude protein, carbohydrate and total ash contents. The high ash content (31.22%) suggests a high-value mineral composition of potassium, calcium, and iron. (27)
• GC-MS study of whole plant for bioactive components yielded 32 compounds. Major components was apiol (22.64%) followed by (3-Methoxy-nitrophenyl) acetic acid, methyl ester (8.14%), phytol (7.47%), n-hexadeconoic acid (7.29%), E-2-tetradecen-1-ol (6.92%), 5H-cyclopropa (3,4) benz (1,2-e) azulen-5-one, 4,9,9a- tris(acetyloxy)-3-[(acetyloxy)methyl]- (5.89%), stigmasterol (4.60%), 3,7,11,15-tetramethyl-2-hexadecen-1-ol (4.00%), campesterol (3.19%), a- sitosterol (2.92%), 9,12,15-octadecatrienoic acid, (Z,Z,Z)- (2.79%), Z,Z- 2,5-pentadecadien-1-ol (2.53%) and 3-hydroxy-4-methoxycinnamic acid (2.01%). (33)
• Study of leaves and stems for essential oil by GC and GC-MS analysis. yielded sesquiterpenes as the most abundat class of compounds, followed by phenylpropanoids.Main constituents of the leaf oil were were γ-gurjunene (11.34%±0.01), 1,10-di-epi- cubenol (11.27%±0.02), (E)-caryophyllene (8.71%±0.02) and dillapiole (8.50%±0.03). The major constituents of the stem oil were carotol (9.77%±0.01), dillapiole (9.18%±0.01), trans-β-guaiene (9.05%±0.02) and (E)-caryophyllene (8.53%±0.02). (see study below) (47)
Properties
• Considered anti-inflammatory, antibacterial, refrigerant, analgesic, antifungal, anticancer.
• Studies have shown analgesic, anti-inflammatory, CNS depressant, antioxidant, antihyperuricemic, hypoglycemic, antihypertensive, antibacterial, antiarthritic, anticancer, antiedematogenic, anti-amoebic, gastroprotective, and hemostatic properties.
Parts utilized
Leaves and stems.

Uses
Edibility
- Leaves and stems may be eaten as vegetable.
- In salads, the fresh plant has the crispness of carrot sticks and celery.
Folkloric
- Infusion and decoction of leaves and stems are used for gout and arthritis.
- Decoction of leaves used for urinary tract infections.
- Externally, as a facial rinse for complexion problems.
- In Ayurveda, used to pacify vitiated cough, pitta, constipation, kidney diseases, urinary retention, dysuria, urinary tract infection, emaciation, edema and general weakness. (15)
- Pounded whole plant used as warm poultice for boils, pustules and pimples.
- In Jamaica and the Caribbean used for colds and as a diuretic for kidney problems.
- In South America, solution of fresh juice of stem and leaves used for eye inflammation. Infusion and decoction of leaves and stems used for gout and arthritis. (15)
- In Brazil, used for abscesses and conjunctivitis.
- In Bolivia, decoction of roots used for fever; aerial parts for wounds.
- In Nigeria used for hypertension.
- In Bangladesh, leaves used in the treatment of excited mental disorders.
- In Africa, used for convulsions and tumors.
- Used for headaches, rheumatic pains, impotence.
- In Cameroon used for fracture healing.
- In Brazil, used to lower cholesterol; for treatment of abscesses, furuncles and conjunctivitis
New uses
- Belongs to the "preferred list" of Philippine medicinal plants, being studied for its use in the treatment of arthritis and gout.
For arthritis: Leaves and stems of the fresh plant may be eaten as salad. Or, as an infusion, put a 20-cm plant in 2 glasses of boiling water; and 1/2 cup of this infusion is taken morning and evening.
Studies
• Analgesic / Antiinflammatory / Aerial Parts: Extract study of aerial parts of PP tested in rats and mice exhibited anti-inflammatory and analgesic activities. The antiinflammatory activity was attributed to interference with prostaglandin synthesis. Results also showed low toxicity. (1) Study of methanol extract of P. pellucida aerial parts showed significant analgesic activity on acetic acid-induced writhing in mice. (43)
• CNS Depressant Activity: Study of peperomia leaf extract showed dose-dependent depressant effects probably due to psychoactive substances that are CNS depressant. (2)
• Antipyretic: Study of petroleum ether and ethyl acetate soluble fractions of an ethanol leaf extract of Peperomia pellucida on rabbits showed antipyretic effects comparable to a standard aspirin. (3) In a study that evaluated the effect of Peperomia pellucida crude leaf extract on boiled milk-induced fever in male white mice, results showed no antipyretic effect.
• Antibacterial: Study of methanolic extract of PP exhibited a very good level of broad spectrum antibacterial activity. (4) A methanol crude extract showed growth inhibition for E. coli at 1% and 10% concentration, but no inhibition of growth of S. aureus. (24)
• Phenological Antiedematogenic: P pellucida has a phenological cycle of about 100 days. The aqueous extract is used as antiedematogenic during pheophases 1 and 2 of winter and spring.(5)
• Anti-Cancer: Study isolated five new compounds, including two secolignans, two tetrahydrofuran lignans, one highly methoxylated dihydronaphthalenone with known peperomins A, B, C and E. Compound 1 and peperomin E showed growth inhibitory effects on three cancer cell lines.(6)
• Toxicity Study: Study evaluated the potential systemic toxicity of acute oral use of P. pellucida freeze-dried aqueous extract powder in mice. In excessive amounts, P. pellucida showed a dose-dependent increase in adverse effects in the major systems of the body. The moderate slope of the dose-response line was suggestive of a moderately wide margin of safety of the plant.(7)
• Analgesic / Anti-Arthritic Study: Study showed both twice daily P. pellucida decoction and ibuprofen treatment significantly lowered the mean scores on pain, stiffness and disability on the WOMAC arthritis index on patients with knee joint rheumatism. (8)
• Xanthone Glycoside / Antibacterial: Study isolated patuloside A, a xanthone glycoside from P. pellucida. The compound showed significant antibacterial activity against four Gram-positive bacteria (B subtilis, B megaterium, S aureus, Strep ß-hemolyticus) and six Gram-negative bacteria (E coli, S dysenteriae, S sonnei, S flexneri, P aeruginosa and S typhi.) (9)
• Antihyperuricemic: A randomized controlled study of the effect of freeze-dried aqueous extract powder of P. pellucida in male adult Sprague Dawley rats showed a mean % decrease from hyperuricemic level of 44.1% compared to allopurinol's 64.0%. Results indicate P. pellucida may be used as an alternative medication for hyperuricemia. (11)
• Anti-Inflammatory / Antioxidant: A petroleum ether extract significantly reduced carrageenan-induced hind paw edema. The methanol extract showed the strongest free radical scavenging activity. Results suggest the plant is a good natural source for anti-inflammatory and antioxidant therapy. (12)
• Phytochemical / Antimicrobial / Toxicological Evaluation: Photochemical studies yielded alkaloids, tannins and flavonoids. Extracts inhibited growth of Pseudomonas aeruginosa, K. pneumonia, and B. subtilis, while only the methanol extract inhibited Staphylococcus aureus. Oral doses as high as 5g/kg did not cause death or toxicological symptoms in mice. Histopathological effects of an aqueous methanol extract on the liver, spleen kidney and heart of rats showed mild to moderate congestions and infiltrations of chronic inflammatory cells.(16)
• Mineral Composition / Nutritional Attributes: Study evaluated the proximate and mineral composition and nutritional attributes of P. pellucida. Results showed it to be rich in crude protein, carbohydrate, and total ash contents. The ash content suggest a high-value for potassium, calcium, and iron as main elements. Results suggest P. pellucida can serve as a good source of protein, energy, and micronutrients.(17)
• Hypotensive Effect / Cytochrome P450 Effect: Study evaluated P. pellucida for its use as an antihypertensive remedy and its impact on cytochrome P450 (CYP) enzyme activity. Results showed a dose-dependent hypotensive, bradycardic, and vasorelaxant effects probably mediated through nitric oxide-dependent mechanisms. An aqueous extract showed poor in vitro inhibition on CYP3A4 enzyme making it unlikely to cause clinically significant pharmacokinetic drug interactions via the enzyme inhibition.(19)
• Anticancer / Antimicrobial / Antioxidant / Leaves: Study showed P. pellucida leaf extract possessed anticancer activities. The plant extract was found to inhibit growth of various bacterial pathogens and inhibit 30% of DPPH, free radical. Phytol was the major compound in the plant extract, followed by 2-naphthalenol, hexadecanoic acid, methyl ester and 9,12-octadecadienoic acid, and (Z,Z)-methyl ester. Results indicate the leaf possessed vast potential as a medicinal drug especially in breast cancer treatment. (21)
• Fracture Healing by Anabolic Effect on Osteoblasts: Study evaluated an ethanol extract of P. pellucida on bone regeneration following bone and marrow injury in rats. Results showed the EE dose-dependently induced bone regeneration at the fracture site, with significantly increased mineral deposition compared to controls. Findings suggest acceleration of fracture repair via stimulatory effect on osteoblast differentiation and mineralization. (22)
• Hemostatic Effects: Study of P. pellucida plant crude extract showed coagulation properties that can induce blood clotting and augment thrombocyte production. (23)
• Antibacterial / Leaves: An ethanol extract of leaves yielded fifteen compounds and showed marked antibacterial activity against Staphylococcus aureus, Enterococcus faecalis, Bacillus cereus, Escherichia coli, Salmonella typhi and Proteus mirabilis. The synergistic effect of the compounds might have caused the high antibacterial activity. (see constituents above) (25)
• Antidiabetic / Antioxidant / Hypolipidemic: Study investigated the antidiabetic and antioxidant properties of Peperomia pellucida in alloxan induced diabetic male albino rats. Diabetic rats on diets supplemented with P. pellucida showed reduction in blood glucose, significant reduced serum cholesterol, triglycerides and LDL cholesterol, and significantly reduced lipid peroxidation. (26)
• Antiamoebic: Study evaluated P. pellucida for antiamoebic activity. A methanol fraction of dried plant caused morphological and structural changes in Acanthamoeba cysts. (28)
• Antihypertensive: Study evaluated the anti-hypertensive effects of Peperomia pellucida extract on arterial blood pressure in male, normotensive rats. Intravenous administration of the extract produced marked fall in mean arterial blood pressure and heart rate. (29)
• Hypoglycemic / Analgesic / Anti-Inflammatory: Study of an ethyl acetate extract in alloxan induced diabetic mice showed significant hypoglycemic effect. Results also showed significant analgesic activity in the acetic acid induced writhing model, which may be attributed to the presence of flavonoid, steroid, alkaloid, tannin and saponin noted on phytochemical screening. (30)
• Gastroprotective / Anti-Ulcer: Study evaluated the anti-ulcerogenic activity of aerial parts of P. pellucida in necrotizing agent and indomethacin induced models in rats. Results showed significant protection in various experimental models with significant pretreatment inhibition of gastric mucosal damage. (31)
• Anti-Hyperuricemic Effect on Potassium Oxonate-Induced Hyperuricemia: Study showed an anti-hyperuricemic effect of Peperomia pellucida extract in potassium oxonnate induced hyperuricemia in white male rats. (35)
• Antimicrobial / Leaves: Study evaluated leaf extracts for antimicrobial activity and phytochemical properties. Extracts yielded flavonoids and saponins while alkaloids, steroids, and tannins were absent in the methanol and EA extracts. Extracts showed antimicrobial activity against P. aeruginosa, S. typhii, and S. dysenteriae, comparable to standard antibiotic streptomycin. (36)
• Acceleration of Fracture Healing / Whole Plant: Study evaluated the effects of aqueous whole plant extract of P. pellucida on fracture healing in female Wistar rats. The extract accelerated bone healing partly due to the mineral content. There was a significant increase in amounts of calcium, phosphorus, and AP. There was a dose dependent effect on callus formation. Results suggest osteoblastic effects responsible for enhancement of bone repair process. (37)
• Capacity for Bioaccumulation of Lead: Some plants species absorb large quantities of heavy metals like lead which can accumulate in the body and lead to heavy metal poisoning. A greenhouse study showed showed application of 100-400 ppm Pb had no significant effect on shoot and root growth. Results showed P. pellucida can tolerate Pb levels as high as 400 ppm without affecting its growth. (38)
• Radical Scavenging / Antibacterial / Leaves and Stem Essential Oils: Study evaluated leaves and stem essential oils of P. pellucida for in vitro antibacterial and radical scavenging activities. The EOs showed strong antibacterial activities against bacterial strains viz., E. coli, Enterobacter cloacae, Myobacterium smegmatis, Listeria ivanovii, S. aureus, Streptococcus uberis and Vibro parahaemolyticus with MIC range between 0.95 and 0.20 mg/ml for both EOs. Leaf EO showed more radical scavenging (1.67 mg/mL) than the stem EO (2.83 mg/mL. (39)
• Protective Effects on Pancreas / Potential Antidiabetic Treatment: Study evaluated the crude methanolic extract of P. pellucida for antihyperglycemic property and its effect on pancreatic histology in high fat-diet/STZ-induuced diabetic mice. While a two-week administration showed no signficant effect on blood glucose levels, the extract prevented necrosis, apoptosis, and inflammation of the Islets of Langerhans. Results suggest a protective effect on the pancreas and a potential alternative to metformin in the treatment of T2DM. (40)
• Dillapiole / Gastroprotective / Ethanol-Induced Lesions: Study of a hexane and dichlormethane extract of P. pellucida yielded dillapiole as the most active compound. The compound was evaluated for gastroprotective effect using an ethanol-induced gastric ulcer rat model. Dillapiole showed gastroprotection unrelated to endogenous NO, prostaglandins or sulfhydryl groups. (41)
• Natural Radioactivity of P. pellucida Used as Medicinal Herb: Study evaluated the concentration of naturally occurring radionuclides U, U, Th, Th, Ra, Ra and Pb in a sample of Peperomia pellucida and in the surrounding soil. An emerging concern in many developing countries is industrial pollution that may threaten the health of local government by contamination of vegetation with heavy metals, pesticides, or radioactivity. In this study, the level of radionuclides showed much higher concentrations than that present in day-to-day diet. In the context of plant extraction for phytotherapies and the consumption of herbs by the population, the study of radionuclide concentration in medicinal plants has great significance. (42)
• Cytotoxicity: Study evaluated various extracts of P. pellucida for phytochemical constituents and cytotoxicity potential by in vitro MTT assay using HEK 293 (human epithelial kidney) HeLa (human cervical cancer) and HepB2 (human hepatic carcinoma) cell lines. The methanol extract showed maximum phytochemicals and significant cytotoxic activity against the test cancer cell lines and showed less cytotoxicity against normal human kidney cells (HEK293) suggesting safety for normal cells. (44)
• Antifungal / Leaves: Study of Peperomia pellucida leaf ethanol extract showed most effective antifungal activity against C. albicans colony growth inhibition at 70% concentration. (45)
• Patuloside A / Xanthone Glycoside / Antimicrobial / Cytotoxicity: Study pf Peperomia pellucida isolated a xanthone glycoside, Patuloside A (3-β-D glucopyranosyloxy-1,5,6-trihydroxy-9H-xanthene-9-one). The compound showed significant antibacterial activity against four gram-positive and six gram-negative bacteria and weak antifungal activity against A. flavus and C. albicans. It showed cytotoxicity against brine shrimp nauplii with an IC50 of 18.24 µg/ml. (46)
• Acaricidal / Essential Oils: Study evaluated leave and stem for essential oil by GC and GC-MS analysis. Sesquiterpenes were the most abundant class of compounds. Activity of the oil against Tetrnychus urtifcae showed the stem oil were fourfold more toxic thn the leaf oil, but 2.5-fold less activity than eugenol which was used as postive control. (see constituents above) (47)
Availability
Wild-crafted.