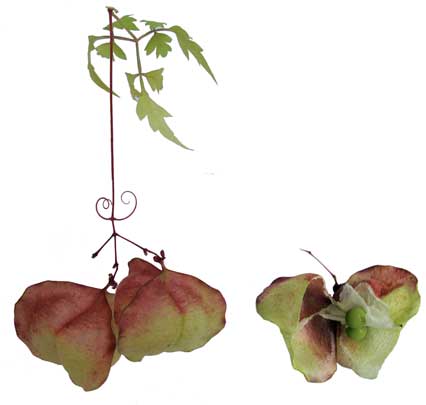 Botany
Parol-parolan is a slender, herbaceous, more or less hairy vine, 1 to 3 meters in length.
Leaves are trifoliate, and 5 to 9 centimeters long. Leaflets are ovate to lanceolate, and 1 to 5 centimeters long, with coarsely toothed or lobed margins. Flowers are small, white, and about 2.5 millimeters long. Sepals are 4, concave, the outer ones small. Petals are 4, two larger ones usually adhering to the sepals and with an emarginate scale above the base, the smaller 2 ones distant from the stamens. Stamens are 8, eccentric, filaments free or connate at the base. Ovary is 3-celled, style 3-fid, ovules solitary. Fruits are inflated, obovoid, 1.5 to 2.5 centimeters long, somewhat triangular and 3-keeled. Seeds are round and black, with a prominent, white, heart-shaped aril at the base.
Distribution
- Throughout the Philippines in thickets and waste places, etc., in the settled areas.
- Certainly introduced into the Archipelago.
- Now pantropic.
Constituents
• Plant yields saponins, tannins, alkaloids, flavonoids, proanthocyanidin, apigenin, phytosterols, glycosides and cardiac glycosides.
• Fruit of the seeds yielded an essential oil, bitter and stimulant.
• Analysis of seed oil yielded the main constituents as erucic acid 43%, oleic acid 30%, eicosanic acid 12%, octanoic acid 4.5%, and n-hexa decanoic acid 4.15%. (See studies) (11)
• An ethanol extract yielded seventeen compounds, quercetin-3-O-α-L-rhamnoside (1), kaempferol-3-O-α-L-rhamnoside (2), apigenin-7-O-β-D-glucuronide (3), apigenin 7- O-β-D-glucuronide methyl ester (4), apigenin 7-O-β-D-glucuronide ethyl ester (5), chrysoeriol (6), apigenin (7), kaempferol (8), luteolin (9), quercetin (10), methyl 3,4-dihydroxybenzoate (11), p-coumaric acid (12), 4-hydroxybenzoic acid (13), hydroquinone (14), protocathehuic acid (15), gallic acid (16), and indole-3-carboxylic acid (17). (18)
Properties
• Mild, bitter and pungent tasting, cooling in effect.
• Considered antiphlogistic, analgesic, anti-inflammatory, blood refrigerant, anti-infectious, diuretic, emetic, emmenagogue, febrifuge, laxative, stomachic, sudorific.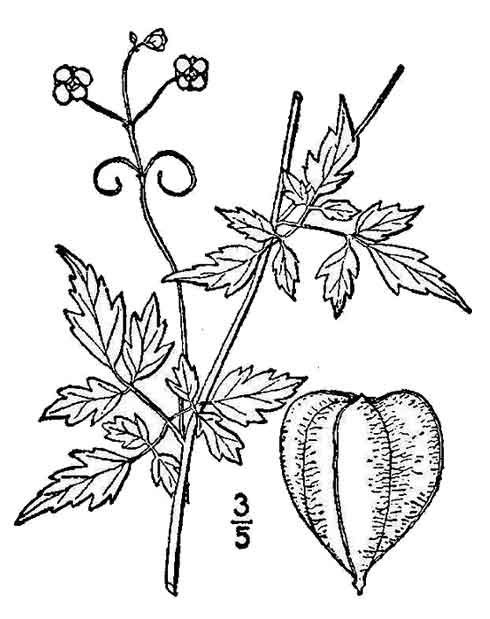 Uses
Nutrition / Culinary
• Leaves are edible.
• Leaves and young shoots, cooked, used as spinach.
Folkloric
• In the Philippines, decoction of roots used as diaphoretic, and used for catarrh of the bladder.
• Leaves are used internally as a beverage as an anti-rheumatic; externally applied as oil embrocations.
• Cold, fever, renal edema, urinary tract infections.
• Furuncle, carbuncle, eczema.
• Sprains and external wounds.
• Dosage: use 12 to 15 gms dried material or 15 to 30 gms fresh material in decoction. Pounded fresh material may be used as poultice, decoction of fresh material may be used as external wash.
• Elsewhere, poultice of leaves used for rheumatism, swellings, orchitis, and dropsy.
• Used as a hair wash.
• Leaf juice used for earaches or meatal discharges.
• Plant used as diuretic, stomachic, rubefacient, cholagogue, and pectoral.
• Decoction of root and leaves used for rheumatism, nervous diseases, piles, chronic bronchitis, and phthisis; also used for amenorrhea.
• In Sindh, roots used as diaphoretic, diuretic, and aperient. Decoction of roots used for piles and amenorrhea.
• Roots used as emetic and laxative.
• Fried leaves are applied to the pubis to increase menstrual flow in amenorrhea.
• Leaves boiled in castor oil applied for rheumatism, pains, swellings, tumors of various kinds.
• In the Malabar coast, leaves are used for pulmonary complaints.
• In Martinique, leaves are used as diuretic and stimulant.
• In Ayurveda, used for rheumatism, fever and earache.
Others
• Seed oii reported to be an effective insect repellent.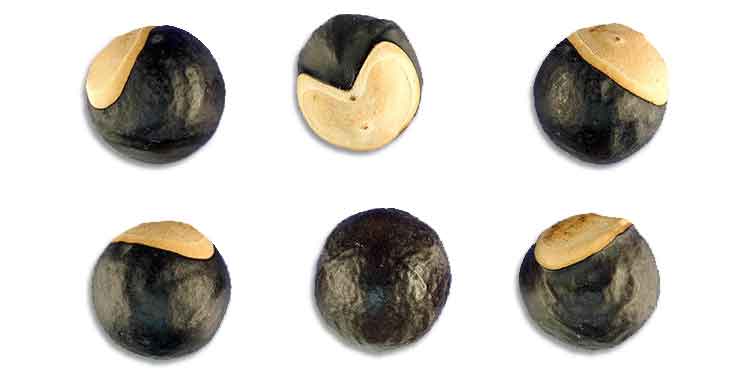 Studies
• Antifilarial: Study of extracts of CH was done on adult worms and microfilariae of Brugia pahangi. Results showed that the aqueous extracts had mild but definite direct macrofilarial action on B pahangi. (2)
• Antiparasitic: Extracts of CH tested in vitro against third-stage larvae of Strongyloides stercoralis showed immobilization (nonmotility) rates better than ivermectin and piperazine. (3)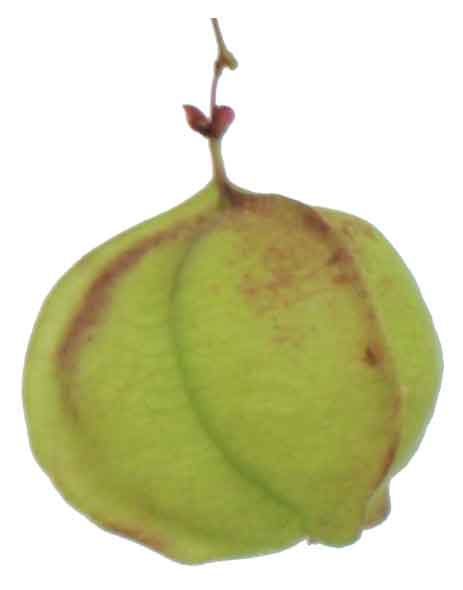 • Antidiarrheal: Study showed the antidiarrheal activity of the extracts of C halicacabum, probably due to the presence of phytochemicals–sterols, tannins, flavonoids and triterpenes. (4)
• Antiinflammatory: Study showed inhibitory effects of CH leaf extract on the production of pro-inflammatory mediators, nitric oxide (NO) and tumor necrosis factor-alpha. CH exhibited antiinflammatory properties that justifies its use in rheumatoid arthritis treatment.
• Anti-Inflammatory / Analgesic: Study showed the ethanol extract dose-dependently inhibited mRNA expression of COX-2, tumor necrosis factor-alpha, iNOS, and COX-2 expression. (5)
• Antihyperglycemic: Study in STZ diabetic rats show that CHE extract possesses a dose-dependent antihyperglycemic activity - decreasing plasma glucose and HbA1c, increasing levels of insulin and Hb. and provides evidence for its traditional use in diabetes control. (6)
• Anxiolytic: Study of mice in various anxiety models showed the alcoholic and aqueous extract of C. helicacabum possess anti-anxiety activity. The results explains the mechanisms behind the anti-inflammatory and analgesic activity of C. helicacabum. (8)
• Anti-Inflammatory / Analgesic: Study evaluated an ethanolic extract of whole plant for anti-inflammatory activity in mouse macrophage cell line RAW264.7 cells. Results showed anti-inflammatory and analgesic activity with dose-dependent inhibition of mRNA expression of COX-2, TNF-alpha, iNOS, and COX-2 protein expression. (9)
• Antioxidant / Anti-Inflammatory: An ethanolic extract of CH exhibited anti-inflammatory activity by suppressing TNF-a and NO. The mechanism might be related to the decrement of the level of MDA in the edema paw via increased activities of CAT, SOT, and GPx. Results showed a potential as natural antioxidant and anti-inflammatory agent. (10)
• Essential Oil / Seeds / Anti-Inflammatory: Analysis of seed oil yielded the main constituents as erucic acid 43%, oleic acid 30%, eicosanic acid 12%, octanoic acid 4.5%, and n-hexa decanoic acid 4.15%. The constituents may be responsible for anti-inflammatory activity. (13)
• Antimicrobial / Leaves: Analysis of leaves yielded alkaloids, carbohydrates, proteins and saponins. The extract exhibited marked concentration dependent antimicrobial activity. (14)
• Cortisone-like Effects / Leaves: Collection of data suggests Cardiospermum halicacabum has a potential for use in many forms of skin inflammation, safe for in pediatric, adult, and elderly dermatitis conditions like atopic dermatitis, contact dermatitis, keratosis, lichenification, seborrheic dermatitis, cradle cap, and sun rashes, with activity that mimics cortisone without the phenomenon of photosensitization. (15)
• Free Radical Scavenging / Seeds: Various extracts of seeds were evaluated for free radical scavenging activity. All extracts showed good dose-dependent activity on all models of test doses. (16)
• Anticonvulsant / Root Extract: Study evaluated an alcoholic root extract on various murine models of epilepsy. Results showed significnt anticonvulsant activity with a low motor toxicity profile. The activity was attributed to an increase in Gabardine activity. (17)
Availability
Wild-crafted.