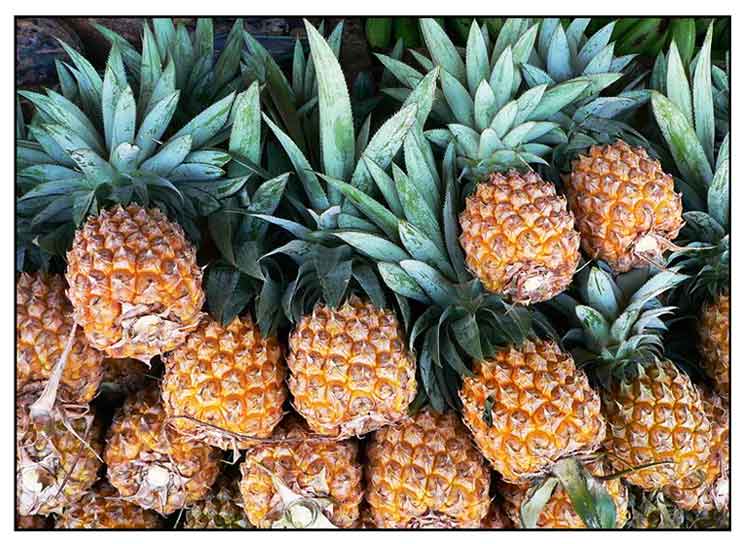 Botany
Piña is a fruit bearing tropical plant with an erect stem, 0.5 to 1.5 meters high. Leaves are numerous, linear-lanceolate, 1 to 1.5 meters long, 5 to 7 centimeters wide, the margins sharply spiny-toothed, green and shiny on the upper surface, pale beneath. Leaves subtending the inflorescences are red, at least at the base and much reduced. Heads are terminal, solitary, ovoid, 6 to 8 millimeters long, much enlarged in fruit; with the bracteoles reddish, numerous, triangular-ovate to oblong-ovate, acute and imbricated. Sepals are ovate, thick and fleshy, about 1 centimeter long. Petals are three, oblanceolate, about 2 centimeters long, white below, violet-purple above. Mature fruit is up to 20 centimeters or longer.

Distribution
- Widely cultivated in the Philippines in two forms: Native and Smooth Cayenne.
- Native form was introduced by the Spaniards, smaller, fibrous with a better flavor. Smooth Cayenne was introduced from Hawaii.
Constituents
- Native variety has a higher carbohydrate content than the Smooth Cayenne variety.
- Flesh of the fruit contains sugar, 10-15% saccharose; 7-11% glucose; 1% fructose; 0.6% invert sugar; 2.74% mannite, 1% citric acid; traces of vanillin and enzyme, bromelin.
- Ash contains phosphoric and sulfuric acid, lime magnesia, silica, iron, and chlorides of potassium and sodium.
- Contains citric acid, phosphoric and sulfuric acid, lime, magnesia, iron, silica, sodium and chlorides of potassium.
- Fruit yields citric and malic acids in good quantities, with moderate amounts of vitamin C.
- Bromelain is the name given to a family of proteolytic enzymes derived from Ananas comosus.
- Antihelminthic property of fresh fruit juice attributed to its constituent, bromelin, a proteolytic ferment, that is toxic to Ascaris lumbricoides and Macracanthorynchus hirudinaceous.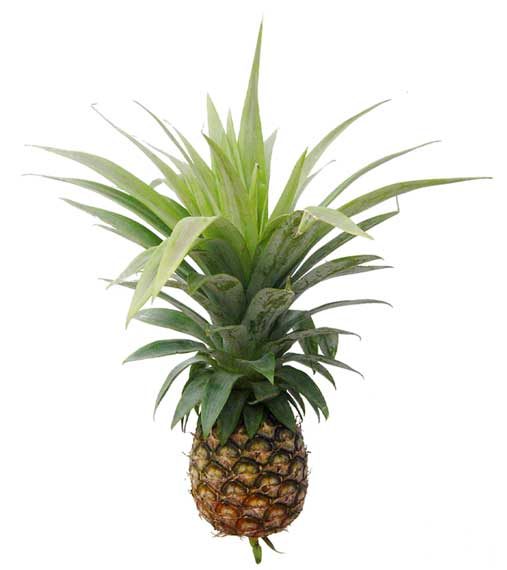 Properties
Anthelmintic, vermicide, diuretic, aperient, antiscorbutic, diaphoretic, refrigerant, digestive, styptic, emmenagogue.
Parts used
Leaves, fruits.

Uses
Nutritional
- The native variety has a much higher carbohydrate content than the Cayenne variety. Both are fair sources of calcium and iron, good sources of vitamins A and B, and excellent sources of vitamin C.
- A fruit in many commercial end products: candies, jams, juice, yogurt, ice creams, wine and vinegar.
- Oil or essence of pineapple used for confectionery flavoring.
Folkloric
- Juice of leaves used as anthelmintic and vermicide. For intestinal animal parasites, a decoction of fresh young leaves, 4x daily.
- Ripe fruit good for acid dyspepsia and aids digestion,.
- Juice of ripe fruit increases urine flow, gently laxative, cooling and digestive.
- In India and in the Moluccas, immature pineapple juice is taken internally as vermifuge for children and abortifacient for women.
- In Tripura, India juice of underground stem used for dyspepsia.
- In Malacca, used as diuretic and treatment of gonorrhea.
- The acid in the ripe fruit taken for acid dyspepsia, the tryptic ferment aiding digestion.
- In the Gold Coast, the immature fruits are boiled and taken as remedy for venereal diseases.
- Juice of ripe fruit considered antiscorbutic, diuretic, diaphoretic, aperient, refrigerant and digestive.
- Juice of unripe fruit considered acid, styptic, diuretic, anthelmintic and emmenagogue.
- In Mexico, juice of fruit used as anthelmintic.
Others
• Textile: In the Philippines, source of textile fiber called piña.
• Wine: Wine produced from pineapple has taste and characteristics similar to natural palm wine.
Studies
• Antitumor activity: Stem bromelain, a cysteine proteinase from the pineapple stem, showed an anti-tumor effect on mice, superior to that of 5-FU with an antimetastatic action independent of the primary antitumor effect.
• Hypolipidemic: Study showed the ethanolic extract of AC inhibited HMGCoA reductase activity by 20-49% in vitro suggesting AC as a potential natural product for the treatment of hyperlipidemia. Its action differed from fibrates but was similar to statins, and as such, a possible adjuvant for fibrates.
• Phenolic Constituents: Study isolated 7 compounds from the leaves of pineapple: ananasate, 1-O-caffeoylglycerol, 1-O-coumaroylglycerol, caffeic acid, p-coumaric acid, beta-sitosterol and daucosterol.
• Anti-Diabetic / Anti-Dyslipidemic / Anti-Oxidative: Study of the ethanolic extract of Ananas comosus leaves showed anti-diabetic, anti-dyslipidemic and anti-oxidative activities – significantly decreasing blood glucose, increasing HDL, and lowered lipid peroxidation productions of blood, brain, liver and kidneys, and presents a potential for development of a plant medicine for diabetes and its complications.
• Diuretic: Study of the root extracts of Ananas comosus and Carica papaya in rats significantly increased urine output (P<0.01), 79 and 74% respectively, of the effect of an equivalent dose of hydrochlorothiazide. Urine osmolality and electrolyte excretion suggest the A comosus effect was intrinsic whereas C papaya could have been due to high salt content of the extract.
• Bromelain / Review: 1988 Review of bromelain lists its pharmacologic promise and properties: (1) interference with growth of malignant cells (2) inhibition of platelet aggregation (3) fibrinolytic activity (4) anti-inflammatory (5) skin debridement property - biologic functions that modulate tumor growth, blood coagulation, inflammation, burn debridement and drug absorption.
• Bromelain / Wound Healing: (1) Bromelain is the name given to a family of proteolytic enzymes derived from Ananas comosus. In a Czech study with long bone fractures, those given 90 mg of bromelain had less post-operative swelling compared to patients given placebo. (2) In 1993, German Commission E approved bromelain for the treatment of swelling and inflammation of the nose and sinuses caused by injuries and surgery.
• Insulin Sensitivity: Study of ethanol extract of Ananas comosus suggest that AC may improve insulin sensitivity in type 2 diabetes and presents a new potential natural product for handling insulin resistance in diabetic patients.

Availability
Commercial cultivation.
Bromelain caps in the cybermarket.