Botany
Pipino is an annual, rather coarse, fleshy, prostrate or climbing vine. Leaves are ovate, 8 to 14 centimeters long, 5-angled or 5-lobed, the lobes or angles being pointed, and hispidious on both surfaces. Flowers are axillary, solitary, or fascicled, stalkless or short-stalked, and bell-shaped. Male and female flowers are similar in color and size, yellow, and about 2 centimeters long. Fruit is usually cylindric, 10 to 20 centimeters long, smooth, yellow when mature, and slightly tuberculated. A variety is smaller and greenish. Seeds are numerous, oblong, compressed, and smooth.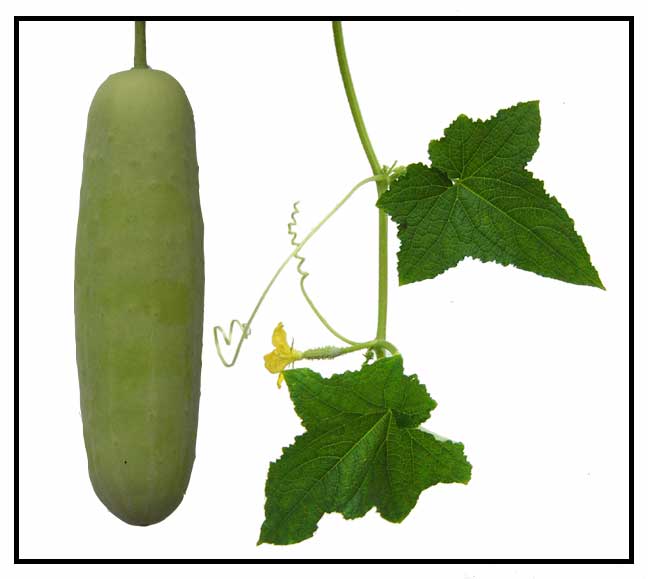 Distribution
- Cultivated in the Philippines.
- Planted in all warm countries.

Constituents
- Phytochemical screening yielded alkaloids, glycosides, steroids, saponin, flavonoid, and tannin.
- Fruit contains dextrose (0.11 to 0.98%); saccharose (0.05 to 0.13%); fixed oil (0.11-0.98%).
- Seed contains fixed oil (Gurken oil) 25% consisting of oleic acid (58%), linolic acid (3.7%), palmitic acid (6.8%), stearic acid (3.7%); phytine; and lecithine.
- Aerial parts contain a 14a-methyl D-phytosterol.
- Pulp yields shikimate dehydrogenase.
- Leaves contain urea and an alkaloid, hypoxanthine.
- Study yielded two new megastigmanes from the leaves of C sativus - cucumegastigmanes I and II with other known compounds.
Properties
- Seeds are antihelminthic; also, cooling, diuretic, and strengthening.
- Active ingredient of the essential oil is considered aphrodisiac in nature.
- Checkmate dehydrogenase from the pulp is considered a facial skin softener; also cooling and a natural sunscreen.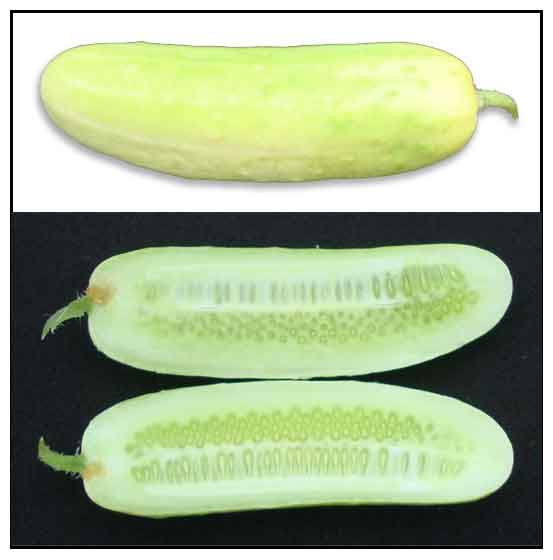 Parts used
Fruit, seeds.

Uses
Edibility / Nutritional
- Peeled raw fruit is peeled, sliced thin, served with vinegar, sugar, salt, pepper and calamansi makes a good vegetable side dish.
- Common salad ingredient; also boiled in stew dishes.
- Seed kernel is edible.
- A variety is used for making pickles.
- In Malaya, young leaves are eaten raw or steamed.
- Good source of calcium and iron, vitamins B and C.
Folkloric
- Juice of leaves used as an emetic in acute indigestion in children.
- Ripe, raw cucumbers said to be good for sprue.
- Bruised root applied to swelling from the wound of hedgehog quill.
- Raw cucumbers used for dysentery.
- Cucumber salve used for scalds and burns.
- Seeds used as taeniacide (1 - 2 oz of seed thoroughly ground, with sugar, taken fasting, followed in 1-2 hours with a purge). Also used as an emetic with water.
- In Indo-China, immature fruit given to children for dysentery.
- In India, used as diuretic and for throat infections. Pulp considered healing and soothing, used to keep facial skin soft; is toning and soothing on damage skin and provides a natural sunscreen.
- In Bangladesh, fruit used with cumin seeds for throat infections.
Others
- Cosmetic: Fruit is excellent for rubbing over the skin for softness and whiteness.
- Cooling, healing, and soothing to the skin irritated by the sun or raw from effects of eruptions
- Used in the manufacture of cucumber soap.
- Cucumber scent, one of a few others, linked to female sexual arousal. source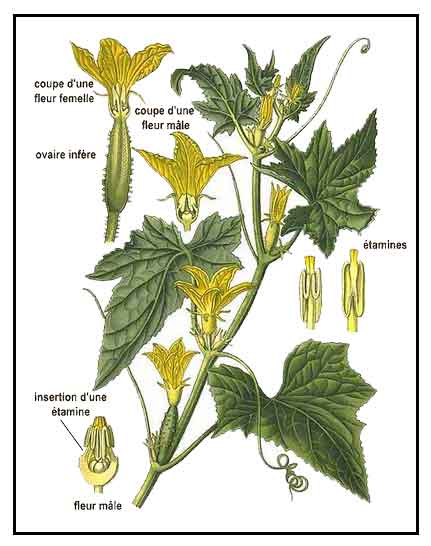 Studies
• Phytochemicals / C-Glycosides: Study yielded the following C-glycosides from the leaves: isovitexin 2″-O-glucoside, isovitexin, isoorientin, 4′-X-O-diglucosides of isovitexin and swertiajaponin. Flowers yielded kaempferol 3-O-rhamnoside and 3-O-glycosides of kaempferol, quercetin, isoramnetin was revealed.
• Hypoglycemic / Anti-Diabetes: (1) In Mexico, one of the edible plants with hypoglycemic activity. (2) Antihyperglycemic effect of 12 edible plants was studied in healthy rabbits. Cucumis sativus significantly decreased the area under the glucose tolerance curve and the hyperglycemic peak. Study suggests the integration of a diet that includes edible plants with hypoglycemic activity
• Anthelmintic: Ethanolic extract of C sativus exhibited a potent activity against tapeworms comparable to the effect of piperazine citrate.
• Skin Whitening : Six plants parts of C sativus were studied for its inhibitory effect on melanogenesis. Leaves and stems showed inhibition of melanin production. Of 8 compounds isolated, lutein was a potentially skin whitening component.
• Hepatoprotective / Antioxidant: Studies have isolated isovitexin and isoorientin, two C-glycosylflavones. Isoorientin has exhibited hepatoprotective effect and isovitexin, an antioxidant effect.
• Cytotoxicity / Antifungal: Studies of various extracts of leaves and stems were evaluated for cytotoxicity and antifungal activities. Chloroform extract showed lethality against brine shrimp nauplii. Ethanol and chloroform extracts showed moderate antifungal activity against all tested organisms. Aspergillus niger was most sensitive to the ethanol extract.
• Antacid / Carminative: Study evaluated the carminative and antacid properties of C. sativus fruit pulp aqueous extract. Result showed the extract significant neutralized acid and showed resistance against pH changes and also showed good carminative potential.
• Antidiabetic: Study of C. sativus seed extracts in STZ-induced diabetic rats showed no initial phase effects but showed blood glucose lowering and weight lost after 9 days of continued daily therapy.
• Hepatoprotective: Study showed an aqueous extract of Cucumis sativus possessed hepatoprotective and antioxidant activity against CHP (cumene hydroperoxide) induced-cytotoxicity and ROS (reactive oxygen species) formation.
• Delayed Caractogenesis: Study in Sprague-Dawley rats investigated the anti-cataract properties of Cucumis sativus and Cucumbita pepo prior to induction of cataracts using galactose. Both C. sativus and C. pepo significantly delayed cataract formation. Results suggest regular low doses may be effective in delaying cataractogenesis.

Availability
Small or large scale commercial production.