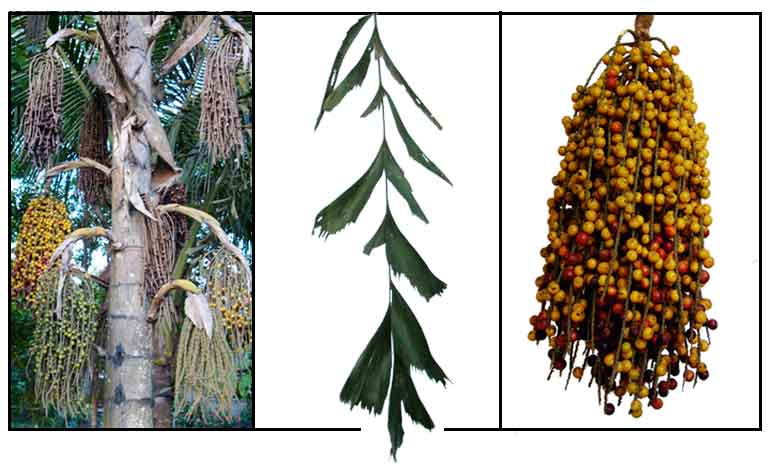 Botany
Pugahan is a palm, differing from other Caryota species in having many suckers and producing clusters of small-sized palms, up to 7 meters tall. Stems are solitary or clustered, slender to massive, with conspicuous nodal rings. Petioles, leaf-sheaths and spathes are scurfily villous. Leaves are 1.2 to 3 meters long; leaflets are obliquely cuneiform, erose and toothed; the upper margin acute. Spadix is scurfy, axillary and pendulous. Male buds are cylindric; male flowers are small, about 5 millimeters long. Fruit is 10 to 13 millimeters in diameter, bluish-black when ripe, containing a single globose seed.

Distribution
- In forests, near streams, at low altitudes in Palawan.
- Cultivated for ornamental pot plants in the Philippines.
- Also occurs in Burma and Indo-China to the Malay Peninsula, Sumatra, Java, and Borneo.

Constituents
- Fruits, leaves and stems contain various alkaloids.
- Pulp of fruit contains calcium oxalate crystals.
- Phytochemical screening of seed oil yielded phytosterols, triterpenes, alkaloids, flavonoids, and saponins.(10)
- Proximate analysis of seed oil yielded moisture content 42%, crude fiber 34.30, carbohydrate 11.92%, crude fat 5.30%, crude protein 4.64% and ash content 1.84% on dry matter basis. Mineral content yielded iron (3.10 ± 0.02 mg/kg) manganese (0.11 ±0.01 mg/kg), sodium (154.15 ±1.98 mg/kg) and potassium (127.04 ± 1.21 mg/kg). (10)
- Phytochemical screening of leaves yielded steroids, triterpenoids, flavonoids, saponins, and alkaloids. LC-MS/MS study detected eight piperidine and pyridine alkaloids in the genus C. mitis for the first time: nicotine (1), methyl N-methylpiperidine-3-carboxylate (2), propyl N-methylpiperidine-3-carboxylate (3), ethyl N-methyl piperidine-3-carboxylate (4), guvacoline (5), ethyl N-methyl-1,2,5,6-tetrahydropyridine-3-carboxylate (6), arecoline (7), and ethyl nicotinate (8). (see study below) (13)
- Phytochemical analysis and chromatographic fractionation of total ethanolic extract of C. mitis leaves yielded ten compounds viz. β-amyrin (1), β-sitosterol (2), β-sitosterol-3-O-β-D glucoside (3), kaempferol (4), quercetin (5), kaempferol-3-O-β-D-glucopyranoside (6), quercetin-3-O-β-D-glucopyranoside (7), kaempferol-3-O-rutinoside (8), quercetin-3-O-rutinoside (9), and chlorogenic acid methyl ester (10), (see study below) (14)

Caution !
• Pericarp contains stinging crystals (raphides, needle-shaped crystals of calcium oxalate). The seeds inside the poisonous fruit are edible after cooking.
• Crystalline needles from the juice of the ripe fruit can cause intense itching within seconds.
• Fibrous hairs of the leaf stalk can cause skin irritation.
• Handling of the berries may cause burning and swelling of the lips, buccal cavity and throat. May cause redness and swelling of the eyes and skin irritation. Effects are not long lasting.
Parts utilized
Roots, leaves.

Uses
Edibility
- Kernels of the fruit and terminal bud are edible, but only after processing.
- Seeds inside the poisonous fruit are edible, as is the cabbage, after cooking.
- Stems yield a little starch which the people of Malacca and Borneo use as sago.
Folkloric
- No reported folkloric medicinal use in the Philippines.
- In Kelantan, juice of the fruit, mixed with bamboo hairs and extract of toad is considered a potent poison.
- In Cambodia, soft fibers at the base of the leaf-sheath use for the cauterization of wounds.
- In Thailand, for itches, the fruits are boiled in water and the water used for a bath.
- Negrito tribes of Andaman Islands use the young shoots for vomiting and stomachache.
- In Bangladesh, Roots and fruits used for hemorrhoids, loss of virility, rheumatoid arthritis, and as laxative.
- In Vietnam, fruits used to treat joint pains.
- In Papua New Guinea, used for shortness of breath. (16)
- In Indo-China, fibers from axils of leaves applied as moxa for cauterization of bits of poisonous animals or insect stings. (18)
Others
- Toddy: Inflorescence can yield sap which can be consumed fresh (nira) or fermented into toddy, then distilled into an arrack.
- Sugar: Sap can be refined to produce a sugar (jiggery).
- Poison: In the Malay Peninsula, fruits are put in juice, mixed with bamboo hairs and toad-extract, and used to poison food. (18)
Studies
• Raphides / Fruit: Raphides in the mature fruit of the fishtail palm Caryota mitis were shown to be calcium oxalate monohydrate. On contact with intact human skin, an aqueous suspension of the raphides caused an immediate severe itch sensation, probably a mechanic action of the calcium oxalate needles rather than by penetrating toxin or enzyme action of the raphides. (1)
• Antioxidant / Fruits: Among 56 tested wild fruits, Caryota mitis was one of eight that showed the highest total phenolic contents and highest antioxidant activities, and suggested a potential for development of natural antioxidants and functional foods or drugs. (4)
• Prolifin-Loaded PLGA Nanoparticles / Immunotherapy / Allergic Asthma: A mouse model of allergenic asthma established for specific immunotherapy using rCmP-loaded PLGA nanoparticles as adjuvant was evaluated by measuring hyper-responsiveness and levels of serum-specific antibodies. Results showed the PLGA nanoparticles functions more appropriately as specific immunotherapy adjuvant for allergen vaccines than conventional Al(OH)3 due to superior efficacy, longer potency and markedly fewer side effects. (9)
• Antioxidant / Leaves:Study isolated two pure flavonoids from the air-dried powdered leaves of Caryota mitis. In antioxidant activity assay using DPPH model, the ethyl acetate fraction exhibited the strongest free radical scavenging activity, which was attributed to a high proportion of flavonoids and phenolic acids. Quercetin-3-O-glucoside and rutin (flavonols glycosides) exhibited promising antioxidant activity. (12)
• Volatile Alkaloids / Antimicrobial / Leaves:Study of dried leaves isolated eight pyridine/piperidine alkaloids for the first time in the genus Caryota. The alkaloid fractions and other plant extract fractions showed antibacterial and antifungal activities against selected strains i.e., E. coli, S. aureus, and C. albicans. (see constituents above) (13)
• Antimicrobial / Leaves:Phytochemical analysis and fractionation of total ethanolic extract of leaves isolated ten compounds. Antimicrobial assay of different extracts and fractions revealed strong antibacterial activities on S. aureus more than E. coli, while n-butanol and aqueous fractions showed activity against C. albicans. (see constituents above) (14)
• Cerebroside and Chondrocyte Proliferation Activity / Fruits:Study investigated the phytochemicals and chondrocyte proliferation activity of C. mitis fruits on young human chondrocyte. All extracts and fractions stimulated the growth of chondrocyte. n-Hexane and methanol fractions significantly increased proliferation of chondrocyte by 30.75 and 23.42% at concentrations of 0.01 µg/ml, respectively. A methanol fraction yielded a new cerebroside and eight known ones. (15)

Availability
- Ornamental cultivation.
- Seeds in the cybermarket.