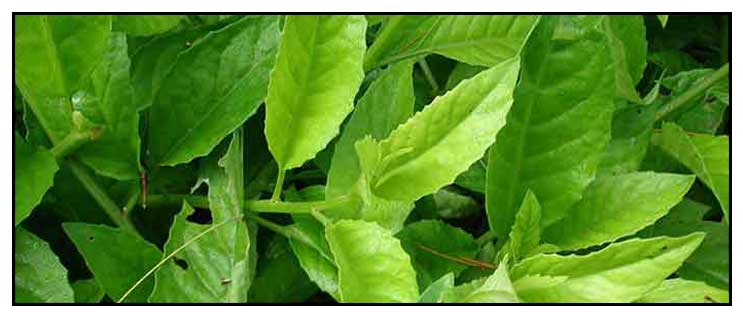 Botany
Sabuñgai is a twining vine, smooth except for the peduncles. Leaves are stalked (the uppermost ones stalkless), ovate-elliptic or lanceolate, 3.5 to 8 centimeters long, and 0.8 to 3.5 centimeters wide, with somewhat entire or toothed margins. Flowering heads are panicled, narrow, yellow, and 1 to 1.5 centimeters long. Involucral bracts are smooth and up to 6 millimeters long. Achenes are very small and smooth, with very close and slender ribs.
Distribution
- In thickets along streams, in old clearings, etc., at low and medium altitudes, ascending to 1,500 meters, from northern Luzon to Mindanao, in most islands and provinces.
- Also occurs in Thailand and Indo-China to Malaya.
Constituents
- Study identified abundant proteins from the leaves.
- An ethanolic extract yielded alkaloids and volatile oils.
Properties
Leaves considered anti-hyperglycemic, anti-hyperlipidemic and anti-inflammatory.

Parts used
Whole plant, leaves, shoots.

Uses
Culinary
In many Asian countries, leaves eaten fresh or cooked; added to salads or stand-alone salad; used for sauces, as flavoring.
Folkloric
In Java, used for kidney troubles.
In Malacca, decoction used for dysentery.
In Thailand, used as topical inflammation, rheumatism, and viral ailments.
Poultice used for rheumatic and general body pains.
In some parts of Asia, used as abortifacient.
In Malaysia, a folk remedy for diabetes and hyperlipidemia.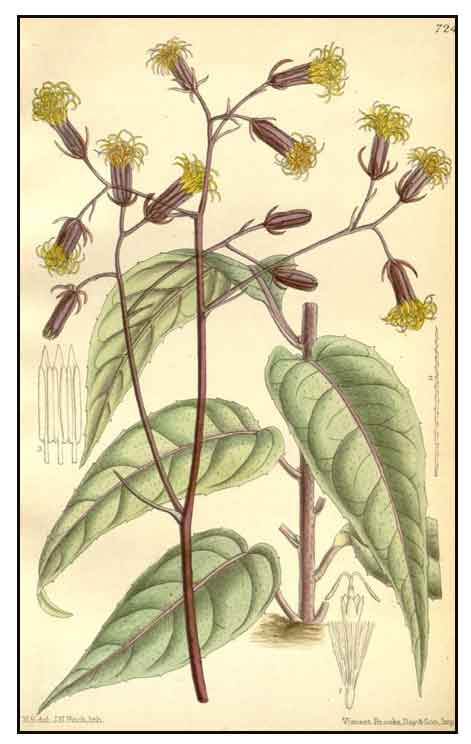 Studies
• Anti-Inflammatory: Study of ethanol extract showed antiinflammatory activity. (1)
• Antihypertensive: Study showed the oral administration of aqueous extract significantly lowered blood pressure in spontaneously hypertensive rats. Results suggest GPE may be useful for prevention and treatment of hypertension through increasing NO (nitric oxide) production in blood vessels. (2)
• Glucose Lowering: Ethanolic extract of leaves significantly suppressed elevated serum glucose levels in diabetic rats. The extract did not significantly suppress glucose levels in normal rats. Results conclude the leaves of GP may be biguanide-like activity. (3)
• Abundant Leaf Proteins / Peroxidase: Study found few abundant proteins from the leaves of GP; among these, peroxidase was found the most abundant of the extracted proteins. Results suggest a natural source for peroxidase for use in the cosmetic and skin care industry. (4)
• Nutritive / Antioxidative Properties: Ethanolic Gynura extract exhibited the highest antioxidative properties in every assay. Nutritive evaluation suggests the extract is a good protein source and may have positive effects on free radical scavenging and iron chelating. (5)
• Gynura procumbens Medical Toothpaste: A Gynura procumbens toothpaste invention consists of" gynura procumbens (Lour.) extractant of 1-20%, glycerol of 20-55%, diglycol of 10-15%, abradant of 20-45%, carboxymethyl cellulose of 0.5-1.5%, sodium dodecyl sulfate of 0.5-2%, additive of 1-4%, essence of 1-2% and saccharin of 0.1-1%. (6)
• Anti-Ulcerogenic: Study results suggest the ethanolic leaf extract of Gynura procumbens promotes ulcer protection as shown by significant reduction of ulcer area, histologic decreases in ulcer areas, with absence or reduction of edema and leucocyte infiltration of submucosal layer. (7)
• Anti-Diabetic: / Increase Glucose Uptake: Study evaluating the water extract of G. procumbens in streptozotocin-induced diabetic rats showed a hypoglycemic effect by promoting glucose uptake by muscles. (8)
• Anti-Diabetic / Increase Glucose Uptake and Insulin Potentiation:Study results suggest the antidiabetic effect may be mediated through the stimulation of glucose uptake and the potentiation of insulin action. (10)
• Toxicological Evaluation: Administration of a methanol extract of G. procumbens did not produce mortality or significant changes in various parameters in both acute and sub-chronic toxicity studies.(9)
• Wound Healing / Acute Toxicity Study: Acute toxicity study of leaf extract showed no mortality with 5g/kg dose. In a wound healing model in rats, wounds dressed with leaf extract showed significant enhancement and acceleration of wound healing. (12)
• Antioxidant Effects: Study showed ROS (Reactive Oxygen Species) may be scavenged effectively by the antioxidant system of G. procumbens leaves. The ratio between chlorophyll and carotenoid was higher than in other green plants.
• Hypoglycemic Effects / GSK3ß Phosphorylation: Study evaluated the hypoglycemic effects of G. procumbens and the involvement in the glycogen synthase kinase (GSK3), a key component of insulin biosignaling. Results showed the plant did not exhibit GSK3 inhibitory activity, and suggests the hypoglycemic actions of the fractions could be from direct or indirect effects on upstream insulin biosignaling pathway. (13)
• Blood Sugar Reduction: Major flavonoid constituents were identified in the n-butanol fraction. A methanolic extract of leaves showed reduction of blood glucose in STZ-induced diabetic rats. Results were compared to glibenclamide as standard drug.
• Antiproliferative Effects / DBMA-Induced Rat Liver: Study evaluated the antiproliferative effect of an ethanolic leaf extract on 7,12-dimethylbenz(a)antracene-induced male rat liver. Results showed significant antiproliferative activity, with histopathology showing no primary liver tumor on the DMBA group. (20)
• Cardiovascular Effects: A water extract of G. procumbens showed promising cardiovascular effects. Significant vasodilation and -ve chronotropic and ionotropic effects were observed with the water extract compared to the ethanolic extracts. (16)
• Antihyperglycemic / Leaf Extracts: Study evaluated leaf extracts for antidiabetic activity. Results showed significant lowering of fasting blood glucose in streptozotocin-induced diabetic rats. Study suggests extracts contain active principles that possess anti-hyperglycemic but no hypoglycemic effect. The antidiabetic action may be via a mechanism similar to metformin. (18)
• Anticancer Proteins: An earlier study yielded plant defense proteins, peroxidase, thaumatin-like proteins and miraculin the the leaf of G. procumbens. Study investigated the bioactivity of the leaf extract proteins. An active protein fraction, SN-F11/12 inhibited the growth of a breast cancer cell line, MDA-MB-231. The proteins in the fraction can be a potential chemotherapeutic agent for breast cancer treatment. (19)
• Antiherpetic: An ethanol extract of aerial parts of G. procumbens showed virucidal and antireplicative actions against herpes simplex HSV-1 and HSV-2. Several antiherpetic compounds were isolated from fractions: caffeoylquinic acid derivatives, phytosteryl glucosides, and glycoglycerolipids. Flavonoids probably imparted an anti-inflammatory effect. Lab evidence and reduction of infection supported the antiherpetic effect of G. procumbens. (21)
• Suppression of Osteosarcoma Cell Proliferation and Metastasis In Vitro: Study showed an ethanolic extract is able to induce apoptosis and suppresses proliferation and metastasis in U2-OS cells via inhibition of the nuclear translocation of NF-kB. (22)
• Vasorelaxant / Potassium Channel Openers and Prostacyclin: Study confirms the vasodilatory effects of G. procumbens through blocking of calcium channels. The vasodilatory effect may also be due to opening of potassium channels and stimulation of prostacyclin production. Putative compounds are probably flavonoids in nature. (23)
• Chemopreventive / Colon and Breast Cancer: Study of an ethyl acetate fraction investigated for cytotoxic properties and selectivity against colon cancer and breast cancer cells showed selective effect against cancer cells and reveals potential as cancer chemopreventive agent. (24)
Buyers beware
• Ashitaba has been getting a lot of press, being touted as the new "miracle" herb. However, a lot of potted "ashitaba" being sold locally from roadside herbal gardens and mall stalls, intentionally or unintentionally, is actually Sabungai rather than ashitaba (Angelica keiskei). (See Ashitaba)
Availability
Wild-crafted.