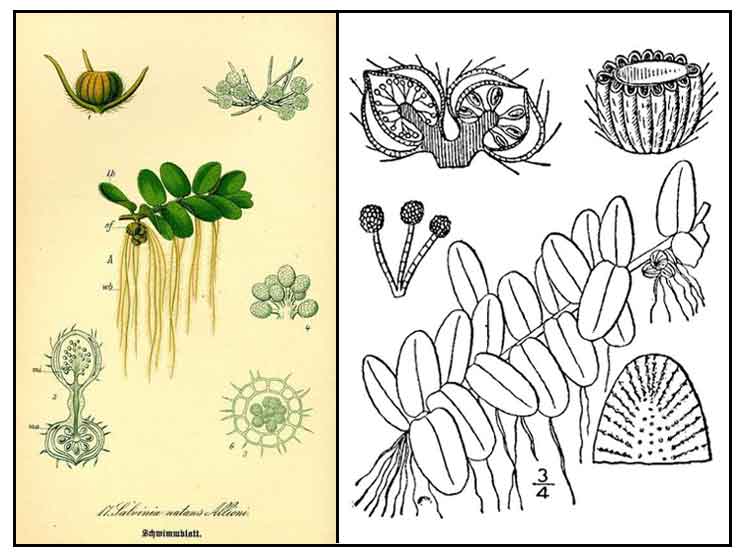 Botany
Salvinia auriculata is a free-floating aquatic fern, up to 20 centimeters long. Horizontal rhizome lies below the water surface. Fronds are of two types, buoyant or submerged, light-green to medium green, with brownish edges when mature, with a distinctive fold in the center. Floating leaves are boat-shaped, up to 2.5 centimeters long and 3.5 centimeters wide. Upper surface has even rows of papillae, each with a tuft of hairs at the distal end, joined together at the tips into a form similar to an inverted egg-beater. The cagelike structure of the end hairs give the plant buoyancy in water.
Distribution
- Widespread in ponds, pools, and lakes throughout the Philippines.
- Occasional ornamental cultivation.
- Originated from South America.
Constituents
- Yields proteins, nutrients, lignin, ash, and tannin.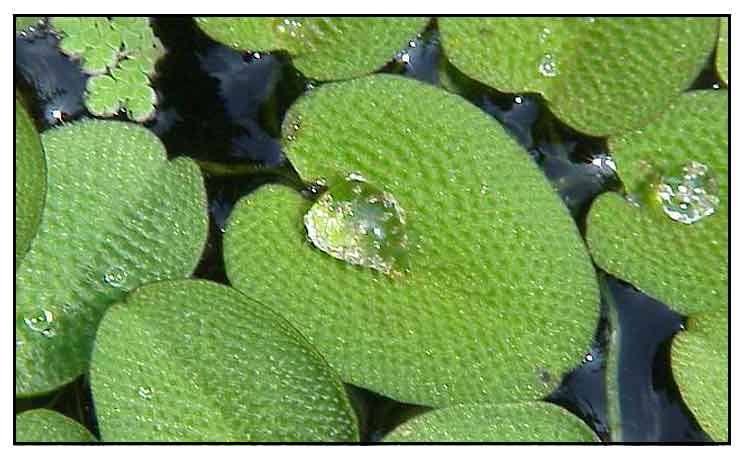 Uses
Folkloric
No reported folkloric medicinal use.
Others
- Potential as forage or papermaking.

Studies
• Chemical Composition: SM was analyzed for its suitability as source of forage for ruminants. The concentration of 12.4% crude protein in sand-corrected dry matter and of other nutrients is comparable to that in conventional forage. However, its high content of crude ash, lignin, and presence of tannins may reduce its acceptance and digestibility and its potential as forage for ruminants.
• Antimicrobial Source Potential / Bovine Mastitis: In a study of extracts of two aquatic plants, S. auriculata and H. nymphoides, against bovine mastitis pathogens. Study concluded the aquatic plants to be potential sources for the investigation of new antimicrobial compounds.
• Paper-making Potential: Study describes the potential use of S. molesta alone or in combination with rice-straw or waste textile cuttings in the paper industry, such as low grade papers such as kraft paper, newsprint, or tissue paper for packaging.
• Phytoremediation / Waste-water Decontamination: (1) S. natans has been shown to have great potential for the removal of heavy metals like lead (Pb), cadmium (Cd), nickel (Ni), copper (Cu), chromium (Cr) and mercury (Hg) from waste water. (2) In the absence of other pollutants, Salvinia plants may be used for the removal of Ni from effluents.
• Natansnin / Antioxidant / Hepatoprotective: Study isolated natansnin, an unusual, novel, 1,2-dibenzoyl glycoside. Natasnin (1) showed 60.6% radical scavenging activity, (2) reduced lipid peroxidation and enzymes induced by CCl4, (3) restored activities of antioxidant enzymes, (4) reduced the levels of apoptotic and inflammatory proteins. This was the first study that showed prior administration of natansnin ameliorated CCl4-induced acute liver injury in rats.
Availability
Wild-crafted.