Gen info
There are about 500 species in the genus Ixora. A few are in cultivation. There are numerous cultivars differing in flower color (yellow, pink, orange) and plant size. Several cultivars are dwarfs, usually under 3 feet. Other noteworthy ornamental santans: santan puti (Ixora finlaysoniana Wall), a shrub 2 to 4 meters high, with white fragrant flowers; and Philippine santan (Ixora philippinensis Merr), a shrub or small tree, with white to pink flowers.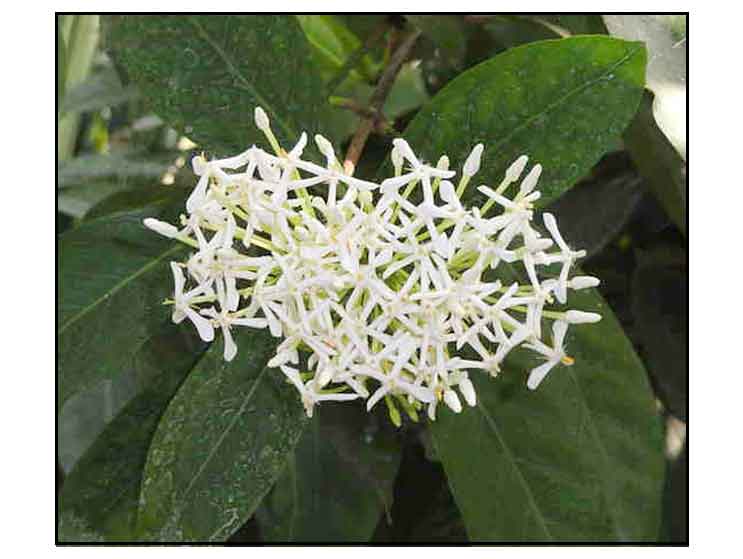 Botany
Santan-puti is a shrub or small tree, growing up to 5 meters high. Leaves are oblong-lanceolate, with tapered and pointed tips. Blade is dark green and glossy. Flowers are many and in dense clusters, white and fragrant.
Distribution
- Cultivated for ornamental purposes.
- Introduced to the Philippines during the American period.
- Probably native to Thailand.
Constituents
- An n-hexane fraction of a methanolic extract yielded α-amyrin and ß-sitosterol. A chloroform fraction yielded four compounds: 3-hydroxyhexan-5-olide, protocatechuic acid, gallic acid and ß-sitosterol glucoside. An ethyl acetate fraction yielded three compounds: parasorboside, D-1-O-methyl- myo-inostiol, and galactitol. (3)

Properties
- Studies on flowers have shown estrogenic, abortifacient, and anti-implantation properties. (4)

Uses
Folkloric
No reported folkloric medicinal use in the Philippines.
Studies
•Antigestagenic / Anti-Implantation: Oral administration of a crude ethanolic extract of aerial parts of Ixora finlaysoniana to female rats on post-coital days 1-5 or 1-7 prevented pregnancy in 100% of cases. The extract at its contraceptive dose exerts a differential estrogenic response at the fallopian tube and uterine levels, also causing slight asynchrony in development and tubal transport rate, with anti-implantation and post-implantation resorptive actions not mediated via altered ovarian function. (1)

Availability
Wild-crafted.
Cultivated.