Botany
Sinta is an annual herb, erect, growing to a height of 30 to 100 centimeters. Stems are quadrangular. Leaves are simple, opposite, lanceolate to ovate-lanceolate, glabrous. Flowers are white, bilabiate, with rose-purple spots or markings in the lower lip in axillary or terminal racemes or panicles. Fruit is a capsule, linear-oblong, up to 2 centimeters long and 4 millimeters wide, furrowed, compressed longitudinally with small seeds.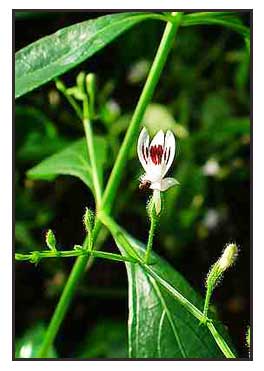 Constituents
• Contains diterpene lactones, glycosides, b-sitosterol-d-glucoside, and flavanoids.
•The active constituent of the extract is andrographolide.
• Study of aerial parts isolated five labdane diterpenes, 14-deoxy-12-hydroxyandrographolide, 14-deoxy-11,12-didehydroandrographolide, 14-deoxyandrographolide, andrographolide, and neoandrographolide. (18)

Properties
• Extremely bitter and cooling.
• Antidiarrheal, antipyretic, anti-infective, anti-inflammatory, antibacterial.
• Stomachic, febrifuge.
• Antityphoid, antifungal, antimalarial, antihepatotoxic.
• Anti-cancer.
• Tonic and immune-boosting.

Uses
Folkloric
- Used for fever and liver ailments.
- Used for diarrhea.
- Abortifacient.
- Extensively used in Ayurvedic medicine. Is in 26 Ayurvedic formulations to treat liver disorders.
- Called "Indian echinachea" for its use in the prevention and treatment of the common cold.
- In Traditional Chinese Medicine, use for fevers and to remove toxins from the body.
- In Scandinavian countries, used to prevent and treat common colds.

Studies
• In China, found effective in preventing blood clots and re-clogging of arteries post-angioplasty.
• Herb activates fibrinolysis (dissolution of blood clots) and has a blood pressure lowering effect.
• May inhibit the growth of human breast cancer cells.
• Studied for its anti-viral activity in HIV and AIDS, found to increase AZT's ability to inhibit HIV replication.
• Studied for E. coli associated diarrhea and dysentery.
• Comparative Study in Uncomplicated Common Colds : Study comparing Kan Jang, a fixed herbal combination with Adrographis paniculata with Immunal containing E purpureafound adjuvant treatment with Kan Jang more effective in parameters of nasal congestion and secretion. (2)
• Anti-Malarial : Study of extracts of A paniculata and Hedyotis corymbosa, known hepatoprotective and fever-reducing was tested for antimalarial activity. Results suggested further studies for a potential herbal drug for malaria treatment.
• Anti-Malarial / Combination with Curcumin: CoMethanolic extracts of A paniculata and H corymbosa showed inhibition of the ring stage of the parasite without in vivo toxicity, whether used in isolation or in combination with curcumin. (13)
• Antioxidant / Anticarcinogenic: Study showed antioxidant action of the aqueous extract of AP which may play a role in the anticarcinogenic activity by reducing oxidative stress. Lactic dehydrogenase (LDH), as tumor marker, showed decreased activity. Extract effect on more effective than anticancer drug, doxorubicin (DOX).
• Anti-inflammatory: (1) Study showed andrograpanin, one of its components, enhanced chemokine SDF-1 alpha- induced leukocytes chemotaxis. (2) Study isolated active compounds showing anti-inflammatory activity, significantly dec4reasing TNF-a, IL-6, macrophage inflammatory protein-2 and nitric oxide secretions. Study provides encouraging results for bioactive compound development.
• Diabetes: Study of commercially prepared spray-dried ethanolic extract of AP on STZ-induced diabetic female rates showed increased survival rate and endocrine cell density, improved estrus cycle and reduced "insulin resistance" phenomenon. (6)
• Antivenom activity / Echis carinatus: Study was done on the antivenom activity of A paniculata and Aristolochia indica plant extracts against Echis carinatus venom. Results showed both plant extracts could for used for therapy in patients with snakebite envenomation. (7)
• Antivenom activity: Study for antivenom activity against Daboia russelli venom confirmed A paniculata and A indica to possess potent snake venom neutralizing capacity.
• Anti-Hyperglycemic / Renal Protective: Study showed significant antidiabetic activity with extract of AP roots supporting its traditional Ayurveda use for diabetes. Study also showed preventive effect for diabetic nephropathy. (8)
• Spermatogenesis and Semen Quality Study: Study compared Kan Jang, a fixed combo of Andrographis paniculata extract (SHA-10) and Acanthopanax senticosus, with Valeriana officinalis and Panax ginseng for spermatogenesis and semen effect. Results showed all three to be safe with respect to effects on human male sterility. (9)
• Antinociceptive / Antiedematogenic: Study isolated andrographolide from the leaves of A paniculata. Results showed andrographolide has antinociceptive and antiedematogenic activities, probably modulated via nonopioid mechanisms. (11)
• Respiratory Tract Infection Therapy: Review of data suggest that A paniculata is superior to placebo and may be a promising treatment for the subjective symptoms of acute upper respiratory tract infection. With few reports of adverse events with short-term use, A paniculata presents as an herbal treatment option. (12)
• Anti-Fertility Effect: Results of study of water extract of A paniculata suggest that due to lower level of hormone, female rats have promising percentage of infertility with AP. (14)
• Renoprotective Effect: Study of aqueous extract of whole plant of A paniculata exhibits a significant renoprotective effect in gentamicin-induced nephrotoxicity in male Wistar albino rats. (16)
• Anti-Dengue: Study of evaluated the antiviral effects of six plants on dengue virus serotype 1 (DENV-1). Results showed the methanol extracts of A. paniculata and M. charantia possess the ability of inhibiting the activity of DENV-1 in in vitro studies. (17)
• Cardiovascular Effect / Coronary Vasodilation: Study evaluated a dichlormethane DCM) extract of Andrographis paniculata for cardiovascular activity. Aerial parts yielded five labdane diterpenes. The extract significantly reduced coronary perfusion pressure and reduced heart rate. (18)
• Gastroprotective / Antiulcer / Cytoprotective: Study of an aqueous and ethanol extract of A. paniculata showed significant anti-ulcer and cytoprotective properties and inhibited leukocyte infiltration of the gastric wall. (19)

Availability
• Wild crafted.
• Extracts, capsules and supplement in the cybermarkets.