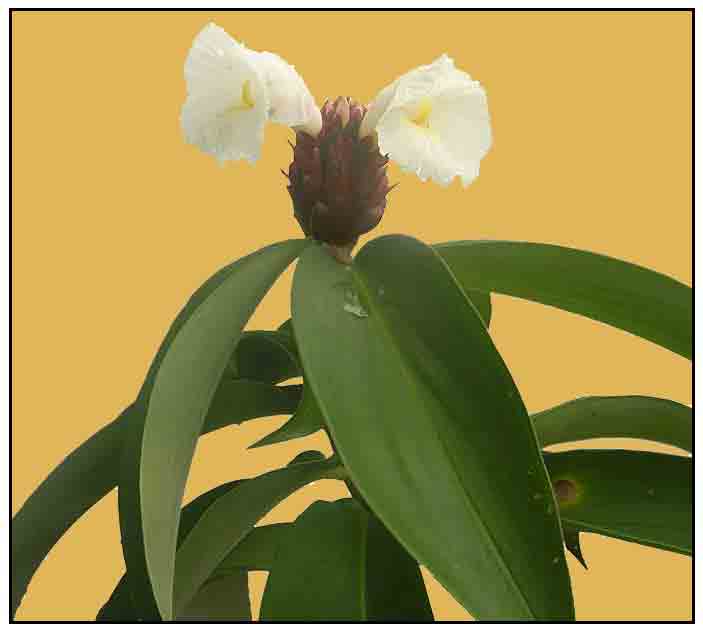 Botany
Cheilocostus speciosus is a plant with stout, leafy stems up to 2 meters or more in height, and 1.6 centimeters in diameter. Leaves are spirally arranged, oblong, 15 to 30 centimeters long, with pointed tip, short stalks and covered with soft hairs on the lower surface. Flowers are in very dense, solitary spikes. Spikes are terminal, ovoid, 5 to 10 centimeters long; purple bracts are ovate, 2.5 to 4.5 centimeters long. Calyx is flattened, purple, 3 to 5 centimeters long, with short, ovate lobes. Corolla segments are white, oblong, 4 to 6 centimeters long, lip white, suborbicular, 6 to 8 centimeters long, wrinkled, irregularly and rather finely toothed, the margins incurved and meeting. Stamen is flat, and including the broad petaloid connective is about 5 centimeters long and 12 to 15 centimeters wide. Fruits are capsules, ovoid to rounded, 1.5 to 2 centimeters long, red, crowned by the persistent calyx.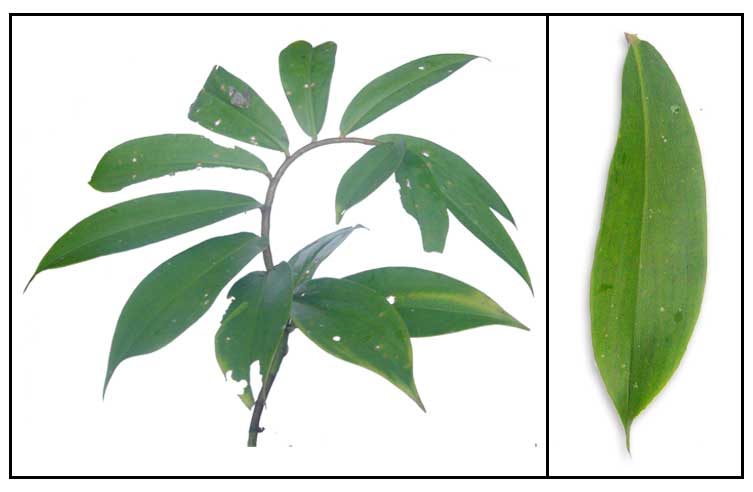 Distribution
Widely cultivated as an ornamental plant, sometimes escaping from cultivation.
Properties
- Acidic-refrigerant, slightly toxic (especially the fresh material).
- Diuretic, antiphlogistic, antidote, antipyretic, antidermatosis., cooling, sudorific.
- Roots are bitter, astringent, stimulant, digestive, anthelmintic, depurative and aphrodisiac.
- Studies have shown antioxidant, hypolipidemic, anti-diabetic, antispasmodic, hepatoprotective, anticholinesterase properties.
Constituents
- Study of roots yielded two new compounds, G and H, characterized as 8-hydroxytriaconta-25-one and Me-tritriacontanoat. (6)
- Hexane extract isolated two sesquiterpenoide, costunolide and eremanthin. (see study below) (18)
- Phytochemical screening showed rhizomes are rich in primary and secondary metabolites such as carbohydrates, alkaloids, vitamin C, vitamin E, flavonoids, phenols, glycosides, saponins, and minerals like Zn, Cu, Mn, Se, and Fe. (see study below) (20)
- Study of different parts of the plant showed total protein content of 99.45 µg/ml leaf, 86.938 µg/ml stem, and 57.94 µg/ml rhizomes; carbohydrate content was 25.97 µg/ml leaf, 20.72 µg/ml stem, and 27.63 µg/ml rhizome. Saponin, tannin, steroid, flavanoid, and phenol were also present. (22)
Parts utilized
Rhizome and stems.

Uses
Culinary
- Used as a spice, like ginger.
Folkloric
- In the Visayas, juice of stems used for dysentery.
- In India, the rhizome has been used as famine food. Plant used for the treatment of fever, headache and ear pain.
- Roots used for catarrhal fevers, coughs, dyspepsia, worms and skin diseases.
- In Malaya, juice of rhizome used as purgative.
- In Java, rhizome has reported use for syphilis.
- Used for nephritis-beriberi-edema due to hardening (sclerosis) of the liver, difficulty in urination, pricking pain in the urinary tract.
- Used for whooping cough.
- Dried or fresh material decoction may be used as external application for nettle rash.
- In Ayurveda, plant rhizome used for leprosy, constipation, worm infection, skin diseases, fever, asthma, bronchitis, inflammation, and anemia. (18)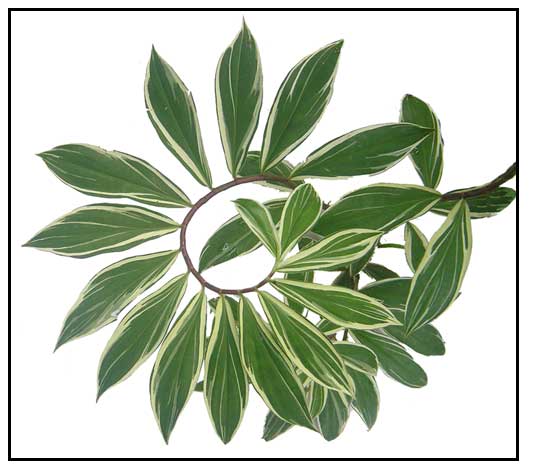 Studies
• Anti-Diabetes / Rhizomes: Study of crude extract of Costus speciosus rhizomes lowered the plasma glucose in STZ-induced diabetic rats which may be due to potentiation of insulin from B-cells. The rhizome of CS may be beneficial in protection and alleviation of diabetic complications. (1)
• Antihyperglycemic / Hypolipidemic / Antioxidant / Roots: Study of in alloxan-induced diabetic rats showed CS root extract to possess anti-hyperglycemic, antihyperlipidemic and antioxidant effects. (2)
• Diosgenin: Study found a new source of diosgenin in the rhizomes of C speciosus, a potential source of commercial for its isolation, with the advantage of abundant growth in the plains.
• Spasmodic Activity / Ecbolic: Fresh juice of rhizomes increased the tone, amplitude and frequency of rhythmic contractions of different models of isolated uterus, an effect that explains its use as an ecbolic in indigenous systems. The extract study yielded a mixture of 5 saponins of two different types.
• Hepatoprotective Activity: Study of ethanolic extract of the rhizomes of C speciosus on carbon tetrachloride treated rats showed significant hepatoprotective activity with a significant fall in liver enzymes supported by histopathological studies on the liver. (5)
• Aliphatic Compounds: Study yielded two new compounds, G and H, from the roots of Costus speciosus characterized as 8-hydroxytriaconta-25-one and Me-tritriacontanoat. (6)
• Anti-Stress / Neurotransmitter Effects: Extracts were found to possess normalizing activity against cold immobilization stress induced changes in NE, DA, 5-HT and MAO. Results provide biochemical evidence for antistress activity. (7)
• Eremanthin / Anti-Diabetic / Hypolipidemic: Study isolated eremanthin from C speciosus. Results showed it possessed hypoglycemic and hypolipidemic activities and suggests potential use for treatment of diabetes. (8)
• Anticholinesterase: Study showed C. specious alkaloids to possess anticholinesterase activity in both in vitro and in vivo methods and may explain the use of the plant in eye diseases and as a dupurative.   (9)
• Anti-Inflammatory / Analgesic / Antipyretic / Aerial Parts: Study of methanol extracts of Costus speciosus Koen. aerial parts in experimental animal models showed anti-inflammatory activity on carrageenan-induced paw edema testing, analgesic activity on acetic acid-induced writhing and Eddy's hot-plate models, and antipyretic activity in Brewer's yeast induced pyrexia. (13)
• Estrogenic Effect: Study evaluated a methanolic extract of rhizome for its effect on ovary and uterus of Gonado-intact female female adult mice. Results showed an endocrine effect evidenced by a significant decrease in ovarian weight and increase in uterine weight compared to normal control. Phytochemical screening yielded secondary metabolites i.e., alkaloids and flavonoids. (14)
• Antimicrobial / Costunolide: Antibacterial and antifungal activities were observed in hexane, chloroform, ethyl acetate and methanol extracts. Study isolated two sesquiterpenoids, costunolide and eremanthin, from the hexane extract. The compounds did not inhibit tested bacteria, but inhibited tested fungi. Costunolide showed significant antifungal activity against T. mentagrophytes, T. simii, T. rubrum, E. floccosum, Scopulariopsis sp, A. niger, C. lunata and M. grisea. (18)
• Diuretic / Rhizomes: Study evaluated the diuretic activity of aqueous and alcoholic extracts of rhizomes of Costus speciosus in alibino rats. Both extracts showed significant increase in urine output as well as electrolyte concentration. (19)
• Antioxidant / Rhizomes: Study of rhizome extracts showed antioxidant activity. The DPPH antiscavenging activity of aqueous extract was 9.98%, methanol 78.03%, chloroform 18.33% and acetone 30.02% extracts. (see constituents above) (20)
• Silver Nanoparticles / Antimicrobial: Study reports on the formulation of a cost-effective and environment friendly technique for the green synthesis of silver nanopartilces using Costus speciosus extract with AgNO3 solution. Antibacterial activity of the silver nanoparticles was found superior to that of hot or cold extracts of C. speciosus. Study reports on the use of biologically synthesized nanoparticles to treat urinary tract infections. (21)
• Food Supplement for Heifers: Study showed the benefit of using C. speciosus ground roots as a feed additive supplement in Egyptian buffalo, improving the health status by enhancement of immunity and antioxidant status. (23)
• Food Supplement for Heifers: Treatment with STZ induced genotoxicity in rats in the form of increased frequency of DNA damage, micronuclei and chromosomal aberrations. Treatment with costus or nanocostus reduced these toxicities especially with nanocostus, indicating the protective nature of these compounds. (24)
• Diosgenin / Antioxidant / Antiproliferative: Study evaluated the in vitro anti-inflammatory, antioxidant, and antiangiogenic activities of diosgenin isolated from C. speciosus. Tested sample showed effective antioxidant scavenging affinity against DPPH radicals. Results suggested the disogenin possess anticancer, apoptotic, and inhibitory effects on cell proliferation. (25)

Availability
Wild-crafted.