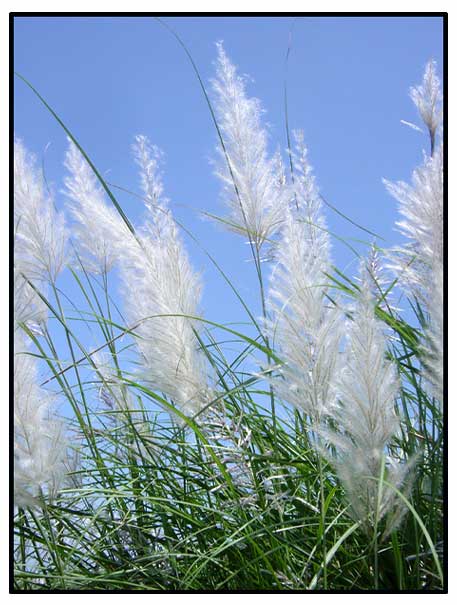 Botany
Talahib is a coarse, erect, perennial grass, usually more or less tufted, with stout underground rootstock, growing to a height of 1 to 3.5 meters. Leaves are harsh and linear, 0.5 to 1 meter long; 6 to 15 millimeters wide. Pannicles are white and erect, measuring 15 to 30 centimeters long, with slender and whorled branches, the joints covered with soft white hair. Spikelets are about 3.5 millimeters long, much shorter than the copious, long, white hairs at the base.
Distribution
- In open areas at low and medium altitudes, ascending to 1,500 meters, often gregarious, occupying large areas throughout the Philippines.
- Also occurs from India to southern China and through Malaya to Polynesia.
Constituents
- Phytochemical screening yielded quinones, terpenes, alkaloids, flavonoids, saponins, tannins, carbohydrates, protein, coumarin, phenol, steroids and glycosides.
- Various root extracts yielded terpenoids, steroids, glycosides, tannins, flavonoids, carbohydrates.
Properties
- In Ayurveda, roots are considered sweet, astringent, emollient, refrigerant, diuretic, lithotriptic, purgative, tonic, aphrodisiac.

Parts used
Roots and stems.
Uses
Folkloric
- In the Philippines decoction of the roots used as a diuretic.
- Decoction of roots used for fever.
- Warmed poultice of the stem pulp applied to painful areas in the leg and in cases suffering from beri beri.
- In Pakistan, used as laxative, phthisis, burning sensations and disease of the blood.
- In Ayurveda, used for dyspepsia, piles, sexual weakness, respiratory problems and gynecological troubles.
- In Bengal, roots used as galactagogue and diuretic.
- In India, fresh juice of stems used to treat mental illness and mental disturbances by the vaidhiyars.
- In Siddha, the whole plant is used for diseases of vatam and pittam, vomiting and various abdominal disorders, mental diseases, dyspnea, anemia and obesity. In Uttar Pradesh, paste prepared from equal quantities of fresh roots of Cynodon dactylon and Saccharum sponataneum is given with cow's milk and sugar for leucorrhea, early morning for one month.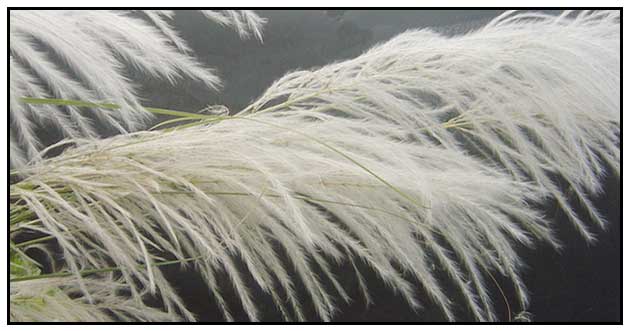 Studies
• Phytochemicals: Screening yielded the presence of quinines, alkaloids, tannins, carbohydrates, protein, coumarin, phenol, steroid and glycosides.
• CNS Depressant / Antipsychotic Activity: Study in rats showed reduction in motor activity, more pronounced in the ethanol and aqueous extracts. The aqueous extracts showed mild antipsychotic activity. The psychopharmacologic effects were attributed to the alklaloids, tannins, steroids and glycosides.
• Antimicrobial / Cytotoxic / Antioxidant: Chloroform extract showed antioxidant activity with IC50 value of 51.04 ug/ml (vs ascorbic acid 41.04). Crude extract showed cytotoxic activity using Brine shrimp lethality assay with LC50 of 6.63 ug.mL (vincristin 10.64). Antimicrobial activity was exhibited against gram-positive and gram-negative pathogenic bacteria and against three tested fungi.
• Antimicrobial / Trinpanchmool / Herbal Combination: Study on the antimicrobial activity of trinpanchmool drugs - a combination of Kush (Desmotachya bipinnata), Darbh (Imperata cylindrica) and Kas (Saccharum spontaneum) showed promising antimicrobial activity against different microorganisms (gram-positive, gram negative and fungal strains). The drugs in coombination were more active than individual extracts.
• Pulp and Paper Making: Study showed S. spontaneum is a bulky material with lower extractives and lignin content and higher holocellulose content with a good response towards multistage bleaching sequence and a pulp of high brightness ceiling.
• Cellulase Production: Study showed S. spontaneum can be utilized as a substrate in solid state fermentation for economic production of cellulase. Cellulases are the third largest industrial enzyme in the world.
• Antioxidant Activity: Study of extracts of S. spontaneum roots showed antioxidant activity similar to standard drugs used in the experiment. Methanolic extracts showed higher phenolic and flavonoid content.


Availability
Wild-crafted.