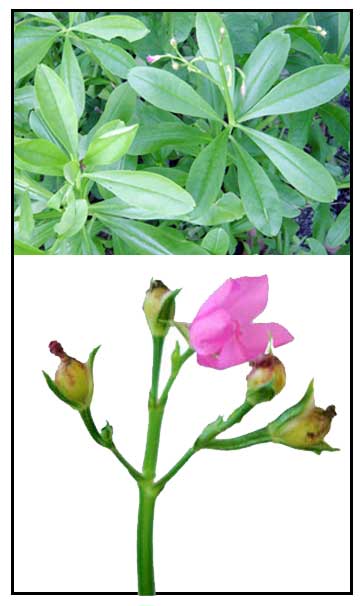 Gen info
Common name might have been taken from the title of a novel by American writer Edgar Rice Burroughs, Tarzan and the Jewels of Opar. source Another makes a reference to the ancient African city from which frankincense and gold were hauled by caravan to Solomon's treasure. source

Botany
Fleshy, erect herb, growing to 50 cm. Leaves are in whorls, obovate-lanceolate, flat, glossy and bright green. Flowers are in terminal panicles, small and pink colored.

Distribution
A garden plant or hedge.
In some places, has escaped the gardens to become weeds.
Constituents
Root has saponin, steroid and essential oil.

Parts used and preparation
Leaves and roots.

Uses
Folkloric
Search has failed to show any folkloric medicinal use in the Philippines.
Elsewhere, used as tonic, to regulate menses, for cough, general debility, diarrhea.
In China, it is cultivated as a medicinal herb.
In Indonesia, used for liver and kidney problems.
Culinary
Leaves are edible.
In some parts of Asia, used as a spice.

Studies
• Octacosanol : Octacosanol has been isolated from the roots of Talinum paniculatum. Octacosanol is being investigated in humans for use as an antiviral for herpes and for the treatment of inflammatory skin diseases. It may be helpful with Parkinson's disease, amyotrophic lateral sclerosis, heart disease and cholesterol reduction.
• Constituents: From the roots, study yielded a mixed compound of 1-hexacosanol, 1-octacosanol and 1-triacontanol, its acetate, and a mixed compound of campesterol, stigmasterol, and B-sitosteryl-B-D-glucoside.

Availability
Wild-crafted.