Taxon notes
The binomial "Solanum indicum" is confusing to both lay people and academics due to the many authorities that have attempted to pin it down taxonomically. Consequently when one finds a photo or a text referring to "Solanum indicum" one is never sure if it is meant by that "Solanum anguivi" or "Solanum violaceum" or even "Solanum ferox". It has been rejected by taxonomists as the following notes from USDA - ARS - GRIN attest but the literature is riddled with "Solanum indicum" so all the common names associated with it become even more unreliable than usual.
"Solanum indicum L., nom. rej., a rejected name (nomen utique rejiciendum) under Vienna ICBN Art. 56 & App. V that is unavailable for use.
Hepper, F. N. 1978. (456,457) Proposals to list Solanum indicum L. and Solanum sodomeum L. as rejected names under Article 69 of the ICBN. Taxon 27:555." (Sorting EGGPLANT names / MULTILINGUAL MULTISCRIPT PLANT NAME DATABASE)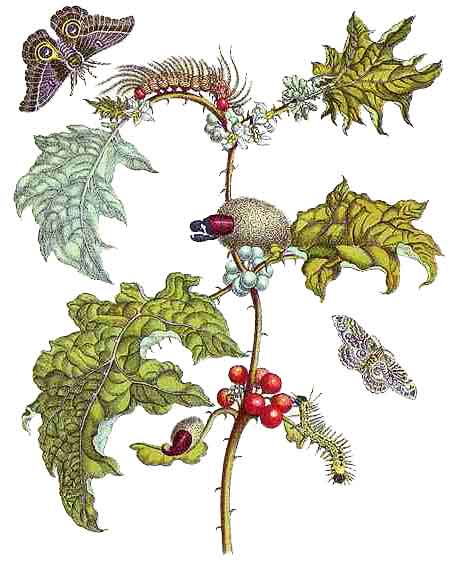 Botany
Talong-pipit is an erect undershrub, 0.3 to 1.5 meters high. Stems are much branched, very prickly, and bearing compressed, stout, often recurved prickles. Leaves are ovate, 3.5 to 15 centimeters long, 2.5 to 8 centimeters wide, lobed or pinnatifid in the margins, blunt or pointed at the tip, pointed at the base, and stellately woolly beneath. Leaves in the branchlets are much smaller. Flowers are blue, borne in extra-axillary racemes. Calyx-lobes in flower are triangular, very woolly, unarmed, or furnished with slender, straight spines. Corolla is broadly triangular, 2 to 2.5 centimeters long, and hairy on the outside. Fruit is yellow, rounded, about 1.5 centimeters in diameter.
Distribution
- Found in Davao and Mindanao, on rocky bluffs near the seashore.
- Occurs in southern China and Malaya.
Constituents
- Fruit contains solanin and solanidine.
- Oil from the seeds contains glycerides of lauric, palmitic, stearic, arachidic, oleic and linoleic acids, with phytosterols, sitosterol and carpesterol, and a hydrocarbon of high molecular weight.
- Phytochemical study of fruit yields alkaloids, polyphenols and saponins.

Properties
- Plant is considered cordial, aphrodisiac, astringent and resolvent.
- Root is considered diuretic, expectorant, diaphoretic and stimulant.
- Fruit is considered tonic and laxative.

Parts used and preparation
Roots, seeds, leaves.

Uses
Edibility
- Fruits used in the preparation of curries, chutneys and preserves.
Folkloric
- Used for asthma, febrile conditions, dry coughs, colic with flatulence, and worms.
- Vapor of burning seed used for odontalgia.
- Decoction of leaves used for dysuria.
- In Malaya, root is pounded and the pulp pressed on ulcerated sores.
- In Java, decoction of leaves drunk as diuretic.
- Root, taken internally, used for difficult childbirth and toothaches; also, for fever, worms and colic, and skin diseases in children.
- Juice of the leaves with fresh juice of ginger is used for vomiting.
- Fruits and leaves, rubbed with sugar, applied externally for skin itches.
- Fruit used as tonic and laxative.
- In China, used as anti-inflammatory and wound healing herb.
Others
- Leaves placed in infant's cradle to promote sleep.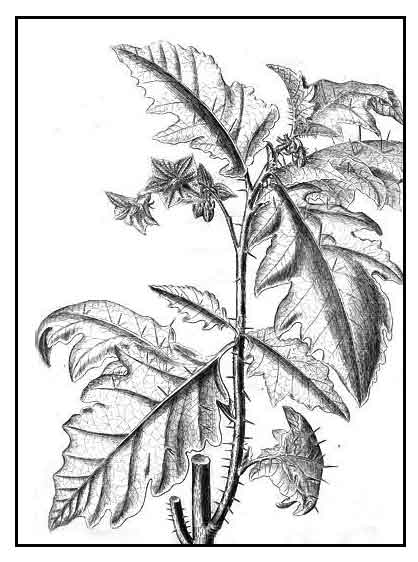 Studies
• Cytotoxic / Solavetivone / Constituents: Study yielded solavetivone which was found to be cytotoxic to OVCAR-3 cells with an IC50 of 0.1 mM. Other compounds isolated were a novel solafuranone and three known compounds: scopoletin, N-(p-trans-coumaroyl)tyramine and N-trans-feruloyltyramine.
• Phytochemicals: Study yielded isoangulvine, protodioscin, solasonine and solamargine, together with steroidal glycosides, named indiosides A-E, obtained from the fruits and roots.
• Toxicological Study: Study on long-term toxicity in rats showed no histopathological changes in the body organs with extract doses several 100 times greater than its ED50. Results point to a wide safety margin of the extract.
• Antibacterial: Ethanolic extract of leaves showed antibacterial activity against Staphylococcus aureus, Bacillus cereus, E coli. A chloroform, acetone, and ethanol extracts showed activity against pseudomonas.
• Indiosides / Anticancer: Studies have yielded several synthetic indiosides from S. indicum and shown to have anticancer effects. Results showed indiosides have a dose-dependent inhibitory effect on proliferation of Bel-7402 cells, and can induce apoptosis through mitochondria-dependent pathway.
Toxicity Report
• Diabetes Insipidus: Report made on a case of diabetes insipidus after seven doses of concentrated solution of SI over two weeks. The diagnosis was confirmed by a water deprivation test and a low serum ADH. Results suggest that excessive doses of S indicum may cause central diabetes insipidus.
Availability
Wild-crafted.