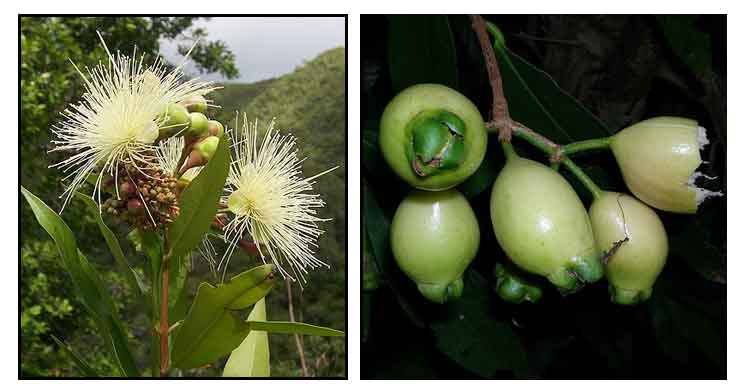 Botany
Tampoi is a small tree growing to about 8 meters high. Leaves are narrowly oblong or elliptic-lanceolate, 12.5 to 20 centimeters long, 2 to 4 centimeters wide, narrowed at both ends. Flowers are large, strongly scented, greenish-white, 5 to 7 centimeters across, borne in groups of 2 to 8 at the ends of twigs. Fruit is rounded, 3.5 to 5 centimeters diameter, dull yellow and tinged with pink. Seeds are up to 2.5 centimeters long, ellipsoid to oblong, narrowed at the middle.
Distribution
- Cultivated as a shade tree, in and about towns throughout the Philippines.
- Occasionally naturalized.
- Prehistoric introduction.
- Also occurring in Indo-Malaya and cultivated in other tropical countries.
Constituents
- Bark contains tannin, 12.4 %.
- Bark yields an alkaloid, jambosine.
- Root bark contains jambosine and oleoresin.
- Fruit contains 3.45% dextrose; the seeds, 3% tannin and 0.019% gallic acid.
- Leaves yield a yellow essential oil, yielding 26.64% di-a-pinene and 23.84% l-limonene.
- Nutrient analysis of raw rose-apple (per 100 g) yielded: (Proximates) water 93 g, energy 25 kcal, protein 0.60 g, total lipid (fat) 0.30 g, carbohydrate 5.70 g; (Minerals) calcium 29 mg, iron 0.07 mg, magnesium 5 mg, phosphorus 8 mg, potassium 123 mg, sodium 0, zinc 0.06 mg; (vitamins) vitamin C 22.3 mg, thiamin 0.020 mg, riboflavin 0.030 mg, niacin 0.800 mg, vitamin B12 0 µg, vitamin A RAE 17 µg, vitamin A 339 IU; (Lipids) total trans fatty acids 0, cholesterol 0 mg. (18)
- Ethanol and chloroform leaf extracts yielded a total phenolic content of were 42.72 ± 0.07 and 31.06 ± 1.4 GAE/g, respectively. (see study below) (20)
- Phytochemical screening of methanolic extract of leaves yielded carbohydrates +++, phenols +, flavonoids +++, tannins +, steroids ++, terpenoids ++, alkaloids +, saponins +, amino acids ++. (see study below) (22)
- Study S. jambos fruit tree yielded seven new phloroglucinol derivatives (1-7) together with four known triterpenoids (8-11) and two known flavones (12 and 13). Compounds 1-7 were elucidated as jambone A (1), jambone B (2), jambone C (3), jambone D (4), jambone E (5), jambone F (6), and jambone G (7). (see study below) (23)
Properties
- Considered as digestive, stimulant, cooling.
- Flowers considered cooling.
- Studies have shown antioxidant, antibacterial, antinociceptive, antifungal, hypotensive, anti-inflammatory, hepatoprotective, cytotoxic, antidiabetic properties.
Poison concerns
- Seeds are said to be poisonous.
- Roots, stems, and leaves reported to yield an unknown amount of hydrocyanic acid.
- Jambosine, an alkaloid, has been found in the bark and roots.

Parts used
Whole plant.

Uses
Edibility
- Fruit is dry, somewhat sweet, with a faint odor of rose.
- Commonly eaten right out, it is also used in making stews, preserves, jellies and jams.
- In Jamaica, sliced fruits are candied by stewing in cinnamon-flavored heavy sugar syrup.
Folkloric
- In Indo-China, all parts are used as stimulant, digestive and as a remedy for tooth problems.
- In Upper Burma, leaves are boiled and used as a remedy for sore eyes.
- Powdered leaves rubbed on the body in smallpox.
- Leaf decoction used as diuretic, expectorant, and treatment for rheumatism.
- In Cambodia, infusion of leaves given for fever.
- In India, used to treat infections. Fruit is used as tonic for the brain and liver; infusion used as diuretic.
- Conserve of flowers considered cooling.
- Fruit infusion used as diuretic.
- Seeds and fruits used for diarrhea, dysentery, diabetes, and catarrh.
- In El Salvador, pulverized seeds used for diabetes.
- In Brazil, decoction of leaves used for diabetes.
- In Columbia, seeds used for its anesthetic property.
- In Cuba, roots used for epilepsy.
- In Ayurveda, plant pacifies vitiated pitta, diarrhea, colic, wounds, ulcers, stomatitis, and general debility.
- In Homeopathy, used for acne, nausea, headache, heartburn, abdominal colic, fever, diarrhea.
Others
- Ritual: In Buddhism, the Rose Apple Tree is considered sacred, referred to as the Enlightenment Tree.
- Tanning / Dye: Bark used for tanning and yields a brown dye.
- Timber: Used to make furniture, construction beams, frames for musical instruments. Also planted as a living fence post.
- Perfumery: Essential oil distilled from leaves used in perfumery.
- Apiculture: Flowers are a rich source of nectar for honeybees.
- Fuel: A good source of small food for fuel; a good source of charcoal.

Studies
• Antibacterial: Study of S jambos leaf extract showed inhibition of gram-positive and gram-negative bacteria, the latter more susceptible than the former. (1)
• Antinociceptive: Study showed Syzygium jambos extract has remarkable analgesic effects on both cutaneous and deep muscle pain not mediated by opioid receptors in an efficacy higher than that shown by diclofenac. (2)
• Antimicrobial / Tannins: Study show SJ extracts showed antibacterial activity against S aureus, Y enterocolitica, Coagulase-negative staph. The activity seemed related to the high tannin content. (3)
• Antidermatophytic / Triterpenoids: Study yielded known triterpenoids - friedelin, ß-amyrin acetate, betulinic acid and lupeol. Results showed antidermatophytic activity against three species: Microsporum audounii, Tricophyton soudanense and T mentagrophytes. (4)
• Radical Scavenging / Dihydrochalcones: Study of leave extracts yielded three dihydrochalcones - phloretin 4'-O-methylester(2'6'-dihydroxy-4-methoxydihydrochalcone, myrigalone G and myrigalone B which showed radical scavenging properties towards the DPPH assay. (5)
• Hypotensive: Study of aqueous fraction of the young boiled leaves extract of Syzygium jambos, treated with ethyl acetate, has an important hypotensive effect. (6)
• Antimicrobial: Study evaluated the antimicrobial efficacy of S. jambos against 8 different microorganisms, viz., S aureus, B subtilis, E Coli, K pneumonia, P vulgaris, P aeruginosa, S typhi and V cholera. Different extracts showed varying degrees of inhibitory activity. Overall the acetone extract was found to be more effective. (8)
• Antioxidant / Hepatoprotective / Leaves: Study evaluated the leaves of Syzgium jambos for antioxidant activity in vitro and hepatoprotective activity in vivo. The extract showed significant dose-dependent antioxidant activity and hepatoprotective activity in CCl4-induced liver damage. (11)
• Aroma Compounds / Fruit: Study evaluated the rose apple fruit for aroma compounds. Results yielded medium and high volatility components. Hexanal, 3-penten-2-one, hexanol, (Z)-3-hexen-1-ol, linalool, isovaleric acid, benzyl alcohol, 2-phenylethylalcohol and (E)-cinnamaldehyde were potent odorants contributing to the headspace aroma. (12)
• Antibacterial / Anti-Inflammatory / Acne Vulgaris: Acne is considered a chronic skin disorder resulting from the production of reactive oxygen species due to involvement of Propionibacterium acnes in the skin. Study showed S. jambos possesses antibacterial, antioxidant, and anti-inflammatory effects warranting clinical studies for use as possible alternative anti-acne agent. (13)
• Leaf Essential Oils / Anti-Inflammatory / Acne Vulgaris: Study showed the main factor that influenced the chemical composition of leaf essential oil was the collection period. Results also suggest composition was influenced mainly by foliar nutrients (N, Mn, Co, Fe, S, and Mg) and soil nutrients (Na, Al, S, and H+Al). (14)
• Antioxidant / Ripe and Unripe Fruits: Study showed the rose apple pulp extract in ripe state has lower antioxidant and free radical scavenging activity than that found in unripe state. However, both show benefit as natural antioxidants. (15)
• Antifungal / Seeds and Leaves: Study evaluated aqueous and solvent extracts of 8 medicinal plants for antifungal activity against three human pathogenic fungi. Aqueous extracts of seeds of Syzygium jambos exhibited antifungal activity with 16 mm zone of inhibition against Candida albicans, 28.75 against Microsporum canis, 3025 against Microsporum gypseum. (19) In an in vitro study of leaf extracts for antifungal activity, S. jambos showed significant inhibition against C. neoformans with IC50 values of 34.36 µg/mL. 80-100 µg/mL at MIC >1000 µg/mL was the inhibitory level of S. jambos against all five fungus pathogens. (25)
• DPPH Radical Scavenging Activity / Leaves: Study evaluated leaf extracts for total polyphenol and flavonoid content and DPPH quenching by in vitro method. Total phenolic content of ethanol and chloroform leaf extracts were predicted as 42.72 ± 0.07 and 31.06 ± 1.4 GAE/g of extract, respectively. A positive radical scavenging correlation was exhibited by polyphenolic contents of ethanolic, chloroform, and methanolic extracts. (20)
• Hepatoprotective / Paracetamol Induced Toxicity / Leaves: Study evaluated the hepatoprotective activity of methanolic extract of S. jambos leaves against paracetamol induced hepatic damage in Wistar albino rats. Results showed dose-dependent hepatoprotective activity. Histopathology showed improved cytoarchitecture of liver cells in the treated group. (21)
• Antioxidant / Leaves: Study evaluated the antioxidant activity of a methanolic extract of S. jambos leaf in paracetamol intoxicated Wistar albino rats. Results showed significant antioxidant activity as evidenced by elevated levels of antioxidant enzymes in blood and tissues of treatment groups. (22)
• Phloroglucinol Derivatives / Cytotoxic and Antioxidant: Study S. jambos fruit tree yielded seven new phloroglucinol derivatives (1-7) together with four known triterpenoids (8-11) and two known flavones (12 and 13). Compounds 10 and 11 showed potent cytotoxic activities on melanoma cells and compounds 1, 2, 4-7, and 13 exhibited weak antioxidant activities. (see constituents above) (23)
• Antidiabetic / Enhanced Glucose Uptake in Skeletal Muscle: Study investigated the in vitro glucose uptake of hydromethanolic leaves extract of S. jambos on L6 Cell lines. Results showed enhancement of glucose transport in L6 myotubes. The extract exhibited significant glucose uptake (% glucose uptake 113+12.26) compared with standard insulin (131±17.57). Results suggest a potential for the prevention of diabetic complications such as nephropathy, retinopathy and cancer. (25)
• Anti-Diabetic / Improved Glucose Modulation: Study evaluated the phytochemical profiles and hypoglycemic effects of T. ananassae, C. speciosus, and Syzygium jambos. S. jambos showed the greatest concentration of phenolics. Mice treated with the plant extracts showed better glucose modulation when the extracts were administered in complement with an insulin injection. Mice on T. ananassae and S. jambos showed better glucose modulation over time. (26)

Availability
Wild-crafted.