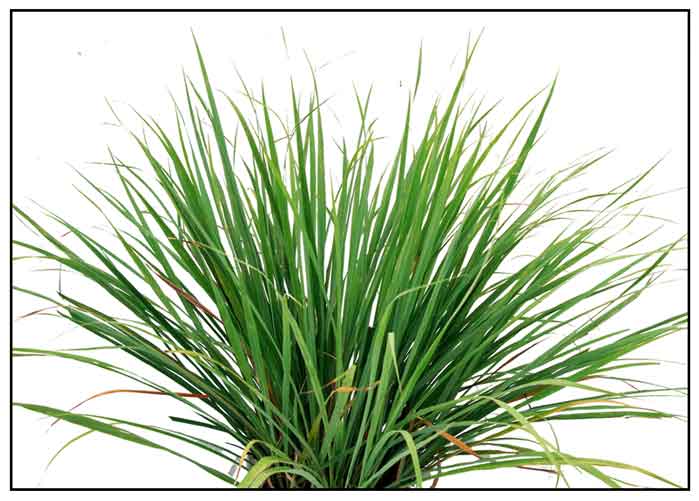 Botany
Tanglad is a tufted and perennial grass. Leaves grow to a length of up to 1 meter, about 1to 1.5 centimeters wide, scabrous, flat, long-acuminate, and smooth. Panicles are 30 to 80 centimeters long, interrupted below; the branches and branchlets somewhat nodding. Perfect spikelets are linear-lanceolate, pointed, not awned, and about 6 millimeters long.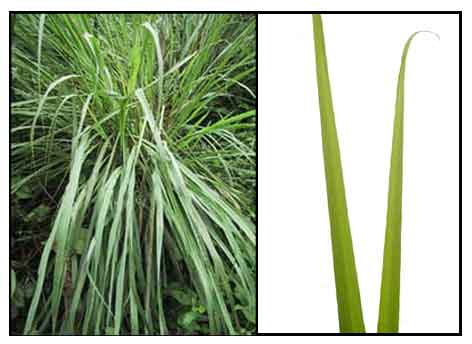 Distribution
- Planted in most parts of the Philippines for its fragrant leaves, but is nowhere spontaneous.
- Cultivated commercially in Java, India, and Sri Lanka.
- Native of tropical East Asia and widely distributed in cultivation.
Constituents
- Distillation of the fresh plant yields lemon-grass oil, verbena oil, and Indian Molissa oil.
- Plant contains small amounts of methyl heptenone and terpenes (limonene and dipentene).
- Contains citral, an aldehyde found in lemon peel oil and other natural essential oils.
- Main constituents of essential oil are citral (aldehydes geranial and neral) and terpenes (myrcene, monoterpene and geranial-terpenic alcohol).
- The exact value of the oil depends on the amount of citral it contains. High grade oil contains about 70 to 80 percent citral.
- Study of essential oil yields hydrocarbon terpenes, alcohols, ketones, esters and aldehydes.
- Leaves and roots have yielded alkaloids, saponin, a-sitosterol, terpenes, alcohol, ketone, flavonoids, chlorogenic acid, caffeic acid, p-coumaric acid and sugars.
- Plant yields flavonoids and phenolic compounds--luteolin, isoorientin 2'-O-rhamnoside, quercetin, kaempferol, and apigenin.

Properties
- The oils are reddish-yellow with an intense odor and taste of lemons.
- Carminative, tonic, stimulant, diuretic, purgative, sudorific.
- Leaves considered antimicrobial, anti-inflammatory and sedative.
- Possess pharmacologic activities: antimalarial, antimutagenicity, antimycobacterial, antioxidants, hypoglycemic and neurobehavioral.
Parts utilized
Leaves and whole plant.
Uses
Edibility / Culinary
- Commonly used as a stuffing ingredient in pig spit-roasting to improve the flavor and decrease the grease-taste.
- Used for cooking stale fish to improve the taste.
- Also used to flavor wines, sauces and spices.
- In Java, plant is used for spicing sherbet.
- The roots have a ginger-like flavor and used as a condiment and adding fragrance to gogo hair-washes.
Folkloric
· For diarrhea, decoction of leaves with sugar and a small piece of crushed ginger taken orally. For adults, 1 cup, 3 times daily taken after each loose bowel movement. For infants and babies, 1 tablespoon 3 times daily and after each loose bowel movement; 2-6 years, 1/4 cup 3 times daily and after each loose bowel movement; 7-12 years, 1/2 cup three times daily and after each loose bowel movement.
· One of the 10 herbal ingredients in the decoction-bath used in the post-partum ritual of suob. (See: Suob)
· Hot decoction of roots used for toothaches.
· Roots also used as a diuretic.
· Leaves used for aromatic baths.
· Leaves applied to the forehead and face as a cure for headaches; infusion held in the mouth to alleviate toothaches.
· A stomachic for children. Tea made from leaves used as stomachic tonic, diuretic, and refrigerant.
· Used as emmenagogue.
· Used in baths and fomentations.
· The oil, mixed with equal amounts of coconut oil, is used as a liniment for back pains, rheumatic complains, neuralgia, sprains and other painful afflictions.
· Decoction of leaves used as stomachic, diuretic, and refrigerant.
· Used for stomach discomfort, toothache, sprain, vomiting and ringworm
· In various traditional systems, leaf infusions used as antimicrobial, anti-inflammatory and sedative.
· In Cuban folk medicine, used to lower blood pressure and as anti-inflammatory.
· In Brazil, used as sedative, for gastrointestinal maladies, and as febrifuge. Also, tea from leaves used for anxiolytic, hypnotic, and anticonvulsant effects.
· In Malaya, used as a potion after childbirth.
· In Indonesia, used as digestive, diuretic, sudorific and emmenagogue.
· In India, used for gastrointestinal problems. Also, oil used as remedy for cholera.
· In China, used as anxiolytic.
· In Nigeria, used as antipyretic, stimulant and antispasmodic.
· In Trinidad and Tobago, used for diabetes.
· In various folk medicinal use: oil used for cough, cold, hemoptysis, rheumatism, back pain, bladder problems
Others
- Essential Oil: Volatile oil, called Lemon grass oil, consists mainly of citral and used in perfumery, soap, cosmetics, pharmaceutical, insecticide and food industries.
- Roots used for perfuming hair washes of gogo.
- Lemon grass oil is used in making perfumes, especially ionone (synthetic essence of violets).
- In India, cultivated around houses to repel snakes.
- Scavon Vet Spray: Andropogon citratus is one of the ingredients in a spray used for parasitic mite, Demodex bovis, that causes demodectic mange in cattle.
- Repellent: To keep away mosquitos, plant it around your house or place crushed leaves on your window sills.
- Liniment: Boil equal amounts of chopped leaves and roots with freshly made coconut oil. Also use as insect repellant.

Studies
• Antibacterial / Antifungal: (1) Studies have shown antibacterial activity, comparable to penicillin. (2) Various studies has shown activity against C albicans, C pseudotropicalis, Mycrosporum gypseum and A niger. (3) Study evaluated the antibacterial properties of alcohol and water extracts. The alcohol extract was generally more effective than the water extract. The presence of alkaloids and phenols were assumed responsible for the antibacterial activity of the extracts.
• Neurobehavioral Effects: (1) Study of myrcene in rats suggests anxiolytic activity. (2) Study of essential oil produced marked CNS depression in mice, similar to chlorpromazine effect. Also, it increased sleepiness time, similar to a thiopental effect.
• Antinociceptive / Analgesic: Myrcene extract from the essential oil has been shown to have an antinociceptive effect.
• Antitumoral: (1) Study showed a-myrcene possess antimutagenic activity in mammary cells. (2) Plant compounds, a-limonene and geraniol showed inhibition of liver and intestinal mucous membrane cancer in mice. (3) Study in Thailand showed inhibition of colorectal neoplasia in mice. (4) Study showed inhibitory effects on early phase hepatocarcinogenesis in rats after initiation with diethylnitrosamine.
• Insect repellent / Insecticidal: Studies of plant oil and powder have shown insect repellent and insecticidal activity. Essential oil has shown activity against Anopheline mosquitos, A culicifacies and A quinquefasciatus and certain developmental phase inhibition of A aegypti.
• Mosquito repellent: Study on the mosquito repellency properties of volatile oils derived from lemongrass (C citratus), citronella grass (Cymbopobon nadus) and May chang (Litsea cubeba) against Aedes aegypti and Culex quinquefasciatus showed no significant difference on repellency.
• Vascular Smooth Muscle Relaxation Effect: Study evaluated the effects of methanolic extracts of leaves, stems, roots, and citral on vascular smooth muscle using isolated tissue preparations. Citral, leaves, and roots exhibited a dose-dependent relaxant effect on the PE-induced contractions. Citral seemed to partially act via NO. Results suggest the relaxant effect of citral, leaves and roots is endothelium-dependent and may be through its effect on intracelluar calcium concentration. A vasodilator prostaglandin may mediate the effect of leaves. (12)
• Toxicity / Repellent Activity: Essential oils of C. citratus (lemongrass) and Murray koenigii (curry leaf) were tested for toxicity and repellant activity against C. maculatus in stored cowpea. Results showed lemongrass oil to be a more effective contact toxicant on bruchids than curry leaf oil. (13)
• Neurobehavioral Effect of Essential Oil: Study in Swiss male mice of essential oil from fresh leaves produced increase in sleeping time, elevation of seizure threshold and/or blockage of seizure spread. Results suggest sedative/hypnotic, anxiolytic, and anticonvulsant activity. (17)
• Essential Oil / Phytochemical Composition / Antiinflammatory / Analgesic: Study evaluated the anti-inflammatory and gastroprotective effects of C. citratus and Eucalyptus citriodora essential oils on formol-induced edema and acetic acid-induced abdominal cramps in Wistar rats. C. citratus yielded 16 chemical constituents, among which geranial (27.04%), neral (19.93%) and myrcene (27.04%) were major constituents. The oils exhibited significant dose-dependent edema inhibition. Results showed anti-inflammatory activities and a potential role as adjuvant alternative in the treatment of inflammatory-related diseases. (14)
• Antioxidant / Hepatoprotective: Study evaluated the effect of C. citratus against carbon tetrachloride- mediated hepatic oxidative damage in rats. Results showed a hepatoprotective effect attributed to its antioxidant and free radical scavenging property. (15)
• Citral / Housefly (Musca domestica) Control: Study showed the potential of C. citratus oil as an excellent insecticide for housefly control, the results opening up the opportunity for oil/monoterpenes in the development of an eco-friendly, economical, and acceptable product. (16)
• Gastroprotective: Study evaluated C. citratus leaves essential oil for gastroprotection against injuries caused by necrotizing agents (absolute alcohol and aspirin) in rodents. Results showed EOCC reduces gastric damage induced by ethanol, in part, through mechanisms involving endogenous prostaglandins.
• Inhibition of ACF (Aberrant Crypt Foci) in Rat Colon: Study showed lemon grass extract inhibits release of activated aglycon, methylazoxymethanol, from a glucoronide conjugate in the colon, and decreases the DNA adducts and ACF formation in the rat colon. (18)
• Antileishmanial / Essential Oil: Study evaluated the inhibitory effect of C. citratus essential oil on Leishmania amazonensis. Results showed a dose-dependent antiproliferative effect of the essential oil on promastigotes and axenic amastigotes. Results showed citral-rich essential oil has promising antileishmanial properties and a potential for a new anti-protozoan drug. (19)
• Hypotensive / Diuretic / Anti-Inflammatory / Leaves: Study evaluated the effect of 10% and 20% decoction of leaves on arterial pressure in rats, urine production and carrageenan-induced edema in rats. Results showed dose dependent hypotensive effects given intravenously, and a weak diuretic and anti-inflammatory effect when give orally. (20)
• Treatment of Pityriasis Versicolor / Phase 1 and 2 Clinical Studies / Essential Oil: Pityriasis versicolor is a fungal infection caused by Malassezia spp. Study evaluated the use of formulations containing essential oil of Cymbopogon citratus in Phase 1 and 11 clinical studies of patients with pityriasis versicolor. No significant adverse events were observed in volunteers during Phase 1. In Phase 2 studies, after 40 days of treatment, the rate of mycological cure was 60% (p<0.05) for the group treated with essential oil and over 80% (p<0.05 for the group treated with ketoconazole formulations.       (21)
• Treatment of Oral Thrush in HIV/AIDS Patients: Randomized controlled trial of 90 patients evaluated the safety and efficacy of lemon juice and lemon grass infusion (Cymbopogon citratus) in the treatment of oral thrush in HIV/AIDS patients compared to use of gentian violet aqueous solution 0.5%. Although the patient population was small,the use of lemon juice and lemon grass for treatment of oral candidiasis in an HIV population was validated by randomized controlled trial. (22)
• Anthelmintic: Study evaluated the anthelmintic potential of aqueous extract of Cymbopogon citratus against earthworm Pheretima posthuma. Piperazine citrate was used as standard drug. Results showed anthelmintic activity in a dose-dependent manner. (24)
• Renal Protective Against Aminoglycosides: Study evaluated the renal protective activity of Cymbopogon citratus in gentamycin-induced nephrotoxicity in male rabbits. Results showed the co-adminstration of C. citratus with gentamicin successfully prevented renal damage associated with aminoglycosides assessed by renal functioning parameters and histopathological examination. (25)
• Reproductive Benefits in Diabetic Rats / GLUT3 and GLUT8 in Testis: Study evaluated the localization of glucose transporters (GLUT3 and GLUT8) protein in testis of rats with alloxan induced diabetes treated with aqueous extract of C. citratus. Results showed an increase in GLUT8 protein and decrease in GLUT3, suggesting C. citratus may be helpful in minimizing male reproductive disorders in diabetes. (26)
• Eugenol / Antioxidant / Alternative to BHT: Study evaluated the potential of eugenol extracted from Cymbopogon citratus to replace commercial antioxidants such as BHT (butylated hydroxytoluene) in packaging raw materials. Results showed the concentration of eugenol resulting in 50% inhibition of free radicals (IC50 0.11 mg/ml) is lower than the IC50 value of BHT (0.14 mg/ml) indicating better radical scavenging activity. (27)
• Sub-Acute Oral Safety Study / Stems: Study evaluated the effects of two doses (13 and 130 mg/kg body weight) of lemon grass stem infusion in female Sprague-Dawley rats to determine a safety guideline for use. The stem infusions did not show hepatotoxic or nephrotoxic effects in rats, with no significant changes in lipid profile, hepatic and renal biochemical parameters. Results showed lemon grass stem infusion was not toxic even at 10 times higher than normal human consumption. (28)
• Sub-Acute Oral Safety Study / Stems: Study evaluated the formulation of Cymbopogon citratus leaves powder into tablets using acacia and gelatin as binders. Results showed C. citratus leaves tablets could be formulated by wet granulation using acacia or gelatin as binder. (29)
• Anti-Fungal / Oil: Study concludes a 100% lemongrass oil extract produced a zone of inhibition which is comparable to the effect of the standard and therefore can serve as antifungal agent against Tricophyton rubrum. (30)
• Deleterious Effect on Frontal Cortex / Leaves: Study evaluated the histopathological effects of oral consumption of aqueous leaf extract of C. citratus on the frontal cortex of Sprague-Dawley rats. Results showed deleterious and toxic effects on the frontal cortex of rats with histopathological findings of cytoarchitectural distortions ranging from neuronal degeneration, distortion, vacuolations and necrotic lesions. (31)
Herb-Drug Interactions / Concerns (1) May interfere with actions of some chemotherapeutic agents. (2) Avoid during pregnancy as high doses of citral and myrcene has cause birth defects in rats. (3) Citral in essential oil shown to induce GS T. (4) ß-myrcene in lemongrass can interfere with cytochrome P450 liver enzymes. (23)

Availability
- Wild-crafted.
- Cultivated for culinary use.