Botany
Tango is an erect, smooth, fleshy and slightly aromatic and branched annual herb, about 30 to 90 centimeters high. Leaves are alternate, auricled, and clasping at the base, oblong to lanceolate, 5 to 10 centimeters long or less, and bipinnately parted, lobes are narrow, entire or toothed, and thick. Flowering heads, which terminate the branches, are solitary, yellow, long-peduncled, 2 to 3.5 centimeters in diameter.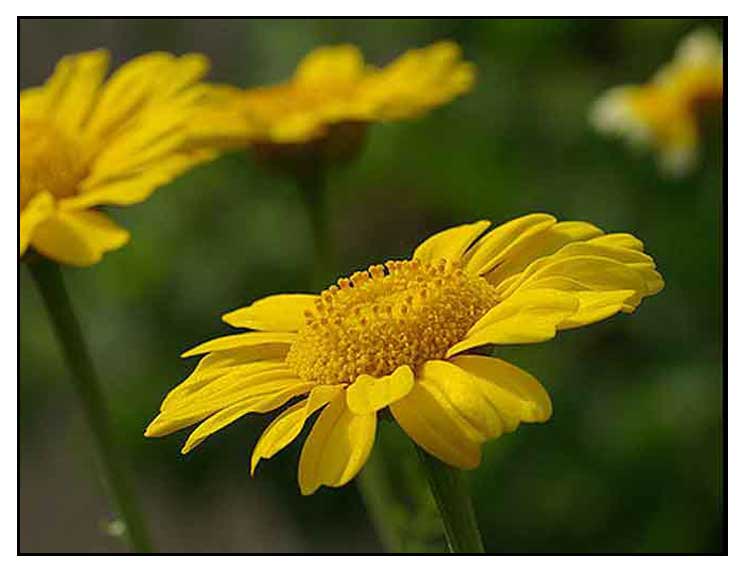 Distribution
- Popular cultivation in Manila Chinese gardens, and in Baguio by the Chinese and Japanese.
- Also occurs in Europe to southeastern Asia.
Constituents
- Young leaves and tops are good sources of phosphorus and calcium; excellent source of iron.
- The leaves are also a source of vitamin C.
- Leave are rich in quercetin and its glycosides, rutin and isoquercetin. source
- Stems shown to contain emodin (in aglycone and glycoside forms) and chrysophanol. source
- Stems found to contain emodin and chrysopanol; the roots, chrysopanol and chrysazin.
- Fresh young plant yield adenine 0.15% and traces of choline.

Properties
- Reported not poisonous, but excessive use may result in intoxication.
- Dried flowers, like pyrethrum, impart a prickling sensation to the tongue.
- Roots are pellitory; chewed, imparts a tingling sensation to the tongue.
- Considered digestive, sedative, stimulant, antiinflammatory, antimicrobial.
Parts used
Bark, leaves.
Uses
Culinary / Nutrition
- A leafy vegetable; gathered while young, imparting a spicy taste, used as a condiment for pancit luglog.
- Flowers and leaves used in salads and soups.
Folkloric
- The bark is purgative.
- Topically, the leaves are used for inflammatory afflictions.
- People of the Deccan use the plant in conjunction with black pepper for gonorrhea.
- Root is chewed for the pellitory tingling sensation in the tongue.
- The Yunanistas consider the bark as a useful purgative in syphilis. The leaves are also applied to lessen inflammation.
- Flowers are sometimes used as a tolerable substitute for chamomile.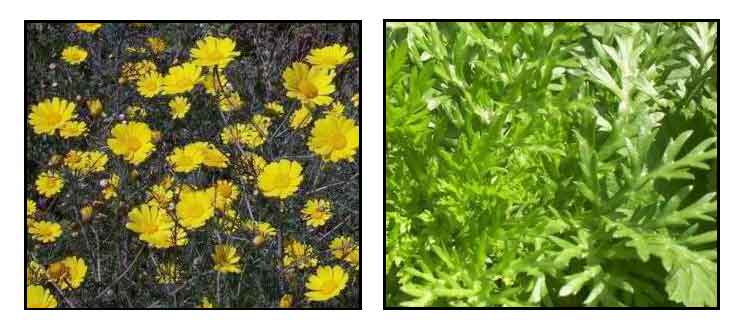 Studies
• Campesterol / Antiangiogenic / Anticancer: Campesterol, a plant sterol , known for cholesterol lowering and anticarcinogenic effects. Isolated from C coronarium, the study results supported its potential antiangiogenic action through inhibition of endothelial cell proliferation and capillary differentiation. (1)
• Pyrethrosin Derivatives / Cytotoxic: Study yielded three sesquiterpene lactones. Two compounds showed cytotoxic activities against human cancer lines.
• Heterocycle / Hypolipidemic: Study of methanol extract of aerial parts of CC isolated one new heterocycle, 5, 5'-dibuthoxy-2,2'-bofuran and five known compounds: methyl trans-ferulate, prunasin, sambunigrin, pterolactam and adenosin. Results showed inhibition of low-density lipoprotein (LDL) oxidation.
• Hypoglycemic: Study results on the aqueous extracts of C coronarium suggest hypoglycemic effect in diabetic rats equivalent to that of glibenclamide.
• Insecticidal: Study of extracts from flower and leaves of C coronarium showed insecticidal activity. Sesquiterpene lactones, toxic to insects have been isolated from the flower head of CC. (4)
• Antibacterial / Antifungal: Study of extract of C coronarium flowers showed inhibition of gram positive organisms.
• Antibacterial / Antifungal: Study showed activity of C coronarium against Alternaria sp, Aspergillus flavus and Phthium ultimum.
• Phytochemical: Phytochemical studies yielded compounds emodin, chrysopanol, chrysazin, quercetin and isoquercetin, high amounts of vitamin C and carotenoids – all together suggesting possible usefulness in cardiovascular preventive therapy.
• Antijuvenile Hormone / Insecticidal: Studies confirm the antihormone as acetylenic sulfoxide, compound C. Biological assays indicate significant insecticidal activity in a number of fractions. Anti-juvenile hormone activity was not expressed until the pure major constituents were tested individually. (8)
• Antimicrobial : Study investigated the antimicrobial activity of four Tunisian Chrysanthemum species. Findings showed that some Chrysanthemum extracts exhibited antimicrobial and/or anti-HSV activities. (9)
• Nematicidal : Study showed significant reduction nematode infection of tomato roots and improved plant-top fresh weight, both in the greenhouse and in microplots. Only mature plants, in their flowering stage, exhibited nematode control activity. The green plant parts were more effective than the flowers. (12)
• Insecticidal : Study showed the flower extract to have insecticidal activity on the cotton leaf worm Spodoptera littoralis. Major constituents were 3-dihydro-methylene-2- (3H) furanone (17.8%), jasmolin I (15.6%), carveol 1 (13.6%), phosphoric acid, tributyl ester (11.4%) and cinerin II (11.1%), while those of chloroform fraction were 5-hydroxy-3 methyl-1H-pyrazole (42.7%) and carveol 1(24.8%). Because of its safety profile, it presents as a promising alternative to integrated pest management. (13)
• Hepatoprotective / Antioxidant / Fertility Effects: Study evaluated the biologic activity of an ethanol extract of C. coronarium and its fractions. Results showed antioxidant oxidant activity, highest in the ethyl acetate fraction. It also showed hepatoprotective activity and improvement of fertility. (14)

Availability
Wild-crafted.