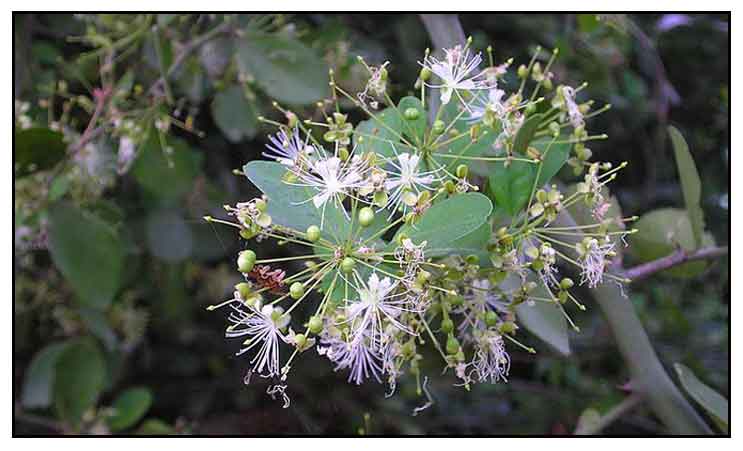 Botany
Tarabtab is a woody vine, growing from 1.5 to 3 meters in height. Young branches are hairy. Spines are short, sharp, and recurved. Leaves are oblong-ovate to elliptic-ovate, 2 to 8 centimeters long, with a shallow notch at the tip. Flowers are grouped 5 to 15 in axillary and terminal, sessile or short-peduncled umbels, with the slender pedicels 1 to 1.5 centimeters long. Sepals are green and concave. Petals are oblong, white, and 7 to 8 millimeters long. Fruit is rounded, 8 t 10 millimeters in diameter, nearly black when mature, and one-seeded.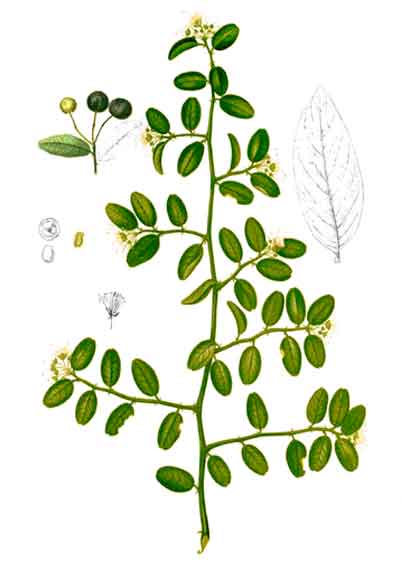 Distribution
- In thickets at low altitudes from the Babuyan Islands and northern Luzon to Mindanao and the Sulu Archipelago.
- Also occurs in India to Malaya and Australia.
Constituents
- Phytochemical screening yielded reducing sugars, flavonoids, steroids, tannins, glycosides, alkaloids, gums, resins, amino acids, proteins and anthraquinones.
- Studies yielded alkaloids, glycosides, carbohydrates, anthocyanins, flavonoids, sterols, terpenes and amino acids.
- Leaf contains four pentacyclic triterpenoid ethanol, taraxasterol, α and β-amyrin, β- sitosterol, erythrodiol
Properties
- Febrifugal, alterative, tonic.
- Considered blood purifier stomachic, tonic, and appetizer.
- Roots considered anti-inflammatory and analgesic.

Parts used
Bark, stem, leaves.

Uses
Folkloric
- Used as febrifuge, alterative, and tonic.
- Used for skin diseases.
- In India, traditionally used as blood purifier stomachic, tonic, and appetizer. Fresh bark, stem, and leaves used to treat eczema, dandruff and to reduce body heat. Flowers leaves, and roots used in cough and toxemia. Root powder used for inflammation and diseases of the muscles; also used for snake bites.

Studies
• Toxicity Study / Phytochemicals: Plant is rich in various biologically active compounds and a potential source of crude drugs and showed no toxicity in the experimental model.
• Anti-Diabetic: Study of C. sepiaria leaves in streptozotocin-induced diabetic rats showed hypoglycemic levels at various dose levels. Results suggest a potential use as adjunct therapy to traditional formulation and drug treatment. (3)
• Hepatoprotective / Leaves / CCL4 / Antioxidant: Study of ethanolic extract of leaves of C. sepiaria in CCl4-induced hepatotoxicity in Wister rats showed significant hepatoprotective effects, confirmed by histopathological studies of the liver. The extract also showed significant free radical scavenging activity in vitro. (4)
• Anti-Inflammatory / Analgesic: Study of petroleum ether, methanol, and water extracts of roots of Cs all showed significant anti-inflammatory and analgesic activities. (5)
• Hepatoprotective / Roots / Acetaminophen-Induced Hepatotoxicity: Study showed a hepatoprotective activity of root extracts on acetominophen-induced hepatotoxicity in albino Wistar rats. (7)
• Antitumor / Antioxidant / Bark: Study evaluated a methanol extract of bark for antitumor activity and antioxidant activity against Dalton's ascites lymphoma (DAL)-bearing swiss albino mice. Results showed significant decrease in tumor volume, packed cell volume, and viable cell count, and prolonged the life span of DAL-tumor bearing mice. Lipid peroxidation and antioxidant levels increased significantly. (8)
• Antibacterial / Enteric Pathogens: Study evaluated the antibacterial properties of various extracts against different bacteria including E. coli, P mirabilis, S. typhi, Enterobacter aerogenes, and Shigella flexneri. A hexane extract showed maximum inhibition against Salmonella typhi. An ethanol extract showed 51% antioxidant activity with a-tocopherol at 66.76% as standard reference. (9 )
Availability
Wild-crafted.