General info
First called "Estragon" derived from the Arabic word "tharkhoum'" and the Latin word "dracunculus" meaning "little dragon" probably from the way the roots curls up like a dragon. The French refer to it as the "King of Herbs," flavoring many of its classic cuisine.
Botany
An aromatic perennial growing to a height of 2 feet. Leaves are linear or lanceolate , 1 - 4 in long, with small globe-shaped yellow or greenish-white flowers in terminal panicles.
Constituents and chemical properties
The French variety has the aromatic oils lacking in Russian tarragon.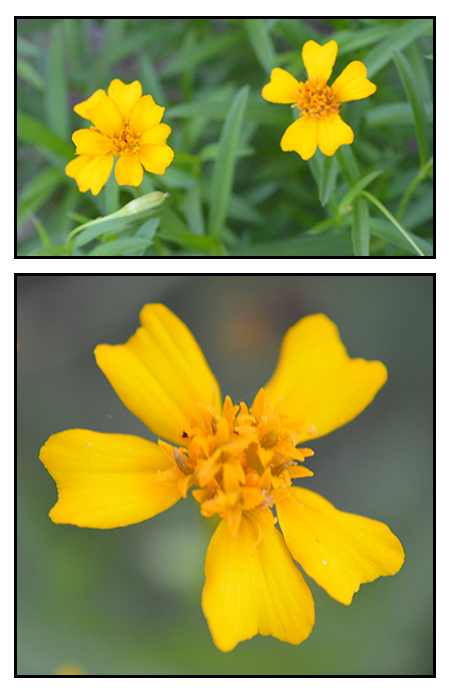 Estragole is the main constituent of tarragon essential oil.
The undiluted oil may be irritating to the skin.
Probably antibacterial.
A rich plant source of potassium.
Considered antiscorbutic, diuretic, emmenagogue, febrifuge, hypnotic, stomachic and vermifuge.

Distribution
Cultivated.

Parts utilized
Above ground parts.
Caution
Shares a common name with Artmesia vulagris.
Cross-allergenicity in those sensitive to plaqnts in the Asteraceae/Compositae family; ie, ragweed, chrysanthemums, marigolds and daisies.

Uses
Culinary
A culinary herb with distinctly flavored leaves that enhances the flavors of food (fish, poultry, pork, lamb, etc.). Used fresh in salads and as garnishes. Use in small amounts. Bitter when overcooked.
Leaves used in the making of tarragon vinegar.
Folkloric
Used for digestive disorders, toothache.
To promote menstruation.
Used as a diuretic and to enhance the appetite.
In Iranian folk medicine, used for its anticoagulant activity; also as antiepileptic.
Others
Tarragon oil is extracted from the leaves and flowering tops..Used as a fragrance in soaps and cosmetics.
Essential oil used in aromatherapy for digestive and menstrual problems.

Studies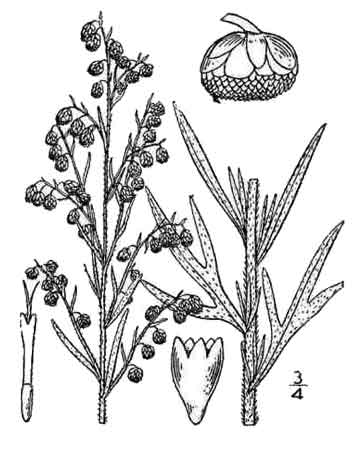 • Anti-Diabetic: Polyphenolic compounds were isolated from A dracunculus which inhibited PEPCK gene expression and gluconeogenesis in a hepatoma cell line. Results suggest the isolated compounds maybe responsible for its glucose-lowering activirty.
• Anti-Platelet Adhesion and Aggregation: Study of extracts of Artemisia dracunculus showed inhibition of platelet adhesion, aggregation and secretion and supports its traditional use as an anticoagulant.
• Benzodiazepines: Study showed binding activity in the extracts of Artemisia dracunculus showed a binding affinity to the central human benzodiazepine receptor.
• Antifungal: Study isolated antifungal constituents, 5-phenyl-1,3-pentadiyne and capillarinin - from the essential oil fraction of AD. It also isolated methyleugenol, another antifungal constituent of the oil.
• Toxicological Evaluation: Tarralin is an ethanolic extract of A dracunculus (Russian tarragon). In an acute limit test in rats, no signs of toxicity was noted. In an oral subchronic 90-day toxicity study, no signs of toxicity were noted.
• Anti-Thrombosis: Study showed inhibition of platelet adhesion; also,self-aggregation and protein secretion were affecdted by crude methanol extracts. Results provide the basis for traditional use in the treatment of cardiovascular diseases and thrombosis.
• Antimicrobial: Study showed the methanol extract of A dracunculus is more effective against tested organisms than chloroform or acetone extracts. There was inhibition of P aeruginosa, E coli, Shigella, L monocytogenes.
• Anticonvulsant / Sedative: Study of the essential oil revealed the presence of trans-anethole, limonene, a-pinene, allo-ocimene, methyl eugenol, ß-pinene, a-terpinolene, bornyl acetate and bicylogermacrene. Results showed anticonvulsant and sedative effects probably related to the presence of monoterpenoids in the essential oil.
• Anti-Platelet Adhesion / Cardiovascular Thrombosis: Platelet hyperactivity, resulting in platelet adhesion to the vessel wall, is one of the most important factors in thrombosis and incidence of cardiovascular diseases. Study of the methanol extracts of three herb spices, including Artemisia dracunculus, showed inhibition of platelet adhesion. In addition to alteration of cell adhesive properties, cell aggregation and protein secretion were also affected in the treated platelets. Results provide a basis for the use of the herbs in the treatment of cardiovascular disease and thrombosis.
• Tarralin / Safety Studies: Tarralin, an ethanolic extract of Artemisia dracunculus, a common medicinal and culinary herb, was shown to be safe and non-toxic in studies, with no-adverse effects in rat study at 1000 mg/kg/day.
• Hypoglycemic Effects / Screening / Tarragon on Insulin Action in Humans: Results are awaited on study of PMI-5011, investigated on its effects on improving carbohydrate metabolism by enhancement of molecular events of insulin action in skeletal muscle.

Availability
Cultivated.