Botany
Trompang elepante is an annual, erect, branched, hirsute plant, 15 to 50 centimeters high. Leaves are opposite or alternate, ovate to oblong-ovate, somewhat hairy, acute or acuminate, base decurrent along the petiole, 3 to 8 centimeters long. Flowers are small, and borne on one side of curved, terminal, or leaf-opposed spikes which are 3 to 8 centimeters long. Calyx is green. Corolla is pale lavender to nearly white, funnel-shaped, and about 5 millimeters long, with a slender and cylindric tube and the limb 3 to 3.5 millimeters in diameter. Stamens are 5, inserted on the corolla tube. Ovary completely or imperfectly 4-celled, 4 ovules, style terminal or leaf opposed, 3 to 10 centimeters long, flowers all in one side, the lower ones opening first. Fruit id 4 to 5 millimeters long, composed of 2, ovoid, beaked nutlets.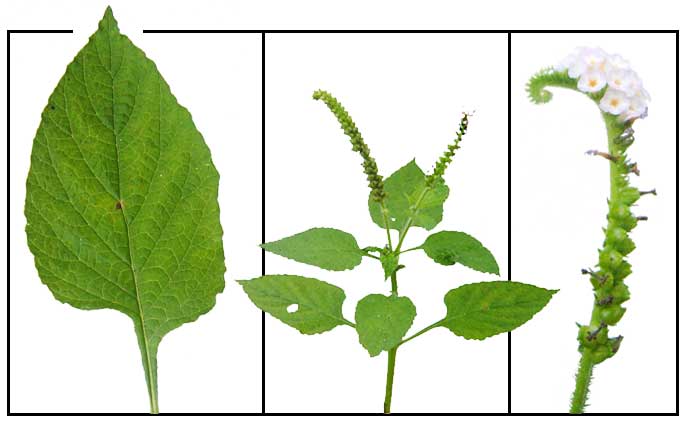 Distribution
- A common weed in waste places and settled areas throughout the Philippines at low altitudes.
- Pantropic in distribution.
Parts used
· Entire plant.
· May be collected throughout the year.
· Rinse, use fresh.
Constituents
· Stems and leaves contain tannin and an alkaloidal principle.
· Study isolated a major alkaloid, heliotrine, from the seed of Heliotropium indicum. and was found to have ganglion blocking activity.
· Phytochemical screening yielded phytosterols, alkaloids, saponins, and phenolic compounds.
· Phytochemical screening of various extracts of aerial parts yielded alkaloids, saponins, tannins, glycosides, and flavonoids.

Properties
· No taste, cooling effect, insecticide-antidermatosis.
· Leaves are emollient and diuretic.
· Drug causes contraction of muscular fibers, mucous membranes and other tissues.
· Studies have suggest antibacterial, antioxidant, cytotoxic, antitumor, anti-inflammatory, antinociceptive, diuretic, wound healing, repellent, gastroprotective, immunostimulant, abortifacient and antiimplantation properties.

Uses
Folkloric
· In the Philippines, decoction of dried roots used as emmenagogue.
· Few seeds, masticated and eaten, said to be a good stomachic.
· Skin pruritus, scabies: use pounded fresh material (quantity sufficient combine with kerosene applied over the afflicted area.)
· Concentrated decoction may also be used as external wash over afflicted area.
· Decoction of leaves used for washing cuts and sores; also used for the treatment of cholera.
· Decoction of leaves used as pectoral and antiscabious.
· Poultice of pounded leaves or bruised leaves applied to wounds and boils; also, inflamed joints.
· Juice of leaves used for facial acne, gum-boils, sores and wounds.
· Sap of leaves, mixed with salt, used for clearing vision.
· Plant used for ear and skin infections.
· Leaves used for poulticing herpes and rheumatism.
· Decoction of leaves and flowers used as gargle for sore throats and tonsillitis.
· Flowers in small doses are emmenagogue; in large doses, abortive.
· In Mexico, decoction of roots or any plant part used for asthma.
· In Liberia, considered and used as "erysipelas" plant.
· In India, juice of leaves used for treating sores and insect bites.
· Leaf juice given to infants for cough.
· In Costa Rica, leaves are crushed and used as resolvent for abscesses and furuncles.
· In Indo-China, decoction of leaves used for urticaria.
· In Nigeria, used for fevers and ulcers.
· Sino-Annamites used the plant for beri-beri.
· In West Africa, used for vomiting, amenorrhea, high blood pressure; sap applied to gumboils, clean up ulcers and for eye infections.
· In Ghana used to treat systemic and ocular ocular disorders.
· In Sierra Leone , decoction of leaves used for washing new-born babies.
· In Senegal, leaf powder used for dermatitis, eczema, impetigo in children.
· In Indonesia, leaf decoction is used for thrush; poultices used for herpes and rheumatism.
· In Thailand, traditionally used for wound healing.
· In Taiwan, a folk remedy for sore throat and lung diseases.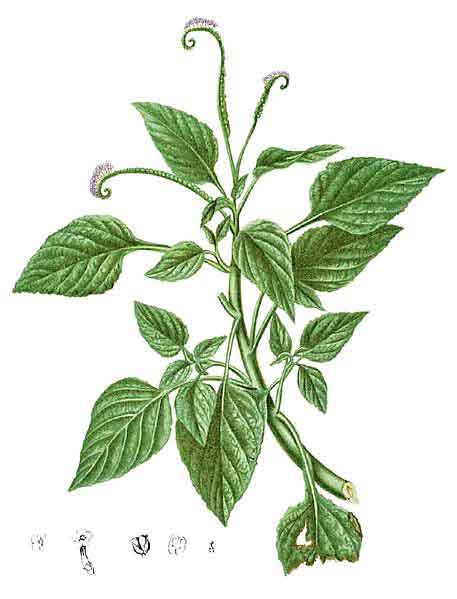 Studies
• Gastroprotective / Antimicrobial: Study of the aqueous extracts of dried leaves of Heliotropium indicum showed dose-dependent gastroprotective effects. (1)
• Wound Healing: (1) Study of 10% topical application increased the percentage of wound contraction, increased tensile strength and decreased time of healing from rapid epithelization and collagenization.
• Wound Healing / Comparative Study: Ethanolic extract of HI showed to have better wound healing activity than P zeylanicum and A indica. (5)
• Wound Healing: Study showed significant promotion of wound healing with methanol and aqueous extracts. In the wound infection model (Staph aureus and P. aeruginosa), the methanol extract showed significant healing activity compared to standard nitrofurazone.
• Anti-Tumor: Isolated oxide of alkaloid indicine from HI showed significant anti-tumor activity in carcinosarcoma, leukemia, and melanoma tumor systems.
• Anti-Inflammatory: Study of H indicum produced significant anti-inflammatory effect in both acute and subacute models of inflammation, with activities comparable to acetylsalicylic acid and phenylbutazone respectively.
• Anti-Inflammatory: Petroleum and ethanol extracts exhibited considerable anti-inflammatory activity compared with ketorolac trimethamine as standard.
• Anti-Tuberculosis: Study of the volatile oil from the aerial parts of HI showed significant antituberculosis activity against M tuberculosis. The major constituents were phytol, e-dodecanol, and ß-linalool. (4)
• Anti-Tumor / Indicine N-Oxide: Extract study yielded an active principle, an N-oxide of the alkaloid indicine, which showed significant activity in several experimental tumor systems. (6)
• Anti-Proliferative: One of nine Thai medicinal plants studied on human breast adenocarcinoma cell line; all extracts showed IC50 in the potential range for activity against cancer cells. (7)
• Immunostimulant Effect: Dried leaves extract significantly increased in vitro phagocytic index and lymphyocyte viability in all assays, increase in antibody titer and delayed-type hypersensitivity in mice. Results conclude a dose-dependent immunostimulant effect, probably due to the alkaloid content or combination of other components. (10)
• Gastroprotective Effect: Phytochemical analysis yielded alkaloid, saponins and tannins. A gastroprotective function is through its ability to mobilize endogenous prostaglandins in the gastric mucosa, and may be in part due to tannins and saponin constituents. (11)
• Repellent Effect: In a search for insecticides and antifeedants of plant origin against Utetheisa pulchella, H indicum killed 56% of the young larvae but did not affect fifth- and sixth-instar larvae. (12)
• Antimicrobial / Phytochemical Screening: Antimicrobial screening of various extracts of aerial parts showed significant zones of inhibition against 70% of the test organisms. Extracts yielded alkaloids, saponins, tannins, glycosides, and flavonoids while phlobotannins, steroids, coumarin, and cardiac glycosides were absent in all the crude extracts. (15)
• Analgesic / Stem: Study of hydroalcoholic extract of the stem of H. indicum in a hot plate model showed significant analgesic effect compared to the standard drug Diclofenac. (16)
• Antimicrobial: Study evaluated an alcoholic extract of H. indicum for antimicrobial activity against four strains each of Gram positive and Gram negative bacteria, and three strains of fungi and two yeast. Results showed dose-dependent antimicrobial activity to all the test organisms. (20)
• Immune Function Activity / Leaves: Study evaluated the immunostimulatory activity of H. indicum in invitro and in vivo experimental models. Dried leaves significantly increased the in vitro phagocytic index and lymphocyte viability in all assays. It also showed an increase in antibody titer, carbon clearance, and delayed type hypersensitivity in mice. In conclusion, H. indicum showed dose-dependent immunostimulant effect, which may be attributed to the alkaloid content or combination of components. (21)
• Antibacterial / Antioxidant / Cytotoxic: Study evaluated the antibacterial, antioxidant, and cytotoxic activities of H. indicum. A methanolic extract showed good antibacterial activity against P. aeruginosa and mild to moderate antibacterial activity against S. aureus, B. subtilis and B. megaterium. Extract showed significant antioxidant activity with IC50 of 58.30 µg/ml compared to ascorbic acid with 45.74 µg/ml. On brine shrimp lethality bioassay, it showed significant cytotoxic activity with LC50 of 6.607 µg/ml compared to vincristine sulfate with 6.026 µg/ml. (23)
• Antifertility / Abortifacient: Study evaluated n-hexane fractions of ethanol extract of H. indicum for antifertility activity in rats using anti-implantation and abortifacient models. Results showed promising abortifacient activity and moderate effects on implantation and sperm motility. (24) (25)
• Anthelmintic: Study evaluated the anthelmintic potential of H. indicum, Senna fistula, and Spigella anthemia using nematodes larvae from sheep and adult earthworms. Results showed anthelmintic activity: H. indicum > S. fistula > S. anthelmia. Acetone and ethanol extracts showed the most effective activity. Results validate the use of the plants as worm expellers by the Yorubas tribe of South West Nigeria. (26)
• Anti-Diarrheal Effect / Leaves: Study evaluated the anti-diarrheal activity of aqueous and methanolic extracts of H. indicum and W. indica using charcoal meal test and castor oil induced diarrhea model in rats. Both plants showed significant decrease (p<0.05) in propulsion of charcoal meal test through the GIT. (27)
• Oral and Ocular Safety Profile: Study evaluated the safety profile of sub-chronic oral and ocular use in rodents to provide a predictive basis for human usage. Results showed the extract to be safe for topical ocular application; however, medium term oral use induced subtle kidney, liver, and spleen toxicities. (28)
• Analgesic Activity / Safety Assessment: Study evaluated the analgesic and safety assessment of H. indicum using formalin-induced pain model in mice. Morphine and diclofenac sodium were used as reference opioid and NSAID. Results showed analgesic activity and was well tolerated in acute toxicity studies. However, it can have cumulative toxic effects and prolonged and continuous use is not advised. (29)
• Antianaphylactic / Antihistaminic: Study evaluated an alcoholic extract of H. indicum leaves for antianaphylactic activity in rats using active anaphylaxis model. Antihistaminic activity in guinea pigs was studied using histamine-induced bronchospasm. Results showed both antianaphylactic and antihistaminic activity attributed to mast cell stabilizing potential, suppression of IgE, and inhibition of release of inflammatory mediators. (30)
• Diuretic / Leaves: Study evaluated the diuretic activity of chloroform and ethanol extract of leaves. The extracts showed significant diuretic activity as evidenced by increase in total urine volume and urine concentration of Na, K, and Cl. Furosemide was used as standard. (31)
• Cytotoxic Effect / HeLa Cell Line / Stem and Leaf: Study evaluated the in vitro cytotoxic effect of H. indicum against human cancer cell line (HeLa). Results showed the methanolic extracts of stem and leaf showed good amount of anticancer activity. The IC50 for both extracts showed to be 200 µg/ml with the stem extract showing excellent activity up to 64.5% at 200 µg. followed by the leaf extract at 49.6% at 200 µg/ml. (32)
• Anti-Cataract Potential: Study aimed to verify the anti-cataract properties of aqueous whole plant extract of H. indicum. Results showed the extract, at all doses, significantly alleviated selenite-induced cataracts (p≥ 0.001). The extract exhibited activity relevant for scavenging free radicals and inhibition of lipid peroxidation. Results showed significant inhibition of cataract development in rats via multiple mechanisms. (33)
Toxicity concern
Pyrrolizidine alkaloids (PAs) is found virtually in all plants in the Boraginaceae family. PAs have been shown to cause toxic reactions in humans, primarily veno-occlusive disease, when taken as herbal medicine or with food. It has also believed to cause liver damage. (9)

Availability
Wild-crafted.