Botany
Upo is a coarse vine reaching a length of several meters. Leaves are rounded, 10 to 40 centimeters wide, softly hairy on both sides, 5-angled or lobed. Flowers, white, large, solitary, and monoecious or dioecious. Petals are ovate, 3 to 4 centimeters long. Calyx is hairy, with a funnel-shaped tube. Fruit is green, mottled with gray or white, usually club-shaped, up to 80 centimeters long and 15 centimeters across, but in other forms, ovoid to depressed-globose and nearly as thick as it is long.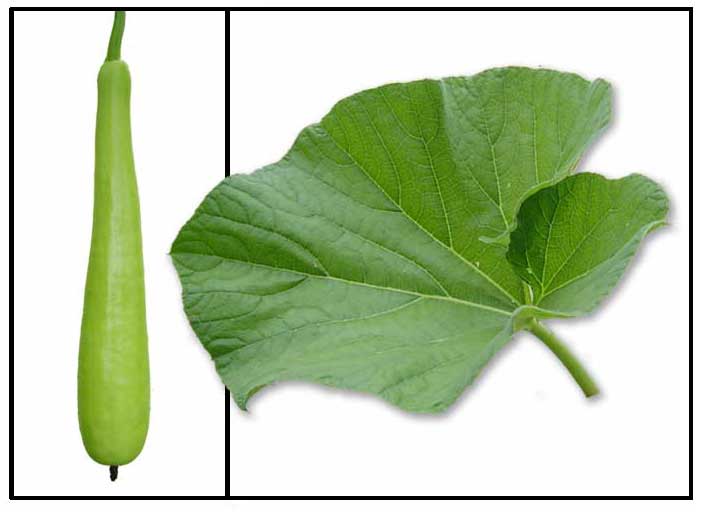 Distribution
- Cultivated throughout the Philippines.
- Naturalized in some parts of Mindanao.
- Pantropic in distribution.
Constituents
- Phytochemical screening yielded triterpenoids, flavonoids and steroids.
- Fruit is a good source of iron, calcium, and phosphorus, vitamin B.
- Fruit is 6% sugar; the seeds contain a fixed oil and saponin.
- Study isolated a new withanolide
- Seeds yield a clear, limpid oil.
- Extract study of fruits yielded two flavonoids, a triterpenoid, and a mixture of sterols. Spectral analyses showed oleanolic acid, ß-sitosterol, campesterol, isoquercitrin and kaempferol. (19)
- Preliminary screening of a methanolic extract of fruits yielded flavonoids, saponins, sterols, tannins, and carbohydrates. (See study below) (20)
Properties
- Fruit considered antibiotic, antidote, aphrodisiac, cardiotonic, cardioprotective, diuretic, febrifuge, lithotriptic, poultice, purgative, vermifuge.
- Studies have reported cardiotonic, hepatoprotective, immunomodulatory, antihyperglycemic, antihyperlipidemic, analgesic, and anti-inflammatory properties.
Parts utilized
Pulp, fruit, shoots, leaves, seeds.

Uses
Edibility / Nutrition
- One of the commonest vegetables raised in the Philippines.
- Flesh is white and soft, boiled and seasoned or used in stews or with fish.
- Pulp is an ingredient in many confections.
- Fruit is a good source of iron, calcium, phosphorus, and vitamin B.
- In West Tropical Africa, young shoots, leaves, and flower buds used as vegetable.
- Shoots boiled with milk or coconut milk to reduce the unpleasant flavor.
- Young fruits should be consumed within 2 weeks after harvest. Longer storage causes rapid water loss.
- In Japan, long strips of fruit skin are boiled, soaked in soya sauce with a little sugar, and used as sushi ingredient.
Folkloric
- Young shoots and leaves used for enema.
- Pulp used as purgative adjunct; also used for coughs, asthma, and poison antidote.
- Green fruit in syrup used as a pectoral.
- Leaf juice or sugared decoction used as emetic. Also used in jaundice.
- Crushed leaves used for baldness; applied to the head for headaches.
- Seeds also used as antihelminthic.
- Juice of fruit used for stomach acidity, indigestion and ulcers.
- Poultice of seeds used for boils.
- In the Gold Coast young shoots and leaves used for enema.
- Pulp occasionally used as a adjunct to purgatives. Also used in coughs, and as antidote to certain poisons.
- Externally the pulp is applied as a poultice and cooling preparation to the shaved head in cases of delirium and applied to the soles in burning of the feet.
- Seed oil used as emollient application to the head and as a means of relieving headache. Oil also administered internally.
- In China, used for diabetes.
Others
- The dry shell of the fruit used for domestic utensils, bowls, pipes, bottles, horns or musical instruments.
- Half-fruit shell used as a hat.
- In Kenya, the Luo make a large bugle from the bottle gourds, blown during ceremonies and chasing away animals. Also used for smoking cannabis.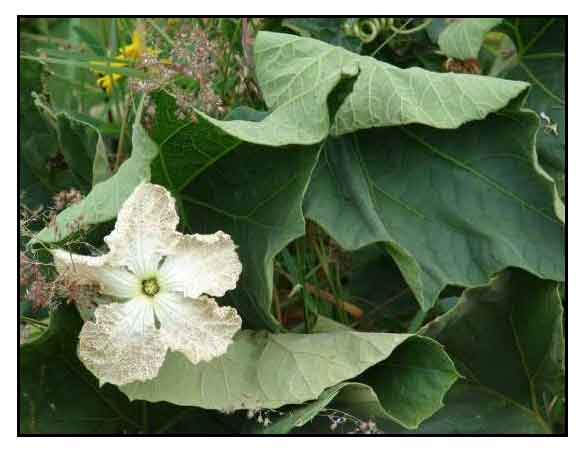 Studies
• Diuretic: Study of the juice extract and methanol extract of LS showed significantly significant diuretic potential, comparable to that of furosemide. (1)
• Immunomodulatory: Study of the methanolic extracts of the fruit of LS showed significant dose-dependent delayed hypersensitivity reaction in rats with increase in white cell and lymphocyte count. Results suggest a promising immunomodulatory activity. (2)
• Antihyperlipidemic: Study of fruit extract of L siceraria significantly reduced the total cholesterol, LDL and triglycerides and suggests a potential household remedy for hyperlipidemia. (3)
• Antihyperlipidemic: Study of methanolic extract of L siceraria demonstrated an antihyperlipidemic potential with significant elevation of HDl cholesterol. Results also provided a valid scientific basis for consumption for the treatment of coronary heart diseases in India. (5)
• Phytochemicals / Antihyperlipidemic: Study revealed the presence of flavonoids, sterols, cucurbitacin saponins, polyphenolics, proteins and carbohydrates. Results marked hypolipidemic and antihyperlipidemic activity of the extracts. (6)
• Anthelmintic: In a study using Pheretima posthuma as test worms, the methanol and benzene extracts significantly demonstrated paralysis and death of worms, compared to a standard of Piperazine. Results confirm the traditional use of the seeds of the plant as an antihelmintic. (7)
• Antioxidant: Results showed that fresh fruit extract exhibited higher DPPH radical scavenging activity than other samples. Both fresh and dried fruits may give relatively similar antioxidant effects. (8)
• Antioxidant / Biologic Activities: Extract was found effective as hepatoprotective, antioxidant, antihyperglycemic, immunomodulatory, antihyperlipidemic and cardiotonic. The various biologic activities may be due to the radical scavenging capacity of L siceraria.
• Antioxidant / Seeds: Study showed an ethanolic seed extract to possess significant antioxidant activity and a potential source as an excellent natural antioxidant. (13)
• Anthelmintic / Antimicrobial: Study of extracts of leaves showed significant dose-dependent anthelmintic activity against earthworm Pheretima posthuma and tapeworm. Extracts also showed moderate antibacterial and antifungal activity against the microorganisms tested. (14)
• Antihyperglycemic: Study of a methanol extract of aerial parts of L. siceraria in STZ-induced diabetes in rats showed potent antihyperglycemic activity probably attributable to its rich flavonoid content.
• Anti-Urolithiatic: Study of fruit powder of Lagenaria siceraria against sodium oxalate-induced urolithiasis in rats showed a beneficial anti-urolithiatic effect probably by decreasing CaOx excretion and preventing crystal deposition in the kidney tubules. (15)
• Central Nervous System Effects: Study evaluated the analgesic and CNS depressant effects of extracts of leaves. A petroleum ether extract showed maximum analgesia compared to the methanol and chloroform extracts. The extracts Inhibited both central and peripheral mechanisms of pain. n the study on CNS-depressant effect, the methanolic extract showed significant reduction of spontaneous motor activity, with potentiation of pentobarbitone-induced sleep time. (16)
• Cardioprotective: Treatment with Ls fruit juice showed a cardioprotective effect in isoproterenol-induced myocardial infarction in rats. (17)
• Hepatoprotective / Antioxidant: Study in carbon tetrachloride-induced hepatotoxicity showed potent hepatoprotective activity of a methanol extract probably attributable to its significant free radical scavenging activity and high polyphenolic and flavonoid contents. (18)
• Anti-Compulsive (Anti-OCD) Activity / Fruits: Study evaluated the anti-OCD activity of methanolic extract of fruits suing the marble-burying behavior in mice. Results showed dose-dependent attenuation of marble-burying behavior, an effect comparable to the standard reference drug, fluoxetine. (20)
• Analgesic / Fruits: Study evaluated the analgesic activity of extracts of fruits of Lagenaria siceraria using the tail immersion method in rats. A methanolic extract exhibited moderate activity while an aqueous extract showed significant analgesic activity. (21)
• Antioxidant / Leaves: Study evaluating a methanolic extract of leaves of L. siceraria for antioxidant activity by H2O2, radical scavenging, and DPPH assay. In all the studies, a significant correlation was shown between concentration and percentage inhibition of free radicals. (22)
• Antioxidant / Leaves: Study evaluated a methanolic extract of aerial parts through acute and subchronic toxicity studies in mice. Results showed the extract was well tolerated up to 2 g/kg in acute toxicity study, with no significant alteration on any of the parameters in subchronic study. Also, there was improvement in the lipid profile of the test group. (23)
• Lipid Lowering and Antioxidant Functions in Human Dyslipidemia / Fruit: Study of fruit extract showed significant antioxidant activity in dyslipidemic human subjects. Significant reductions were found in triglycerides and total cholesterol values, with improvement in cardiac risk ratio, atherogenic coefficient, and atherogenicity index of plasma. (24)
• Effect on Lung Injury Induced by Oleic Acid/ Fruit Juice: Study of L. siceraria fruit juice on acute lung injury induced by oleic acid in rats showed attenuation of the extent of injury. (25)
• Antimutagenic Potential / Anticancer: Study evaluated a methanolic extract of fruit for antimutagenic potential. Results showed varying levels of antimutagenicity, with chemopreventive pharmacological potential and suggests its use as functional food. (26)
• Protection Against Doxorubicin Cardiotoxicity: Study on the combined effect of simvastatin and seed extract of L. siceraria showed significant reduction of doxorubicin (DOX) induced cardiotoxicity in Wister rats. (27)
• Heavy Metal Uptake: A pot study evaluating the uptake of heavy metals in vegetable crop L. siceraria showed uptake of Ni (nickel) and Pb (lead), the most toxic elements from a human health point of view, above the prescribed concentration. (28)

Availability
Cultivated.